By David McGee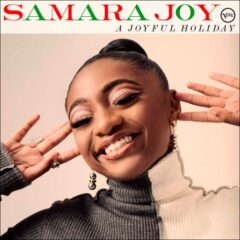 A JOYFUL HOLIDAY
Samara Joy
Verve (2023)
Believe every positive thing you've ready about Samara Joy. The 23-year-old double Grammy winning vocalist is the toast of the jazz vocal world, and with good reason. Listen to the deep, husky tone and the airy, sensitive flights into the upper register, and try not to be moved by a real singer digging deep into her very being to bring the fullest emotional experience to every note she blesses with her remarkable voice. Ms. Joy cites Sarah Vaughan as a major influence, and indeed, if you close your eyes and simply listen, you'll think "Sassy," as some knew Ms. Vaughan, was in the room.
'Twinkle Twinkle Little Me," Samara Joy with Sullivan Fortner on piano, from A Joyful Holiday
The voice is on vivid display on a new six-song EP, A Joyful Holiday, featuring Ms. Joy and the same four-piece combo heard on the double-Grammy-nominated Linger Awhile album; in fact, a press release announcing the EP refers to A Joyful Holiday as "an extension" of Linger Awhile. Those estimable musicians would be guitarist Pasquale Grasso, bassist David Wong, drummer Kenny Washington, with Sullivan Fortner on piano. Two of the six tunes are previously released singles, including "O Holy Night," in which Sullivan Fortner's somber, atmospheric organ hums along behind her and the vocal backing of several other McLendons (Ms. Joy's surname is McLendon) with deep roots in gospel music (Ms. Joy herself began singing in church choir seven years ago, at age 16)—her father, 92-year-old gospel singer Goldwire McLendon (who led Philadelphia's beloved The Savettes), her father Antonio McLendon (who toured with the late, great Andraé Crouch), her uncle Laurone McLendon and cousins Tiera Lovell Rowe and Alana Alexander–in a family affair-arrangement starting with Ms. Joy alone and powerful in the force of her reverence for the moment the carol describes. When the family McLendon joins her, the combined voices add heft, urgency and a palpable sense of wonder underscored at the 3:31 mark when Ms. Joy takes off for the stratosphere, holding a single note for almost nine breathtaking seconds. Towards the end of the track, all the voices blend, singing with and around each other, weaving improvisational textures until they cede the track to Ms. Joy again for the final few thoughtful seconds of a five-minutes-plus arrangement. The other previously released track, "Warm December," was penned by Bob Russell and originally recorded by torch singer Julie London in 1956. Fortner, Wong and Washington on piano, double bass and brush drums, respectively, fashion a mellow, gently swinging groove behind Ms. Joy, who responds by lightly skipping over this most classy of romantic come-ons,  using both the husky low notes and the lighter conversational tones of her voice to relay a promise to a prospective paramour to "keep you warm in December/Warm when the cold breezes blow" with "arms so lovin'/a kind of lovin'/to melt the sleet and snow." It's sweet, fun and sexy, just a suggestion from someone who is confident of her offer's allure.
'O Holy Night,' Samara Joy with Sullivan Fortner on organ, from A Joyful Holiday
Two versions of the Mel Tormé-Robert Wells classic, "The Christmas Song," are offered here: one is an introspective studio take, with the singer playing with the rhythmic line over discreet piano, double bass and brush drums backing, deliberately drawing out some measures for extra effect—as in "to see if reindeers really know how to fly," infusing the playful musing with a dollop of palpable doubt—all leading up to a soaring "merry Christmas to you," rising to a crystalline falsetto on the last word and holding, for maximum effect, for several riveting seconds. A live version of "The Christmas Song" blurs the line between blues and gospel, with Antonio McLendon taking the first verse before handing it off to Ms. Joy, who matches him blue note-for-blue note and for a bevy of improvised vocal flourishes, with the light touch of pianist Shedrick Mitchell, bassist Eric Wheeler and drummer Charles Haynes in understated support.
'Warm in December,' first recorded by Julie London in 1956, featured on Samara Joy's A Joyful Holiday EP. Lead vocal by Samara Joy with Sullivan Fortner on piano, Kenny Washington on brush drums, David Wong on double bass.
Rounding out the EP, Ms. Joy offers a deeply interior and deeply felt reading of "Twinkle Twinkle Little Me" (first recorded in 1965 as the B side of  Christmas single by the Supremes—actually, only Diana Ross of the original trio is on the track, backed by The Andantes—but more successfully covered in 1967 by Stevie Wonder on his Christmas album) with the sole backing of Sullivan Fortner's Bill Evans-ish fills in tenderly caressing the sensitive lyrics exploring and promoting both self-worth and unconditional affection, saving her most vulnerable tone for the touching closing appeal: "I have a present too/if you give unselfishly/and make a wish come true/I'll always shine for you." They don't write 'em like that anymore. "Have Yourself a Merry Little Christmas" is treated as a low-key shuffle, propelled by Washington's brush drums and Grasso's robust guitar fills supporting the singer's delicate but fairly straightforward treatment—fairly straightforward, that is, until about midway through when she gets more adventurous with the rhythmic line as the pace picks up a stride or two while also honoring the title sentiment's sincerity.
A live version of 'The Christmas Song,' with pianist Shedrick Mitchell, bassist Eric Wheeler and drummer Charles Haynes supporting vocals by Antonio McLendon and Samara Joy. Featured on Samara Joy's EP, A Joyful Holiday.
An EP though it be, A Joyful Holiday packs a full album's worth of punch. The backing combo couldn't be better attuned to Samara Joy's interpretive brilliance nor she to the combo's sensitivity and strengths. The casual authority she exudes brings to mind an insight she shared with reporter Elysa Gardner in a New York Times interview from December 12, 2022 in which she discussed the long shadow Sarah Vaughan casts over her own vocal approach.
"Sarah Vaughan could sing anything; she could go incredibly deep and then she could sing operatically, and neither seemed like a struggle," Ms. Joy observed. "I look at her, and at some opera singers, and I want that ease."
Based on the evidence of Linger Awhile and A Joyful Holiday, the ease she sought has been attained. It's all over these records. Santa Claus came early this year, delivering the quintessential gifts that truly keep on giving and, moreover, will likely keep Christmas well for a long time to come.