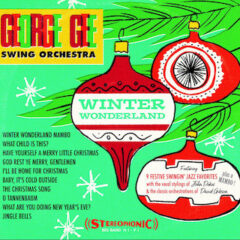 WINTER WONDERLAND
George Gee Swing Orchestra
If David Ian's new Vintage Christmas Trio offering (Melody) represents the reflective side of holiday music, then the George Gee Swing Orchestra's Winter Wonderland gets the party started. Mr. Gee, a Chinese-American artist born in New York City, has been leading swing bands for some 35 years in and around the city and for many years, pre-pandemic, was the toast of Lindy dancers at Manhattan's Swing 46 club. He broke in with a 17-piece swing orchestra in the '90s, and these days, and on this album, works with a nonet and vocalist (John Dokes on five numbers, one a duet with Hilary Gardner). In many ways this long player evokes the spirit of the Salsoul Orchestra's classic 1976 holiday stocking stuff, Christmas Jollies, especially on the title track, which kicks off the album at a breakneck pace, remaking the sprightly tune into a rollicking outing with a Latin touch (hence the altered title, "Winter Wonderland Mambo"), with soloists Anthony Nelson Jr. (alto sax) and Freddie Hendrix (trumpet) taking the entire enterprise onto another level of festive intensity.
'Winter Wonderland Mambo,' George Gee Swing Orchestra, from Winter Wonderland
'Have Yourself a Merry Little Christmas,' George Gee Swing Orchestra, with vocalist John Dokes, from Winter Wonderland
The template thus set, Gee and company (the scintillating, inventive arrangements are courtesy music director-arranger-trombonist David Gibson, who gets a big tip of the hat for finding surprising ways of reimaging 10 timeless seasonal favorites in unexpected ways) proceed to roll out nearly 42 minutes of nonstop holiday spirit. Dokes's vocals are consistently warm and welcoming, from the gentle swing he brings to his reading of "Have Yourself a Merry Little Christmas" to the glide in his stride on "I'll Be Home for Christmas," to the tenderness he invests in "The Christmas Song" and the mellow "What Are You Doing New Year's Eve?" With Ms. Gardner he provides a naughty but nice moment in meeting her reluctance to engage, shall we say, with the friendly, undaunted persuasion of one who will not be denied and is knee-deep in reasons she should reconsider.
'O Tannenbaum,' George Gee Swing Orchestra, from Winter Wonderland
Just as the horns around Ms. Gardner and Mr. Dokes evoke the yin-yang of their discourse, so do Gibson's other arrangements add unexpected byways and textures to the instrumental numbers. "Winter Wonderland Mambo,' as noted, elevates to a higher plane behind the soloists; in "God Rest Ye Merry Gentlemen" the saxophones' low humming sets the stage for a showcase of well-tempered soloing by trumpet, trombone and piano. "O Tannenbaum" gets a striking makeover as trumpet, alto and tenor saxophones engage in remarkable theme-and-variation passages ranging from ruminative to rousing, leaving room for pianist Steve Einerson to add his own jazzy, multi-textured touches to his time in the spotlight. In a most fitting finale, the orchestra romps merrily through "Jingle Bells," goosed along by Nelson Jr.'s frisky, swinging alto sax. Throughout the horns sound alive and vital and having a swell time all around. Much like the album itself—alive, vital and offering a swell time all around. Well done, lady and gentlemen.