Brian Setzer Puts His Cat Clothes On And Rocks The Yule, Again and Again
By David McGee
BOOGIE WOOGIE CHRISTMAS
The Brian Setzer Orchestra
Surfdog Records (2002)
DIG THAT CRAZY CHRISTMAS
The Brian Setzer Orchestra
Surfdog Records (2005)
CHRISTMAS ROCKS: THE BEST OF COLLECTION
The Brian Setzer Orchestra
Surfdog Records (2008)
ULTIMATE CHRISTMAS COLLECTION
The Brian Setzer Orchestra
Surfdog Records (2008)
CHRISTMAS COMES ALIVE
The Brian Setzer Orchestra
Surfdog Records (2010)
ROCKIN' RUDOLPH
The Brian Setzer Orchestra
Surfdog Records (2015)
In the realm of holiday music, Brian Setzer, leading his full-tilt Orchestra, occupies rarified air. He's one of a handful of popular artists with four Christmas albums in his catalog (and in his case, two compilations drawn from those four albums, plus a DVD). This select group includes Frank Sinatra, who made an art form of Christmas music recorded over the course of four decades; Judy Collins (whose four Christmas albums include a wonderful live album, Christmas at The Biltmore Estate); and jazz pianist David Ian, whose new Vintage Christmas Trio Melody is one of this year's outstanding new holiday releases. Whereas Sinatra offers the elegance, majesty, and joy of the season in sophisticated classic pop settings fashioned by Nelson Riddle, Alex Stordahl, Gordon Jenkins, Billy May and Don Costa, Judy Collins brings a folk-pop flavor to her seasonal readings, and David Ian gets playful, introspective, and inventive as his trio plumbs the harmonic and melodic possibilities of beloved carols and seasonal favorites. The Brian Setzer Orchestra, led of course by Setzer's inventive, red-hot guitar work and commanding vocals, lords over the swinging, rocking, good-time arm of the holiday party.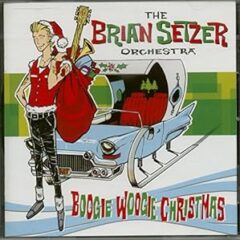 For Setzer the journey began in 2002 with Boogie Woogie Christmas, in many respects the most muted of the Orchestra's ensuing holiday forays. Which is not to say it doesn't rock righteously. It's also the only one of the four Christmas albums to offer a spiritual benediction by way of the solemn, 59-second "The Amens" at album's close, with Setzer's reverent, tender intonation of the sentiment Peace, peace, God/Wonderful peace/Be with you now and evermore/A-men…A-men… is shadowed by a full choir's equally engaged intonation. This surprising moment dissolves into silence before a lone church bell tolls once, releasing the congregation to other pursuits.
In a worthy followup to Boogie Woogie Christmas, Setzer and his Orchestra returned in 2005 for a blazing, wild-eyed holiday treat via Dig That Crazy Christmas. The whole troupe roars and swings through 11 evergreens, so to speak, and Setzer contributes two new originals: a horn-driven stomper titled "Hey Santa!" spiced with some sizzling vocal and instrumental interplay between Setzer and the orchestra; and a roaring blues grinder in "Santa Drives a Hot Rod," complete with blaring horns and a fine, growling vocal from Setzer describing the wonders of Santa's new souped-up wheels now supplanting his a "rusty old sleigh." "White Christmas" gets a gently rocking arrangement graced by honking sax and robust guitar punctuations as Setzer delivers a rhythmically graceful reading beholden to Elvis's approach. A midtempo instrumental version of "My Favorite Things" provides Setzer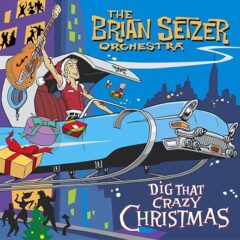 with a showcase for a jazz-tinged guitar solo, ahead of fanciful flights of brass and woodwinds. For comic relief, consider Setzer's mock spooked-out vocal on "'Zat You Santa?" and his generous serving of ham on "You're a Mean One, Mr. Grinch," to which he adds a reverberant top-strings solo replete with a quote from "The Munsters" theme song. On an ambitious note, he gets way out there on a breakneck treatment of "Angels We Have Heard On High," its soaring melody developed, variously, by the hearty orchestra and a full-bodied church choir, with enough room for a burst of blaring horns, trebly rock guitar solos and, as punctuation, another guitar interjecting "Peggy Sue" licks throughout. Wind it up with a lush, dreamy rendition of "What Are You Doing New Year's Eve," and the sum of the parts is memorable Christmas fare from an artist whose heart is always in the right place.
Brian Setzer and Orchestra, 'Dig That Crazy Santa Claus,' from the 2005 Christmas Extravaganza DVD included in Ultimate Christmas Collection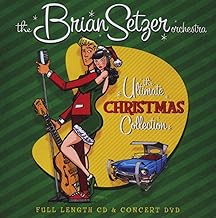 Christmas 2008 brought two Setzer Yuletide retrospective in Ultimate Christmas Collection and The Best of Collection: Christmas Rocks, compilations boasting a raft the swingin'est tunes from the 2002 and 2005 holiday long players. The Ultimate Christmas Collection contains a spectacular bonus in the form of a DVD, Christmas Extravaganza, featuring no less than 25 songs from a near-two-hour performance in 2004 at the L.A. Ampitheater. Some of the favorites from the earlier albums include the ambitious "Nutcracker Suite," with its powerhouse horn chart, impressive melding of jazz and classical sensibilities and faithfulness to the moods and spirits of Tchaikovsky's original composition (from Setzer's heralded 2007 album-length journey into swinging the classics, Wolfgang's Big Night Out); the blazing, Eddie Cochran-influenced romp through "Jingle Bells," featuring Setzer in a bravura, swaggering performance, punctuating his soloing with some clever textural shadings—courtesy searing, distorted chordings; thick, single-string soloing; and cool filigrees such as a variation on the classic "Pipeline" run; and not least of all, a deliciously suggestive duet with none other than Ann-Margret, in very fine, sex-kitten voice, on "Baby It's Cold Outside," with Setzer playing her male foil to charming perfection and adding a splendid, robust guitar solo to boot. Some of the most welcome selections returning from Boogie Woogie Christmas include a delightfully exuberant horn-enriched charge through "Let It Snow! Let It Snow! Let It Snow!"; a bopping take on "Jingle Bell Rock" faithful to Bobby Helms's classic original, with the added benefit, of course, of our main man's snazzy guitar soloing. "My Favorite Things," "What Are You Doing New Year's Eve," "Hey Santa!" and the uproarious "You're a Mean One, Mr. Grinch" are all present and accounted for as well.
'Baby It's Cold Outside,' Brian Setzer and Ann-Margret get cozy on a duet from Boogie Woogie Christmas included on Ultimate Christmas Collection
'You're a Mean One, Mr. Grinch,' The Brian Setzer Orchestra, from Dig That Crazy Christmas
If you don't have a chance to attend a Setzer Christmas bash the accompanying Christmas Extravaganza DVD is a viable second option. However, it needs to be packaged with a warning to viewers that about two or three seconds into the rousing opening number, "Dig That Crazy Santa Claus," when the horns start pumping and Setzer rocks the lyric and his guitar both, you're gonna wish you were there. Working on a stage fully decorated for a Yuletide celebration—with giant wooden soldiers; imposing, all-lit-up multiple evergreens; a cheery hot-rod holiday graphic on the back wall; the orchestra outfitted in leopard-skin sports coats and Santa hats, and the sizzling gal singers in low-cut red velvet miniskirts trimmed in white—Setzer is a commanding presence at the center of it all, wailing and crooning, playing guitar like nobody's business, looking great in his tux and pompadour, and directing the proceedings with the consummate skill of the seasoned performer he is while chatting it up with the audience between songs as if they're all family. Which, come to think of it, they probably are if they're at a Brian Setzer Christmas show.
Brian Setzer and Orchestra, 'Rock This Town,' a rowdy detour from the usual Yuletide fare in the 2005 Christmas Extravaganza. The entire show is on the DVD included in Ultimate Christmas Collection.
Note, though, that the 25 numbers on the set list include several non-holiday items, including Duke Ellington's exotic "Caravan"; a rendition of "Pipeline" performed solely by the trombone section (because Setzer thought they weren't getting enough attention!); a cool, swinging homage to days past in "Stray Cat Strut"; and, powered by a familiar configuration of thumping standup bass (expertly manned by Johnny Hatton), minimalist drums (grandly pounded by Bernie Dresel), a stinging guitar and swaggering vocal, "Rock This Town," which becomes a furious six-string assault, Setzer coaxing all manner of wails, moans, rampaging riffs and trebly furies out of his Gretsch hollow body as he welcomes the entire Orchestra back into the fray and they spar with him the rest of the way. It's a real showstopper that gets the audience on its feet early and for the duration and happens to set up the amazing display he and Orchestra put on in cracking "The Nutcracker Suite." The backstage interviews with band and fans are fine, but the show's the thing here—it may be Christmas themed, but the performance transcends the season and becomes, simply and completely, a musical event of such technical brilliance and unflagging good will it cries out to be cued up any time of year.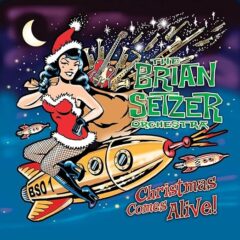 Perhaps recognizing the power of his live show, Setzer's third Yuletide offering was another powerhouse live recording, Christmas Comes Alive, mostly from a Knoxville, TN, gig. Unlikely as it seems, the Orchestra is even hotter here than it is on the Christmas Extravaganza DVD. The synergy between Setzer and his mates is off the charts, which maybe explains why he went with another live album. The entire congregation is swinging mightily from the first notes of "Dig That Crazy Santa Claus," and they really don't slow down until the final furious blast of hep cat grooving on the set closer, a frisky, flirtatious version of "Jingle Bells" as you've never heard it before, with the girl singers jousting with Setzer vocally in scintillating ways as the horns pump and blast their way through the arrangement. Some of the treats herein include a rousing "Boogie Woogie Santa Claus," into which Setzer deftly interpolates the guitar solo from one of rock 'n' roll's seminal instrumental hits, Bill Doggett's 1956 instant classic, "Honky Tonk Part 1." Then there's an amazing rendition of the Leiber-Stoller seasonal suggestive blues, "Santa Claus is Back in Town." This bit of brilliance features the gals offering the tender introductory chorus performed by the Jordanaires in a rare quiet moment kicking off Elvis's Christmas Album in 1957 ahead of the arrangement opening up into a blues stomp, in this case sax- and guitar-fueled, with Setzer launching his Gretsch into the stratosphere with flurries of bent notes, single-string runs and jaw dropping T-Bone Walker-style pyrotechnics. Vocally, he takes it a bit farther than Elvis did, changing "Hang up your pretty stockings" to "Hang up your fishnet stockings" in one of the album's most festive moments, especially for the Orchestra, which shows off its full expressive range behind Setzer, and during one solo passage slips in a few bars of "Santa Claus is Coming to Town."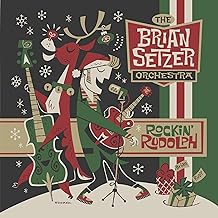 In 2015 Setzer returned to the studio for another holiday album, Rockin' Rudolph, his first in the studio since 2005's Dig That Crazy Christmas. His bold, brassy 18-piece orchestra is in fine shape here and gets considerable airtime, if you will, given that almost half the tunes are instrumentals on which Setzer turns them loose. They cut a mean, swinging version of "Hark! The Herald Angels Sing" complete with Setzer's sizzling six-string fusillade; romp festively through a driving version of "Joy to the World" now recast as "Swingin' Joy" fueled by dazzling dialogues between the trumpets, trombones and saxes; get into a jazzy strut on "Little Jack Frost," thanks to Matt Rollings' King Cole-ish flourishes in his buoyant piano solo ahead of the female backup singers' frisky vocal turn; and settle into a soothing, mellow groove on "O Little Town of Bethlehem" in a richly textured arrangement of contrasts between the saxophones' muscular tones and the trumpets' feathery, soaring exclamations.
'Rockin' Around the Christmas Tree,' The Brian Setzer Orchestra, from Rockin' Rudolph
'Jabba Dabba Yuletide,' The Brian Setzer Orchestra, from Rockin' Rudolph
Setzer is no shrinking violet here, though. "Rockin' Around the Christmas Tree" introduces the record with a searing blast of guitar before the host comes in to rock the vocal home while adding more stinging, howling instrumental interjections of his own, along with a sax man's hefty solo. He acquits himself admirably with a personable lead vocal on a faithful rendition of Andy Williams's classic "Most Wonderful Time of the Year" and croons a cool "Have Yourself a Merry Little Christmas" with atmospheric support by his female singers and the tasty stylings from Rollings' piano. "Rudolph the Red-Nosed Reindeer" has been reimagined in many ways since 1949, when Johnny Marks adapted his brother-in-law Robert May's original children's story into a song that eventually sold 25 million copies after Gene Autry recorded it, but Setzer's "Rockabilly Rudolph" vies with Chuck Berry's "Run, Rudolph, Run" as the hottest rockin' version–thanks to the ferocious guitar soloing, sizzling horns and an occasional Jerry Lee Lewis glissando surfacing in the mix, courtesy Matt Rollings on the 88s—in fact this version might well have an edge over all others by virtue of Setzer's arrangement evoking the mood of '60s hip detective series such as Burke's Law, 77 Sunset Strip and Surfside 6. Not least of all, in "Yabba-Dabba Yuletide" he takes The Flintsontes' theme song and turns it (or overturns it) into a rock 'n' roll romp fit to put some glide in Old Saint Nick's stride with plenty of speed-picked guitar and all sorts of other textural guitar effects amidst the bursts and flurries of horns and a hard working drummer powering the whole enterprise forward. Who knew the Brian Setzer of Stray Cats days would transform himself into a modern-day Father Christmas? Clearly, in his current guise, he's the man with all the toys.
'Carol of the Bells,' The Brian Setzer Orchestra, from Rockin' Rudolph
'Little Jack Frost,' The Brian Setzer Orchestra,' from Rockin' Rudolph