By David McGee
THE BEST OF LOUIS ARMSTRONG
& FRIENDS: THE CHRISTMAS COLLECTION
(Hip-O (1997; reissued, 2003)
CHRISTMAS THROUGH THE YEARS
Louis Armstrong
Laserlight (1969; reissued, 1997)
THE BEST OF BING CROSBY: THE CHRISTMAS COLLECTION
20TH CENTURY MASTERS
Bing Crosby
MCA (2003)
A MERRY CHRISTMAS WITH BING CROSBY & THE ANDREWS SISTERS
Gefen Records (2006)
Bing Crosby has been an indelible part of the Christmas experience since recording the original version of Irving Berlin's "White Christmas" in 1942, and as the years pass Louis Armstrong pops up with increasing regularity on holiday playlists and collections, getting the most out of his meager but impressive Yuletide testimonials. For aficionados of Christmas music, a Yule without Der Bingle (especially when he teamed up with the Andrews Sisters) or Satchmo would be comparable to finding a lump of coal in the stocking on Christmas morn.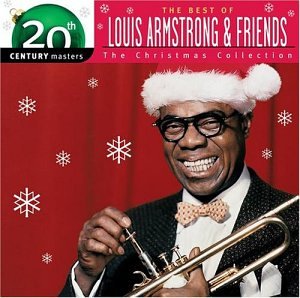 Though several compilations of Armstrong's holiday recordings exist—always packaged along with offerings from other artists—the must-have, and most complete, among these is The Best of Louis Armstrong & Friends: The Christmas Collection, a 2003 Hip-O reissue of its 1993 CD, Louis Armstrong & Friends: What A Wonderful Christmas. Should have kept the original subtitle, because this one is indeed wonderful, and then some. It kicks off with Louis's robust, swinging classic from 1955, "Christmas In New Orleans," with Louis and His All-Stars accompanied by the powerhouse Benny Carter Orchestra. The lyrics Louis chews so deliciously reference his beloved Crescent City ("you'll see a Dixieland Santa Claus, leading the band/to a good ol' Creole beat/and golly, what a spirit, and you can only heart it/down on Basin Street…") and he cuts out on a striking trumpet solo about halfway through before sending it home with a big brassy ending. A similar energy infuses another '55 track with the Carter Orchestra, "Christmas Night in Harlem," which is as remarkable for its rich horn chart and strutting trumpet solo as it is for Louis's jovial reading. From 1952 Louis assays "White Christmas" with warm, deliberate articulation, and gets a splendid assist from the lovely string arrangement executed by Gordon Jenkins and His Orchestra. Also from 1952, Jenkins and Orchestra back Louis with a laid-back, bluesy arrangement perfectly mated to the singer's genial, folksy delivery, all serving to enhance the song's dreamy mood and close the album on a soothing note. With the Commanders in tow in 1953, Armstrong leads the way through two frisky novelty numbers, the first being "Cool Yule" ("so dig," Louis sings, "Santa comes on big!"), which was penned by Steve "I Wrote 2,000 Songs" Allen, who apparently objected to some liberties taken with his arrangement by producer Tutti Camarata, who had more music in his pinky than the hapless Allen had in his entire, mostly forgettable oeuvre. Allen's appropriate response should have been, "Yes, Mr. Camarata, whatever you say, sir. I'll be happy to cash the royalty check." The other tune from this session with Camarata and the Commanders is "'Zat You, Santa Claus?," an occasion for Louis to add his own distinctive comedic flair to the querying lyrics directed at an elusive Saint Nick, who seems to be striking some fear in Satchmo's heart.
'Christmas in New Orleans,' Louis Armstrong (1955), from The Best of Louis Armstrong & Friends: The Christmas Collection
As for the Friends of Louis, all perform commendably, even  memorably, starting with Eartha Kitt's immortal, sensuous come-on from 1953, "Santa Baby," with that kitten-ish, cooing vocal, all cool heat on a cool Yule, the better for her to angle for her romantic investment to yield some material dividends ("Santa baby, just slip a sable under the tree, for me…a '54 convertible, light blue, I'll wait up for you, dear, so hurry down the chimney tonight…") in what is one of American music's most spectacular double-entendre performances. Eartha is a hard act to follow, but Dinah Washington gets the job done by going in exactly the opposite direction, towards ennobling reverence, in treating "Silent Night" like the church hymn it originally was, complete with a supporting choir humming behind and shadowing her dignified reading. Ditto for Peggy Lee, recording "It's Christmas Time Again" in 1953, with a sweet, soothing, innocent disposition made all the more engaging by the support of delicate music box chimes. The other outstanding female vocalist to make her mark here is Lena Horne, with a typically jazzy rendition of "Santa Claus Is Coming To Town," her trademark sultriness and asymmetrical phrasing supported by an orchestra skilled in responding to the lady now cutting loose, now pulling back, now roaming at will.
On the male side, Armstrong has plenty of competition. Louis Jordan, from a 1951 session with his big band, offers up a beautiful, spiritually oriented R&B ballad, "May Everyday Be Christmas," singing in a mellow baritone he didn't often employ in his usual, raucous guise, with the arrangement further spiced by expressive organ chording courtesy Jordan's arranger, Wild Bill Davis. More overtly bluesy and horn-driven, Lionel Hampton's alternately simmering and roiling treatment of the classic "Merry Christmas, Baby" features vocalist Sonny Parker in a fine, high tenor pleading mode, along with a tasty vibes solo by Mr. Hampton himself about halfway through, and a signature trilling piano lick throughout the R&B ballad. Not least of all, certainly, is Duke Ellington, from 1962, giving "Jingle Bells" "A-Train"-like propulsion in a Mercer Ellington arrangement rich in textural contrasts between horns and woodwinds as the song bustles to a soaring climax.
'Santa Baby,' Eartha Kitt (1953), included on The Best of Louis Armstrong & Friends: The Christmas Collection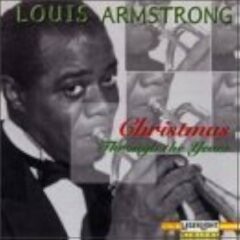 The odd, sonically challenged Laserlight entry, Christmas Through the Years, also kicks off with "Christmas Time In New Orleans" and "'Zat You, Santa Claus?," both so poorly mixed that Louis sounds like he's singing in a cave—and a different cave than the orchestra is playing in, at that. That this tacky mix was actually released is nigh on to unbelievable—it's a disservice to a great American artist and to consumers alike. Hang on, it gets weirder. Only four of the 10 songs here are actual Christmas songs (and that's excluding "Baby, It's Cold Outside," which shows up on Christmas albums anyway, because it's set in winter); aside from the abovementioned pair, one other is "Santa Claus Blues," an instrumental that the liner notes don't tell you (because there are no liner notes) was recorded in 1924 by the Red Onion Jazz Babies with Louis on cornet, Lil Armstrong on piano, Buddy Christian on a mean banjo, Buster Bailey wailing on clarinet and Aaron Thompson on trombone. A year later Louis would record the same song with the Clarence Williams Blue Five, which included Sidney Bechet on soprano sax and vocalist Eva Taylor singing the lyrics absent from this instrumental version. The latter version, and some wonderful holiday material recorded in the '20s and '30s (by the likes of Louis, Fats Waller, Benny Goodman, Duke Ellington, Victoria Spivey, 20-year-old Ella Fitzgerald, Johnny Otis, Count Basie, Louis Prima and Lionel Hampton) is available on an out of print album, Santa Claus Blues, available from Amazon dealers. Otherwise the tunes here include live performances (undated and otherwise unidentified, of course) of "Hello, Dolly," "Blue Moon," a duet with Bing Crosby on "Gone Fishin'" (from Bing's television show, clearly), "A Kiss to Build a Dream On" and "What a Wonderful World"—not bad, any of them, but Christmas through the years? Hardly. However, there is one overriding reason to own this disc: it includes the only CD release of Louis's 1971 promotional recording for the Lorillard Tobacco Co. (released as single CP-1001 by Continental Productions) of his reading of Clement Moore's poem, "The Night Before Christmas." A simply superb recitation, Louis sticks to the text as only he could, with a few improvisational flurries along the way to enhance the story arc, you might say–truly, a landmark performance. It was Pops's final recording; he died only a few days after completing the session. (Listen to the entire reading on our Contents page in this issue.)
Bing Crosby and Marjorie Reynolds in the 1942 film, Holiday Inn, in which Bing introduced Irving Berlin's 'White Christmas.' Reynolds's singing voice was dubbed by Martha Mears.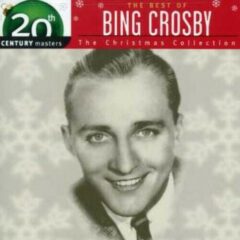 As for Der Bingle, what to say but that he elevated the Christmas song and carol to new aesthetic heights with his smash hit original recording of Irving Berlin's "White Christmas" in 1942. Reportedly the biggest-selling artist/title pairing in music business history, "White Christmas" brought out the best in Crosby's warm, crooning style—the soulful introspection and sensuous intimacy of his reading, the wistful shadowing amidst his hopeful longing, even the clear, evocative whistling he did in the original recording. Until recently the 1942 version had been almost impossible to find, supplanted as it was by Bing's 1947 re-recording, the most often heard version of the song (the story is he had to record it again because the original master was worn out from so many copies being pressed). It was finally reissued on CD in 1997 in a first-rate collection titled Bing's Gold Records, a worthy single-disc overview of the artist's early Decca years, most of it having nothing to do with Christmas at all, but all of it Grade A quality. The original is now available in the context of a wealth of superb holiday recordings from the Crosby files over the years gathered together on MCA's essential 18-track The Christmas Collection. Also on board is his mammoth hit recording of "Silent Night" (Bing recorded this one five times for Decca between 1935 and 1954), and a variety of flavors ranging from the sacred ("Adeste Fideles," "The First Noel"), to the novelty ("Rudolph the Red-Nosed Reindeer," "Santa Claus Is Coming To Town," a delightfully syncopated and Dixieland-tinged "Jingle Bells"), to classic pop evergreens ("The Christmas Song," "Sleigh Ride," "I Heard the Bells On Christmas Day"). Suffice it to say Bing Crosby's artistry blossomed abundantly on this seasonal fare, and it's not too far-fetched to suggest that the all-consuming commitment to and intelligence of his earliest Christmas recordings directly inspired Frank Sinatra not only to emulate Bing's template but to go the extra mile and make Christmas songs an indispensable part of his musical narrative through the years. Crosby and Sinatra scholars will always debate who did what better, but when it comes to this time of year, the music wins big, and so do the fans.
Few male-female vocal pairings of a holiday nature summoned the festive and the reflective spirit of the season alike with more grace and conviction than that of Bing Crosby and Andrews Sisters Patty, LaVerne and Maxene. At 20 tracks, A Merry Christmas with Bing Crosy & The Andrews Sisters contains all six of the wonderful Crosby-Andrews Sisters pairings on record, a couple from 1950, the others from the '40s, dating back to 1943's double-sided gold-certified hit single, "Santa Claus Is Comin' To Town" b/w "Jingle Bells." Of note, the latter tune is a wonderful, jazzy vocal set-to between Crosby, taking his opening turn at a brisk pace, galloping through right on the beat, followed by the Sisters, answering him with a more whimsical verse replete with a scatted phrase and playful frolics around the rhythmic pulse—a tactic Der Bingle then adopts when he returns to join the gals for the rest of the ride.
'Twelve Days of Christmas,' Bing Crosby and the Andrews Sisters with Vic Schoen and His Orchestra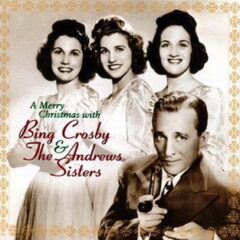 Just as you will hear "Jingle Bells" with fresh ears as a result of the arrangement here, so the same applies to each tune to which the co-conspirators apply their vocal chords. Their 1949 rendition of "The Twelve Days of Christmas" has a simply infectious vibe about it in the obvious delight Crosby and the Sisters take in bouncing off each other's ascending litany of gifts on each day in question; from 1950 comes a less familiar tidbit in the Jimmy Van Heusen-Johnny Burke delight, "Poppa Santa Claus," an ebullient chronicling of a night when "the toys gave a party for Poppa Santa Claus" in which Der Bingle and the gals spice it up a smidgen with some rhythm-happy warbling, spurred on in this endeavor by the bouncing, swinging,  horn-infused arrangement perpetrated by Vic Schoen & His Orchestra (which, by the way, provides the accompaniment on all the Bing-Andrews Sisters tracks); another '49 track, "Here Comes Santa Claus," the Gene Autry co-written warhorse, finds the dramatis personae in a frisky mode, improvising  their own lyrics at points, now playing it lighthearted, now intoning a verse with solemn purpose, and Bing even dipping into crooner guise at one juncture, as Schoen makes good use of his woodwinds as a cushioning element in the arrangement, giving the track a warm, snuggly feel. Not least of all is another 1950 entry, the Hawaiian Christmas song, "Mele Kalikimaka," a joyous celebration of a South Pacific Yuletide, complete with steel guitar flourishes and ukulele riffing amidst a western swing-influenced arrangement spiced with a soaring, brassy instrumental interlude at the halfway mark.
'Jingle Bells,' Bing Crosby and the Andrews Sisters with Vic Schoen & His Orchestra, a million selling single in 1943
'Christmas Island,' Andrews Sisters with Guy Lombardo and His Royal Canadians (1946)
On their own, Crosby and the Andrews show off their special artistry. From 1955, Crosby, backed by Buddy Cole & His Orchestra with honeyed harmonies courtesy Jud Conlon's Rhythmaires, renders the youthful reflections of the Sonny Burke-Paul Francis Webster-penned "The First Snowfall" with tender crooning and avuncular affection for what the passing of time has revealed of the season—it's a textbook example of the easygoing, romantic crooning style that set him apart from his contemporaries and inspired the likes of Frank Sinatra to dig deeper into a lyric for a storyline he could make his own. No stranger to Irish-centered tunes, Bing saunters through 1951's high-spirited "Christmas In Killarney" and offers the traditional beauty "O Fir Tree Dark" (with sensitive support from Victor Young & His Orchestra along with the Ken Darby Singers' affecting, deep harmonized choruses) with the gravitas of a spiritual, beautiful and moving all at once. The Sisters have their own exotica to offer in the oom-pah of Paul Francis Webster-Sonny Burke's cheery "Merry Christmas Polka," recorded in '49 with Guy Lombardo & His Orchestra. Their counterpart to Bing's Burke-Van Heusen-penned "Poppa Santa Claus" is a Burke-Van Heusen-penned "I'd Like to Hitch a Ride with Santa Claus," a lovely strings-and-woodwind arrangement setting the stage for the Sisters' dreamy close harmony approach, which happens to emphasize the scintillating colors merging seamlessly and evocatively when they got together in song. And their version of a South Seas holiday, "Christmas Island," a gem from a 1946 session with Guy Lombardo & His Orchestra, is a sweet ocean breeze wafting in and swaying the palm trees ever so gently as the orchestra offers up its bubbly champagne music and the gals bring it all home with their most seductive vocal charms. Superb vocalists, inspired orchestras, inventive arrangements, and good cheer from first cut to last—Der Bingle and the Andrews cannot be beat. –
All of the above titles were reviewed in the December 11 issue of TheBluegrassSpecial.com and revised for the 2023 Christmas coverage in Deep Roots.