Being About David Ian and his Trio's Fourth Christmas Long-Player (and Its Three Siblings)
By David McGee
VINTAGE CHRISTMAS
David Ian
Prescott Records (2011)
VINTAGE CHRISTMAS WONDERLAND
David Ian
Prescott Records (2013)
VINTAGE CHRISTMAS TRIO
David Ian
Prescott Records (2017)
THE VINTAGE CHRISTMAS COLLECTION
David Ian
Prescott Records (2018)
VINTAGE CHRISTMAS TRIO MELODY
David Ian
Prescott Records (2023)
Toronto-born David Ghazarian, son of Armenian immigrant parents, began studying classical piano at age five; performed with a number of local garage bands during his school years; and after graduating from college he joined a popular Christian rock band, Church of Rhythm, as lead guitarist. Church of Rhythm. This affiliation, from 1995 to 1999, found Ghazarian acclaimed as a hotshot guitarist with a penchant for thinking outside the box in his approach. Church of Rhythm released two well-received albums but disbanded in 1999 when Ghazarian and fellow band member Max Hsu left to become founding members of Superchick, a stylistically diverse group that incorporated punk, pop, rap and R&B flourishes in its music, had a huge Christian radio #1 single in "Stand in the Rain" in addition to four other singles chart toppers, was signed to Columbia records and in 2008 was nominated for a Grammy Award in the "Best Rock or Rap Gospel Album" category for its Rock What You Got long player. By late 2013, Superchick was history, as the various members, including Ghazarian, were on to other projects in the wake of one of its founding members, Chase Lovelace, passing away. The band reunited in 2016 for a one-off reunion show at the Lifest Christian music festival, which had hosted Superchick's debut concert in 1999.
Even so, in 2011 Ghazarian, rechristening himself David Ian, assembled a tight jazz-oriented combo with himself on piano, Jon Estes on upright bass and Josh Hunt on drums. This trio introduced itself in the holiday season of 2011 with a tasty, evocative set of Christmas carols and songs titled Vintage Christmas. In his biography posted on the Christian Music Archive site, Ghazarian/Ian said his aim in releasing a Yuletide album was "to capture some of the essence of the gorgeous voicing and phrasing of Bill Evans in his interpretations of ballads, as well as the festive approach of Vince Guaraldi, particularly his injection of the blues."
'Have Yourself a Merry Little Christmas,' lead vocal by Acacia, with David Ian (piano), Jon Estes (bass) and Josh Hunt (drums), from Vintage Christmas
Hey, job done. The Evans-Guaraldi influence is profound and bracing on Vintage Christmas, as Estes and Hunt supply warm, understated rhythmic support of Ian's often-Impressionistic forays into a melody's outer reaches, as he does on "Santa Claus is Coming to Town" (which also has room for Estes to pluck a frisky bass solo); to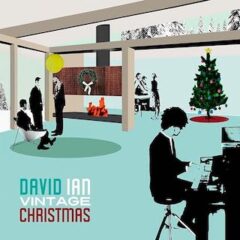 break out of waltz tempo, with some cool dialogue with drummer Hunt, on "Christmas Waltz" without ever losing the waltz feel; to go deeply blue and beautiful in his ruminative explorations of "I'll Be Home for Christmas" in a version so quiet and often forlorn Hunt's soft brush drums and Estes's solemn, spare bass are barely audible and approach "Silent Night" with reverence and some subtle, evocative blues interjections. Beyond Estes and Hunt, the other voices, if you will, on the album belong to breathy voiced Acacia Walters-Wulfing (of the duo Tal & Acacia) and the smooth tenor Andre Miguel Mayo. Acacia, as she's billed, kicks off the album with a tender, lightly swinging reading of "Have Yourself a Merry Little Christmas" that lands ambiguously as both hopeful and despairing, a paradoxical performance Ian underscores with the bluesy touches he adds under the vocal. She returns more cheerfully and lovingly in a measured take on "The Christmas Song (Chestnuts Roasting on an Open Fire," a fetching take that effectively captures the childlike anticipation the lyrics evoke, all played out over a minimalist backdrop featuring a fleeting Les Paul-like electric guitar run at one point. And finally, she helps close the album on a flirty, lighthearted note in dueting with Andre Miguel Mayo on "Christmas Time is Here," a vividly described celebration of the festive season, with Mayo adding some blues phrasing to his easygoing tenor reading in much same surprising way he drops some scatting phrases into the swaying groove of "Let It Snow! Let It Snow! Let It Snow!" on the album's second track.
The template thus cast, Ian returned with the same cast on 2013's Vintage Christmas Wonderland with much the same cast but pared the set list down to an EP-length five tunes (three sacred, two secular) and delivered another unqualified gem.
'Angels We Have Heard on High,' lead vocal by Acacia, David Ian on piano, with Jon Estes (upright bass), Josh Hunt (drums and percussion) and Elizabeth Estes (violin and cello) from Vintage Christmas Wonderland
'Winter Wonderland,' lead vocal by Andre Miguel Mayo, with David Ian (piano), Jon Estes (bass) and Josh Hunt (drums), from Vintage Christmas Wonderland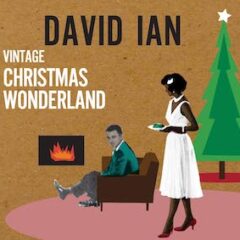 Working with Jon Estes on upright bass and Josh Hunt on drums and percussion, with Elizabeth Estes contributing violin and cello, Ian opens Vintage Christmas Wonderland with a dreamy, classic American pop treatment of "Angels We Have Heard on High," with vocalist Acacia Wulfing completely reframing the song in torch terms (including an affecting but discrete use of strings) with her whisper-soft, dreamy vocal, a bravura performance that tops her dazzling, emotionally complex treatment (she sounded ticked off about someone's behavior even as she cherished the season's familial warmth) of "Have Yourself a Merry Little Christmas" on Vintage Christmas. Andre Miguel Mayo, who brought a bluesy breeziness to "Let It Snow! Let It Snow! Let It Snow!" on the 2011 disc, returns here, also ably complemented by a bright string arrangement complementing the trio's gentle swing and the soothing Andrews Sisters-like background vocals by the sister duo Tai and Acacia, with a cheery, easygoing "Winter Wonderland" in a performance that emanates cool. All of these vocalists then return at the EP's close, with Tai and Acacia fashioning silky sibling backgrounds to Mayo's swinging rendition of "Jingle Bells," in a lively, finger-popping piano-based arrangement.
'O Little Town of Bethlehem,' David Ian (piano), Jon Estes (bass) and Josh Hunt (drums), from Vintage Christmas Wonderland
Rounding out the disc are instrumental versions of "O Little Town of Bethlehem" and "The First Noel" featuring Ian's piano front and center. Of course, when you get into piano-based Christmas music, especially of a gentle nature, the late, great Vince Guaraldi's work immediately springs to mind. Indeed, Ian's improvisational variations on the melody and rhythmic digressions on "O Little Town of Bethlehem" recall Guaraldi's deeply personal explorations of "What Child Is This" and "Greensleeves." "The First Noel" is the more straightforward interpretation of the two, hewing close–-but not without some detours, mind you–-to the affecting melody while adding room for Estes to give the upright bass a frisky solo workout and deploying the cello selectively for haunting atmospherics. At 16 minutes in length Vintage Christmas Wonderland goes by fast, but oh how its effect lingers on. It's not vintage; it's timeless.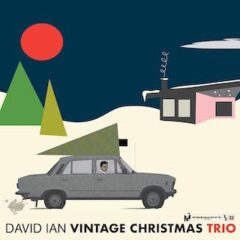 One wag has unfairly characterized Ian's third Vintage Christmas outing, Vintage Christmas Trio as "another 'Charlie Brown's Christmas,'" suggesting that this all-instrumental trio project must inevitably be compared to and fall short of the majesty of Guaraldi's Yuletide masterpiece. Take a breath, please. Ian (on piano), again with Estes and Hunt aboard, offers the trio's quintessential casual feel, but of course this stems from musicians so skilled as to make you believe they were just jamming on some holiday favorites, with no particular destination in mind, and someone happened to capture their musical conversation on some kind of recording device, perhaps surreptitiously. And whereas Ian doesn't get so far out as to lose the essence of the basic texts, his variations on the melodies take the tunes to places even Guaraldi never went—"Good King Wenceslas" evolves from its tried-and-true melody into a wistful classic pop ballad feel before the bass falls away, leaving Ian to restate the main melodic theme in spare, music-box style while Hunt underpins it on brushes with a soft shuffle rhythm.
'Good King Wenceslas,' David Ian, Vintage Christmas Trio
'I Heard the Bells on Christmas Day,' David Ian (piano), Jon Estes (bass) and Josh Hunt (drums), from Vintage Christmas Wonderland
Similarly, a section of "It Came Upon a Midnight Clear" departs from the melody and heads for blues territory in a series of triplet runs and forceful chording. "I Heard the Bells On Christmas Day" is rendered with more glide in its stride than it usually gets, thanks to the hints of dissonance in Ian's chording and Estes's ruminative, low-key bass solo, which may be the first time this beloved warhorse has ever featured a bass solo. So come, all ye faithful, set your preconceived notions aside and prepare to be surprised by the new twists Ian and company work on these ageless wonders of the Christmas canon.
Consider what's happened in the world in the six years that have passed since Ian's Vintage Christmas Wonderland appeared and then consider why Vintage Christmas Trio Melody sounds so contemplative. Contemplate a cursory list of horrors: A pandemic with a death toll in the millions; a tumultuous Presidency with the former Chief Executive charged with 91 felony counts and all manner of sketchy characters around him going to jail or cutting plea deals; lethal wildfires and hurricanes; an attempted coup; conspiracy theories and "alternative facts" displacing science, common sense and the truth; mass shootings and no foreseeable end to random gun violence throughout the land; books banning; and global chaos.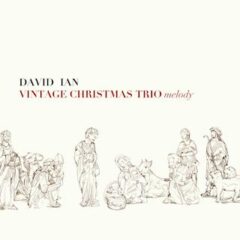 Against this factual backdrop, consider, then, the stark difference between the covers of Ian's previous trio of Vintage Christmas outpourings and this fourth, more introspective installment. Heretofore, Ian's colorful covers came in soft pastels or muted wintry hues, always with a Christmas tree in sight, the images depicting cosmopolitan scenes of people going about the business of gathering together—in one instance in a small group (Vintage Christmas), another showing a well-dressed couple by the fireplace (Vintage Christmas Wonderland) and another featuring a lone reveler, tree mounted atop his car, driving through a snowy geometric landscape, his friendly gaze directed out the passenger side window at, presumably, us (Vintage Christmas Trio).
Not so cheery, the Vintage Christmas Trio Melody number. Against a light beige backdrop and below the artist name and album title is a Créche depicted in a Michelangelo-style Renaissance sketching (so close in style it may well be a Michelangelo). On the front, with the baby Jesus in His crib in the center, Mary on His left, Joseph on His right, are gathered the three Kings of the Orient along with the shepherds who had been watching their flock by night, with sheep and camels patiently sitting in place nearby; on the back, roughly drafted angels on high soaring aloft.
'God Rest Ye Merry Gentlemen,' David Ian (piano), Jon Estes (bass), Josh Hunt (drums), from Vintage Christmas Trio Melody
Which is not to suggest the music on Melody is dour. Rather, its solemnity has a Classical elegance about it, as if Ian wanted us first to remember the true meaning of the season—hence the Créche on the cover—while also positing that moment as a joyous occasion as well. This dichotomy rules most of the 10 well-known tunes here: begins softly and tenderly, very interior in a Bill Evans way with thoughtful, unadorned, occasionally dissonant phrases before neatly segueing into a gently swinging mode with colorful arpeggios and rich chordings as if channeling Vince Guaraldi. To this taste the unqualified gem is "O Come, O Come, Emmanuel," wherein Evans meets Guaraldi meets Ian in a flurry of opening rolled chords followed by Impressionistic explorations of the melody, picking out phrases note by note at times (listen close for the cascade of notes at 2:05—surely a quote from Guaraldi's tune "Skating," evoking snowflakes falling in a scene from A Charlie Brown Christmas; the riff was originally a signature sound in Guaraldi's "Ginza Samba" on his 1957 album,  A Flower is a Lovesome Thing), but never losing the melody.
'O Come, O Come, Emmaneul,' David Ian (piano), Jon Estes (bass), Josh Hunt (drums), from Vintage Christmas Trio Melody
A vivid example of Ian's daring on Melody comes by way of a critic identified only as BillD reviewing the new album for the ARStash website on October 2, 2023. Here's his gobsmacked take on the album opening track:
Ian introduces Vintage Christmas Trio Melody with "God Rest Ye Merry Gentlemen." His thoughtful solo rubato interpretation in a swaying meter of three involves re-harmonization, brief dissonant accents in adjacent two-note chords, rippling ascending phrases, warm sustained chords, and upper-register tonal repetitions like the ringing of bells. The initial vamp gains force and volume. Then, at 1:32, Estes and Hunt come in to shift the initial rhythm to a swing in four. But, defying expectations, the jazz trio's walking-bass version lasts only until 1:58. Ian returns to a meter of three again with a repeat of the more haunting, looser version of Romantic Period characteristics. That is, Ian starts and concludes with Evans's horizontal and extended phrasing, interrupted but for 26 seconds by a Guaraldian outburst of bliss.

'O Little Town of Bethlehem,' David Ian (piano), Jon Estes (bass), Josh Hunt (drums), from Vintage Christmas Trio Melody
Later, BillD nailed the complexities presented by "O Little Town of Bethlehem" and picked up another Guaraldi quote therein:
By the time that Ian's trio plays "O Little Town of Bethlehem" (the fifth track), it becomes apparent that Ian enjoys the opportunities presented by converting music usually sung blandly in four to an engaging waltz. With the addition of syncopation and the anticipation of the beat after the chiming first chorus, "O Little Town of Bethlehem" becomes a jazz waltz with several choruses of improvisation personalized by Ian. Eventually, Ian develops his own alternative mid-track melody to accompany Hunt's subdued drum solo. Cleverly, Ian ends his interpretation of the Christmas carol with a slightly altered quote from Guaraldi's "Christmas Time Is Here."
'Silent Night,' David Ian (piano), Jon Estes (bass), Josh Hunt (drums), from Vintage Christmas Trio Melody
Closing with "Silent Night," Ian deconstructs the song as thoroughly as the Jim Kweskin Jug Band used to "murder" (in the words of Geoff Muldaur) popular songs in its repertoire, reimagining it in a series of almost unconnected phrases, spare and evocative, with traces of the original melody surfacing frequently enough to identify it as "Silent Night" but otherwise emphasizing "silent' and "night" as separate phenomena. Estes's bass, barely audible, shadows Ian with minimal punctuation here and there as Ian burrows around in somber tones. "Silent Night," in this context, could be a benediction, but in the context of the present day it may be even more profound in its disjointed form: think of it as a weary but grateful exhale, a way of giving thanks for the gift of life its ownself in the most trying times. Selah.