By David McGee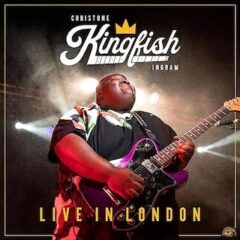 LIVE IN LONDON
Christone 'Kingfish' Ingram
Alligator Records
BLUE JA VU
Tom Hambridge
Quarto Valley Records
Despite his first album (Kingish) being Grammy nominated and his second (662) being Grammy winning, the word around Clarksdale, Mississippi, bluesman Christone "Kingfish" Ingram was "you gotta see him live." This is hardly a reflection on the studio efforts being lacking in some fundamental way; far from it. In Tom Hambridge, as producer and songwriting collaborator, Kingfish had one of the best in the business in his corner. No, the rep has to do with capturing on disc the visceral force and assured versatility of Kingfish on stage, both as daring musician and powerful vocalist. Suffice it to say the record, so to speak, is now corrected with the release of Live in London, a dynamic double-disc offering designed to showcase the full range of Kingfish's power, passion, sensitivity and creativity. Producer-engineer Zach Allen is at the board, doing an outstanding job of presenting all that's special about 24-year-old Kingfish in concert at The Garage club in Islington, London.
'Another Life Goes By,'  Christine 'Kingfish' Ingram, from Live in London
You don't have to wait long to figure out you're in for a scintillating journey here. From 662 comes the set opener "She Called Me Kingfish," but reworked into a virtually new song—a tack Kingfish embraces on many of the previously recorded songs here. Rising from DeShawn "D-Vibes" Alexander's smooth jazz organ intro into a stinging rebuke—lyrically and instrumentally—of a feckless gal, Kingfish burns both hot and meditative over the course of seven minutes-plus in remaking the studio version into a riveting live statement. Fourteen more tunes—including two new ones to accompany the sampling of Kingfish and 662—find the singer-songwriter-guitarist convincingly assaying a range of styles, from smooth jazz to hardcore blues to blues rock to soul and combinations thereof. In one of the new songs, "Mississippi Night," he doesn't utter a word but rather lets his guitar speak instead, for 10 minutes. Beginning with a searing, merciless howl over Alexander's steady chording, Kingfish subtly eases into a tasty, very interior, single-string workout redolent of B.B. King, before the dam breaks on a rush of ostinato riffs, upper and lower neck sorties, a multitude of tones and textures with note-perfect complementary conversation from Alexander and exactly the right breakouts of propulsion from the impressive rhythm section of drummer Christopher Black and bassist Paul Rodgers. Apart from B.B. King-style tone and attack, the influences ascend and descend with regularity—some razor-edged Buddy Guy, nuanced Guitar Slim, swear I heard a taste of Elmore James with hellhounds on his trail, et al.—as the colors Kingfish creates from his musical palette suggest a night both sinister and raucous in his home state.
'Empty Promises,' written by the late Michael Burks, performed by Christone 'Kingfish' Ingram on Live in London
Hard luck and hard times are predominant themes in young Kingfish's songs, which also reveal a real love for his family and his birthplace, regardless of whether those tunes are co-written by Kingfish or come from the combined pens of Hambridge and his Nashville-based writing partner Richard Fleming. The latter pairing in fact takes the bluesman into topical territory in the funky, wah-wah infused "Hard Times," with its references to multiple social ills ("things we used to buy/we can't buy no more") bringing the singer down, a state of affairs further emphasized by the heated, swirling solos punctuating the action courtesy Kingfish's guitar and D-Vibes's B3. Classic blues-rock formulations, played with crisp precision, fuel the hurt lurking beneath the betrayal documented on "Empty Promises," a gem from the late bluesman Michael Burks that deftly employs the timeless blues analogy of bare kitchen cupboards reflecting lost love, a sad state of affairs given a slow boiling howl of a guitar solo as a compelling second voice to Kingfish's own mournful vocal. In a jazz ballad vein, with D-Vibes playing a key role with his introspective, ethereal B3 work, Kingfish decries systemic violence against blacks in the slow groove of "Another Life Goes By," another occasion for an emotional exploration of the fretboard in single-string runs and Montgomery-esque octave chords; but in the end the command of Kingfish's vocal—"we have to stop the madness/before another life goes by"—makes this the most piercing performance of the night in question.
'Been Here Before,' Christone 'Kingfish' Ingram, from Live in London
'Rock & Roll,' Christone 'Kingfish' Ingram, from Live in London
Kingfish's family makes two memorable appearances in the set. In the lone acoustic track (a Hambridge-Kingfish co-write), "Been Here Before," it's the artist alone with his instrument and his voice telling of his grandmother's belief that "you've been here before," and his mother adding to the mystery: "I don't know where I came from/or how I got this way/my momma said the sky lit up with lightning/on my birthday/still hear grandma saying/and she be talkin' to the Lord/and I still hear grandma saying/child, you been here before." Kingfish believes he's afflicted with Asperger's Syndrome, although he's never been clinically diagnosed with the developmental disorder, but this scene, sounding so autobiographical, gives an informed listener pause in considering the preternatural talent he exhibited from childhood. The mother he speaks of in "Been Here Before" surfaces later in the set as the subject of a touching soul-gospel ballad, "Rock & Roll," keyed by D-Vibes's tender 88s, as Kingfish tells of his late mother "burning them stacks with a monkey on her back/'cause daddy ain't there/she been swinging that axe and picking up the slack/and it an't fair/so I could sell my soul to rock and roll…she made a deal with the angels/so they never let go/so I could sell my soul to rock and roll…" It's an emotional reading, but restrained, just so, enough to reveal the depth of his love for a mother's sacrifice for her son against daunting odds. Alexander keeps the B3 humming low behind Kingfish, as if he's playing a hymn of invitation. Against this backdrop, having made of this a spiritual moment, Kingfish makes it clear he's heading for higher ground. People, get on board.
'Blues Don't Care,' Tom Hambridge (lead vocal and drums) with Christone 'Kingfish' Ingam on guitar and vocals, from Blu Ja Vu
On the few occasions when Tom Hambridge isn't producing Grammy winning or Grammy nominated albums for Kingfish, Buddy Guy, Keb' Mo' and others, he'll retreat to the studio to make his own statement. On Blue Ja Vu, his seventh long player (and first since 2018's acclaimed The Nola Sessions), he's bringing powerhouse drums and percussion and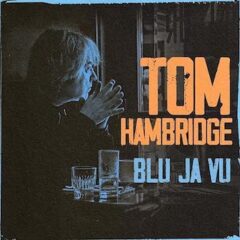 soulful blues vocals to bear on an impressive batch of tunes he's produced, written and played on for and with others, some of whom join the festivities. Inscrutably titled, Blu Ja Vu hits the ground running with none other than Buddy Guy blazing away on guitar and adding earnest vocals to the heated philosophical treatise on matters of the heart, "Ain't It Just Like Love." Intensifying the attack, Joe Bonamassa underscores "Automatic"'s lust for a '65 T-Bird and the girl that goes with it and adds to the unrepentant howl that is the thundering "That's My Home." You can bet Kingfish is here, contributing taut guitar and muscular vocals to Hambridge's life-lesson titled "Blues Don't Care" ("the blues gonna get you some way, somehow…"), and the legendary James Cotton's shimmering harp helps propel the instrumental "Brother John Boogie" into the ether. Hambridge isn't in need of much help from his friends, but the sum of all these parts is impressive indeed.