By David McGee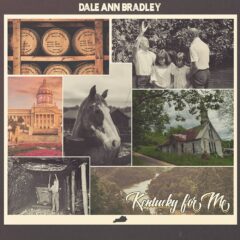 KENTUCKY FOR ME
Dale Ann Bradley
Pinecastle Records
Herein bluegrass icon Dale Ann Bradley leads a super session featuring marquee names joining her in songs paying heartfelt tribute to the roots of her raising in the Bluegrass State. A dazzling lineup of singers, songwriters and musicians rise to the challenge posed by Ms. Bradley's high caliber vocalizing and make of My Kentucky Home an album to rival Michael Cleveland's latest as the genre's most powerful 2023 moment. Oh, and fiddler Cleveland makes two guest appearances here, adding keening fiddle to the loping, understated groove the all-star band—Alison Brown on banjo, Tony Wray on mandolin, Ethan Burkhardt on bass–establishes on the album opening "The Sun Is Going Shine" in support of emotion-laden vocals by Ms. Bradley and JP Pennington bringing assurances that hard times don't last; and leading the tradition-drenched heartbreaker "One by One," featuring Danny Paisley's somber tenor merging in aching harmony with Bradley's high lonesome cry.
'I'm Just an Old Chunk of Coal' (written by Billy Joe Shaver), Dale Ann Bradley and John Conlee, from Kentucky for Me
Wonders never cease, from the gritty urgency of the anguished dialogue between Dale Ann and Dave Adkins in closing the long player with a heated, driving version of the Tom Petty-Mike Campbell howl, "Stop Draggin' My Heart Around" to Bradley's determined assertions giving way to the very welcome John Conlee's muscular contribution to Billy Joe Shaver's self-improvement course titled "I'm Just an Old Chunk of Coal." Get the drift? This collection addresses the range of human experience over musical backdrops tailored perfectly to hit a soul where he lives. In addition to Brown and Wray, the instrumental lineup also featured Scott Vestal (banjo), Jim Hurst (guitar), Brandon Godman (fiddle) and Ryan Paisley (mandolin). Redemption is at hand for those who feel they've strayed from the straight and narrow in Mark "Brink" Brinkman and David Stewart's spiritually oriented, midtempo bluegrass shuffle "God Already Has" with the soaring harmonies by Bradley, Matt Leadbetter and Kim Fox bringing home the good news. The elegiac "Appalachian Blue" chronicles the changing tenor of life in the hills as time marches on, verse by verse chronicling how the old-timers press on as an altered world leaves behind aching hearts, as John Cowan emphasizes in a star turn here when his plaintive voice rises to a piercing plane as he sings of a mountain elder visiting the graves of sons lost in the Civil War: "It's hard to high his pain and his sorrow/but he knows there's hope in the children of tomorrow/and the river flows/it can't wash away those bloodstained years/but Heaven knows that he'll survive." Getting a bit bluesy, Bradley and Rebecca Lynn Howard channel the Judds on Kim Fox's "Love Train," which is not the O'Jays song but rather an ardent appeal to a significant other to "come on back," complete with an atmospheric dobro cry from Matt Leadbetter seeming to cut against the grain of the gals' hopeful appeals.
'God Already Has' (written by Mark 'Brink' Brinkman and David Stewart), Dale Ann Bradley with Matt Leadbetter (harmony) and Kim Fox (harmony), from Kentucky for Me
'Appalachian Blue' (written by Donna K. Anderson and Michael Anderson), Dale Ann Bradley and John Cowan, from Kentucky for Me
The Po' Ramblin' Boys are tight and urgent on "Poor Man's Pride" as Bradley recounts the shattered hopes of a farmer who passed up opportunities to change course only to have the land he clung to betray him and leave behind bitterness, as Bradley asserts with plaintive eloquence: "Moneu does not mean a thing when you dream a farmer's dream/it could not toe that bottom line/sometimes I curse that poor man's pride…"  There's a neat O. Henry twist at the end when the farmer dies and she mournfully confesses to missing "that poor man's pride." "Kentucky Gold," a dark tale being about a horse that comes out of nowhere to win a big race (Kentucky Derby would seem to be the logical choice) against long and despairing odds, finds the singer, adopting the character of the Kentucky Gold's caretaker, vowing, "Run, baby, run/you were born to be free/some day I'm going to set you free," as Sam Bush adds warm harmony and mandolin support with Godman's long, lean fiddle lines conjuring the stallion's unceasing stride. To call Kentucky for Me Dale Ann Bradley's finest moment is to be argumentative, because there so many peak moments in her catalogue, but by any measure something very special is going on here on a record of which hit can fairly be said gets deeper with every listening.