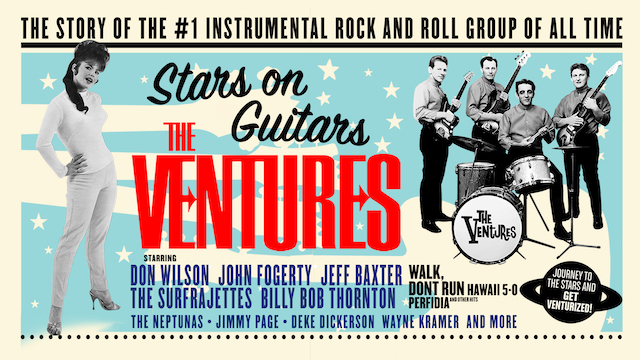 Video Pick of the Month:
The Ventures: Stars on Guitars
Now showing on Amazon Prime Video
Stacy Layne Wilson wrote and directed this beautiful documentary tribute to the timeless Ventures, rock 'n' roll's greatest instrumental group, as the surviving members celebrated their 60th anniversary. For the guitar aficionado and the fan alike, this hour-and-a-half chronicle of the band's journey from obscurity to the very pinnacle of international rock 'n' roll fame and influence pays homage to the musicians' virtuosity and vision, the sonic breakthroughs they achieved in the recording studio, their whimsical concept albums containing singular takes on just about every musical fad emerging as the years rolled by (Twist With the Ventures, The Ventures A Go-Go, Super Psychedelics, Swamp Rock, et al.), which accounts in part for there being more than 200 Ventures albums released to date. Of course the lineup of gifted Ventures guitarists—from Bob Bogle (that's him on "Walk Don't Run"), to the immortal Nokie Edwards to Gerry McGee (son of the legendary Cajun fiddler Dennis McGee) to Bob Spalding—is the focus of much attention, and rightly so, as the film attests, but not at the expense of recognizing the stellar musicianship of original rhythm guitarist Don Wilson, original drummer Howie Johnson and his successor, and longest-tenured drummer, Mel Taylor. It's a great story about a great band that is still as big in Japan as it ever was in the States. (They're way ahead of us over there.) In light of all the ground the Ventures broke in and out of the recording studio, it's rather astounding to be reminded of their being snubbed by the Rock and Roll Hall of Fame until 2008. Don't get us started.
Here's the classic, enduring rock 'n' roll version of "Walk Don't Run," courtesy the Ventures in 1960, and below it, the great guitarist Johnny Smith's original 1954 version of the song he wrote that was covered in 1956 by Chet Atkins, whose recording inspired the Ventures' take on the tune. And then a welcome little treat from an inspired YouTuber. Without further ado…
'Walk Don't Run,' The Ventures on the Dick Clark-hosted Saturday Night Beach-Nut Show, August 27, 1960
'Walk Don't Run,' Johnny Smith's original 1954 recording of the song he wrote for his In a Sentimental Mood album released on the Royal Roost label
And here, courtesy YouTuber COSTAFINKEL, is a sampling of "Walk Don't Run" covers starting with Johnny Smith's 1954 recording; sampling the Chet Atkins and Ventures versions; an unfortunate vocal version by Tommy Leonetti from 1965; a smoking hot Glen Campbell instrumental take (also vintage 1965); a rousing, horn-driven Herb Alpert effort with a south of the border flair (also 1965); the Pink Fairies in a merciless proto-punk, slashing assault from 1972; and The Shadows with a fairly faithful 1977 interpretation of the Ventures' approach.