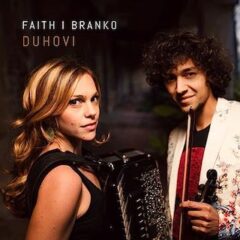 DUHAVI
Faith i Branko
Riverboat Records
Duhovi documents the twists and turns in the music and lives of Faith i Branko since their widely acclaimed debut release, Gypsy Lover. Virtuosic Serbian-Romani violin and heartfelt accordion are complemented by other musical guests on this collection of original tracks.
Fifteen years ago, U.K.-born musician Faith met and married the Serbian Romani violinist Branko Ristic, resulting in the birth of an utterly unique and artistic musical union. Bringing their own distinctive musical, cultural and personal stories into their music, this union has so far resulted in international tours, albums and an award-winning documentary. Since we last heard from Faith and Branko, an obstacle-strewn move from Branko's tiny village in rural Serbia to London has tested the duo's personal and professional relationship on multiple levels. Yet despite the inevitable strain of moving from one of the most remote corners of Europe to one of its most populous fulcrums, Faith and Branko's musical journey has survived and thrived, with the thrilling results now available to hear on their new album. The title Duhovi means "ghosts," "spirits" or "souls" and in this case refers to the souls of four now deceased musicians and friends who accompanied the duo on this album.
'Duhavi,' title track from the new album by Faith i Branko
Duhavi is a celebration of that deep bond of music and creativity that heals and connects them to something beyond and keeps the memory alive of those whom they loved. Some pieces were recorded remotely due to the pandemic and some in a London studio and in Emir Kusturica's studio in Serbia.Two worlds and methods of creating music combine and sometimes collide within these compositions, each of which is a musical conversation between Faith and Branko. From a foundation of Serbian-Roma music, Faith i Branko have created a style that draws from both of their musical heritages and expresses their unique personal connection and willingness to experiment with other genres. This outward looking approach is epitomized by the classic album opener "Mari Loni," the melody of which is taken from one of Branko's favorite Bollywood films that he used to watch whilst growing up in his Romani village.
'I'm Sorry,' written and sung by Faith, who also plays tabor pipe on the track, with guitar support by the late Cakija (a Covid-19 vicitm after these sessions were completed) from Faith i Banko's Duhavi
Throughout the album, Branko's violin dazzles as it freely switches between contemporary and classical styles, beautifully highlighted on the wildly spontaneous, and highly emotional, richly textured instrumental "Duhovi," which gives the album its name and is best described in Branko's own words, to wit: "I created this piece as it was recorded. I taught myself to play in very difficult circumstances, sometimes without two strings or a teacher. Only when I play am I truly happy. Music is my soul, my greatest love and how I experience God and the universe."
'Mari Lon,' based on a Serbian folk dance, a song Branko recorded for Faith during the pandemic in Serbia, with both Cakija (guitar) and Didi (keyboards) passing away from Covid-19 soon after recording. From Duhavi.
Renowned for her highly accomplished and nimble-fingered accordion playing, Faith further embellishes several of the pieces with the one-handed tabor pipe, a traditional English instrument. Her songwriting also comes to the fore on the heartfelt and timeless ballad "I'm Sorry," which she wrote in just one day whilst on tour in Australia. The album is punctuated by other deeply personal tracks such as "2018," the year that Branko's beloved grandmother passed away, as well as "Me Mangav Tut," a song Branko recorded for Faith during the pandemic in Serbia, with both Cakija (guitar) and Didi (keyboards) passing away soon after recording. Kolo is a folk dance synonymous with Serbia that Branko pays his respects to on his joyously upbeat compositions "Irena Kolo" and "Korona Kolo," a track recorded with the talented Petrovic family members from the Romani village of Gornja Grabovica. Branko's cousin Kristijan–from the Petrovic musical dynasty–studied classical violin at the Purcell School in London; his virtuosity shines through on "Ludilo," another track that demonstrates the beauty of the acoustic Serbian-Romani sound.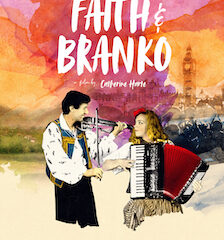 Faith i Branko have performed at some of Europe's most prestigious venues and their incredible story was made into an international Catherine Hart-directed award-winning documentary, Faith and Branko, in 2020. In connection with its release, Branko drew on his reignited love of traditional Romanian music to compose "Rumunska Vez," which they in turn performed online for the Canada International Documentary Festival. After opening the prestigious Aljazeera Film Festival in Sarajevo, the film garnered widespread acclaim.
The penultimate track, "Penrith," is another classic example of how Faith i Branko are always looking for new musical directions to challenge their creativity. Composed during a residency near Penrith in Cumbria (England) with Iranian musician Pouya Mahmoodi, it showcases Pouya's unique contemporary Iranian guitar improvisations and in Faith's words "evokes a world in which we find the safe haven of love and acceptance between us."\
This leads into the deeply poignant parting cameo "Oj Moja Ruza Rumena," translated as "Oh my beautiful rose," sung by Milo Ristic, Branko's uncle who died in Serbia during the pandemic. As Branko notes: "[My uncle's] talent and voice were not given a chance to be heard during his lifetime." On Duhavi, he lives.