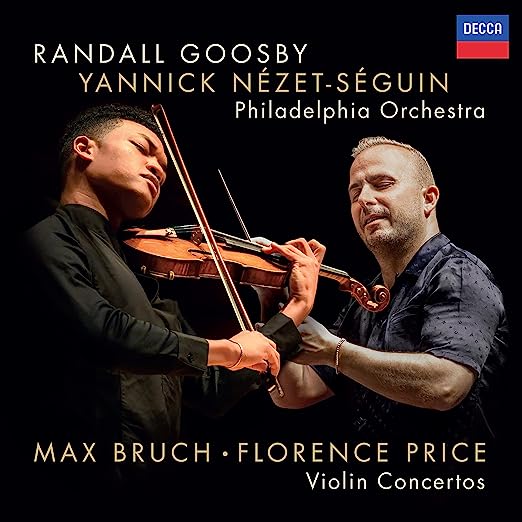 by Quentin Neroes
Bruch: Violin Concerto No. 1; Florence Price: Violin Concertos
Randall Goosby/Yannick Nézet-Séguin/Philadelphia Orchestra
Decca
Ascendant violinist Randall Goosby (who was recently featured in the soundtrack for the movie Chevalier) presents us with an excellent sophomore album. According to the liner notes, this live recording of the Concerti Nos. 1 and 2 of Florence Price and the Concerto No. 1 of Max Bruch marks the first time those of Price have been released by a major record label; it, however, is not the first time Yannick Nézet-Séguin and his Philadelphia Orchestra have recorded her music for a large audience. Their recording of her Symphonies 1 and 3 won the 2022 Best Orchestral Performance Grammy Award and Goosby's performance has matched their prestigious standard.
Randall Goosby stopped by WQXR's Greene Space to talk about his upcoming projects with host Jeff Spurgeon, and perform a program of works all composed by Florence Price with pianist Zhu Wang.
Goosby plays the familiar opening of the Bruch concerto with great virtuosity, but also with a pathos effortlessly shining through the notes on the page. A more-than-ample accompanying force, the Philadelphia Orchestra matches his vigor, and his sweetness, when it comes to it. A favorite section of mine-the fifth minute or so-practically has me head-banging, certainly air-conducting! Another moment that pulls at the heartstrings in that special way where you seem to be drawn in is around the fifth minute of the second movement. And who can fail to feel the energy of that swashbuckling finale and its frenetic ending?
Violin Concerto No. 1 in D Major—I. Tempo moderator, composed by Florence Price performed by Randall Goosby, The Philadelphia Orchestra, Yannick Nézet-Séguin from Bruch: Violin Concerto No. 1; Florence Price: Violin Concertos 
In Price's first violin concerto, as mentioned in the liner notes, you can certainly hear some aspects of the Tchaikovsky violin concerto, but I'll tell you what else I hear: what sounds like an occasional reference to the spiritual "Nobody Knows the Trouble I've Seen"; a character that I've often heard in Black-American music; and some of the distinctly American sound found in the early 20th century. In my opinion, the mix of the aforementioned and the traditionally romantic sounds makes for a scintillating amalgam; at one point you might hear Tchaikovsky, but the next moment it's as if Price is saying "just look what I can do." While being shorter than the first, I enjoy Price's second violin concerto a little more. It sounds a bit more cohesive, and I find it, especially toward the latter calm section before the end, quite touching. I thoroughly enjoyed both concerti whilst streaming–I'm hoping for an opportunity to hear them live in the near future.
Brucht: Violin Concerto No. 1 in G Mintor, Op. 26-I. Vorspiel. Allegro moderator, performed by Randall Goosby, The Philadelphia Orchestra, Yannick Nézet-Séguin from Bruch: Violin Concerto No. 1; Florence Price: Violin Concertos 
Of course, Price's "Adoration" is lovely, and not much more needs to be said aside from: be sure to listen to it, and the rest of this album. I simply can't wait to see what's next from Goosby; perhaps a quartet album soon, given that he's a member of the Renaissance String Quartet, which recently had its New York debut–we shall see. Goosby recently performed in WQXR'S Greene Space; you can watch that performance, and hear him in conversation with morning host Jeff Spurgeon in the special YouTube presentation above.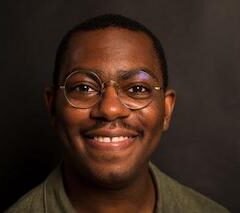 About the author: Quentin Neroes is one of two Music Coordinators at WQXR and hails from Dallas, TX (though he now makes his home in Brooklyn). He appreciates all things analog, including—but not limited to—fountain pens, cameras, and vinyl records. He studied English in college and managed a vinyl library in his former dorm, Eliot House; in that capacity, he held weekly listening sessions called "music hours" (after office hours) where he served cheese, crackers, and wonderful records. Photo by Quentin.
***

'Dressed to Express'
You can absolutely hear why Randall Goosby has been turning heads with his open-hearted, generous 'school of Perlman' delivery. There's an honesty and modesty about his playing that stands him apart. It's so refreshing to note an absence of excess in either sound or feeling. This playing isn't dressed to impress but to express.
The European influence and amplitude of the ever-popular Bruch Concerto is our way here to the world of Florence Price and in these live recordings from Philadelphia Goosby has another of her champions–Yannick Nézet-Séguin–acting like a second skin in their shared enthusiasm. But nothing is over-gilded in the Bruch: sound and feeling are one and there is no grandstanding or, one might say, over-projection of the emotion for its own sake. Then again one never doubts Goosby's passion for this music or his in-the-moment response to it, and when finally in the opening paragraph of the first movement the soloist excites the orchestra to its first big tutti the fire of the Philadelphia strings is something else.
Before the Price concertos (a decade apart in composition) comes Adoration–a popular Goosby encore but here amplified in a lush arrangement for string orchestra and solo violin by Jim Gray. The melody is just plain gorgeous, intensely personal and 'spiritual' in every sense. Goosby's identification with it runs deep.
Price's First Violin Concerto may from time to time reference European models lurking in its shadows (there's more than a hint of the Tchaikovsky in the first-movement coda–indeed it's almost a homage) but Price is very much her own woman and nothing about her feels second-hand. Her ability to 'spin' ideas as a seasoned extemporiser or jazzer is a distinctive characteristic of this big and occasionally, one might argue, somewhat rambling piece. But against that one must weigh the distinctive colour and cast of her folk-inflected melodies and the highly personal way in which she journeys with them. Goosby's identification with the music is so strong that every departure feels like it could be of his own making.
Follow this link to the full review by Edward Seckerson in Gramophone,
***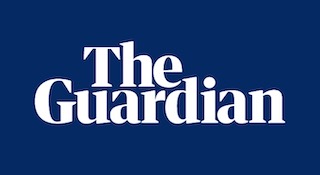 'Florence Price Has Her Ideal Champion…'
Review by Erica Jeal, The Guardian
Florence Price's star continues to rise. Her two violin concertos were rediscovered among piles of old papers in 2009, when renovators entered her old Illinois summer house more than half a century after her death. Now they find an ideal champion in the US violinist Randall Goosby, whose recording of them follows on from his 2021 debut, Roots, exploring music associated with Black America. Together with the Philadelphia Orchestra and conductor Yannick Nézet-Séguin, he presents Price's concertos alongside an appealingly unhackneyed performance of Bruch's blockbuster Concerto No 1, his playing full of old-school warmth and breadth but never schmaltzy. In the Bruch, he and Nézet-Séguin resist many temptations to milk the bits you'd expect, and yet the performance has plenty of romance.
Follow this link to the full review by Erica Jeal in The Guardian, 25 May 2023