By David McGee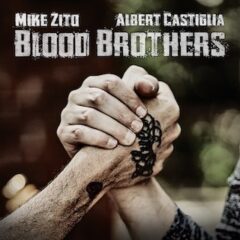 BLOOD BROTHERS
Mike Zito & Albert Castiglia
Gulf Coast Records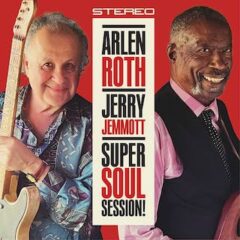 SUPER SOUL SESSION
Arlen Roth and Jerry Jemmott
Blue Heart Records
If 2023 produces no more duo projects than those being considered here, then it's been a good year. Mike Zito teaming up with Albert Castiglia somehow seems a long overdue summit, considering the similarities of their musical gifts and stylistic preferences. For guitarist and educator Arlen Roth, his pairing with legendary bassist Jerry Jemmott follows his equally inspired 2021 outing with another legend, John Sebastian, for a rootsy take on songs of the Lovin' Spoonful (back in 2003 Sebastian himself made a memorable duo long player with David Grisman). These four artists have in common an affinity for blues, rock 'n' roll and classic soul; Zito and Castiglia center their selections on mostly originals in the first two categories, whereas Roth and Jemmott dive deeply into vintage electric blues and soul chestnuts, the original recordings of which featured one or the other musician among the band members.
'In My Soul,' Mike Zito and Albert Castiglia (lead vocal: Mike Zito), from Blood Brothers
An outgrowth of shows Zito and Castiglia did together last year, and a prelude to their barnstorming tour now underway, Blood Brothers is notable for being anything but virtuosity for virtuosity's sake. Though the artists in question have built towering reputations as guitarists, both men are soulful, reflective writers who craft their messaging with care and clearly looked for their shared attributes in the outside material they explore here.
'Hey Sweet Mama,' Mike Zito and Albert Castliglia, from Blood Brothers
Looking to let the good times roll? There's enough of that going on within to energize the get-down crowd, and then some. Check out the duo's fiery six-string set-to in Zito's album opening burner, "Hey Sweet Mama"; another Zito original, the stomping "No Good Woman" (as in "no good woman needs a no good man…") with its gritty Zito declaiming and wailing guitar solo; a grinding take on Tinsley Ellis's "Tooth and Nail," with Castiglia bringing extra oomph to the hard-as-nails workout with his determined reading of a lyric about reuniting with an old love who's wandered off. (Ellis himself would qualify as a blood brother in this grouping.) Arguably the album's most infectious uptempo attack comes in the form of a piledriving, guitar-fueled take on John Hiatt's witty yet aggrieved screed, "My Business," all howling, shouting, shimmering intensity, a mean woman blues in which the male of the party might well be accused of protesting too much in railing against his significant other's selfish behavior.
'A Thousand Heartaches,' Mike Zito and Albert Castiglia (lead vocal), from Blood Brothers
The quieter moments, however, propel the album to a higher plane, where it takes flight on the strength of Castliglia's commanding, deeply wounded vocalizing. Fred James and Berry Hill contributed a fierce, lowdown blues in "You're Gonna Burn," in which Castiglia's smoldering, grievance-riddled reading is powerfully complemented by the guitars' sizzling upper neck roundhouse punches, a wall of righteous sound that effectively underscores the angst informing Al's performance. Al's sole songwriting contribution is a real gem: a rippling, yearning blues lament in a southern soul style, "A Thousand Heartaches" brings out the best in him vocally, with his conversational approach overflowing with heartbreak as he digs deeper in surveying the wreckage a breakup has left behind and vows to take comfort in knowing "in the next life/there'll be no more heartache," a smidgen of positivity arriving in the wake of co-producer Joe Bonamassa underscoring the plaintive vocal with a concise, stinging guitar solo evoking the hurt Castiglia articulates. Zito makes a memorable reflective statement of his own amidst the shifting textures of his Southern rock-styled ballad, "In My Soul," wherein revelation surfaces. Whereas Al finds comfort in believing in a time when "there'll be no more heartache," Zito here pleads "Let my heart lead the way" in his Gregg Allman-like rumination on life and love written in the wake of Zito learning of his wife's cancer diagnosis. An appeal for divine guidance, these words turn out to be the best advice for enjoying the depth of Blood Brothers in full.
'I'm Just a Mortal Man,' Arlen Roth and Jerry Jemmott, with lead vocal by Mukamuri, from Super Soul Session
In addition to being named to Vintage Guitar's "Top 100 Most Influential Guitarists" list, Arlen Roth is a pioneering video and online music educator. His instructional video catalog now contains 180 titles featuring 150 artists, with the first entry dating back to the late '80s, when he was teaching actor Ralph Macchio the guitar parts for the latter's role in Crossroads, a movie centered on the search for a "lost" Robert Johnson track. According to his bio, for five years, from 2007 to 2012, Roth created more than a thousand online lessons and blogs for Gibson Guitars. As a guitarist, his resume includes work with a Hall of Fame roster of artists ranging from Pete Seeger to the Bee Gees, from John Prine to James Taylor, and etc., etc. His partner on Super Soul Session, Jerry Jemmott ("The Groovemaster"), in addition to his own Hall of Fame musical career backing the towering blues, soul and jazz artists of his time (some of whose landmark recordings are featured on this album), has an educational focus too in the form of his non-profit Souler Energy corporation (Souler Energy also being the name of Jemmott's own band), which, as his bio states, "utilizes the voice of music, art, education and technology, all to deliver a message of prevention and solution."
'The Thrill is Gone,' Arlen Roth and Jerry Jemmott, with lead vocal by Joe Louis Walker, from Super Soul Session
Roth and Jemmott have outstanding support in realizing the 13 songs they've chosen to explore here (including an album closing take on "America the Beautiful" evoking the spirit of Ray Charles's spiritually infused 1972 version, with Bruce Katz taking it home on organ and piano and Roth exploring the melody with all manner of swoops, moans and declarative outpourings on slide guitar). The Uptown Horns bring heft and energy every time they show up, and the basic band of Katz, rhythm guitarist Tom Gage, Alex Salzman on keyboards, and Chris Parker on drums and percussion, is to the soul manor born, simply put. All the forces assemble with dignity and purpose on the instrumentals, with the likes of Aretha's "(Sweet Sweet Baby) Since You've Been Gone" cooking mightily behind Roth's stinging, driving workout and the pumping horns—it's not like you don't miss Aretha, but the energy and enthusiasm of the band is infectious in its own right, and Roth's lead lines are invested with emotion to burn. You have to catch your breath when it roars to a close, but you don't have much time to recover before, in a version dedicated to the towering bass great James Jamerson, the horns burst out of the gate with a mighty force on "Dancing In the Street." Roth picks up the pace on guitar, with long, lean lines morphing into serpentine twists and turns here and there, up and down the neck, adding new tonal possibilities to the melody. Another Aretha hit, "Chain of Fools," written by Don Covay, gets a swinging, bluesy treatment, driven by Katz's cool organ rumbling, Parker's rock steady percussion and a soaring Roth guitar solo. In a more introspective moment, the band settles into a sturdy, backbeat-heavy groove on "The Weight" with some resonant interplay between Roth's muscular guitar runs—lots of effective single-string action here—and Katz's country-inflected piano.
'Down Home Girl,' Arlen Roth and Jerry Jemmott, from Super Soul Session
If it were an all-instrumental album, Super Soul Summit would rank with the year's finest roots releases. With the addition of vocalists Joe Louis Walker and Zimbabwe's Shalom Mukamuri, it goes to the head of the class. Mukamuri makes his presence felt in a striking way on the album's first cut, "I'm Just a Mortal Man." It's not a soul/blues classic like all the other tunes, but rather the title track from the late Jerry Lawson's first and only solo album, released in 2011, a few months before the great Persuasions lead singer's passing. Mukamuri simply owns the song, making its confessional lyrics seem Biblically inspired, and at that point attention must be paid. The Bucks County Herald of June 14, 2023 describes Mukamuri as "a soul singer/songwriter from Zimbabwe, currently based in Doylestown (PA). He believes that every story has a song and he uses his music to bring joy and understanding and create moments of unity. His sound is made of multiple genres, blended with a soulful expression rooted in his African upbringing." Seems safe to say Doylestown, and Zimbabwe, are going to have to share Mukamuri with the world soon—he's the real deal and then some. He turns "(Your Love Keeps Lifting Me) Higher and Higher" into a gospel housewrecker, with a big assist from Lexie Roth's testifying background vocals and the Uptown Horns' pumping ferocity; completely captures the roiling emotions—the depth of despair and the high of impending salvation—revealed in Dobie Gray's "Drift Away," all with the underlying serenity of someone sold on the prospect of better days ahead; and casually, conversationally, with an existential shrug, works his way through the mellow blues of Danny O'Keefe's "Good Time Charlie's Got the Blues." In his emotional investment in smart phrasing, in his command of vocal textures, Mukamuri's is the voice of a mature, worldly singer whose artistic temperament brooks no barriers.
'Drift Away,' Arlen Roth and Jerry Jemmott, with lead vocal by Mukamuri, from Super Soul Session
Which is not to suggest veteran blues man Joe Louis Walker doesn't show up for the party. Indeed, his vocals rank with his finest performances on record in recent years, and he adds the bonus of bringing his expressive guitar to bear on the proceedings as well. His rendition of "The Thrill is Gone" navigates a fine line between the wrenching blues of B.B. King's version and the smoldering ache of Roy Hawkins's original R&B-based recording, with Walker more in the noir-ish Hawkins bag vocally, in which his declarations of "I'm free, I'm free, I'm free now from your pain" ring hollow, because the truth is both inexplicable and unthinkable. On a more festive note, he has a grand time with a rousing, horn-fueled take of Sam Cooke's "Shake," with Lexie Roth again contributing frisky background vocals.
Roth himself makes a vocal appearance on a gritty version of "Down Home Girl," a Jerry Leiber-Artie Butler tune covered in 1965 by the Rolling Stones on The Rolling Stones Now! Roth keeps it more down-and-down bluesy than did the Stones and adds a sharp-edged guitar solo to boot. And Jemmott makes his sole vocal appearance in a speaking part on a song he co-wrote and recorded with King Curtis (and friends) in 1967, "Memphis Soul Stew." This spirited, funky jam finds Jemmott assuming the host role King Curtis played on the original, introducing various band members and allowing for solos for eight-minutes-plus (some two minutes longer than the original). If this pure body music sounds vaguely familiar, consider the theory in this quarter that the original recording was the inspiration for, a year later, Archie Bell & the Drells' classic "Tighten Up." Just a theory, but the similarities are there. What's not a theory, but reality, is how astutely these two educators have guided Super Soul Session to ensure it lives up to its title.
***
BREAKING NEWS: Mike Zito Leaves Blood Brothers Tour to be With Ailing Wife, Establishes GoFundMe to Cover Living, Medical Expenses
Laura Zito Cancer Support GoFunMe
https://www.gofundme.com/f/rdg2c-laura-zito-cancer-support
After this review was published, news broke concerning Mike Zito leaving the Blood Brothers tour to be with his ailing wife Laura, who's now in hospice care. Zito's song "In My Soul," a beautiful, heart tugging ballad he wrote after Laura was diagnosed with Stage4 Pancreatic Metastic Cancer , is the highlight of the Blood Brothers' self-titled debut album on Gulf Coast Records. He is being replaced on tour by guitarist Gary Hoey, who has appeared on several Gulf Coast artists' recordings.
Mike Zito released the following statement:
"Laura went to resume chemotherapy last week in Houston, but her doctors told her they wouldn't be able to treat her anymore. Her cancer is just so advanced, the chemo would ruin her health and she would lose what quality of life she has left. Her doctors have suggested Laura start hospice right away. Of course, we were heartbroken, but we have been heartbroken for the past year. We have hoped and prayed and Laura has fought so hard the past 12 months, but we both knew there was a good chance this day would come. With all this said, it's time for me to come home and be with my wife and my family. We don't know how much time we have left together and we don't want to be apart anymore. I will finish this week's Blood Brothers shows in Texas and Colorado, and then stop for the Summer or foreseeable future. The Blood Brothers Tour will continue with Albert and the band; a special announcement is coming this week. This is what Laura and I both want. We want the band to continue to perform and we want you to go see the band and support our shows. I will be there in spirit.
"We have started a GoFundMe to help my family and Laura. I won't be working and the money will help to pay our monthly bills and living expenses."  https://www.gofundme.com/f/rdg2c-laura-zito-cancer-support
On the GoFunMe page, Zito adds: "Our priorities with assistance will be monthly bills, medical costs, flying in all of our children to spend time with us, bringing Laura to the beach and whereever she wants to go, and finally passing on any monies to our daughters in Laura's name after she is gone for their college fund. "
As of this writing, the Laura Zito Cancer Support GoFundMe has raised almost $194,000 of its $200,000 goal. Please give freely and often.