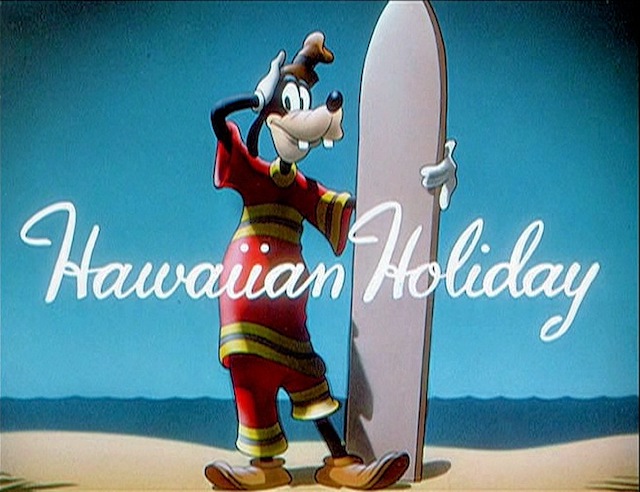 'Hawaiian Holiday,' 1937, produced by Walt Disney, written by Vernon Stallings, Music by Paul J. Smith, directed by Ben Sharpsteen. Cast: Mickey Mouse (Walt Disney); Minnie Mouse (Marcellite Garner); Goofy & Pluto (Pinto Colvig); Donald Duck (Clarence Nash).
In 1937 Walt Disney produced the first-ever animated surf movie, "Hawaiian Holiday," directed by Ben Sharpsteen. The all-star cast includes Mickey Mouse (voiced by Walt Disney), Minnie Mouse, Pluto, Goofy, Donald Duck, a crab and a starfish.
In this Technicolor ode to the beach lifestyle, Pluto and Goofy are the main characters, as they ride waves and play the ukulele on a sandy Hawaiian beach. In many ways, the biggest star is Goofy, who's still learning how to surf the imposing big waves. His initial attempts find him crashing unceremoniously in sand and rocks. Finally, he wipes out once more and winds up in a grave, his surfboard serving as his tombstone.
But "Hawaiian Holiday" has a secret lurking in its Technicolor images: look closely at Goofy's surf stance and you'll see that the calamitously clumsy canine rides waves with his right foot on the front of the surfboard. Anyone who surfs, or follows the sport of surfing, knows the expression "goofy-footer"–or "goofy-footed." Well, guess where it comes from? It was inspired by Goofy's style in "Hawaiian Holiday" as it was in stark contrast to regular-footed surfers.
Think about that the next time you wipe out!