By David McGee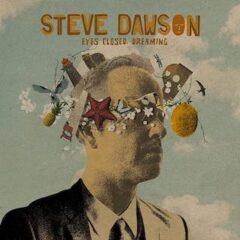 EYES CLOSED DREAMING
Steve Dawson
Black Hen Music
In one of the more remarkable outbursts of roots music creativity, Steve Dawson's captivating Eyes Closed Dreaming is the third album he's released in a year's time, following Gone, Long Gone and Phantom Telescope. Apart from superb musicianship and stellar songwriting, the three albums have in common the fact of being pandemic products all. That is, its parts were recorded remotely by artists in Nashville, Toronto, Vancouver and Los Angeles and produced by Dawson, a Canadian now residing in Nashville. To say the finished works are seamless productions says something about advanced studio technology and even more about producer Dawson's mastery of same; it says much about the raw materials Dawson had at hand to assemble into a cohesive artistic statement, because a listener would be hard pressed to pinpoint this as anything other than a live-in-the-studio effort, so connected are the assembled artists to the vision Dawson projects in five original songs and seven varied covers (including a note-perfect, amiable vocal-and-Weissenborn guitar album ending performance of John Hartford's "Let Him Go On Mama," one of the late, great Hartford's amiable, timeless portraits of a resolute riverboat captain luxuriating in the good old times—and old ways–in unapologetic fashion as he observes the times a-changin' around him).
'Guess Things Happen That Way,' a Steve Dawson cover of the Jack Clement-penned Johnny Cash classic, from Eyes Closed Dreaming. Guitars and vocals by Steve Dawson; Jay Bellerose and Gary Craig on drums and percussion; Jeremy Holmes, bass; Chris Gestrin, organ.
A gentle grace defines the album, even when things heat up a bit. You don't tackle a Bobby Charles tune sotto voce, so Dawson backs his swaggering, bluesy vocal on "Small Town Talk"—an earnest plea to a paramour for greater communication and connection—with baritone and tenor saxes, trumpet, Kevin McKendree's organ and piano, some stinging electric guitar punctuations (courtesy Dawson) and sumptuous multi-tracked backing vocals. He reimagines "Guess Things Happen That Way," the Johnny Cash Sun classic penned by Jack Clement, as something along the lines of a blues stomp, leading the way with his own expressive slide guitar soloing buttressed by Chris Gestrin's rich organ and a pronounced percussive foundation laid down by Jay Bellerose and Gary Craig, all supporting a rather humorous, easygoing Dawson vocal expressing weary acceptance of his fate in contrast to the aggrieved stance Cash took in his reading.
'Polaroid,' a Steve Dawson-Matt Patershuk original, featuring Steve Dawson on vocals and multiple guitars, from Eyes Closed Dreaming. Gary Craig on drums and percussion; Jeremy Holmes, bass; Chris Gestrin, Mellotron and pump organ; Casey Dawson and Allison Russell, backing vocals
'Small Town Talk,' written by Bobby Charles. Steve Dawson on vocals and guitars; Kevin McKendree, organ and piano; Jeremy Holmes, bass; Jerry Cook, baritone sax; Dominic Conway, tenor sax; Malcolm Aiken on trumpet. From Eyes Closed Dreaming.
Dawson's own songs, all co-written with Matt Patershuk (save for Dawson's sprightly instrumental, "Waikiki Stonewall Rag," appropriately rendered with Island flare thanks to Dawson's guitar arsenal of Weissenborn, National Steel and ukulele rolling out as Gary Craig on drums/percussion and Jeremy Holmes on upright bass establish the pulsating rhythmic base and Gastrin adds additional personality on organ) are more introspective with arrangements to match their contemplative ruminations. "Polaroid," an ode to a beautiful face forever "trapped in celluloid," finds Dawson's plainspoken vocal supported by silky backing vocals courtesy Casey Dawson and Allison Russell, and an evocative, rather swampy ambience conjured by Dawson's Weissenborn and pedal steel and Gastrin's atmospheric Mellotron and pump organ. In a measured pace the lyrics express the simple joy emanating from now-primitive technology–"there's something about the way they look/blurred around the edges and in the middle too/and when you pick it up, hold it gently if at all…"—that's not translating to the new way: "Took some pictures the other day/but they ain't the same/a little too sharp and they've been cropped to fit the frame/too bright to be a memory, not made in real time/so I keep this Polaroid of mine/and I like to think about the way they were made…a real live piece of you trapped in celluloid…Polaroid…"  "Atmospheric" too is the relevant descriptive for "The Owl," a low-key celebration of a night's magic "when an owl sings, it's the strangest thing/she softly hums and sings," as Dawson supports his tender vocal with evocative 12-string and lap steel guitars and, once again, seductive vocal backup from Casey Dawson and Allison Russell. Yet, quiet surrounds these performances, drawing the attention deeper into the stories being told, where the real treasures await.
'The Owl,' written by Steve Dawson-Matt Patershuk. Steve Dawson, vocal and guitars; Jay Bellerose, drums and percussion; Jeremy Holmes, bass; Casey Dawson and Allison Russell, backing vocals. From Eyes Closed Dreaming.
Thus a few of the many ways Eyes Closed Dreaming engages a listener's attention and heart. It certainly doesn't hurt to have mandolinist extraordinaire Fats Kaplin burnishing the album opening cover of Ian Tyson's "Long Time to Get Old" or Tim O'Brien stepping up with a dashing mandolin solo of his own to enhance the old world flavor of "House Carpenter," a cover of a traditional tune given new life in 1969 by Pentangle on its Basket of Light album (in an arrangement in part by Bert Jansch and John Renbourn honored in Dawson's interpretation). These Dawson triumphs may seem routine at this point, but his and his mates' commitment and expressiveness is too deeply felt to be routine. This is inspired, full stop.