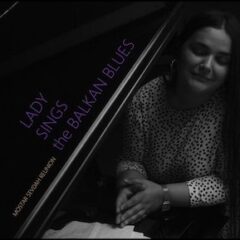 LADY SINGS THE BALKAN BLUES
Mostar Sevdah Reunion
Snail Records
Sevdah is, like blues and flamenco (primarily its "cante jondo," or "deep song" being the closest to kara-sevdah), characteristically sad. However, the sources of sadness, in the origin of the articulation, differ. In accordance with what we generally know about the origin of Sevdalinka, or sevdah—a traditional folk music genre originating in Bosnia and Herzegovina–superficially it could be defined in this way: blues is the voice of an enslaved human, flamenco is the voice of a refugee, and sevdah is the voice of a serf to love. Naturally, as these genres have thematically developed further, their primary themes remain dominant.
Almost all songs on the Lady Sings the Balkan Blues corroborate this assertion. They speak of loneliness, of a girl in whom "lonely lies down and lonely gets up"; about growing old while waiting for the loved one; about "the first one that caught her eye"; unwanted arranged marriage; wishes and dreams…about deep love, desire and longing.
'Mene Majka Jednu Ima,' Mostar Sevdah Reunion, lead vocal by Antonija Batincv, Mostar Sevdah Reunion, from Lady Sings the Balkan Blues
Some of them were already buried under the veil of time. Those are predominantly Bosnian sevdalinkas and some songs that were written in the past century in the style of Bosnian Sevdalinka, so the BBC's name "Bosnian Blues" would be more than suitable to be used in the album title. However, the intention of the production is to express the genre's cross-border nature and wider contribution to the development and representation of sevdah. Thematically, we have a kara-sevdah album here, a certain sub-genre with the deepest emotions and a particularly demanding performance.
And who would be the "Lady" that brought this album to life with her voice? From Kupres, Antonija Batinicv became popular by singing rock, jazz and blues. She's been performing with Mostar Sevdah Reunion in concerts throughout the region and the world. Rock, jazz–and sevdah? Antonija's voice is such that she can deliver the most demanding kara-sevdah songs confidently, genuinely and authentically.
'Kada Moja Mladost Prodje,' lead vocal by Antonija Batincv, Music and lyrics by Jovica Petkovi?, Mostar Sevdah Reunion, from Lady Sings the Balkan Blues
And the lineup that sounds so assured behind her? Suffice it to say the regular Mostar Sevdah Reunion lineup carries the day: Mišo Petrovic (solo-guitar), Sandi Durakovic (rhythm-guitar), Senad Trnovac (drums), Vanja Radoja (violin), Gabrijel Prusina (piano), Marko Jakovljevic (bass), along with special guests, Boris Vuga (accordion), Ivan Sušac (trumpet) and Orhan Maslo (percussion).
Mostar Sevdah Reunion is a project that, despite all the struggles, continues its mission that began in 1998, namely to bring sevdah to the world, an autochthonous musical expression of this area and an important element of our culture, as well as our exquisite artists. MSR founer Dragi Sestic and his colleagues in music have been unearthing jewels from a devastated land and putting them onto the international map of musical treasures, extending a hand to both unfairly and unfortunately underrepresented talented people, and they have been bringing them onto world stages to great acclaim.
'Tesko Meni Jadnoj U Saraj'vu Samoj,' lead vocal by Antonija Batincv, Mostar Sevdah Reunion, from Lady Sings the Balkan Blues
'Kad Muzika Stane,' Mostar Sevdah Reunion (bonus track from Lady Sings the Balkan Blues)
With this, its 12th album, MSR has raised the bar with the quality of its music and musicianship and brought new value to the traditional style—not to mention awe at this music emerging from a small country such as Bosnia and Herzegovina, and from the small town of Mostar. Thus, the mystery of Bosnia and Herzegovina!
The album's last song is a new original number, recorded in memory of the late MSR singer and friend, Milutin Sretenovic Sreta, with whom they were supposed to record a new album. The song "When the Music Ceases" likely cannot be considered as sevdah, but it, indeed, carries the characteristics and spirit of sevdah, and ]is a special component of this album, closing it with a special, unfortunately mournful symbolic statement.
Adapted from notes by Rusmir Pobric published at Womex