By Robert Hugill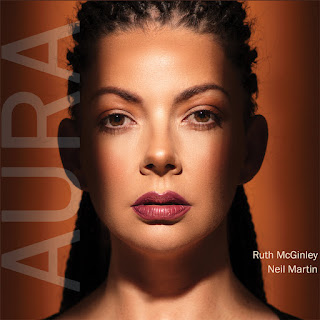 AURA
Ruth McKinley & Neil Martin
Bandcamp
Unashamedly Romantic, this new disc takes ten traditional Irish tunes into new and hauntingly evocative territories
For her latest album, Derry-born pianist Ruth McGinley has returned somewhat to her roots and produced a disc of Irish airs re-imagined, in collaboration with Belfast composer Neil Martin. Aura (available via Bandcamp) is the least folksy of discs, though the ten tracks all have their origins in traditional melodies–nine are Martin's arrangements of traditional melodies whilst the tenth is Martin's own work, which seems to be imbued with the same spirit.
There is little sense of the folksy about these piano solos, despite the background material. Martin's arrangements unashamedly take the music into a classical, Romantic territory. The tunes are rarely far away, but Martin weaves around them textures which play to McGinley's strengths as an artist who moves between the classical jazz and folk worlds. Her debut disc, Reconnection, which was issued in 2016, represents a reconnection between McGinley and the piano, playing her own music that touched her after stepping back from performing, following the intensity of her early career (she was in the piano final of BBC Young Musician in 1994).
This disc inhabits a world between, half-remembered folk given classical dress, yet always its own. This is music that McGinley renders with immense poignancy and thoughtfulness. The various tracks are quite substantial, the music expands as necessary and the hints of folk melody can be quite tantalizing.
'Slán le Máigh (Farewell to the Maigue) in memoriam Mícheál Ó Súilleabháin,' Ruth McGinley & Neil Martin, from Ẩura
Martin's own "The Boy in the Glen," for instance, written originally for the fiddler Paddy Glackin to play to the uillean piper, the late Liam O'Flynn, begins with just fragments of the very Celtic melody in the piano, but neither Martin nor McGinley is interested in Celtic twilight, and the music soon moves in richer, more expressive territories.
The tunes used are quite varied in their backgrounds; many are completely anonymous, collected at some point and thus entering the written record like "Níon a Bhaoilligh (Boyles Daughter)," a traditional song from West Donegal, whilst "Slán le Máigh (Farewell to the Maigue)" is a tune that the Limerick poet Andrias MacCraith put words to in the 18th century. "The Boy in the Glen" was written by Martin for a traditional fiddler. Others reflect the long tradition of collecting and adapting: "The Blue Hills of Antrim" was collected in Donegal in 1903 by Herbert Hughes who set it to words by the Belfast poet Joseph Campbell, and the song gained an entirely different set of words when Seamus O Grianna set his own words to it in the 1930s/40s. Hughes and Campbell again collaborated on the well-known "My Lagan Love." With these tunes and others like "Danny Boy" (whose lyrics date from 1913), though the tune survives we have lost its original context. And what this history shows us is that each generation recreates these melodies in their own image.
Ruth McGinley's latest release, Aura, is a collaboration with renowned composer Neil Martin. Aura celebrates the glorious traditional airs of Ireland. The melodies are united by both their exquisite beauty and their unmistakable Irishness. The provenance of these Irish airs varies, some beginning their lives as poems, some as melodies with words following. Continuing the tradition of passing this music from generation to generation, Aura shines light on these beautifully composed and crafted melodies from gifted musicians. Ruth McGinley is seen here on piano with Neil Martin at the IMBOLC 2023 festival. Imbolc or Imbolg, also called Saint Brigid's Day, is a Gaelic traditional festival. It marks the beginning of spring, and for Christians, it is the feast day of Saint Brigid, Ireland's patroness saint. It is held on 1 February, which is about halfway between the winter solstice and the spring equinox.
One of the virtues of the disc is that it largely avoids the hackneyed, for this Englishman few of the songs were familiar which is a blessing. So for the non-Irish listener, the disc creates something of a musical exploration, yet one that resolutely refuses to confine itself to the norms of traditional folk arrangement, this music welds the Celtic and Gaelic melodies to romantic arrangements of equal charm. Even when the song is "The Wexford Carol," the piano takes us into more classical realms a long way from the folk fiddle and voice.
By the time you are past the halfway mark, you begin to feel perhaps that a change of tempo might be in order. But if you simply dip into the disc, then you can enjoy a series of haunting and beautifully played solos.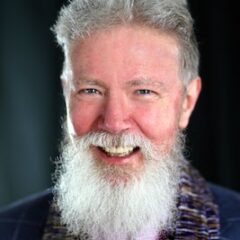 Reviews published here by permission of Robert Hugill—singer, coposer, journalist, lover of opera and all thing Handel–at Planet Hugill. To receive Robert's lively "This month on Planet Hugill" e-newsletter, sign up on his Mailing List.  (Robert Hugill photo by Robert Piwko. This review was published at Planet Hugill on 25 January 2023.