By Bob Marovich
'…candlelit music, challenging lyrics…'
HOLD IT ALL TOGETHER
Adia

Limitless Entertainment (released December 2022)
On her latest solo album, Hold It All Together, Destiny Adia Andrews, known as Adia, sings in a tranquil voice, as if holding a prayer meeting with a few friends in a tiny room with the lights out. Light waves of ambient hip hop wash over this sumptuous sacred atmosphere. But if the music is candlelit, there's nothing easygoing about the transparent lyrics. The liquid title track tackles the feeling that when everything is crumbling down around you, it's a blessing to know God is there to hold onto. In "God of Dreams," Adia summons the spirit in the midnight hour to help her get to where she longs to be, even when everyone around her doesn't see it or believe in her abilities.
Given its theme, the liberating "Fly," written and produced by Sir the Baptist, is naturally brighter. After paying her dues, Adia sings, "This is my time." The disco-charged "You Ain't" advises that "you ain't gotta be ashamed" to be going through problems or figuring things out. Turn your problems over to the Most High. The interpolation of Queen's "We Are the Champions" puts a fine point on the song's premise.
'Sun son,' Adia, from Hold It All Together
At a little more than four minutes, "Sun son" is the album's longest track by far, and as such, it has time to seep more deeply into the bloodstream. Its blend of acoustic and electronic vibe and contemplative praise evoke artists like Doe.
No newcomer to gospel, Adia has been in the gospel music business for more than a decade, working with industry leaders from Deitrick Haddon and Kierra Sheard-Kelly to Pastor Mike Jr. She became the first female artist to sign with Xist Music, a label founded by Terverius "T." Black, Sean Simmonds, and John Weston Jr. to showcase Christian rap, hip hop, and urban music. They forged a partnership with Malaco Music Group to gain national traction. Adia is now on her own.
'Fly,' Adia, from Hold It All Together
Hold It All Together has a crisp and tactile production quality. The songs are melodic if not instantly memorable, and will resonate with fans of low-key hip hop. This is neither music for church services or for evangelizing in the clubs, but for hanging out with friends while soaking one's soul in soothing, if sometimes shoulder-shaking sacred sounds. More an EP than a full album, Hold It All Together seems to be whetting fans' appetites while setting up something bigger in the future.
Pick: "Sun son"
***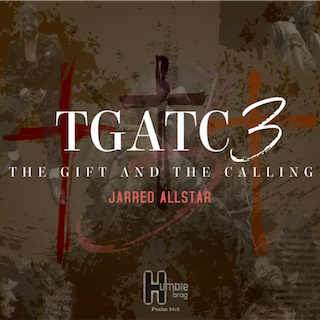 '…just the right beats for his message…'
THE GIFT AND THE CALLING 3
Jarred AllStar
Humble Brag Music (released December 2022)
The Gift and the Calling 3 is the finale of Christian hip hop artist Jarred AllStar's The Gift and the Calling Series, which began in 2020. Turns out that the finale's opener, "Real Big Big God," is the project's most infectious selection. It's a catchy contemplation on not sweating the small stuff in life and paying no attention to the world's dirty laundry. Autobiographical, the song describes in rhyme how Jarred's acceptance of Christ is why he is where he is today.
To a buzzing beat, "A Million More" refers not to earning more money but to saying more prayers. The results are obvious: "I came here with nothin'," Jarred raps. "Still feel like I got it all." In "No Ops," Jarred declares that his ministry is not to preach to the saints but to spread the word to the "ain'ts." And instead of opposition, he feels love: "The only op I recognize is opportunity." A jazzy backdrop eases "You Know the Spirit" forward, as Jarred argues how some secular rappers are disappearing before the rapture: "They didn't even get their fifteen."
'Real Big Big God,' Jarret AllStar, from TGATC3: The Gift and The Calling
'Praise God,' Jarred AllStar, from TGATC3: The Gift and The Calling
Jarred pulls no punches on the dramatic, "Black Opera," a paean to the resilience of his city, New York, and a declamation of the economic and social woes that require such resilience. Aliya Hall offers a haunting vocal assist on this, the album's most disquieting moment.
"Praise God," featuring a compelling assist from Davina, preaches that the best way to praise God is by practicing love. Davina returns, with Jonnie Kilroy, on the song that closes the album and the series, the appropriately titled "Amen." Amidst a breeze of whispered "amens" and the album's most minimalist backdrop, Jarred rapid-fires seemingly disparate thoughts, several of which center on time ticking away. The ticking clock figures into Jarred's former work.
Jarred AllStar is a confident rapper with a languorous singing voice and just the right beats for his messages. Releasing an album on Christmas Day is unusual in the music business, but it's not the first time he's done it. Plus, when it's a Christian album with the word "gift" in the title, a December 25 issue date works, metaphorically speaking.
Picks: "Real Big Big God"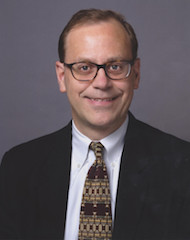 Chicago-based Bob Marovich launched The Journal of Gospel Music on the tenth anniversary of its predecessor website, The Black Gospel Blog, which he founded July 28, 2004, as the first blog to cover African American gospel music. He is a gospel music historian, author and radio host.  Since 2001 he has produced "Gospel Memories," a show featuring classic gospel, spiritual and jubilee music, as well as interviews with gospel legends. It airs Saturday mornings on Chicago's WLUW-FM and throughout the week on several Internet and low-power FM radio stations throughout the U.S., Canada, and Europe. Bob's work has been published in the Encyclopedia of American Gospel Music (Routledge 2005), Encyclopedia of African American Music (Greenwood Publishing 2010), and in the ARSC Journal of the Association of Recorded Sound Collections.