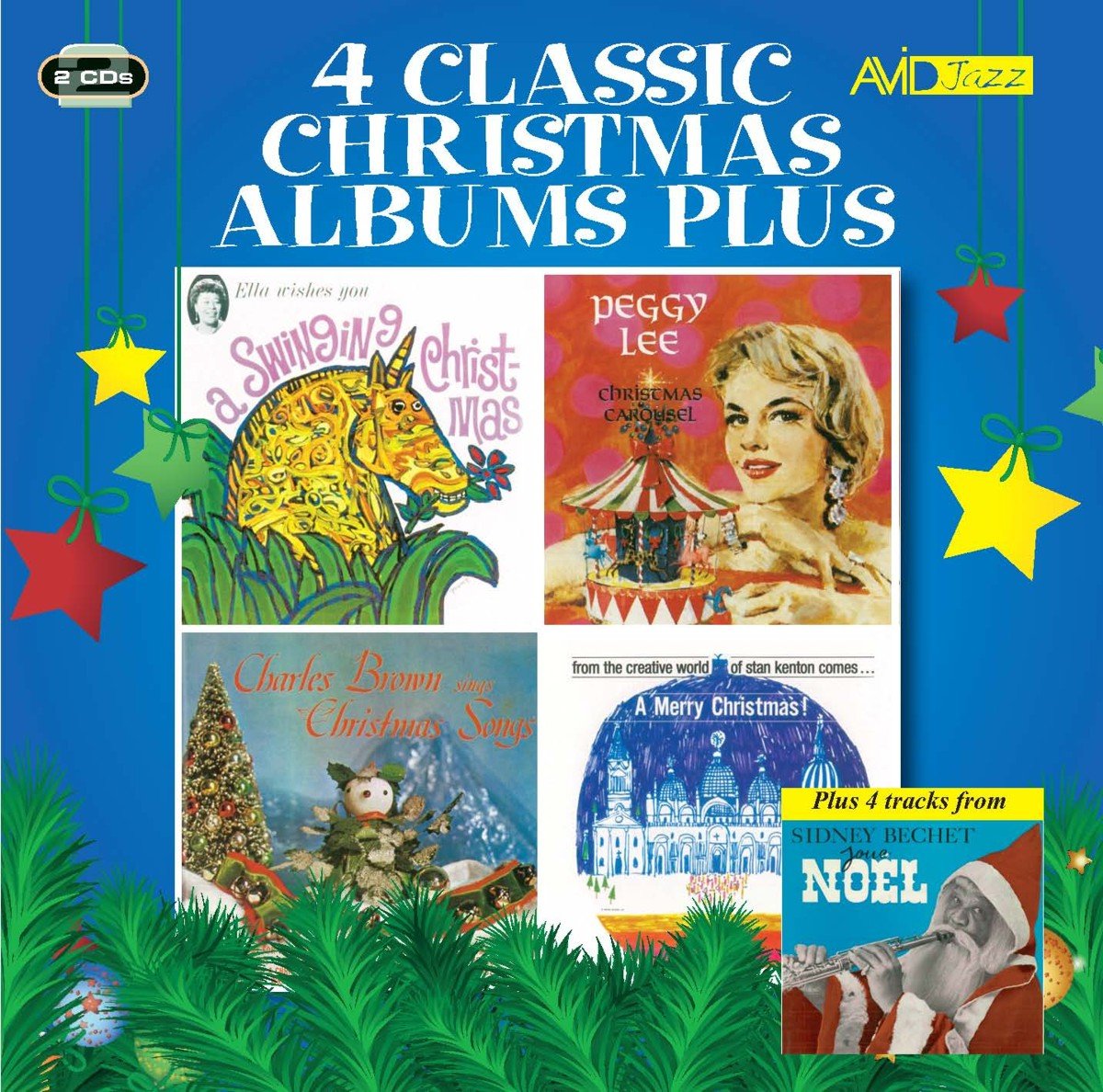 By David McGee
4 CLASSIC CHRISTMAS ALBUMS PLUS
Ella Wishes You a Swinging Christmas—Ella Fitzgerald (1960)
Christmas Carousel—Peggy Lee (1960)
Charles Brown Sings Christmas Songs (1961)
A Merry Christmas—Stan Kenton (1961)
Joue Noël —Sidney Bechet (1958)
Avid Jazz (2016 release)
ULTIMATE CHRISTMAS
Peggy Lee
Capitol (2020 release)
Believe the hype. Avid Jazz came up with a real winner in its four-pack (plus) of truly classic early '60s Christmas albums from a quartet of towering artists in jazz, pop, blues and swing, Fifty-one tracks in toto, with each artist in his or her prime, produced by some of the best names in the studio world, taking chances designed to energize the Yuletide carol canon and succeeding in grand fashion. These are not tossed-off performances; Ella, Miss Peggy, Charles Brown and West Coast iconoclastic band leader Stan Kenton think outside the box on their long players; recording in Paris with a tight, expressive combo when he was dying of lung cancer, the towering clarinet legend Sidney Bechet summoned all the technique and all the lyricism at his considerable command to create an endearing four-song holiday EP that is the "Plus" in this package.
'The Secret of Christmas,' Ella Fitzgerald, produced by Frank DeVol, from Ella Wishes You a Swinging Christmas
Remastered and reissued in 2002, Ella Wishes You a Swinging Christmas, the First Lady of Song's only album-length collection of secular Christmas songs, ranks with the finest efforts of her gifted peers, such as those of her staunch fan and supporter Frank Sinatra, for one. The original 12-song LP has now been augmented on CD by six bonus tracks, but this collection of classic Christmas albums sticks to the original dozen selections.
'Have Yourself a Merry Christmas,' Ella Fitzgerald, produced by Frank DeVol, from Ella Wishes You a Swinging Christmas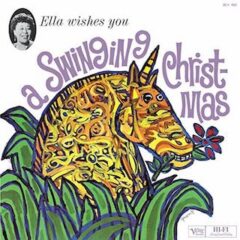 "Jingle Bells," "Rudolph the Red-Nosed Reindeer" and "Frosty the Snowman" hardly seem like songs capable of challenging Ella, but she tackles all those and more with great spirit and her typically witty lyrical flights. Right off the bat she charges into "Jingle Bells" at a furious pace, with a piano pounding behind her and the rhythm section hurtling ahead; she bends the rhythm, spars vocally with the background singers, and editorializes along the way, singing "Love that vibration, syncopation, of a one-horse open sleigh" ahead of the first chorus, as the singers answer her. Like "What Are You Doing New Year's Eve," "Santa Claus Is Coming to Town" has an obscure verse, but Ella rolls it out with feisty energy, again taking editorial liberties with the lyrics, shouting before one chorus, "Look at that crazy red suit!" and adding at the close, following a stop-time figure, "It's in the bag!" During the laid-back break in a warm, horn-rich rendition of "Rudolph the Red-Nosed Reindeer," she croons the melody of the folk song "Tom Dooley" and sings to her outcast protagonist, "Hang your nose down, Rudy/Hang your nose and cry." And on the high-stepping alternate take of "Frosty the Snowman," yes, that's Ella singing in a high-pitched, reedy, child's voice, all spunk and attitude, sounding not at all unlike the vivacious 11-year-old Brenda Lee singing "Christy Christmas" in 1956.
'Frosty the Snowman,' Ella Fitzgerald, produced by Frank DeVol, from Ella Wishes You a Swinging Christmas
As Ella works her way through this repertoire she's given note-perfect support by her music director on this project, Frank DeVol, who had made a name for himself by arranging Nat King Cole's 1948 hit, "Nature Boy." He had gone on to do good work for a number of the great pop singers of his day, including Rosemary Clooney and Tony Bennett, before joining Ella for several remarkable albums, including Hello, Love; Ella Sings Sweet Songs for Swingers, Like Someone in Love, and others. As he did on those recordings, so did he here in encouraging Ella's more sensitive side with low-key arrangements marked by gentle rhythms, interesting colorations courtesy vibes and the harp, whimsical flourishes such as the flutters of woodwinds heard at unexpected moments, and not least of all, romantic, swoon-inducing strings keening and, as on "The Secret of Christmas," seeming to sob when the lyric is at its most plaintive. Always a reliable partner for his artists but never attaining the stature of contemporaries such as Nelson Riddle, Billy May and Gordon Jenkins, DeVol proved his mettle on the Fitzgerald albums, providing an indisputably great vocalist with spacious arrangements and evocative atmospherics, the better to encourage her improvisational instincts and to set a mood for her compelling balladry. A film composer with more than 50 motion picture scores to his credit (including Guess Who's Coming to Dinner, The Dirty Dozen, Cat Ballou, Whatever Happened to Baby Jane? and Pillow Talk, among many others) he is best remembered today–in those quarters where he's remembered at all–as the deadpan leader of Happy Kyne and His Mirth Makers on the satirical '70s sitcom, Fernwood 2-Night. Ella Wishes You a Swinging Christmas is unquestionably a testimony to a great singer's unerring way with a song, but DeVol made sure to fashion a backdrop that engaged the high art of the voice with inspired work by gifted musicians and supporting vocalists. It's a combination, and an album, that can't be beat.
For our original review of the expanded edition of Ella Wishes You a Swinging Christmas, visit our appraisal in the 2011 Christmas issue of The Bluegrass Special.com.
'I Like a Sleighride (Jingle Bells),' Peggy Lee, from Christmas Carousel
By 1960 Peggy Lee was well established as one of the great singers of her generation and of American popular music. Not merely a singer, Miss Peggy also was a gifted songwriter and actress with Grammy Awards and Oscar nominations on her resume. As was true of Sinatra, so it was with Peggy Lee: she worked with the best musicians, producers and arrangers of her time, and they clamored to work with her. She wasn't big on bravura displays of vocal muscle. In fact, early on in her career, before she was anyone, gigs at the bustling Dog House in Palm Springs taught her a lesson in vocalizing she took to heart. To biographer Donald Fine she explained: "I knew I couldn't sing over them, so I decided to sing under them. The more noise the more softly I sang. When they discovered they couldn't hear me, they began to look at me. Then, they began to listen. As I sang, I kept thinking, 'softly with feeling.' The noise dropped to a hum; the hum gave way to silence. I had learned how to reach and hold my audience—softly, with feeling."
'Christmas Carousel,' written and performed by Peggy Lee, from Christmas Carousel
'The Christmas List,' Peggy Lee with the Jimmy Joyce Children's Choir, with a Lee original from Christmas Carousel
Which brings us to the 1960 sessions for what became her first Yuletide album, Christmas Carousel, one of the most perfect examples in her towering catalogue of the "softly, with feeling" approach. Her understated immersion the songs (four of which she wrote) creates a warm, welcoming ambiance, and she often sounds as wonderstruck as her listeners surely are by the seasonal charms she's documenting so joyously, furthering the seasonal cheerfulness by her easy engagement with the Jimmy Joyce Children's Choir backing her throughout, their eager, high-pitched retorts creating a soothing texture when juxtaposed with Lee's silky outpourings. The creative team is rounded out by producer Dave Carmichael and arranger Billy May, one of the giants of American popular music as a musician, a composer and an arranger. May was known for his brassy arrangements, but on Christmas Carousel he demonstrated a gentler touch, making ample use of the Children's Choir's youthful energy, nine violins, Stella Castellucci on harp, frisky woodwinds and the occasional chimes. Flugelhorn and sax players are on hand as well, but more as a muted presence than a defining sonic element.
'The Christmas Riddle,' written and performed by Peggy Lee, from Christmas Carousel
So you get a playful, lightly swinging "Santa Claus is Coming to Town," with the kids piping in with a little swing of their own in chirping "dig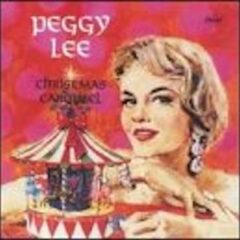 that Santa's on his way tonight!" periodically in addition to harmonizing with Peggy on a couple of verses. The same approach to swing kicks off the album in festive fashion in "I Like a Sleighride (Jingle Bells)," which has become an oft-programmed track during the holidays now. One of the Lee originals, "The Christmas List," is a tender ballad, with flutters of woodwinds lending it an outdoorsy feel, as the kids join in enumerating all the treats and toys needed for the special day's celebrations, with the added fillip of considering those less fortunate. "Do you know a girl or boy who's without a Christmas toy," Peggy sings softly, adding, "We could make their Christmas bright," to which the kids pipe in excitedly with, "Yes! That's right!" after which Peggy returns with: "Watch their faces/they will glow/it's really Christmas then, you know/if you give them love you'll see/you'll dance around the Christmas tree." Another Lee tune, the title track, is a sweetly loping, woodwind-fueled charmer whereas Lee's "Christmas Riddle" is a mock-dialogue between Lee and the children, with the verses being clues as to the identity of a "saintly man" who comes around once a year—which the kids correctly and triumphantly identify as Saint Nick. Needless to say, the Children's Choir shines at every turn here, very nearly as much stars of the recording as surely as Miss Peggy. Beautiful treatments of "The Star Carol" and the lush, album closing take on "White Christmas," with warm strings bathing a delicate Lee vocal, bring a warm, romantic glow to the program in a way only Peggy Lee could do, softly, with feeling.
'Little Jack Frost Get Lost,' Peggy Lee and Bing Crosby, with orchestra conducted by John Scott Trotter and The Rhythmaires on backing vocals. This performance is from the Peggy-Bing duet performed on the January 11, 1950 episode of Philco Radio Time, remastered in the studio and released as a Decca single in 1950. Featured on Peggy Lee's Ultimate Christmas.
For those needing more Peggy Lee for Christmas than Christmas Carousel can provide, Capitol's Ultimate Christmas includes 10 of Christmas Carousel's 12 tracks; two cuts from her 1965 Christmas album, Happy Holiday (yet to be reissued on CD), produced by Sid Feller (renowned for his later work with Ray Charles) with Billy May contributing arrangements plus a kids' choir also in attendance; and an assortment of late '40s-early '50s singles for Decca and Capitol along with live radio and concert performances, even a tune from the Disney animated classic The Lady And The Tramp (1955), one of several tunes Peggy co-wrote for the soundtrack with producer Sonny Burke. Among the album's gems is a 1949 summit between Miss Peggy and Bing Crosby on the latter's radio show, engaging in a delightful romp through "Here Comes Santa Claus," featuring a spirited Pied Pipers-like background chorus and shifting tempi to emphasize the song's more reflective, "so let's give thanks" segment near the end. Bing and Peggy on the radio make another appearance as released on the 1952 Decca single, "Little Jack Frost Get Lost," with John Scott Trotter's orchestra, especially the horns, swinging and swaying, bringing the energy to underscore the singers' textured reading, beginning with light, sensitive crooning and rising to rather bluesy dismissals of Little Jack Frost's very presence. Although the Happy Holiday album is undeservedly obscure, its warm title song, written by Irving Berlin and often programmed at this time of year, is not specifically tailored to Christmas—"may the calendar keep ringing" goes one key lyric—but Peggy's smooth, bright vocal exudes Yule cheer and bespeaks her joy in family and friends gathering together, as she was wont to encourage herself in her private life (her legendary Christmas parties often featured musical entertainment by the likes of Tony Bennett). One of the most beautiful performances in the Peggy Lee Christmas canon is "Peace on Earth," the song she and Sonny Burke wrote to accompany the bucolic opening scene from The Lady And The Tramp of a quaint little town on a snowy Christmas Eve. It's a hymn, pure and simple, combining Lee-Burke's original lyrics with "Silent Night" in a seamless, touching whole, with emotional resonance added by the Walt Disney Chorus's tender reading. In the end, Ultimate Christmas, with its tracks ranging from 1949 to 1968, illustrate the primacy the Christmas season held in Peggy Lee's world, and the serious approach she took to make every lyric meaningful while also maintaining a delicate balance between the season's solemn and playful aspects. Hers is Christmas artistry at its finest.
'Happy Holiday,' Peggy Lee performs the title track of her 1955 Christmas album, produced by Sid Feller, arranged by Billy May. Featured on Peggy Lee's Ultimate Christmas album.
Charles Brown never achieved the household name stature his blues deserved, but he was certainly respected by his peers and did gather a raft of devoted followers before his passing in 1999 at age 76. His wasn't an easy career to follow, as he recorded for at least 10 different labels between 1946 and 1995, first as a member of the Three Blazers with guitarist Johnny Moore and bassist Eddie Williams, then as a solo artist from 1948 on. In the Blazers years, he penned the group's first big hit, "Driftin' Blues" (actually, he had written it during his high school years in Texas City TX), but a Christmas tune he wrote for the Blazers in 1947, a melancholy, vaguely sarcastic kissoff blues itsm called "Merry Christmas, Baby," was proving unexpectedly durable—it charted every year for three years after its release, and came to be one of the most covered of all Christmas blues number (with Otis Redding and Elvis Presley battling it out for the most incendiary cover version). In those early years Brown, singing with laconic grace and in a soothing timbre similar to Nat King Cole's "smokey gray" quality, established himself as an assured, personable vocalist to go with his formidable chops as a pianist and organist.
'Christmas Blues,' Charles Brown, from Charles Brown Sings Christmas Songs
His 1961 Yule long player for the King label, Charles Brown Sings Christmas Songs, shows him to be as cool a Christmas cucumber as Sinatra, King Cole or Peggy Lee (with whom he shares this disc). Although a number of reviewers over the years have characterized this as a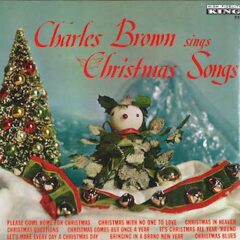 downer album, in fact most of the 12 songs are more upbeat, more optimistic ruminations wishing for good fortune, true love and general good tidings beyond the season's greetings. Which is not to suggest a lack of true, deep Christmas blues and despair at hand—"Christmas With No One to Love" pretty much says it all in a somber blues ballad style with mournful organ and tinkling piano fills shadowing Brown's smooth vocal, which includes a hope of reuniting with the girl who left him behind—"Christmas, you'll be the only one/to make Christmas merry//and full of real fun/then I'll be glad, all my troubles will be over …"—which is not an uncommon theme here. "Christmas in Heaven" is another slow, sensuous ballad in which Brown declares softly and tenderly, "Yes it's Christmas in Heaven/and Heaven here with you/you kiss me, I hear angels/singing through a silent night…" "Wrao Yourself in a Christmas Package" finds Charles working out a midtempo blues suggesting his beloved come home to him even if she has to mail herself "Special Handling," as he flirtatiously observes, "Wrap yourself in a Christmas package and tie it carefully/to make me happy/oooo, I'll dance with glee/please be careful how you wrap it/you're so precious to me/insure it for a million/sign it personally…" Adding to the hopeful scenario, the guitarist interpolates a couple of bars of "Jingle Bells" behind Brown, much as he interpolates "Santa Claus is Coming to Town" and "Jingle Bells" both in his solos on "Christmas Blues," which is indeed a grinding, broken-hearted melody with a great lyrical kicker at sign-off: "Well, Santa Claus, Mr. Santa Claus, listen to my plea/don't bring me nothin' for Christmas/but a brand new Cadillac and my baby back home to me." Going into a big finish, Brown has a nice, joyful romp through "Christmas Question," a mock interrogation of Santa Claus and his modus operandi ("Do you ever get stuck in the chimney with all your toys?/let me know so I can tell the other girls and boys…").
'Wrap Yourself in a Christmas Package,' Charles Brown, from Charles Brown Sings Christmas Songs
Yes, there is also Brown's exquisite and deservedly classic piano-based blues ballad, "Please Come Home for Christmas," and there is the 1947 recording of "Merry Christmas, Baby" and there is the abovementioned "Christmas With No One to Love." But when you conclude on the upbeat note of "Christmas Question" followed by the tenderness and earnest expressions of love and happiness that are ""Let's Make Every Day a Christmas Day" (which begins with a melody seemingly lifted whole cloth from "Everybody Loves Somebody," which was a chart topper—and became a signature song—for Dean Martin in 1964 but which dates back to 1947; indeed, Dean had first sung it on Bob Hope's radio show in 1948) and the closing bopping finale on the happy organ-drenched "Bringing in a Brand New Year," well, who among us would dare refer to the estimable Mr. Brown's outpourings as being of "downer" caliber? It doesn't compute. Note: the original pressings of Charles Brown Sings Christmas Songs on King contained a track titled "My Most Miserable Christmas" that was soon replaced on subsequent pressings with "Merry Christmas, Baby." "My Most Miserable Christmas" is the great lost Charles Brown track, unavailable on any other Brown recording and seemingly existing only as a 1964 King single #45-5946—it's not even on YouTube.
'The Holly & The Ivy," Stan Kenton, from A Merry Christmas
By all accounts Stan Kenton, who had been leading bands since the 1940s, agreed to record a Christmas album only if he could bypass the flying reindeer-talking snowmen genre of traditional fare. Given the green light to do it his way, Kenton, working with arranger Ralph Carmichael, let his imagination run wild on A Merry Christmas. Don't expect the Boston Pops model here, despite a number of songs beginning with an establishing chorus rooted in the pop-ish style so common to instrumental seasonal fare. Soon enough, the enterprise is off into the ozone as it develops. In a way, what Kenton-Carmichael wrought on A Merry Christmas is akin to a big band version of the way-out workouts The Three Suns engaged in on their 1959 Christmas album, A Ding Dong Dandy Christmas. There's no evidence Kenton was even aware of the Suns' approach, but it's a tantalizing thought, given the similarities between their shared basic ideas.
'God Rest Ye Merry Gentlemen,' Stan Kenton, from A Merry Christmas
On A Merry Christmas, his opening "O Tannenbaum" is a bit deceiving in being an adagio—wistful and measured—with only a couple of bursts of blaring unison horns to interrupt the solemnity. From there it's off to the wild, woolly races: "The Holly & The Ivy," brassy and brusque, is rendered in Schubert-like march militaire fashion, whereas the soaring, protesting horns in "We Three Kings of Orient Are" and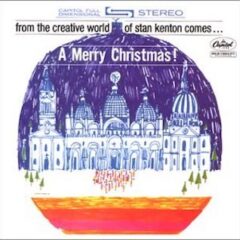 an almost plodding rhythm seem designed to evoke the wise men's long trudge as they traverse afar to greet the baby Jesus. Similarly, the triumphant blasts of horns and aggressive rhythmic thrust of "Good King Wenceslas" are, well, fit for a King's entrance. A busy arrangement of "The Twelve Days of Christmas" is a clever romp defined by the flurry of sleigh bells, chimes, possibly a celeste, all sorts of fleeting percussive punctuations, blasts of brass and woodwinds, drums, a piano and Lord knows what else buried deep in the mix as the band repeats the chorus countdown. It comes as no surprise, then, that "Once in Royal David's City," usually so reverent and winsome, comes on like gangbusters, with a rousing opening salvo of bells, horns, shakers, piano, all strutting majestically through the arrangement, driven by the propulsive horns and a soundscape rich in all sorts of polyphonic rambunctiousness, leading almost without pause into a similarly horn-fueled romp through "God Rest Ye Merry Gentlemen." There is some welcome tenderness amidst the dissonant rendering of "O Come All Ye Faithful," and "O Holy Night" intersperses cool jazz-like verses with heroic flights of brass, Copland-like in the vein of "Fanfare for the Common Man." A closing near-eight-and-a-half minute "Christmas Medley" brings every trick in the Kenton arranging songbook to bear on familiar secular and sacred carols including affecting passages featuring church-y acoustic piano soloing ahead of the horns' dramatic re-entrance into the proceedings. Kenton may have run amuck here, but he never loses neither the melody nor the seasonal spirit. It can truly be said that he kept Christmas well in his 1961 long player.
Note: in 2002 a group calling itself The Capitol Bones Big Band under the direction of Alan Taylor released A Stan Kenton Christmas, an all-brass re-recording of the Kenton charts from A Merry Christmas supplemented by four new big band renditions of Yuletide fare from a quartet of arrangers. Also, the version of A Merry Christmas reviewed here disc does not include two tracks added to a 2006 reissue: a spoken word piece about Santa Claus by Kenton himself, and both sides of a holiday single, "Christmas for Moderns," by Maynard Ferguson that is quite unpopular among the Kenton cognoscenti, who regard it as somewhat unhinged and out of step with the spirt of the Kenton band's work otherwise.
As towering as all these artists are, none mean more to American music than Sidney Bechet. Music historian and man of letters Ted Gioia summarized his contribution succinctly in his The History of Jazz: "Bechet played the most prominent role in developing the clarinet as a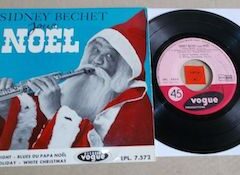 mature solo voice in jazz," adding: "Bechet's role was especially influential in pointing the way toward a more melodic, linear conception of the horn, and drawing on a more expansive palette of sounds." It's rather stunning to find him included in this collection, only because he never set out to align himself with Christmas music in the manner of Ella, Peggy, Charles and Stan (and Stan's alignment was hardly traditional). But here he is, from a late 1958 session in Paris, where he had settled as an expatriate because it brought him "closer to Africa." It's but four songs, recorded on December 10 and 12, 1958, with Bechet backed by Claude Gousset on trombone, Alix Bret on bass, Jean-Claude Pelletier on organ and Kansas Fields on drums. At the time he was suffering from lung cancer, which would claim his life on May 14, 1959, but to hear the vibrancy of his work on these dates is to be amazed at his will and his strength, not to mention his musicianship.
'Silent Night," Sidney Bechet, with Claude Gousset on trombone, Alix Bret on bass, Jean-Claude Pelletier on organ and Kansas Fields on drums as featured on the 1958 EP, Joue Noël
It's over quickly, in less than 15 minutes, but it's all so fresh and soulful you keep going back for more. No grandstander he, Bechet kicks off "Silent Night" with a warm, nicely textured dialogue with Goussett's trombone, taking the high ground to Goussett's low, rumbling retorts, before Pelletier eases in for a low-key but frisky organ solo. Over Fields's steady brush drums, Bechet, Gousett and Bret play over and around each other in bringing the tune to a witty ensemble sign-off. Bechet's soaring cadenza on "White Christmas" sets the mood for a version with hymn-like overtones, at least until the entire quartet heads into bluesier territory, led by Bechet's impeccable, and colorful, mastery of tone and texture in exploring the familiar melody. Never averse to injecting wit into the proceedings (look up his Jazz Limited Orchestra's 1949 version of the Maryland state song, "Maryland, My Maryland," which includes quotes from "O Tannenbaum"), Bechet interpolates "Peace in the Valley" into the New Orleans strut of "Spirit Holiday" and turns it into a hand clapping, foot stomping celebration, his cornet lines soaring over the jubilant workout as Goussett follows right along on trombone. "Blues du Papa Noël" is a swinging little exercise led by Bechet's voluble cornet with all the other players joining the fray on a tasty blues-based romp that is a lot of fun, even if it has no connection to the Yuletide. And that was it, the sum and substance of the EP, Joue Noël, released by Disques Vogue, documenting the great Bechet's final recording session (the last of 14 recording sessions he logged in 1958) before the cancer overcame him five months later.
How's this, students, for a Christmas playlist that can't be beat? Merry Christmas to all, and to all, happy listening!