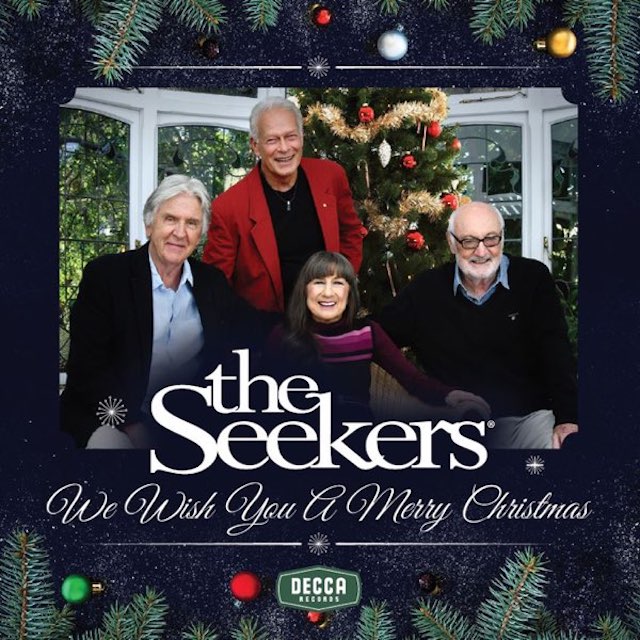 By David McGee
WE WISH YOU A MERRY CHRISTMAS
The Seekers
Universal Import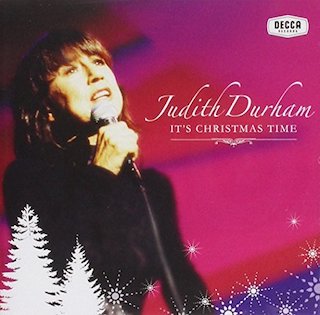 IT'S CHRISTMAS TIME
Judith Durham
Decca Records
Of the many sad events and notable people lost in 2022, for music fans of a certain age, here and certainly in her native Australia, the death of The Seekers' lead singer Judith Durham this past August was especially tough to absorb. One of her time's great vocalists, Ms. Durham was a dignified, gifted communicator, trained as a youth in classical and jazz singing, whose ringing soprano was effective and affecting from its lowest range into the stratosphere when she took it there. Hers was a voice that wrapped around a listener's heart and beckoned it on a journey to its most intimate places—places where words, as Wordsworth noted, "lie too deep for tears."
Ms. Durham and her fellow Seekers—Athol Guy (double bass, vocals), Bruce Woodley (guitar, mandolin, banjo, vocals) and Keith Potger (12-string guitar, mandolin, banjo, vocals)—emerged from their native Australia in 1964, where they were already hugely popular (on the strength of hits written by band members Potger and Woodley), and became a regular presence in the U.S. Top 10 for the next four years, thanks to the exquisite folk-pop gems written or co-written (and produced) by Tom Springfield, Dusty's brother—"A World of Our Own," "I'll Never Find Another You," "Georgy Girl" (a co-write with Jim Dale); another Tom Springfield song from this period, a powerful lament adapted from a Russian folk song and titled "The Carnival is Over," was a major hit in Australia and the U.K.
'Morningtown Ride (To Christmas),' on Australian TV, introduced by The Seekers' long-time friend and honorary group member, Bert Newton.
While in the U.K. in '65 they crossed paths with and befriended Paul Simon, who apparently was there to test the waters for a solo career, and recorded his "Someday One Day," another massive U.K.-Australia hit and Simon's first hit outside the Simon & Garfunkel duo. Woodley and Simon struck up a writing collaboration at the time, and together had a Top 10 U.S. single with "Red Rubber Ball" for the Cyrkle. In 1968, shortly after being named Australians of the Year (the only group such honored in the Land Down Under to this day), Ms. Durham announced she was leaving to pursue a solo career; later that year she released her first solo project, a holiday album, For Christmas with Love. For the next 24 years the other group members pursued solo projects with varying degrees of success (including Potger forming the New Seekers, retooling a Coca-Cola ad into "I'd Like to Teach the World to Sing" and having it top the U.K. chart and peak at #7 in the U.S.; and Guy entering politics as a Liberal Party member in 1973), and even reuniting sans Durham periodically in the '70s, '80s and again in 1990.
'We Wish You a Merry Christmas,' The Seekers, from We Wish You a Merry Christmas
The original Seekers reunited in 1992 and began recording anew, albeit without ever achieving Stateside success while securing their standing as Australia's most beloved group. In 2001 they issued their first Christmas album, Morningtown Ride to Christmas, the title song being a Yuletide rewrite of the group's penultimate international chart hit, 1965's "Morningtown Ride," the children's lullaby originally written and recorded by Malvina Reynolds (although it peaked at #44 in the U.S., it was a Top 10 single in five other countries).
'Have Yourself a Merry Little Christmas,' The Seekers, from We Wish You a Merry Christmas
The holiday version of "Morningtown Ride" is as irresistible and charming as the original hit, the band as tight as ever, and Ms. Durham as warm and welcoming as she was on the 1968 hit, her voice betraying not a whit of the aging process while remaining the resonant, emotionally captivating instrument of her younger years. The album as a whole mixes sacred and secular seasonal music and is itself quite a holiday event in the way it so masterfully conjures all the seasonal cheer and solemnity over the course of 16 tunes. The title track, jolly and gently swinging, sets the scene in featuring Ms. Durham gracefully emerging from the close harmony setting to add a little frisson to the good tidings the foursome brings so enthusiastically over the song's minute-and-a-half duration. Elsewhere the group's folk origins emerge—including Potger's ringing, atmospheric 12-string—in bouncy fare such as "Mary Had a Baby," the utterly irresistible "Santa Claus is Coming to Town" (the sing-song whistling at the start is a wonderful touch, as is the children's chorus joining in the fun), a driving, banjo-driven workout on "Jingle Bells" so fresh it insures you never hear the song the same way again; and in more reflective moments on the order of a beautiful chimes-and-strings-based "Silent Night" elevated to a higher plane of feeling solely on the strength of Ms. Durham's measured, heartfelt commitment, and gaining greater impact when the fellows join her in harmony following the first verse; the close harmony arrangement, led by Ms. Durham's comforting lead, on "Away in a Manger"; and a reverent, sturdy group rendition of "O Come All Ye Faithful" delivered with all the moral force of a triumphant hymn.
'Once in Royal David's City,' The Seekers, from We Wish You a Merry Christmas
Of the sweet 16 here, two really rise above their other finely crafted counterparts—well, three, counting the reworked "Morningtown Ride (to Christmas)." One would be the poignant setting of "Have Yourself a Merry Christmas," which manages to be warm and cheerful while retaining a patina of plaintiveness simply on the strength of Ms. Durham's phrasing and her improvised addition to the lyric—"hang a shining star upon the highest bough…somehow"—taking the "somehow" from another verse and attaching it to this phrase to underscore the complex nature of the season, when melancholy and mirth are all but inseparable. The track is more heart tugging for the arrangement's captivating meshing of acoustic guitar, strings and, for the most rustic of touches, harmonium. The other towering moment comes amidst guitar and harmonium support in a powerful reading of "Once in Royal David's City," a song dating to 1849 when organist Henry Gauntlett set to music Cecil Frances Alexander's 1848 poem. Here Ms. Durham shares the lead vocal with Potger and Woodley, all joining together in glorious harmony as strings ascend behind them in a moment as holy as it is moving, and reason enough on its own to make The Seekers' lone Christmas offering an essential addition to the holiday archives.
'Mary Had a Baby,' The Seekers, from We Wish You a Merry Christmas
For her first solo foray Ms. Durham recorded tracks for a planned 1968 Christmas release at Capitol Records' fabled recording studio in Los Angeles with producer Bill Miller and arranger Don Henderson. Come 2016 the original album was supplemented by an additional six tracks recorded in the early '90s at six different Melbourne studios and one Toronto studio under the guidance of producers Chong Lim, Joe Creighton, Lindsay Field, Greg Mills and Kerry Beaumont. None of her Seekers cohorts participated in these sessions, but the Los Angeles sessions did include a pianist named Ron Edgeworth, who later became Ms. Durham's husband. The album's title track, "It's Christmas Time," is a Judith Durham composition, an a cappella round celebrating the Yuletide in both its secular and sacred incarnations. Another of the 1968 recordings, "Bambino," reunited the singer with the songwriter most responsible for the Seekers' international breakout success in '64, one Tom Springfield, whose "Bambino" was recorded for a Salvation Army fundraising drive and stands out in the Durham catalogue for its infectious Spanish-flavored rhythmic and melodic thrust, the mariachi horns, the uplifting words celebrating the Christ child's birth, lyrics in Spanish and English and a rousing chorus backing Ms. Durham's assured delivery of Springfield's message.
'Jingle Bells,' The Seekers, from We Wish You a Merry Christmas
'It's Christmas Time/Hark! The Herald Angels Sing,' Judith Durham and a youth choir on Australian TV, singing the song she wrote for her solo Christmas album and which became its title upon reissue
The rest of the album, the 1968 tracks as well as those recorded in 1994, 1996 and 2010 in Melbourne features  songs traditionally associated with Christmas, such as "Hark! The Herald Angels Sing" (with its positively majestic lead vocal, carefully and emphatically enunciated by a singer fully immersed in its earnest call to "join the triumph of the skies"); a lovely reading of "White Christmas" in which pizzicato strings stand in for the snowfall as the chimes add delightful seasonal punctuation to a tender lead vocal—arranger Dick Reynolds must be given credit for the elegant, at times playful strings (and working in the Capitol studios, where Sinatra cut most of his great Christmas catalogue with Nelson Riddle, perhaps Reynolds had a chance to pay critical attention to the master at work somewhere along the way); a lush "Mary's Boy Child"; and a romantic, smooth jazz take on the Mel Tormé-Robert Wells evergreen, "The Christmas Song." She completed the tunestack with gospel numbers she regarded as appropriate for marking the true spirit of the season. These include a version of "Amazing Grace" steeped in the church—an acoustic piano and an organ support the emotion-laden testifying Ms. Durham breaks into and sustains as a string section and choir sweep in to make it a rousing anthemic moment, moving the singer to emit a gospel whoop heretofore unheard on any of her recordings; a version of "O Happy Day" true to the Edwin Hawkins Singer's hit arrangement until about midway when it finds its own trajectory and Ms. Durham soars over the ecstatic choir's robust outpouring; an organ-driven, foot stomping, hand clapping version of "Go Tell It On the Mountain" complete with a happy organ and robust horns driving the rhythmic attack under Ms. Durham's and the female chorus's heated call-and-response workout; and a version of the standard "Just a Closer Walk With Thee" featuring spirited call-and-response between Ms. Durham and a female chorus.
'White Christmas,' Judith Durham, from It's Christmas Time
'The Lord's Prayer,' Judith Durham, from It's Christmas Time
In the end, the best summation of It's Christmas Time may well come in the uncredited liner notes to the expanded edition. "This is not an album of Christmas carols," the notes say. "It is an album which to Judith represents what Christmas means. 'Christmas is not only a religious time,' she says. 'It is a time of happiness. It's a time of excitement, when everyone is pleased with the smallest thing.'"
This album is no small thing. Judith Durham was no small thing, slight in stature though she was. Like the song selections on It's Christmas Time, the music she made was for all seasons, and for all time.