By Trevor Link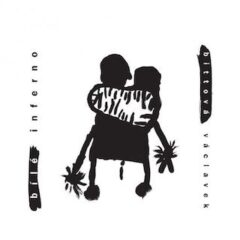 BÍLÉ INFERNO
Iva Bittová & Vladimír Václavek
Indies Scope (1997 release)
Americans instinctively understand that there's a whole world of music out there with which we are almost totally unfamiliar (not to mention past generations of music that we have rapidly forgotten), but we tend not to worry too much about this when we make lists proclaiming the greatest artists and albums, much like how we have tended to call the winners of American sports tournaments the "world champions." This acknowledged ignorance is solidified all the more with the certain knowledge that it is not easily reversible: we might spend ten years of our lives discovering new music from outside this country and only scratch the surface of a single continent. Even the music of Europe, particularly the distinctly more "foreign" countries of Eastern Europe and the former Soviet Union, is largely uncharted territory for many listeners. At the very least, we can welcome the fact that there is always more to be discovered.
Surely one of the primary obstacles to pulling ourselves up out of ignorance is the language barrier. English is the dominant global language but possessing fluency in it still ensures that we cannot understand the majority of the world's people. This is doubly a hindrance given the emphasis we place on vocal music, and although it is always dubious to make statements to the effect that "you don't need to know what they're saying in order to love this music," I'm willing to go out on a limb and say this is largely true of the album avant-garde Czech violinist and singer Iva Bittová recorded with her compatriot, guitarist and singer Vladimír Václavek, Bílé Inferno (or White Inferno in English). Much of the music's appeal here is in the skill with which Bittová and Václavek play their instruments, joined by a handful of guests, including the late avant-garde cellist and John Zorn collaborator Tom Cora, but make no mistake, this is an album grounded in singing, so much so that even the instruments themselves seem to imitate voices, either wailing or chiming dulcet tones.
'Uspavanka,' Iva Bittová & Vladimír Václavek, from Bílé Inferno
'Sto let,' Iva Bittová & Vladimír Václavek, from Bílé Inferno
But it would be difficult to call the compositions here "songs" in the conventional sense. Though this album always retains its roots in folk, its take on it is more personal and idiosyncratic, folk music emanating not from a culture per se but from the individual's unique physical and emotional ecosystem. Moreover, the "songs" here leap forth out of musical structure, developing toward pristine silence or, more often perhaps, toward sheer bacchanalia. In this way, Bittová and her co-conspirators transcend the boundaries of the avant-garde, creating music that is intelligent without sounding overly cerebral and that overwhelms and grips the listener (and from the sound of it, the musicians themselves) rather than merely seeking his or her distanced admiration and praise. And as much as Bílé Inferno is about singing, it also sways with the energy of dance music. Consider the fourth track, "Sto Let." Beginning with a steady, snapping groove, Bittová and collaborators play a pretty and beguiling song, sensuous like much of the rest of the album. But in the final minute, the music suddenly transforms into a driving folk dance gone awry, complete with pounding percussion and ecstatic whooping. As throughout the album, perhaps indicated by the "inferno" alluded to in its title, the song gives way to a devilish energy so uncharacteristic of the avant-garde. It is music you feel throughout your body, overtaking you.
'Zeleny Vinecek,' Iva Bittová & Vladimír Václavek, from Bílé Inferno
'Zvon,' Iva Bittová, Vladimír Václavek, Lelky and Jiri Pavlica, live in 2008, from Bílé Inferno
The connection between music and the body is at the forefront of Bílé Inferno. For one, the musicians here display a rhythmic sophistication unmatched in European and avant-garde music. The songs here may erupt into raucous dances at any moment, a shift that Bittová and her band handle expertly without missing a step. And the instruments here are predominantly played percussively rather than melodically. Guitars are aggressively strummed, violins are plucked, and even the circular piano melody on "Zelený Víneček" becomes percussive in its simple-minded repetitiveness. But more than this, Bílé Inferno is an album of voices, showcasing the variety of sounds they can produce, at times approaching a level akin to "speaking in tongues." Bittová's voice is at center stage here, and it gives itself over to wailing, whooping, grunting, shrieking, and pretty much everything else imaginable. Her singing is so nakedly presented here that it's almost impossible not to notice its tactility, the way the sounds she produces hit us with such force or else sensuously whispers in our ears. Given the wildness with which Bittová projects her own voice, one senses that she has something torturous inside of her that she is literally trying to get out. As monstrously ugly as it can sometimes sound (though never in any sense less than compelling), it can also sound marvelously sweet and conventionally pretty, as it does throughout "Moucha," the track that closes the first of two discs here.
'Moucha,' Iva Bittová & Vladimír Václavek, from Bílé Inferno
Throughout the album's two discs, Bittová's technical mastery is awe-inspiring. But there's also an odd, off-kilter knack for hooks on display here, not what you'd expect from an album that might be satisfactorily described as "avant-folk." Bittová and her band tend to seize on brief musical phrases and repeat them until a groove sets in that is not at all dissimilar to post-minimalist American music. An example is the circular, plinking patterns Bittová creates with the kalimba in "Churý Churůj." The use of this instrument, of African origin, draws a further link between the music Bittová creates here and the groove-based music of that continent. It's difficult, then, to trace this music's origins to any one region or stylistic thread, and we can see a parallel between this fragmentation of sonic lineage and the fragmented, piecemeal approach to performance, whereby small phrases serve as the cellular building blocks for a series of compositions. In the end, Bittová's approach is such that we cannot really term it "folk music" unless we expand our definition to become so inclusive that it encompasses all music made by humans, which is not so bad of an idea after all. Moreover, Bittová's approach also blurs the line between the "avant-garde" and the more conventionally accessible in a very satisfying way. All of this means that there really are no satisfactory excuses for not taking a chance on such a tuneful and creative album, one that belongs to no group in particular but rather to all of us.
Trevor Link lives and works in Washington, D.C. He did his undergraduate work in journalism and religious studies at Arizona State University and then earned a master's degree in international affairs from George Washington University. For more of his writing on film, visit his personal blog Journey by Frame. This review was originally published in Spectrum Culture.