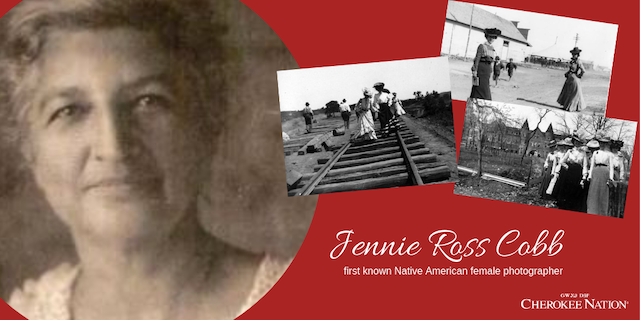 The first-known Native American female photographer put her subjects at ease for uniquely candid images from early 1900s Indian Territory.
Jennie Ross Cobb: Indian Territory Trailblazer
By Will Chavez
Jennie Ross Cobb, born Jennie Fields Ross —"Jen" to those who knew her best — most likely bought her first camera around 1902. The sixth of nine children born to Robert Bruce and Frances (Thornton) Ross, Jennie experimented with photography as early as 1895. But it wasn't until later, just ahead of her 21st birthday, that she cemented her place in both Cherokee and photographic history.
Cobb was born in Tahlequah, Indian Territory, on Dec. 26, 1881. Her Cherokee ancestors settled there, in a valley nestled between hills overlooking the Illinois River, following their forced removal from Georgia in 1838-1839 by the United States government. Her great-grandfather, Chief John Ross, united three Cherokee factions following the removal, and ultimately settled in the Park Hill community. About a mile west of his home, his niece, Minerva, and her husband, George Murrell, a prominent mercantile trader from a slave-owning Virginia family, built Hunter's Home, a two-story plantation home. According to historic documents, Murrell held 42 slaves; archaeological surveys of the area around the house revealed the remains of the nine log cabins designated for their use. After the Civil War, the Cherokee Nation signed a treaty in 1866 with the United States, agreeing to recognize Freedmen and their descendants as citizens.
Cobb's time as a photographer was brief — the majority of her work comes from a three-year period between 1902 and 1905, after which she put down her box camera to focus on her work as a teacher at Cherokee Nation public schools. Her surviving photographs have secured her reputation as the first-known female Native American photographer in Indian Territory, according to Karen Shade, who works as an interpretative projects coordinator for Cherokee Nation Businesses and who researched Cobb's work for a 2020 exhibit. In her work, Cobb sought to capture her community as she saw and knew it.
"She may be considered an amateur photographer, but that shouldn't imply a lack of skill or quality," said Shade. "We see in the nearly two dozen images definitively attributed to her, Jennie had the eye of a true artist. The perspective, framing and lighting in several images demonstrate a real talent."
Cobb graduated from the Cherokee Female Seminary in Tahlequah in 1900, and some of her earliest subjects were her fellow seminarians, according to Shade. She would go on to capture images of her family and friends, as well as interior shots of Hunter's Home and landscapes of the surrounding river, streams and fields. Compared to much of the photography of the time, her work is fluid, her subjects vibrant.
"Jennie, to me, is fascinating as an individual who was able to capture people unguarded and even a little charmed by the camera," Shade said. "So much photography from that era is stiff, formal and posed, but in her known works, you see personalities. It's a step ahead of where photography would go in the decades following. Her unassuming and easy manner must have put people at ease, allowing her to get the kind of shots she has left for us."
In 1905, Jennie Ross married a land surveyor named Jesse Clifton "J.C." Cobb. They later moved to Arlington, Texas, to raise their daughter. Jennie owned and operated a floral shop there for many years. But after J.C. died in 1940, followed shortly by their daughter, Jenevieve, in 1945, Jennie took in her two grandchildren, Jennifer and Cliff Biggers. In 1952, she took them back to Park Hill and Hunter's Home, where she served as caretaker for the house from 1952 until her death in 1959. It was during this time that she led the restoration and preservation of the home, relying on her own photos from a half-century earlier.
"Jennie found in the attic one of her old cameras and some of the glass plate negatives she processed in a downstairs bedroom closet so many years before," says Shade. "Her commitment to preservation can still be seen in the objects she found and restored to the site. They tell the story of her unique experience as a young woman from a highly influential and progressive Cherokee family in those golden days before statehood swept over Indian Territory."
Cobb's legacy is about more than just the preservation of her historic family home. It also speaks to the continued necessity to center and uplift photographers who document their own communities. In a period where Native people were widely defined through the lenses of outsiders, her work stands out, motioning to what always has been possible.
"Native photographers depicting their own community usually have a better understanding of the culture, traditions and history. That insight can dictate everything from subject matter to framing," Shade said. "Can outside photographers take compelling images? Yes, and they do, but there's something to be said for how a Cherokee photographer looks at a Cherokee subject and tells that story."
This piece was produced in partnership with The 400 Years Project, a photography collective that looks at the evolution of Native American identity, rights and representation. Founded by Brian Adams, Sheena Brings Plenty and Sarah Stacke, The 400 Years Project received the 2021 Howard Chapnick Grant to support its research into Native American photographers working in the first 100 years of photography. 400yearsproject.org; Instagram: @400yearsproject.
All photographs by Jennie Ross Cobb, courtesy of Oklahoma Historical Society, Jennie Ross Cobb Collection. 
Will Chavez lives in Tahlequah, Oklahoma, but calls Marble City, Oklahoma, his home town. He is Cherokee and San Felipe Pueblo Indian and grew up learning the Cherokee language, traditions and culture from his Cherokee mother and family. Will has been a reporter and a photographer for the Cherokee Phoenix for more than 21 years. He currently serves as an assistant editor for the Cherokee Phoenix. 
Published by permission of High Country News. This feature, "Images From the First-Known Native American Photographer," appeared in the publication's March 25, 2022 issue.
***
OHS Acquires the Jennie Ross Cobb Photographs
April 3, 2021
Family of Jennie Ross Cobb Donates Photographic Glass Plates to OHS's Hunter's Home
PARK HILL, OK — Hunter's Home, a division of the Oklahoma Historical Society (OHS) located in Park Hill, recently received a donation of 37 photographic glass plates from turn-of-the-20th-century Indian Territory.
"What makes this donation so special is that they were created by Jennie Ross Cobb, a noted Cherokee photographer and our first caretaker," said Shirley Pettengill, former director of Hunter's Home and a current volunteer at the site.
"Jennie lived in the home and developed many of her glass plates in one of the closets," said David Fowler, director of Hunter's Home. "Some of the images were already in the Oklahoma Historical Society collections, but some are new to us. Jennie started taking photographs around 1896 and continued until around 1903, leaving a showcase of what life was like for affluent Cherokees in the late 19th and early 20th centuries."
Jennie's nephew, Robert Bruce Ross IV, donated these plates, returning Jennie's glass plates to the place of their origin. Assisting in facilitating this wonderful donation were Jennie's grandson, Cliff Biggers, and a cousin, Gayle Ross. As a child, Biggers lived on-site with his grandmother. He also donated a ledger used by Jennie at Hunter's Home.
Jennie lived with her family at Hunter's Home from 1894 until 1900, when she graduated from the Cherokee Female Seminary and became a teacher at various rural schools. She married in 1905 and moved to Texas, where she ran a floral shop and her husband, Jesse Clifton "J. C." Cobb, worked as an oil field engineer. Jennie and J. C. had one daughter, Jenevieve, in 1906. J. C. died in 1940, and when Jenevieve died in 1945, Jennie took her two grandchildren, Jennifer and Cliff Biggers, to raise. In 1952 Jennie left Texas with her grandchildren and returned to Park Hill and Hunter's Home. The State of Oklahoma had purchased the home with plans to restore it and open it to the public. Jennie served as the caretaker for the Murrell Home, as the State of Oklahoma named it, from 1952 until her death in 1959.
Using the photographic images taken during her family's years at Hunter's Home, Jennie guided the restoration work. The images documented how the house and grounds looked when she lived there as well as the original furnishings that remained.
"Jennie's images have been invaluable as we work to re-create life in the 1850s at Hunter's Home," said Fowler.
"We are especially excited that this donation came to us during March—Women's History Month," said Trait Thompson, executive director of the OHS. "Jennie Ross Cobb was among a select few amateur and professional women photographers who recorded life in Indian and Oklahoma Territories. The advent of dry-plating and lighter equipment starting in 1888 attracted more women to the hobby that no longer required noxious chemicals and heavy equipment," continued Thompson.
Hunter's Home is a division of the Oklahoma Historical Society. The mission of the Oklahoma Historical Society is to collect, preserve and share the history and culture of the state of Oklahoma and its people. Founded in 1893 by members of the Territorial Press Association, the OHS maintains museums, historic sites and affiliates across the state. Through its research archives, exhibits, educational programs and publications the OHS chronicles the rich history of Oklahoma. For more information about the OHS, please visit www.okhistory.org.