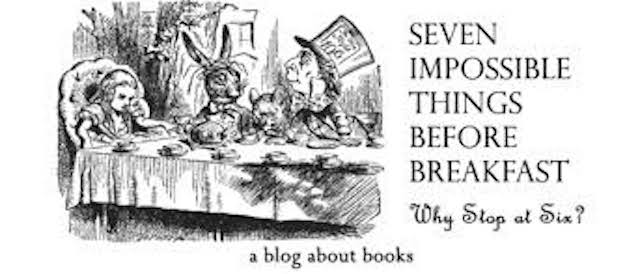 By Jules
Kip Tieran Establishes The First Shelter for Homeless Women in the U.S. 
Growing up during the Great Depression, Kip Tiernan lived with her grandmother and watched as she gave food to whoever knocked on her kitchen door, despite having plenty of people to feed in her own home. "I don't have to know them to know that they're hungry," she told Kip. "We're a lot better off than the people who come to our door." Kip, as an adult, carried these lessons with her and opened the first shelter for homeless women in the U.S., Rosie's Place. Author Christine McDonell and illustrator Victoria Tentler-Krylov bring Kip's story to life in Sanctuary: Kip Tiernan and Rosie's Place, the Nation's First Shelter for Women (Candlewick, March 2022).
Readers spend a few spreads in Kip's childhood, watching Kip learn from her grandmother. We then read that, as an adult, she is moved by speakers in the year 1968 who were calling for "a change in America, urging people to help bring an end to poverty and war." Here, Tentler-Krylov depicts an anti-war rally (pictured above). Kip decides to sell her advertising business and work at Warwick House, which is in a low-income neighborhood in Boston. There, she notices that many of the women in line for food are concealing their apperance, dressing in men's clothes. As she moves her way through the city, she notices this more often: more homeless women with no place to go. When she asks city officials for help for these women, she is repeatedly told, "homelessness isn't a women's problem." After visiting Dorothy Day's Saint Joseph's House of Hospitality in New York City, where Drorothy opened the door to "anyone in need," Kip learns she has a gift for connecting with the homeless people there. She decides:
… to open a sanctuary with flowers and music where women wouldn't be reminded they were poor, a shelter with no chores, no questions asked, just good meals and warm beds. She hoped the volunteers at her shelter would listen to the guests. When you listen to others, you show respect; you learn who they are and what they need.
In Boston, Kip turns an abandoned supermarket, Rosen's Market, into Rosie's Place. It opens on Easter Sunday, 1974.
McDonnell, who teaches English to immigrant women at Rosie's Place, tells Kip's story with reverence and admiration. The lengthy text includes many of Kip's words ("Who decides who gets the condo and who gets the cardboard box?"), vividly capturing her as the determined, compassionate, and empathetic woman she was. The expressive mixed-media illustrations of Tentler-Krylov, who also lives in the Boston area, depict women of all ages, sizes, and skin color who benefitted from Kip's ability to reach out to people in need. The book's palette gradually brightens as Kip sees her dream to help women in need come to fruition. The book's generous backmatter provides more detailed information about Kip, the causes of homelessness, and much more.
Here are a couple more spreads. …
SANCTUARY: KIP TIERNNAN AND ROSIE'S PLACE, THE NATION'S FIRST SHELTER FOR WOMEN. Text copyright ©2022 by Christine McDonnell. Illustrations copyright ©2022 by Victoria Tentler-Krylov and reproduced by permission of the publisher, Candlewick Press, Somerville, MA.
Originally published in Seven Impossible Things Before Breakfast, February 27, 2022. Reprinted by permission.
***
 Gi-ber-ish, Indeed
By Jules
A Young Immigrant Navigates a New Language in a New Country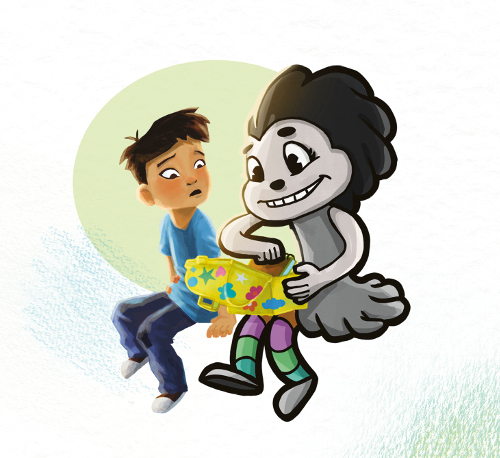 "First Dat sailed on a boat, then flew on a plane, and today Dat will be on a school bus." Dat's world on this spread is a monochromatic one, save for him and his mother. They hold hands in front of the bus and are the only color on this, the first spread. They are also depicted realistically, though everything else on the spread is stylistically over-the-top, as if we are seeing an old animated cartoon still. This is the world of Young Vo's Gibberish (Levine Querido, March 2022), the story of one boy's experience navigating a new language in a new country.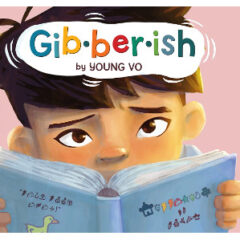 Dat's mother warns him that the language of everyone around him will sound like "gibberish." She tells him: "Just listen, and do the best you can." The people who speak the language Dat can't seem to grasp are consistently depicted in a stylistic cartoon manner and in grayscale. As the review of Gibberish from the Bulletin of the Center for Children's Books notes, these illustrations recall George Herriman's Krazy Kat. And when these characters, whose language is so foreign to Dat, speak to him, their speech bubble dialogue is depicted in images, not words–that is, except for the word "Dav." (The bus driver gets Dat's name wrong.) These choices around style, palette, and character depictions are a remarkably effective and memorable way to depict the struggles of a child in an English-speaking country whose first language is not English. Indeed, when Dat tries to read in the classroom, we read that "his words broke," and we see them as images, tumbling from his book to the floor. (This is pictured below.)
When another student named Julie befriends Dat, slowly he begins to understand words. In these spreads, depicted as scrapbook pages, we see the use of more color in the book–and we see Julie turn from a cartoon character into a realistically depicted human child.
This thoughtfully designed book (the endpapers alone are splendid) is a powerful story about compassion and finding one's voice. There are an increasing number of picture books about immigration, but this one stands above the rest in its brilliant and deeply felt depiction of how it feels for children just like Dat.
Here are some spreads. …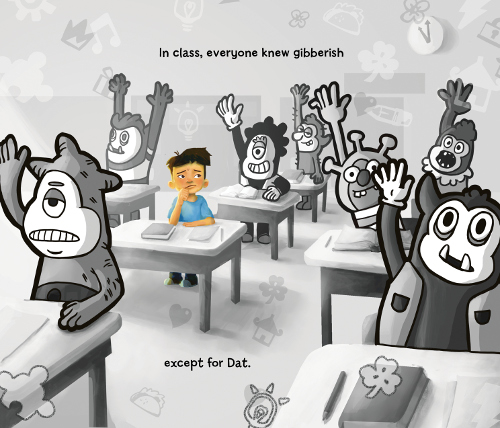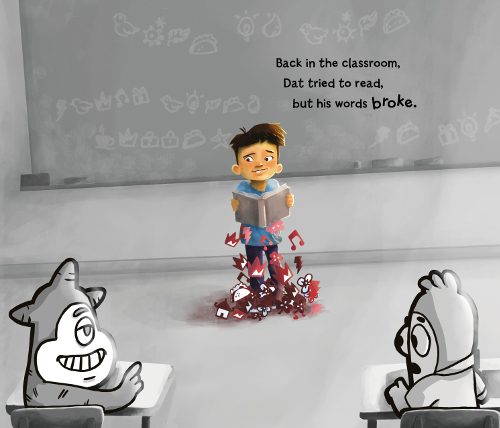 ***
GIBBERISH. Text and illustrations ©2022 by Young Vo. Illustrations reproduced by permission of the publisher, Levine Querido.
Originally published in Seven Impossible Things Before Breakfast, February 24, 2022. Reprinted by permission.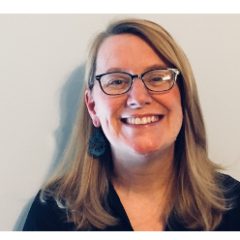 Julie Davidson (Jules) conducts interviews and features of authors and illustrators at her acclaimed blog, Seven Impossible Things Before Breakfast, a children's literature blog primarily focused on illustration and picture books.