By Robert Hugill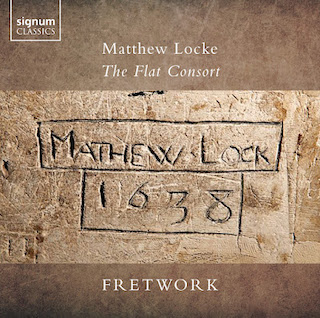 THE FLAT CONSORT: Duos for Two Bass Viols
Composer: Matthew Locke
Fretwork
(Emily Ashton, Richard Boothby, Joanna Levine, Asako Morikawa with David Miller [archlute and theorbo] and Silas Wollston [harpsichord]); recorded in St George's Church, Chesterton, Cambridgeshire, UK
Signum Classics
Matthew Locke was born 400 years ago this year, in 1622, and we remain in hope that centenary celebrations and recordings will help bring to prominence the music of this fascinating and still under-explored composer. His surviving music is not, perhaps, as immediately appealing as that of Henry Purcell, but without Locke's example you feel that there might not have been the Purcell that we know and love. This new disc from the viol consort Fretwork is an example of what we have been missing: recordings of seven of Locke's suites that have hitherto barely made a dent in the recorded catalogue. So, on Signum Classics latest release, Fretwork are joined by David Miller (archlute and theorbo) and Silas Wollston (harpsichord) for Matthew Locke's five suites, The Flat Consort and two duos for two bass viols.
The Flat Consort, Suite No. 5 in A Minor: I. Fantazia, Matthew Locke (composer), performed by Fretwork from the album The Flat Consort
The Flat Consort, Suite No. 2 in B-Flat Major: III. Fantazia, Matthew Locke (composer), performed by Fretwork from the album The Flat Consort
Locke was born in Exeter and was a chorister at Exeter Cathedral under Edward Gibbons (brother of composer Orlando Gibbons). The disc's cover image is a photograph of the name that the Locke seems to have carved into Exeter Cathedral choir stalls when a boy. Locke probably went to the Netherlands with the Prince of Wales (later King Charles II) in 1648, when Charles went to canvas support for his father from the Prince and Princess of Orange (the princess was Charles' sister, Mary). There Locke may have converted to Roman Catholicism. He and Christopher Gibbons (son of Orlando) composed the music for James Shirley's 1653 masque, Cupid and Death and the surviving score (published by Locke) represents a precious survival of dramatic music from that era. Locke would go on to be involved in the music for Sir William Davenant's early operas, The Siege of Rhodes (1656) in which Locke sang the role of the Admiral, The Cruelty of the Spaniards in Peru (1658) and The History of Sir Francis Drake (1659) but none of this survives. He was still producing dramatic music to the end, including the score for Thomas Shadwell's semi-opera Psyche in 1675, a work seen by many as a response to London performances in London by a French opera company.
But during the 1650s, in the Commonwealth, Locke rather went to ground in Hereford where the atmosphere would seem to have been congenial for Roman Catholics. The Flat Consort seems to have been written for Locke's cousin and we can imagine Locke and his friends playing the music in Hereford. Whilst it is richly imaginative, Locke keeps his forces well in check perhaps because of available personnel, so that the suites of The Flat Consort are for three viols with continuo, either treble, tenor and bass or treble and two bass viols. This music is more serious and intense than Locke's dramatic music and his music written for the Restoration court. But perhaps this is the real Matthew Locke certainly he wrote his chamber music into a scorebook that is the source of most of the music on this disc.
The Flat Consort, Suite No. 1 in C Minor: VI. Jigg, Matthew Locke (composer), performed by Fretwork from the album The Flat Consort
He was a difficult man, evidently, yet his music does not reflect this. As Richard Boothby says in his booklet note, "He was a difficult, cantankerous man, who took offence easily, bore grudges and spoke his mind without much regard for the consequences; yet his music is filled with a generous warmth that is hard to reconcile with this personality."
Whilst Locke is writing for viols, we can also feel him moving towards what we consider a more modern conception of ensemble music. The suites in The Flat Consort generally consist of multiple movements, four or six, where Locke alternates Fantazias and dance movements. But his Fantazias are far more quirky than those of his predecessors, Locke writes changeable music, with quick changes of tempo and affect, the result is far less purely Jacobethan in feel and you sense that his example had a large effect on Henry Purcell's three and four part fantasias. Richard Boothby describes this music as quixotic, and it is, delightfully so.
The Flat Consort, Suite No. 5 in A Minor: II. Galliard, Matthew Locke (composer), performed by Fretwork from the album The Flat Consort
Yes, the music can be showy with virtuosic moments and evidently The Flat Consort contains some of Locke's most virtuosic music, but he can also write dense, intricate counterpoint and can by charmingly quirky and restless. The duos for two bass viols are perhaps rather more austere and sober, using just the two instruments with no continuo, yet the rich imagination of the music reaps rewards. All the music receives terrific performances from the players, and they really manage to evoke the atmosphere of those friends playing together in 17th century Hereford and feeling the delight and satisfaction that performing this music together brings.
***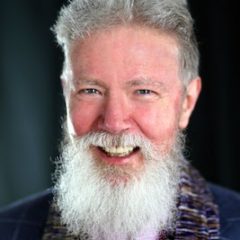 Reviews published here by permission of Robert Hugill at Planet Hugill, a singer, composer, journalist, lover of opera and all things Handel. To receive Robert's lively "This Month on Planet Hugill" e-newsletter, sign up on his Mailing List. This review was published at Planet Hugill on 3 February 2022. (Robert Hugill photo by Robert Piwko.)