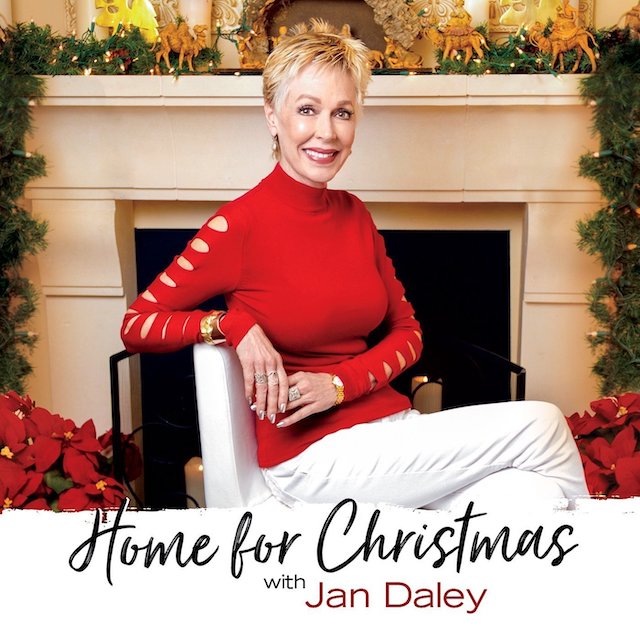 By David McGee
HOME FOR CHRISTMAS WITH JAN DALEY
Jan Daley
Log Records
If you're going to title an album At Home With…, then you ought to make certain the music it presents exudes the warmth and intimacy you would expect of an artist working at home, even when you know the project was recorded in a real, fully outfitted professional facility that may be comfortable but face it, there's no place like home. Which is a long way of saying Jan Daley went into Entourage studio in North Hollywood and made it feel like home in leading a tight, empathetic small combo through a baker's dozen of familiar sacred and secular carols and songs that include her own "Can't Give You Any Answers" and a wonderful Streisand-penned love letter to a newborn baby, "The Best Gift," wherein Ms. Daley's husky timbre sounds at time uncannily like that of Babs herself.
'I'll Be Home For Christmas," Jan Daley, from Home for Christmas with Jan Daley
The homespun feeling arises first and foremost in the comfort level Ms. Daley exudes—she's making no demands of the songs but only of herself, to be a worthy messenger for their narratives. Not only is her stance straightforwardly sincere, it's limned by a sense of awe and reverence for the season. No songs are tossed off or treated in a flighty manner—you sense she genuinely loves the season and the gifts it brings. Not physical gifts, mind you, but gifts that ennoble the spirit, speak of nature's wonders and celebrate friends and family, evidenced at the album's start when she opens with "I'll Be Home for Christmas" but tellingly adds the seldom heard verse before gliding into the familiar hopeful lyric and is bathed in strings. To wit: "I'm dreaming tonight/of a place I love even more than I usually do/and although I know it's a long road back/I promise you…I'll be home for Christmas, you can count on me…" She also distinguishes herself by opening "Winter Wonderland" with its verse to set up a truly wondrous reading that unfolds into a sensuous but joyous swing sparked by boogie-woogie flourishes courtesy pianist David Cohen. And before you think you've heard "White Christmas" as much as you want to hear Irving Berlin's seasonal classic, dig Ms. Daley's torchy rendition with its tasty piano backing and subtle percussion atmospherics,
'The Best Gift,' written by Barbra Streisand, featured on Home for Christmas with Jan Daley
Of the sacred carols, "O Holy Night" is stately, majestic, with a beautiful, string-rich orchestration and churchy piano punctuations supporting a breathy, wonder-filled vocal in an approach the artist describes best in her liner notes: "I realized I just had to let the emotion carry me through, forgetting technique and sing about how amazing that night must have been." That sense of being awestruck by the day's animating event infuses and permeates every bar of "The First Noel," from the plaintive voices blending with Ms. Daley's in sumptuous harmony and Craig Garfinkle adding a rustic touch to the tale of shepherds visited by angels as they tended their flock on a cold winter's that was so deep. After all her accompanists had performed above and beyond the call of duty, Ms. Daley sends them home and closes a cappella with a reverent, quiet take on "Silent Night," the slight echo on her voice at song's end hinting at its sentiments' enduring allure.
'The First Noel,' Jan Daley, from Home for Christmas with Jan Daley
Streisand's "The Best Gift" isn't a Christmas song per se, but it does celebrate the birth of a newborn babe at Yuletide as "the best gift that I've ever known I'd always wanted most to own/yet in my dream of sugar and spice/I never thought it could be so nice." All the singer needs to make Babs' lyrics vivid is her own wonderstruck vocal and Craig Garfinkle's note-perfect, soulful piano embellishments. Ms. Daly's "Can't Give You Any Answers," is thematically centered on the Christmas season but is really a song for all seasons; a full-throated orchestral production that just does pull back from power ballad mode in its soaring choruses to settle into thoughtful rumination in verses musing on God's love and guidance in stormy times in "a world full of needs."
So there's a little something for all tastes here, ranging from an opportunity to luxuriate in seasonal romance to exquisitely rendered reminders of why we're here in the first place. Come on in. Jan Daley is good company.