By David McGee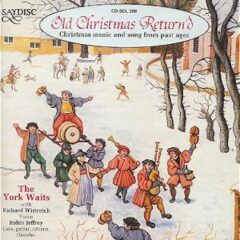 OLD CHRISTMAS RETURN'D
The York Waits
Robin Jeffrey (lute, guitar, cittern, theorbo)
Richard Wistreich (vocals)
Saydisc (1992)
Subtitled "Christmas music and songs from past ages," this scintillating 1992 release from the York Waits (a septet based in the walled city of York in northeast England; the band's name is taken from the York city band of the 14th century), is a mixture of Christmas music and carols from primarily the sixteenth and seventeenth centuries, including seasonal-themed instrumental interludes. Composers such as Michael Praetorius, Thomas Ravenscroft, Josef Obrecht and Anthony Holborne are among the early music stars, if you will, represented in the program.
'Drive the Cold Winter Away,' The York Waits, from Old Christmas Return'd
'The Old Year Now Away is Fled,' The York Waits, from Old Christmas Return'd
The York Waits (present lineup: Antony Barton, Tim Bayley, Lizzie Gutteridge, Anna Marshal, Susan Marshall and William Marshall) are here joined by Robin Jeffrey and the robust-voiced vocalist Richard Wistreich, who has a number of memorable star turns. He opens the album in stentorian fashion with a severe "Gabriel from Heven-King," the anonymous, oft-recordred 13th century sacred song given moving heft by the vocalist's authoritative reading backed by delicate pipe and lute flourishes. He's equally affecting when toning down his delivery to better frame the shifting seasonal images described in another familiar gem, the 17th century English ballad "Drive the cold winter away," variously also known as "All Hail to the Days," "In Praise of Christmas" and "The Praise of Christmas." Loreena McKennitt has recorded it as the title song of her 1987 Christmas album, and the British folksinger Kate Rusby recorded it as "Cold Winter" on her album The Frost is All Over. Wistreich simply shines throughout, demonstrating as deep an understanding of the 17th century borrowing from Piae Cantiones, Gaudete, Christus est natus as he does something as accessible as "Drive the cold winter away."
Two songs by Michael Praetorius from Old Christmas Return'd: Es ist ein ros entsprungen/En natus est Emanuel, both circa 1609
'The Seven Joys of Mary,' by Michael Praetorius (late 15th century), The York Waits, from Old Christmas Returned
As instrumentalists, the York Waits excel on period instruments, lending sublime support to haunting items from Michael Praetorious (Es ist ein rose entsprunge, from the 17th century, and En natus est Emanuel (late 15th century), and the majestic late 17th century tune by Henry Playford, The old year now away is fled (sung to the tune of "Greensleeves"). Bagpipes, shawms, pipe and tabor, sackbuts, hurdy gurdies, lute—all present and accounted for, all deployed with often breathtaking nuance. The old Christmas is indeed return'd thanks to the deep affection, commitment to and understanding of the context in which these songs were composed and their composers' intent. This lost gem should be lost no more.