By David McGee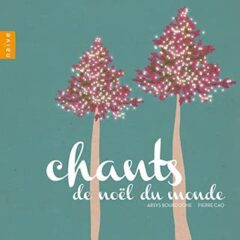 CHANTS DE NOËL DU MONDE
Arsys Bourgogne
Pierre Cao, Conductor
Naïve (2012 release)
From time to time a recording comes along that emphasizes the international character of much Christmas music. The French choir Arsys Bourgogne, which, since assembling in 1999, has made quite a name for itself spanning the globe in its programming. Conducted by the Luxembourg native Pierre Cao, the 32-member ensemble emerges in both holiday and international mode on Chants de Noël du Monde with a collection of sacred and secular Christmas music spanning six centuries and sung in French, English, German, Italian, Spanish, Portuguese and Latin, all performed a cappella.
The 23 tracks include familiar carols like "O Little Town Of Bethlehem," "In Dulci Jubilo" and "Silent Night" (sung in English, French and German), as well as the spiritual "Go, Tell It On The Mountain" with a richly textured arrangement courtesy Scott Warren. There are also secular standards, from the spirited opening "We Wish You a Merry Christmas" to a truly majestic "White Christmas," the latter capturing a wealth of emotions from poignant to heartwarming.
'Go Tell It On the Mountain,' a Scott Warren arrangement performed by ARsys Bourgogne from Chants de Noël du Monde
'Weihnachten,'Arsys Bourgogne, from Chants de Noël du Monde
But when traveling farther afield the choir offers some striking readings that really draw you into the heart of the album. "Ninna-Nanna A Gesu Banbino" impresses with its Italianate lyricism, "En Belen Tocan A Fuego" comes from the Castilian region of Spain and "Weihnachten" from Germany is a very different approach to a "carol of the bells" sensibility. Whereas "Santa Claus Is Comin' To Town" finds one of the male singers a little shaky with his English, the feeling is one of good fun, whimsical and winning. By the same token, some may be put off by the Swingle Singers-like arrangement of "Jingle Bells," but it wears well on repeat listenings as a delightful change of pace.
'White Christmas," Arsys Bourgogne, from Chants de Noël du Monde
Les anges dans nos campagnes, Arsys Bourgogne, from Chants de Noël du Monde
Naturally the choir sounds strong in several French-language selections, notably "Noël Provencal" and "Noël des Rois"), and it is a performance in French that really haunts the memory—namely a positively ethereal rendering of Les anges dans nos campagnes, better known on these shores as "Angels We Have Heard on High." Here the choir reaches a truly exalted plane as the plaintive voices soar and cry, capturing the awe of the experience the lyrics describe and figuratively kneeling in reverence of the holy moment. All in all, the album is yet another showcase for the ensemble's heady harmonies, impeccable precision and big heart. Behold a seasonal classic.