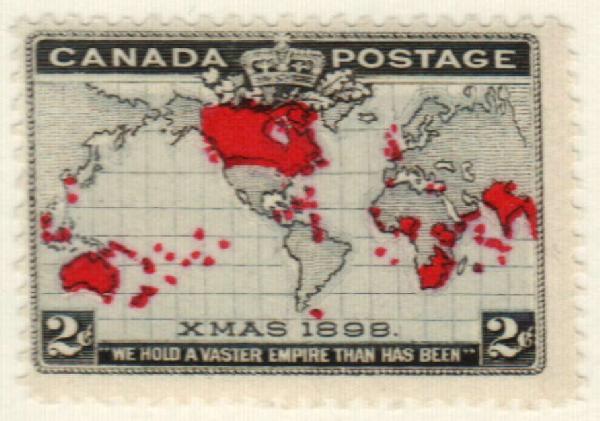 The First Christmas Stamp
Issued by Canada in 1898, Approved by Queen Victoria
In 1898, Imperial Penny Postage was established in Canada, lowering the postage rate from 3¢ to 2¢. New stamps were needed, and it became Postmaster General William Mullock's duty to present the design to Queen Victoria for approval
The new stamp featured a world map with Great Britain's territories highlighted. Mullock reportedly suggested issuing the stamp on November 9 "in honor of the prince [of Wales]," but Queen Victoria made her displeasure known immediately, replying "what prince?" (She and her oldest son had a notoriously rocky relationship since Prince Albert's death in 1861. The Queen is said to have blamed her son and the stress caused by his "playboy prince" reputation for his father's death.)
Thankfully, Mullock was able to turn the meeting around by replying "Why, madam, the prince of peace." Proposing the new stamp honor Christmas and the birth of Jesus Christ satisfied Queen Victoria and she approved the new stamp for issue December 7. It was the first Canada stamp to feature multiple colors.
The initial printing had a lavender background with the highlighted sections in carmine. A later printing changed the background color to blue, though there are several shades known to exist between the two colors. Small differences make collecting these stamps even more fun and interesting.
Text and images courtesy Mystic Stamp Company.
***
The First U.S. Christmas Stamp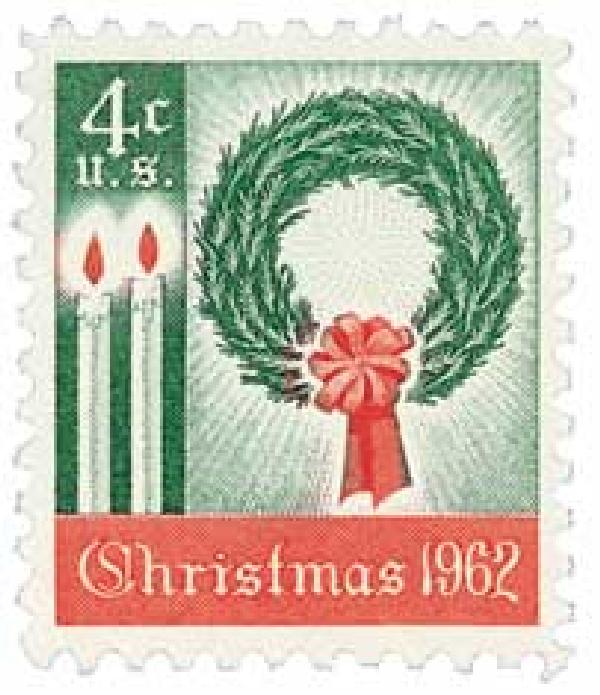 U.S. #1205
1962 4¢ Wreathes and Candles
Issue Date: November 1, 1962
City: Pittsburgh, Pennsylvania
Quantity: 861,970,000
Printed By: Bureau of Engraving and Printing
Printing Method: Giori Press
Perforations:  11
Color: Green and red
On November 1, 1962, the US Post Office issued its first-ever Christmas stamp, starting a popular tradition that continues to this day.
There's some debate as to which country issued the first-ever Christmas stamp. Canada often gets the honor for its 1898 issue that pictured a map and had the inscription "XMAS 1898." In the coming years, other nations issued stamps with similar holiday inscriptions, and eventually with religious or holiday-themed designs. By the early 1960s, the US Post Office was receiving 1,000 letters a year (for several years) asking for a Christmas-themed stamp to frank their holiday mail. The Citizens Stamp Advisory Committee supported the idea and recommended a Christmas stamp, which was officially announced in May 1962. In his announcement, Postmaster General J. Edward Day stated that there were two subjects he knew were popular with the public–the U.S. flag and Christmas. He went on to say, "This coming Christmas season, there will be a special stamp especially appropriate for use on Christmas cards."
America's first Christmas stamp was then issued on November 1, 1962, at a special ceremony in Pittsburgh, Pennsylvania. At the dedication ceremony, Postmaster General Day said this stamp would be the first in a new series of Christmas stamps. The Post Office expected there would be a great demand for the issue, so they printed 350 million stamps–the largest print run for a special stamp up to that time. Those 350 million stamps sold out quickly, leading the Bureau of Engraving and Printing to produce more stamps, reaching one billion by the end of the year.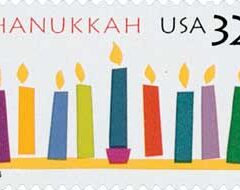 Classic Covers were produced by a variety of FDC companies. Our Classic Covers mostly were made by ArtCraft or ArtMaster. Most covers 1951 to date are unaddressed. Covers from 1950 and earlier may be addressed in pencil, address label, typewritten or pen. Your cover may vary from the one pictured here.
The issuing of a stamp honoring a religious holiday drew controversy, as some people felt it was a conflict involving separation of church and state. There were some legal actions taken to block the release of the stamp, but they all failed.
True to the postmaster general's word, this was the first stamp in an annual series that continues to this day. The series is now known as Contemporary Christmas, with images and topics relating to our modern Christmas celebrations. On November 1, 1966, the Post Office introduced a new series, Traditional Christmas, which features classic artwork with religious images of the Madonna and Child, Angel Gabriel, the Nativity, and more.
In recent decades, the USPS expanded its holiday themed stamps even further.  In 1996, they introduced the Hanukkah Series. They followed this up the next year with the Kwanzaa Series. The first Eid stamp was issued in 2001 and a Diwali stamp in 2016.
The Christmas series has seen several interesting "firsts" over the years, including the first self-adhesive stamp (#1552), the first non-denominated stamps (#1579 and 1580), and the first self-adhesive coil stamps with a plate number (2799-2802).
Text courtesy Mystic Stamp Company
***

1975 10¢ Christmas Card
Contemporary Christmas
U.S. #1580
Issue Date: October 14, 1975
City: Washington, DC
Quantity: 878,690,000
Printed By: Bureau of Engraving and Printing
Printing Method: Photogravure
Perforation: 11
Color: Multicolored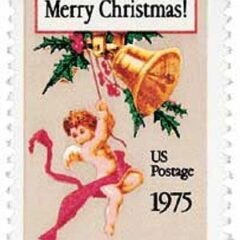 This Christmas stamp shows one of the earliest Christmas cards printed in the United States. The original card, printed in 1878, included the words, "Ring the joybells – ring," "Christ is born – our King." However, this wording was omitted on this non-religious Christmas issue.
Because postage rates for late 1975 were uncertain, both the Contemporary and Traditional Christmas stamps were issued with no denomination; they were the first non-denominated U.S. stamps.
Text and image courtesy Mystic Stamp Company