Brian Setzer Puts His Cat Clothes On And Rocks The Yule, Again
By David McGee
DIG THAT CRAZY CHRISTMAS
The Brian Setzer Orchestra
Surfdog Records (2005)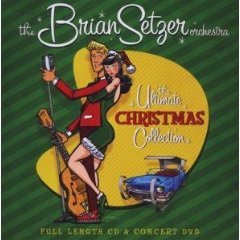 ULTIMATE CHRISTMAS COLLECTION
The Brian Setzer Orchestra
Surfdog Records (2009)
In a worthy followup to his 2002 Yuletide fest, Boogie Woogie Christmas, Brian Setzer and his Orchestra returned in 2005 for a wild-eyed holiday treat via Dig That Crazy Christmas. The whole troupe roars and swings through 11 evergreens, so to speak, and Setzer contributes two new originals: a horn-driven stomper titled "Hey Santa!" spiced with some sizzling vocal and instrumental interplay between Setzer and the orchestra; and a roaring blues grinder in "Santa Drives a Hot Rod," complete with blaring horns and a fine, growling vocal from Setzer describing the wonders of Santa's new souped-up wheels now supplanting his a "rusty old sleigh." "White Christmas" gets a gently rocking arrangement graced by honking sax and robust guitar punctuations as Setzer delivers a rhythmically graceful reading beholden to Elvis's approach. A midtempo instrumental version of "My Favorite Things" provides Setzer with a showcase for a jazz-tinged guitar solo, ahead of fanciful flights of brass and woodwinds. For comic relief, consider Setzer's mock spooked-out vocal on "'Zat You Santa?" and his generous serving of ham on "You're a Mean One, Mr. Grinch," to which he adds a reverberant top-strings solo replete with a quote from "The Munsters" theme song. On an ambitious note, he gets way out there on a breakneck treatment of "Angels We Have Heard On High," its soaring melody developed, variously, by the hearty orchestra and a full-bodied church choir, with enough room for a burst of blaring horns, trebly rock guitar solos and, as punctuation, another guitar interjecting "Peggy Sue" licks throughout. Wind it up with a lush, dreamy rendition of "What Are You Doing New Year's Eve," and the sum of the parts is memorable Christmas fare from an artist whose heart is always in the right place.
Brian Setzer and Orchestra, 'Dig That Crazy Santa Claus,' from the 2005 Christmas Extravaganza DVD included in Ultimate Christmas Collection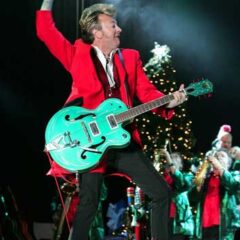 Christmas 2009 brought another Setzer Yuletide blast in Ultimate Christmas Collection, a compilation boasting some of the swingin'est tunes from the 2002 and 2005 holiday long players in a collection further sweetened by a DVD, Christmas Extravaganza, featuring no less than 25 songs from a near-two-hour performance. Some of the favorites from the earlier album include the ambitious "Nutcracker Suite," with its powerhouse horn chart, impressive melding of jazz and classical sensibilities and faithfulness to the moods and spirits of Tchaikovsky's original composition (and which prefigured by five years Setzer's album-length journey into swinging the classics, Wolfgang's Big Night Out); the blazing, Eddie Cochran-influenced romp through "Jingle Bells," featuring Setzer in a bravura, swaggering performance, punctuating his soloing with some clever textural shadings—courtesy searing, distorted chordings; thick, single-string soloing; and cool filigrees such as a variation on the swooping, descending "Pipeline" run; and not least of all, a deliciously suggestive duet with none other than Ann-Margret, in very fine, sex-kitten voice, on "Baby It's Cold Outside," with Setzer playing her male foil to charming perfection and adding a splendid, robust guitar solo to boot. Some of the most welcome selections returning from Boogie Woogie Christmas include a delightfully exuberant horn-enriched charge through "Let It Snow! Let It Snow! Let It Snow!"; a bopping take on "Jingle Bell Rock" faithful to Bobby Helms's classic original, with the added benefit, of course, of our main man's snazzy guitar soloing. "My Favorite Things," "What Are You Doing New Year's Eve," "Hey Santa!" and the uproarious "You're a Mean One, Mr. Grinch" are all present and accounted for as well.
'Baby It's Cold Outside,' Brian Setzer and Ann-Margret get cozy on a duet from Boogie Woogie Christas included on Ultimate Christmas Collection
'You're a Mean One, Mr. Grinch,' The Brian Setzer Orchestra, from Dig That Crazy Christmas
 If you don't have a chance to attend a Setzer Christmas bash the accompanying DVD is a viable second option. However, it needs to be packaged with a warning to viewers that about two or three seconds into the rousing opening number, "Dig That Crazy Santa Claus," when the horns start pumping and Setzer rocks the lyric and his guitar both, you're gonna wish you were there. Working on a stage fully decorated for a Yuletide celebration—with giant wooden soldiers; imposing, all-lit-up multiple evergreens; a cheery hot-rod holiday graphic on the back wall; the orchestra outfitted in leopard-skin sports coats and Santa hats, and the sizzling gal singers in low-cut red velvet miniskirts trimmed in white—Setzer is a commanding presence at the center of it all, wailing and crooning, playing guitar like nobody's business, looking great in his tux and pompadour, and directing the proceedings with the consummate skill of the seasoned performer he is while chatting it up with the audience between songs as if they're all family. Which, come to think of it, they probably are if they're at a Brian Setzer Christmas show.
Brian Setzer and Orchestra, 'Rock This Town,' a rowdy detour from the usual Yuletide fare in the 2005 Christmas Extravaganza. The entire show is on the DVD included in Ultimate Christmas Collection.
Note, though, that the 25 numbers on the set list include several non-holiday items, including Duke Ellington's exotic "Caravan"; a rendition of "Pipeline" performed solely by the trombone section (because Setzer thought they weren't getting enough attention!); a cool, swinging "Stray Cat Strut"; and, powered by a familiar configuration of thumping standup bass (expertly manned by Johnny Hatton), minimalist drums (grandly pounded by Bernie Dresel), a stinging guitar and swaggering vocal, "Rock This Town," which becomes a furious six-string assault, Setzer coaxing all manner of wails, moans, rampaging riffs and trebly furies out of his Gretsch hollow body as he welcomes the entire Orchestra back into the fray and they spar with him the rest of the way. It's a real showstopper that gets the audience on its feet early and for the duration and happens to set up the amazing display he and Orchestra put on in cracking "The Nutcracker Suite." The backstage interviews with band and fans are fine, but the show's the thing here—it may be Christmas themed, but the performance transcends the season and becomes, simply and completely, a musical event of such technical brilliance and unflagging good will it cries out to be cued up any time of year.