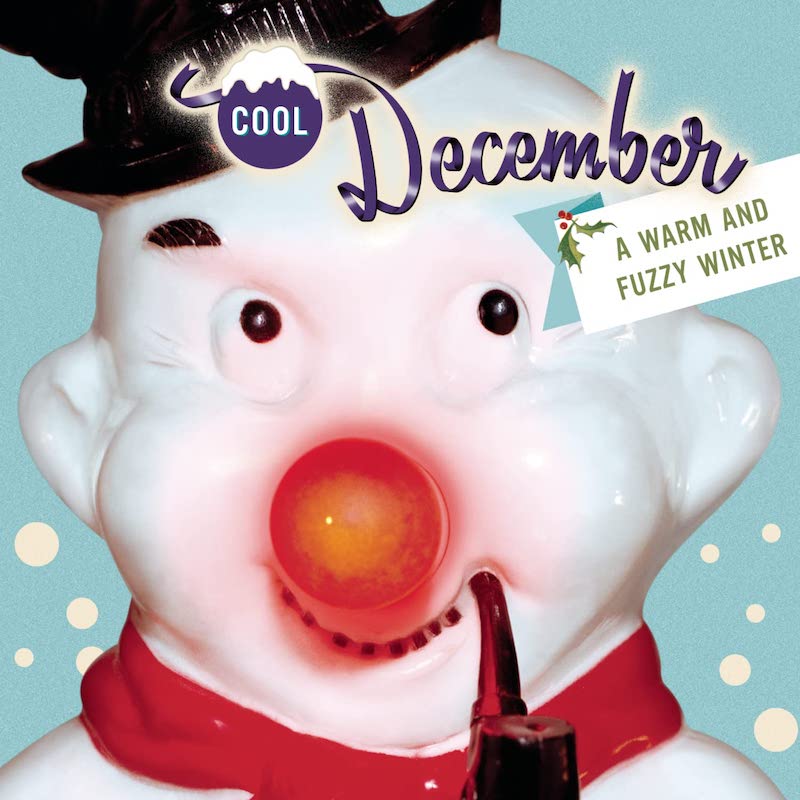 By David McGee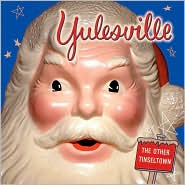 WONDERLAND: YULESVILLE—THE OTHER TINSELTOWN
Various Artists
Shout! Factory/Astrolux (2003)
For this Christmas, Yulesville is strictly coolsville on 16 ultra-hip interpretations of seasonal standards by a group of artists with impeccable hipness quotients. Leon Redbone offers a jolly ragtime version of "That Old Christmas Moon," Dean Martin croons a genial version of "Winter Wonderland," Julie London snuggles up to a torchy version of "I'd Like You For Christmas" (a 1957 Christmas single written by her then-husband Bobby "(Get Your Kicks On) Route 66" Troup, with orchestra conducted by Johnny Mann); Ann-Margret teams with Al Hirt for a saucy, suggestive pas de deux on "Baby, It's Cold Outside," Duke Ellington puts a bluesy, gentle swing onto Tchaikovsky with a noir-ish, woodwind-rich instrumental take on "Dance of the Sugar Plum Fairy" titled "Sugar Rum Cherry," Claudine Longet whispers her way seductively through Randy Newman's atmospheric bit of holiday heartbreak, "Snow," Louis Prima exudes good cheer on a boisterous, brassy rendition of "Shake Hands with Santa Claus," Booker T. and the MG's dip into their Memphis funk bag for a greasy instrumental take on "We Wish You a Merry Christmas," and Tiny Tim puts a capper on cool with a merry warbling and melodramatic recitation (in which he sounds remarkably like Bobby "Boris" Pickett of "Monster Mash" fame) of "I Saw Mommy Kissing Santa Claus." Sergio Mendes & Brasil '66, Marlowe Morris, Lionel Hampton, Four Piece Suit, the Randy Van Horne Singers, and Holly Cole add to merriment as well, in what is a good time Christmas disc for the ages.
'That Old Christmas Moon," Leon Redbone, as featured on Wonderland: Yulesville. Written by Terry Waldo, the original recording was included on Redbone's 1988 album, Christmas Island.
'I'd Like You for Christmas," Julie London. As featured on Wonderland: Yulesville. This 1957 Liberty Records single was written by London's husband, Bobby '(Get Your Kicks on) Route 66.' Orchestra conducted by Johnny Mann.
***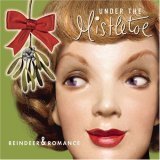 WONDERLAND: UNDER THE MISTLETOE—REINDEER & ROMANCE
Various Artists
Shout! Factory/Astrolux (2003)
One of three Shout! Factory releases of Christmas fare as performed by giants from back in the day supplemented by a few contemporary artists, Under the Mistletoe is first and foremost a showcase for great vocalizing. Lou Rawls, Dinah Washington (with a torchy, beautiful take on "Ole Santa"), Carmen McRae, Rosemary Clooney (with a rarity, the evocative version of "White Christmas" she sang in the film Holiday Inn but which was not included on the movie's soundtrack album), Ella Fitzgerald, Peggy Lee (checking in with the Dave Barbour Orchestra on a mesmerizing version of "The Christmas Spell" that conjures an hypnotic mood as Lee's feathery vocal hovers above a lush but silky string arrangement and vocal chorus by the Jud Conlon Singers), Bobby Darin, Aretha Franklin and Sarah Vaughan are some of the heavyweights represented here.
'The Christmas Spell," Peggy Lee with the Dave Barbour Orchestra and the Jud Conlon Singers. First released as a 70 RPM single on Capitol Records (90035). Featured on Wonderland: Under the Mistletoe—Reindeer & Romance.
Of the young guard, cabaret stalwart Ann Hampton Calloway delivers a amiable reading of "Manhattan in December" that swings in a lilting, Nat King Cole way; John Pizzarelli fronts a big band on a high-spirited take of "Santa Claus Is Near"; Kevin Mahogany, backed solely by acoustic piano, issues a spare rendering of "I'll Be Home for Christmas"  tinged with melancholy, although his warm, deep voice invests the lyric with a seductive edge; and Steve Tyrell delightfully growls his way through a festive, Dr. John-like treatment of "Here Comes Santa Claus." Like its companion volumes, Under the Mistletoe has a timeless quality, thanks to the caliber of the artists, the smart mix of the familiar and the new (in artists and in repertoire), and the refreshing interpretations of mostly familiar Yuletide fare. Its special magic and heartwarming mood evoke the spirit of the season as effectively as any other Christmas album out there.
'Manhattan in December,' Anne Hampton Calloway, from her 2008 album, This Christmas. Featured on Wonderland: Under the Mistletoe–Reindeer & Romance.
***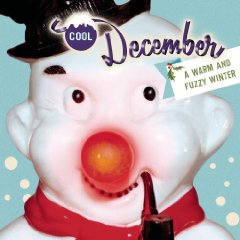 WONDERLAND: COOL DECEMBER—A WARM AND FUZZY WINTER
Various Artists
Shout! Factory/Astrolux (2003)
This third of three excellent Shout! Factory holiday releases from 2003 offers another spectacular display of vocal prowess by a multi-generational artist roster. Note the title, however: this is not a collection of Christmas songs, but rather tunes evoking the feel of and feelings inspired by deepest winter. The predominant theme is one of snuggling up and staying warm by the fire, safely protected by a lover's arms from the cold winds howling on a cold winter's night. Moreover, the voices enlisted to advance the concept are, for the most part, female. The few males on hand do fine: Bing Crosby sets the tone with the album opening advisory, "Looks Like a Cold, Cold Winter" (his avuncular tone and gentle swing making it clear that the subtext is, "so stay in here with me"); Dean Martin is at his most seductive in dreamily crooning a beautiful, string-rich swooner, "Winter Romance"); John Pizzarelli thoughtfully wonders, in a bluesy, orchestrated arrangement, "What Are You Doing New Year's Eve"; and Frankie Carle demonstrates with a frisky, frolicking piano solo why he was known as the "Wizard of the Keyboard" on a big band treatment of "Little Jack Frost Get Lost," on which Marjorie Hughes provides a sassy vocal.
'Let It Snow, Let It Snow, Let It Snow,' Doris Day with orchestra conducted by Pete King. Originally released on The Doris Day Christmas Album in 1964 (Columbia Records). Featured on Wonderland: Cool December.
'I've Got My Love to Keep Me Warm,' Billie Holiday interprets the Irvin Berlin standard written in 1937 for the film On the Avenue starring Dick Powell and Alice Faye. Holiday is accompanied by Ben Webster (saxophone), Teddy Wilson (piano), Cozy Cole (drums), Jonah Jones, John Kirby, Allan Reuss. Released on Vocalion in 1937, the same year. Mildred Bailey her version of the tune. Featured on Wonderland: Cool December.
'Winter Wonderland,' René Marie with Felix Bernard and Richard Smith; produced by Bruce Barth and René Marie, released in 2001 on MaxJazz Holiday (Mack Avenue Records). Featured on Wonderland: Cool December.
Otherwise, Cool December belongs to the women. No song here captures the disc's prevailing mood better than Doris Day's cooing, comforting version of "Let It Snow! Let It Snow! Let It Snow!" with its soothing, mellow strings. Pearl Bailey is not so easily seduced into cuddling up with her beau in a 1949 version of "Baby, It's Cold Outside," but as her silver-tongued companion, Hot Lips Page amiably cajoles and suggests and finally woos her into his love nest at song's end, in a mellow jazz treatment of one of Frank Loesser's oft-recorded seasonal standards (it was recorded seven times in 1949 alone, with four of those seven versions making it into the upper reaches of the Billboard Singles chart). Classic pop singing gets no better than that of honey-voiced Jo Stafford, one of the 20th Century's great vocalists, and she's here with "Winter Weather," a catchy swingfest culled from one of her Christmas albums, on which her genial demeanor and graceful, rhythmic phrasing, aided by the bopping orchestra behind her, makes an effective case in favor of warm bodies pressed against each other as the most effecdtive protection against cold air. The younger generation acquits itself quite admirably, too, in the face of formidable competition from the abovementioned females (including Billie Holiday with a coquettish treatment of "I've Got My Love To Keep Me Warm" and Ella Fitzgerald and big band galloping graciously through "Sleight Ride"). Stacey Kent offers a tinge of melancholy in her subdued reflections in "Violets For Your Furs," her light, girlish voice accompanied by minimalist piano stylings until the first break, when a mournful sax solo underscores the heartache she's been chronicling. And the dazzling contemporary jazz singer René Marie takes "Winter Wonderland" at a gentle lope and gives her small combo ample room to shine, with the pianist and bassist offering striking contrasts in evocative soloing, with the piano's cascading notes suggesting steadily falling snowflakes whereas the bassist's more restrained excursion summons the calm after the snow has settled. Kudos to producer/compiler Brad Benedict for a smart mix of overlooked gems by some of the greats seasoned with inspired performances by formidable contemporary vocalists who prove they belong in this company. It all sounds of a piece, and perfect for any wintry season in any year.