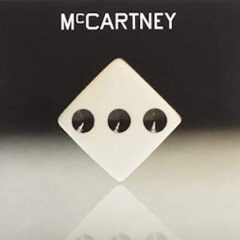 MCCARTNEY III
Paul McCartney
Capitol
By Christopher Walsh
"I had no idea this would end up as an album," Paul McCartney said last year of McCartney III, the third in a series that had launched a half-century earlier. But a lot of unexpected stuff happens during a pandemic.
Much has been made of the circumstances in which the three "McCartney" albums have been made: each closely followed upheaval. The first appeared on the heels of the Beatles' breakup, the second that of Wings. McCartney III, of course, is different, arriving not after personal turmoil, but rather a global health emergency now well into its second year.
Whatever the circumstance, Paul McCartney does seem to enjoy working alone. He plays all of the essential rock 'n' roll instruments quite well and dabbles in quite a few more. Adding the studio as instrument, the composer in isolation is like the mad scientist in his laboratory, following his muse into the field of infinite potentiality.
'Find My Way,' Paul McCartney, from McCartney III
Yet McCartney has really excelled with a collaborator. Plenty has been said about the achievements of his first songwriting partnership, from 1957 to '69. And he clearly relishes being in a band. A force of nature, yes, and a demanding frontman, but the Wings albums are much better for the input of guitarists Lawrence Juber and Henry and Jimmy McCullough before him, and the drummers Denny Seiwell, Geoff Britton, Joe English and Steve Holley.
Some of McCartney's finest post-Beatles achievements, in fact, have in common a close collaborator. The former Moody Blue Denny Laine contributed plenty of guitar and vocals to both Band on the Run and Tug of War, probably McCartney's very best since Abbey Road. With Elvis Costello came some fine songs that recalled the perfection of his partnership with John Lennon, as heard on his Flowers in the Dirt and Off the Ground, and Costello's Spike and Mighty Like a Rose albums.
But the later-period McCartney offerings are a curious lot. To this listener, further evidence of the advantages of a partner, at least an editor, saturates 2008's Electric Arguments by the Fireman, the latest in his sporadic collaboration with the producer Youth. The artist is free to go completely mad, but greatness results when the sounding board, the editor, the fresh ears of another, are on hand. Here's Macca sounding Zeppelin-esque on the opener "Nothing Too Much Just Out of Sight"; there as if fronting a jazz trio on another ornithological delight, "Two Magpies," and over there the mysterious, meditative "Traveling Light."
The infectious hits are fewer these days, but deep into his 70s, McCartney continues to prove his otherworldly aptitude for pop perfection. The title track of 2013's New–an album with the input of multiple contemporary producers–and "Home Tonight," a gem inexplicably left off 2018's Greg Kurstin-produced Egypt Station but later issued as a Record Store Day single, stand, to these ears, alongside his best on Revolver and Sgt. Pepper's Lonely Hearts Club Band.
'Long Tailed Winter Bird,' Paul McCartney, from McCartney III
The first two McCartney offerings are truly—nearly–solo albums, with only sparse vocal accompaniment from wife Linda, who died in 1998. McCartney, from 1970, is of course the most sonically organic. With a geyser of ideas still flowing as the Beatles ceased to be, he compiled simple arrangements of new and existing songs, standouts including the eternal "Maybe I'm Amazed," the lovely and wistful "Junk" and its instrumental reprise, and the late-Beatles-era "Teddy Boy." It's often whimsical, and it remains lovable and sometimes delightfully weird.
What a difference a decade makes. At the time, he told the press that McCartney II was made for himself, to listen to in his car. Experimental, its emphasis on synthesizers shocked a then-13-year-old superfan who'd torn the shrink wrap off the jacket only to find one sonically bizarre track after another and a feeling that the artist wasn't trying very hard. While some now declare the album futuristic, 40 years later I still don't like it. To this listener, the live recording of "Coming Up," issued as a single around the same time, sums it up. It's a solid rocker, and the last iteration of Wings does right by it. The solo recording, like the rest of McCartney II, remains sterile and frustrating.
And here we are, months after the release of McCartney III, deep in a pandemic that surged, then waned, then surged again, until vaccines came to save us, until they didn't. The curtain has closed on another summer, and to borrow a line from Marvin Gaye, God knows where we're heading.
"Long Tailed Winter Bird," opens with a hypnotic groove building from a bluesy, descending melody played on an acoustic guitar, and then another playing off the first one, before, in its own time, the bass drops in. Later, a crunching, chucking electric guitar heralds a mysterious vocal: "Do you miss me? Do you feel me? Do you touch me?" And then everyone is in–however many Paul McCartneys it took to assemble this–marching forward as the theme sounds again and again. Even a troupe of pipers wanders in and out: McCartney on the recorder–not the multitrack kind, rather the woodwind instrument.
It's a fascinating and exciting opener, and this is the good in McCartney's late-career forays into weirdness. What else could he have to prove to the critics? While he has copped to an insecurity about his supernatural ability, hasn't time proven them wrong over and over again?
"Find My Way" veers into McCartney's uptempo pop wheelhouse. Over a drum loop, the lyrics nod to the time, the "rockdown" of 2020, as he called it: "You never used to be/Afraid of days like these/But now you're overwhelmed/By your anxieties." A little before the three-minute mark–a perfect 45 r.p.m. length–the song glides to a soft landing. But, no, it doesn't; he's just messing with us. A minute-long coda follows as electric guitars sound short runs up and down, forward and backward. A sidelong glance toward psychedelia, but mostly pop of the singalong, dance-along variety. The easygoing "Pretty Boys" is all arpeggiated guitars and simple arrangement, McCartney as photographer. "Meet the pretty boys/A line of bicycles for hire/Objects of desire/Working for the squire/You can look but you'd better not touch."
'Women and Wives,' Paul McCartney, from McCartney III
The mood is decidedly darker on the minor-key, piano-driven "Women and Wives." McCartney, sounding bereft, muses on the interdependence of relationships and generations as they change hands amid the inescapable march of time. The beat picks up on the standout "Lavatory Lil." An urgent, Elvis-Presley-meets-Elvis-Costello march sees a pissed-off McCartney hurling lyrical daggers and bluesy electric guitar licks. "Look out for Lavatory Lil," he sings insistently before a chorus of McCartneys repeats the line to emphasize the warning.
He told The New York Times that the song is a parody of "someone I was working with who turned out to be a bit of a baddie," but are you thinking what I'm thinking? The baddie is Heather Mills, is what I think. It sounds like a declassified post-mortem on his second, brief and tumultuous marriage, he in vulnerable condition soon after the death of his wife of almost three decades. Four years after their 2002 union, Mills sought $250 million while accusing her husband of rampant abuse. (She was awarded a small fraction of that sum, the judge berating her for "inconsistent and inaccurate" evidence.)
When does Paul McCartney spew such bile, and with such ferocity and, maybe, specificity? Lil talks a good game, but she's "really moving in for the kill" and "looking for a Bentley." The microphone is mightier than the sword: "She's acting like a starlet but she's looking like a harlot as she's slowly heading over the hill." It's good to see there's still fire in the belly.
The centerpiece, "Deep Deep Feeling," is a curious, near eight-and-a-half-minute production that sees a pensive McCartney reflecting on the agony and ecstasy of love. "Sometimes I wish it would stay," he sings. "Sometimes I wish it would go away. . . . Go away, go away, stay, stay, stay."
It's almost Pink Floydian, this swirling, multicolored soundscape, the lead vocal punctuated by multitracked countermelodies. Three and a half minutes in, an electric guitar picks up the narration with a languid solo, remaining to occasionally moan behind the returning vocals, guitars, piano, bass, drums, shakers, monstrously long reverb. . . .
Like "Find My Way," "Deep Deep Feeling" has a minute-long coda, this one part continuation, part reframing: initially as singer with guitar, then with more of those punctuating vocals and piano, and finally as acoustic guitar and bass. The mad scientist is deep in experimentation.
'Deep Deep Feeling,' Paul McCartney, from McCartney III
The sole exception to the "solo" nature of McCartney III is "Slidin'," by far the heaviest offering and a heady testament to McCartney's formidable vocal and instrumental abilities after almost eight decades. Conceived at a 2016 soundcheck, it was recorded, but never completed, for Egypt Station with touring bandmates Rusty Anderson and Abe Laboriel Jr. A thunderous riff over pounding drums, there are echoes of "Oo You" from the first McCartney, as though performed by a grunge outfit circa 1992.
"The Kiss of Venus" is whimsical and charming and bittersweet. A semi-silly love song, the bare acoustic guitar accompaniment leaves the singer exposed as he strains at the high-register melody. It's a delicate, beautiful lullaby, its singer ever a master of balladry but now of weather-beaten voice, never again to cover "Long Tall Sally" to frenzied perfection.
The pace slows with the musically unremarkable "Seize the Day," wherein McCartney reflects on time and its passage: "When the cold days come/And the old ways fade away/There'll be no more sun/And we'll wish that we had/Held on to the day." "Deep Down" is also disappointing, a noirish dance groove with repetitive lyrics that don't amount to very much in its nearly six minutes. What might Lennon, or George Martin, or Costello, or Youth have brought to these tracks.
McCartney reflects on time once more as the opening "Winter Bird" returns to introduce the closing track, "When Winter Comes." Again just a voice and acoustic guitar, a farmer surveys harvest season and the barren winter to come. "I must dig a drain by the carrot patch/The whole crop spoils if it gets too damp/And where will we be with an empty store/When winter comes?" But, ever the optimist, McCartney offers a happy ending. "When summer's gone/We'll fly away/And find the sun/When winter comes."
McCartney III is good. Not great, but good, and it shows an artist still reaching, ideas still flowing. One suspects that, whatever the future holds–for concert tours, for life as we knew it–we have not heard the last from Paul McCartney. The learned consensus is that greenhouse gas emissions must be sharply reduced by 2030 to avoid catastrophe. Might that year also see McCartney IV from the 88-year-old former Beatle?
'When Winter Comes,' Paul McCartney, from McCartney III
Editor's Note: The official Paul McCartney Store offers McCartney III in a variety of configurations: double-vinyl LP, colored vinyl LP, CD, limited edition CD box sets containing the album, long sleeve or short sleeve t-shirts and other trinkets such as (your choice) a box of dice, a notebook/pencils set or Christmas ornaments–even cassettes (in two different colors). Among the offerings is the official full album on CD in blue, red, white and yellow mini-jackets, each disc containing a "secret demo" (including one Paulie recorded on his iPhone) otherwise unavailable on the official release. The Secret Demo edition is available here