By Billy Altman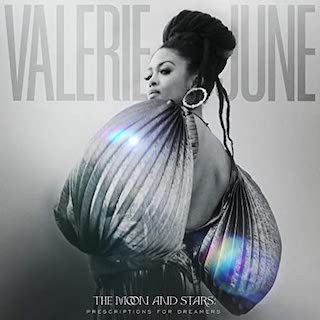 THE MOON AND STARS: PRESCRIPTIONS FOR DREAMERS
Valerie June
Fantasy
Talk about a force of nature: With her briar patch-like thicket of dreadlocked hair and a penchant for adorning herself with brightly colored flowers, Valerie June seems to have stepped out of some sort of enchanted forest, spreading powerfully delivered but gentle-spirited songs that are so filled with whimsy and wonder they seem to be borne more of pixie dust than musical notes. That this smalltown Tennessee-bred songstress has spent well over a decade on the periphery of the pop landscape is something of a puzzle, given that the lengthy list of her admirers over the years has included the likes of Black Key-er Dan Auerbach and one Bob Dylan. Then again, listening to her disarming new collection, The Moon And Stars: Prescriptions For Dreamers, one gets the feeling that one of her greatest gifts–an openness to letting her tunes go wherever they lean stylistically–has likely played a hand in keeping her from establishing a more readily marketable image than these ever-pigeonholing times generally allow. As such, you hear in her music a certain kinship, softer but no less organic, with an artist like Nina Simone, in that June simply refuses to let any preconceived boundaries affect her creative flow. And boy, does it flow.
'Call Me a Fool,' Valerie June (with Carla Thomas), from The Moon and Stars: Prescriptions for Dreamers
'Two Roads,' Valerie June, from The Moon and Stars: Prescriptions for Dreamers
Throughout the album, as June flits from R&B ("Call Me A Fool," with Carla Thomas) and jazz ("You And I") to gospel ("Why The Bright Stars Glow") and folk ("Colors"), one is continually struck by the ease with which she instinctively adds just the appropriate vocal shading to her shapeshifting compositions. A soulful growl here, a whispery hum there; whatever seems right at the moment. And one is struck as well by the thoughtful approach taken by producer Jack Splash (Alicia Keys, Kendrick Lamar), who envelops June in impressionistic settings that allow her to roam wherever the muse takes her. A good example is "Stardust Scattering," whose chant-like melody glides over an arrangement that slowly builds from a spare acoustic guitar to ultimately include piano, organ, horns and pounding drums, and so is "Two Roads," a soulful ballad propelled by the cascading sounds of a winsome pedal steel guitar.
'Home Inside,' Valerie June, from The Moon and Stars: Prescriptions for Dreamers
Still, what's perhaps most striking about The Moon and Stars: Prescriptions for Dreamers is the overriding sense of positivity at the heart of Valerie June's music. Cosmic isn't a very fashionable word in today's hard-edged world, but June's lyrics throughout this work reflect the warm glow of an artist deliberately choosing light over darkness. As she sings on the album's thematic closing song, "Home Inside": "I know there is a home inside/ Window to soul, where every dream abides/Each breath is gold, a pathway, light, a guide/ Garden to grow, keep on the sunny side…Earth is a school/To shine is why you came." Pass that pixie dust.