Reviews by Robert M. Marovich
'…intimate P&W style…'
THE N.O.W. EXPERIENCE
Kelontae Gavin
RCA Inspiration/Marquis Boone Enterprises
Some gospel artists you meet outside of the church environment startle you when you witness their artistic presence in the spotlight. One is Jekalyn Carr—quiet and measured in informal conversation and a marvel of evangelistic motive force when ministering in music. Another is Kelontae Gavin. A Marquis Boone client, Gavin is a humble and amiable soul, a young man who conquered dark moments with healthy doses of sunny optimism and faith. But when he enters the spirit realm, Gavin can transform himself from a melodic psalmist into an unconstrained folk preacher–his larynx-shredding shouts like triggered mines exploding in a flower field–and back again. All of this and more are on display in Gavin's follow up album to The Higher Experience (Tyscot 2018). His debut release for RCA Inspiration, also recorded live, is called The N.O.W. Experience.
'Hold Me Close,' Kelontae Gavin, from The N.O.W. Experience
Live is the ideal environment for Gavin, whose approach is extroverted, welcoming, and communal. He gets energy from the congregation/audience. Like its predecessor, The N.O.W. Experience, recorded in November 2019, is essentially a portable worship or song service. Unlike many such projects, however, N.O.W. doesn't include borderline tiresome extended moments of quiet rapture but instead offers a selection of radio-sized songs, reprises, and ministerial moments blended together. The whole experience, for that is what it is, chugs along as a unified whole rather than as a string of individual parts.
An example of the album's fluidity is the seamless transition between the megachurch-sized anthem, "Going Up," to "Never Be the Same" to "Thank You Jesus." The latter hints musically at Edwin Hawkins' "Thank You Lord," with Gavin's unfettered shouts of gratitude overlaying the background vocalists' hypnotic repetitive singing of the title.
'I Shall Live,' Kelontae Gavin, from The N.O.W. Experience
'Thank You Jesus,' Kelontae Gavin, from The N.O.W. Experienc
Afterward, the temperature lowers and the informality of the service continues with the beautiful and reflective "I Shall Live," which Gavin renders in his upper register. During the reprise, he begins a call-and-response/parenthetical-question-and-answer session with the BGVs. What shall we say to poverty or illness? Gavin inquires, and the singers respond with biblical affirmations of God's fidelity.
The chorus of the joyous "Victory" is inspired by the Emotions' "Best of My Love" (like Gavin, the Emotions/Hutchinson sisters were gospel singers as youth). Gavin renders the album's single, "Hold Me Close," like a pilgrim in rapturous prayer, ornamenting the melody in the rococo style of Smokie Norful but ultimately exploding into passionate shouting during the reprise. Just as "No Ordinary Worship" is the keeper from The Higher Experience, "Hold Me Close" is the keeper from The N.O.W. Experience.
Though short on songs destined to make their way into music ministries, "Hold Me Close" being the exception ("I Shall Live" a possible second), The N.O.W. Experience is an excellent representation of Kelontae Gavin's intimate P&W style.
Picks: "Hold Me Close," "I Shall Live"
***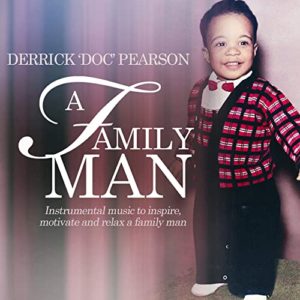 '…bass-driven smooth jazz and equally smooth vocals…'
A FAMILY MAN
(Instrumental Music to Inspire, Motivate and Relax a Family Man)
Derrick "Doc" Pearson
I AM Music Company
Bassist, arranger and songwriter Derrick "Doc" Pearson has graced these pages in the past with inspirational smooth jazz projects such as 2018's I Still Do: Songs for a Biblical Marriage, and initially with his 2015 release, No Greater Love. Pearson's latest offering, A Family Man, follows in the footsteps of I Still Do in its thematic anchoring, its mix of bass-driven smooth jazz from a team of top-flight musicians representing the DMV area, and equally smooth vocals. This time, the theme is a celebration of married family men and the young men who, with the proper direction, will grow up to join them. The title track and its "family version" reprise, featuring vocal cameos by Pearson's daughter Shari and wife Lamar, foreground this theme.
Most of the tracks, like the breezy "Reflection," exist to meet the goal of the album's subtitle: "to inspire, motivate, and relax a family man." Accented by Pearson's pumping bass runs, these songs roll along at smooth jazz's characteristic mid-tempo trot. But there are exceptions, and they make for the album's standout moments. One, the appropriately tranquil "Beside Still Waters," has a lovely melodic line that Brian Lanier explores sumptuously on soprano sax. There's "The Soldier Boy March," which transforms the Shirelles' 1962 hit into a funky and brassy second line instrumental.
'A Family Man,' Derrick 'Doc' Pearson, lead vocal by Al Johnson, title track from the new album
Contributing vocalists for A Family Man are Al Johnson on the title track and the team of Ralph and Zekuumba Zachariyas Hawkins and EJ Thomas on the tender "I Surrender All Y'all," a variation on the beloved hymn.
Musicians take turns showcasing their solo talents on various tracks featuring horn arrangements by R&B musician Tom Tom Washington (Earth, Wind & Fire) and Paul Riser, orchestrator for Motown. It's jazz on a Father's Day.
Picks: "I Surrender All Y'all," "Beside Still Waters"
***
'…introspective and gentle style…'
BACK TO LIFE (EP)
Hanson Asiedu
(Released October 18, 2020)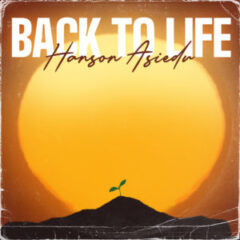 Formerly known as Kase Sounds, Hanson Asiedu is a Ghanian living in London whose responsibilities have included postman and police officer in addition to Christian singer-songwriter. His new EP, Back to Life, offers four songs that share sonic similarity but offer a variety of messages. Asiedu's style, like many European gospel artists, is introspective and gentle, a Jonathan McReynolds feel with the acoustic guitar front and center. His voice is equally calming, sometimes fragile, but unremittingly pure, with little ornamentation.
'Never Seen,' Hanson Asiedu, from the Back to Life EP
'Holy Ghost Pour,' Hanson Asiedu, from the Back to Life EP
The mid-tempo "Holy Ghost Pour" is tuneful and bright, with background vocalists answering Asiedu's lead vocals. He accelerates the tempo on "Never Seen" a buoyant and poppish reflection on the wonder of God that, from history to today, never ceases to amaze. It's the EP's top track. With strings setting a somber mood, "One of Those Days" presents those times when life itself seems unfulfilling, tedious, and discouraging. A 180-degree turn in message is "Joy," a gushing of enthusiasm over the Lord that features fellow Londoner Derick Dickson. A choir's beautifully melodic chanting of "Kyrie" appears at the end.
The production of Back to Life is crisp and the musicianship tight but understated, in keeping with the EP's intimate vibe. Moving to the U.K. at age eight, Hanson Asiedu's earliest exposure to gospel music was the work of Ron Kenoly. In addition to his personal music ministry, he serves as worship leader at My Church London.
Pick: "Never Seen"
***
'…focusing less on uncertainty and more on praise and gratitude…'
NEED OF YOU
Lawrence Hancock
Bishop Lawrence Hancock
Bishop Lawrence Hancock's new Christian hip hop release, Need of You, emulates his summer 2020 album, Who I Am, more in musical vibe than in message. For his seventh album, Hancock focuses less on uncertainty and more on praise and gratitude. "God's Been Good," a praiser with a slowed-down Gap Band groove and punctuations of synare, is the single, but "First Love" is more compelling for its melody and lyrical longing to return to the initial rush of happiness that happens when one discovers Jesus. As if in answer, synthesized angelic voices join a thankful Hancock on "This Moment." "Let Em Know" is Hancock's call for everyone to worship the Lord. He summarizes his gratitude to God during "Joy," and prays for God's constancy in his life. It's the album's most energetic track because of a heavy, propulsive bass line.
"Home" and "The King is Coming" are odes to the glorious final day, when the faithful can finally look upon God's face. The latter cut finds Hancock at his most emotionally expressive. "Champion" exemplifies another common theme in the album—that of the Lord's never-failing support. The title track puts the desire for grace in a personal context.
'Need of You,' Bishop Lawrence Hancock, title track from the new album
'First Love,' Bishop Lawrence Hancock, from Need of You
Hancock's vocalizing—he often serves as lead and background—has a Peter Gabriel ruddiness to it, especially when he moves into his higher register. His voice complements the beats, guitar, and keys, all of which swirl around than drive the tempo. The lyrics are like recitatives; Hancock sings far more than he raps. The melodies are so similar that Need of You feels like an album-long track instead of fourteen individual cuts. In addition to his music ministry, the Toledo, Ohio, resident Bishop Lawrence Hancock was called to the ministry in 1999 and founded Final Harvest Church in 2005.
Pick: "First Love"
***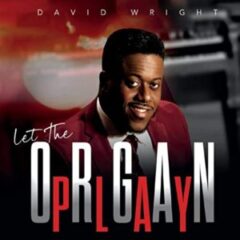 '…an instrumental litany of church favorites…'
LET THE ORGAN PLAY
David Wright
Godfather Records
Typically, we hear Pastor David Wright leading the New York Fellowship Mass Choir. For Let the Organ Play, the choir takes a rest and Wright lights up the Hammond B3 to play an instrumental litany of church favorites. The album's song selection includes COGIC favorites (a variation on the "Yes Lord" chant and the infrequently recorded "This is the Church of God in Christ"), classic gospels and hymns, and contemporary pieces, such as "Oh Happy Day," the New Jersey Mass Choir's "Praise Him," and Rev. Dr. Clay Evans and the AARC Choir's hit from 1995, "I've Got a Testimony," here titled "Testimony."
Wright, who taught himself organ during a three-day shut in the same year Evans and AARC were cutting "Testimony," plays with a studied, straightforward proficiency. He's not one for lots of fancy showmanship; there are no memorable demonstrations of acrobatic keyboard technique outside of that friendly and engaging church bounce.
'Highway to Heaven,' David Wright, from Let the Organ Play
'Power in the Blood,' David Wright, from Let the Organ Play
"It Is Well," "Holy Holy Holy," and "Amazing Grace" are among the hymns Wright plays. He mixes it up with a number of congregational favorites, such as "Power in the Blood" and "What a Fellowship" (aka "Leaning on the Everlasting Arm"). Overall, whether contemporary or traditional, Let the Organ Play has a way-back church feel. The album would have been even stronger had there been a small rhythm combo to support Wright on some of the more up-tempo selections, such as "Highway to Heaven," during which Wright interpolates a snippet of that East Coast chestnut, "I'll Be Caught Up to Meet Him."
Overall, Let the Organ Play is the kind of album a church puts on the P.A. prior to a worship or song service or a gospel announcer uses for theme music. When he is not on the organ or leading the New York Fellowship Mass Choir, Pastor David Wright is leader of Grace Tabernacle Christian Center Church of God in Christ in Brooklyn, NY. His father was the late Pastor Timothy Wright.
Pick: "Highway to Heaven"
Robert M. Marovich launched the Journal of Gospel Music on the tenth anniversary of its predecessor website, The Black Gospel Blog, which he founded July 28, 2004, as the first blog to cover African American gospel music. A gospel music historian, author and radio host, since 2001 he has produced "Gospel Memories," a show featuring classic gospel, spiritual and jubilee music, as well as interviews with gospel legends. It airs Saturday mornings on Chicago's WLUW-FM and throughout the week on several Internet and low-power FM radio stations throughout the U.S., Canada, and Europe. Bob's work has been published in the Encyclopedia of American Gospel Music (Routledge 2005), Encyclopedia of African American Music (Greenwood Publishing 2010), and in the ARSC Journal of the Association of Recorded Sound Collections. He lives in Chicago with his wife, author Laurel Delaney, and their two cats.