By Robert Hugill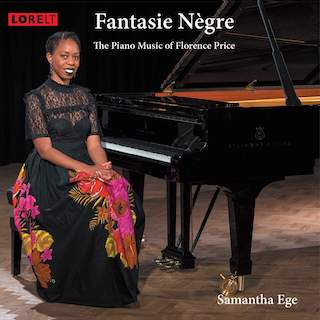 FANTASIE NÈGRE: THE PIANO MUSIC OF FLORENCE PRICE
Samantha Ege
Lorelt
The National Conservatory of Music of America, founded in New York in 1885, for three years (1892 to 1895) was headed by the Czech composer Antonin Dvorák. This was a period when the question of what an American classical composer was had not been fully answered. Well into the 20th century an American composer's finishing seemed to require spending a period studying and training in Europe; only when composers like Aaron Copland started to combine Western European training with American themes did the characteristics defining an America composer began to coalesce.
Of course, the above paragraph needs to be heavily qualified. The composers concerned were largely male and almost exclusively white. Composers such as Amy Beach (1867-1944) never had the opportunity to travel beyond the U.S., but the training such women received was nonetheless decidedly Eurocentric. The case with Black composers was even more complex, and a generation sprang up that combined this European training with African American themes. Important amongst these was William Grant Still (1895-1978) whose training included study with George Whitefield Chadwick (1854-1931), an important member of the Eurocentric Second New England School (which included Amy Beach and Edward MacDowell). It was Grant Still who combined European-style training with African American background to create his Afro-American Symphony (1930), which was, until 1950, the most widely performed symphony composed by an American.
Fantasie Nègre No.2 in G Minor by Florence Price performed live by Samantha Ege. The studio version is available on Ms. Ege's new album, Fantasie Nègre: The Piano Music of Florence Price
If you were Black and female, then the challenge was even greater but there remained innate tension between the traditional musical background of hymns, spirituals and African-inspired music and the Western European tradition, not to mention the development of new traditions such as jazz.
Born in Arkansas, Florence Beatrice Price (née Smith) trained under Chadwick at the New England Conservatory, where she explored African American folk inspirations in her music yet channeled into classical forms. On a new disc from Lorelt, Fantasie Nègre: The Piano Music of Florence Price, pianist and academic Dr. Samantha Ege explores Price's piano repertoire, specifically the pieces that mix African American folk traditions with classical genres.
Price was remarkably successful in her day, thanks to the development of a significant support network of Black female classical musicians who, like her, lived on Chicago's South Side (where Price and her family had moved during the Great Migration). She would be the first African American woman to have a symphony performed by a major national orchestra and the first African American woman to be recognized as a symphonic composer. Yet Price's gender and color were against her, and as her support network aged, faded and died, so did she fade from memory. Upon her passing in 1953 she was buried, with a lack of ceremony, in an unmarked grave. After her death, her family continued to promote her music, but her Eurocentric focus would have seemed rather conservative to the post-War musical generations. Not only did Price fail to enter the canon, she came close to being almost completely obliterated from history.
Thankfully, recent years have seen a significant resurgence of interest in the work of African American composers in general and in Ms. Price's music in particular (to its credit, New York City's classical music radio station, WQXR, ahead of the curve, has for the past several years made Florence Price's music a part of its regular daily programming). Price was remarkably prolific–four symphonies, four concertos and much else besides–but much of this could have been lost. In 2009, a substantial cache of Price's manuscripts was discovered in a dilapidated house in St Anne, Illinois, where the composer had spent her summers. The discoveries included her two violin concertos and her Symphony No. 4, as well as all the music on this Lorelt release except for the Fantasie Nègre No. 1.
Central to the disc are the four Fantasie Nègre works in which Price's titles, with their mixture of languages, deliberately evoke the melting pot of American musical life. She deliberately blends the Western classical free-form fantasy genre with Afro-American music so that the first one includes a melody based on the Negro Spiritual "Sinner, Please Don't Let This Harvest Pass," but others are Price's own spiritually-resonant melodies. And yet she places these melodies in a harmonic structure inspired by German romanticism.
'Snapshots: Lake Mirror,' Samantha Ege, from Fantasie Nègre: The Piano Music of Florence Price
Written in 1929, the first Fantasie Nègre was dedicated to her friend, the pianist and composer Margaret Bonds (1913-1972); the remaining three were written in 1932. The third and fourth have complex textual histories: the manuscript for the third was incomplete and Dr. Ege had to search for loose leaves amongst Price's papers to find the missing material, while the fourth was in a simplified version but presented her in Price's original large-scale version.
While searching for the second, third and fourth fantasies in Price's papers, Dr. Ege came across untitled and undated solo piano pieces, which were numbered and are presented here as a trio of Untitled Sketches. Price's suite–Snapshots: Lake Mirror, Moon Behind a Cloud and Flame–was assembled in 1952, though only Lake Mirror was composed that year. Here we move from the Afro-American material of the fantasies to more evocative impressionistic music. These are in fact the final musical works she introduced before her death in 1953.
'Snapshots: Flame,' ' Samantha Ege, from Fantasie Nègre: The Piano Music of Florence Price
This is not easy music, and Dr. Ege's performances combine the necessary bravura with a shapely turn of phrase and stylistic confidence as the music moves between German Romanticism, spirituals and other styles. The result is utterly beguiling; the fantasies are not salon-works but big, bold, Schumann-esque pieces that simply use the Afro-American folk tradition as their source melodic material. It is tempting to call the small works character pieces in the European style, but we should perhaps bear in mind Price's training with Chadwick and think of another influence, namely piano works from Second New England School members such as Edward MacDowell.
Dr. Ege is both a pianist and a musicologist. British-born of mixed Nigerian and Jamaican heritage, her PhD at the University of York was in Florence Price, and she is Lord Crewe Junior Research Fellow in Music at Lincoln College, Oxford.
'Snapshots: Moon Behind a Cloud,' Samantha Ege, from Fantasie Nègre: The Piano Music of Florence Price
Whilst Dr. Ege has recorded Price's music before (on her disc Four Women), there is still not a lot of Florence Price easily available on disc (particularly the larger scale works). Much of the recorded repertoire was issued on smaller labels, though the Fort Smith Symphony, conductor John Jeter has recorded the first and fourth symphonies for Naxos. Dr. Ege is to be admired for the way she has not only brought the music to our attention via this lovely disc but for doing the work to find the pieces in the first place. There is a lot more Price out there, so I do hope that Dr. Ege will be returning to the studio soon with those works in tow.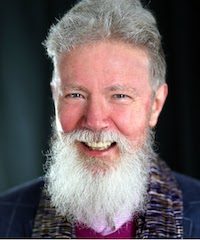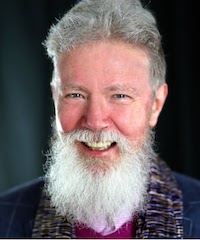 Reviews published here by permission of Robert Hugill at Planet Hugill, a singer, composer, journalist, lover of opera and all things Handel. To receive Robert's lively "This month on Planet Hugill" e-newsletter, sign up on his Mailing List. (Robert Hugill photo by Robert Piwko.