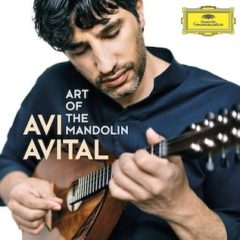 ART OF THE MANDOLIN
Works by Beethoven, Ben-Haim, David Bruce, Henze, D Scarlatti, Giovanni Sollima and Vivaldi
Avi Avital
Alon Sariel (mandolin), Sean Shibe (guitar), Anneleen Lenaerts (harp), Ophira Zakal (theorbo), Yizhar Karshon (harpsichord), Patrick Sepec (cello)
Venice Baroque Orchestra
Deutsche Grammaphon
'…looks back over 300 years of mandolin music…'
Avi Avital's latest release looks back over 300 years of mandolin music, starting with Vivaldi's enchanting Double Mandolin Concerto (partnered by Alon Sariel), which is brought sparklingly to life, with the Venice Baroque Orchestra providing deftly engaging accompaniment. Staying in the Baroque period, Domenico Scarlatti's D minor Keyboard Sonata K.89 belongs to a handful of works that modern scholarship suggests may have been conceived originally for the mandolin–after hearing Avital's engagingly dynamic performance, one is certainly inclined to agree.
Beethoven's Adagio ma non troppo WoO 43.2 is one of four delightful pieces he composed for the singer/mandolinist Countess Josephine of Clary-Aldringen, a society 'looker' who seems to have well and truly caught the composer's eye.
Follow this link to the full review in Classical Music (January 21, 2021)
***
'…a multifaceted portrait of an instrument 'at once familiar and unknown'…'
Avi Avital, incomparable artist of and advocate for the mandolin, here presents a multifaceted portrait of an instrument "at once familiar and unknown." It's also a veritable paean to plucked strings, celebrating the happy union of mandolin, guitar, theorbo, harp and harpsichord. The resulting variety of colors and textures is just one of the innumerable pleasures of this recording.
The jaunty jouissance of the Vivaldi G major Concerto–in which Avital is partnered by fellow mandolinist Alon Sariel and the incomparable Venice Baroque Orchestra–makes for a thrilling curtain-raiser. It also whets one's appetite for the more intimate Scarlatti D minor Sonata –which Avital is convinced was "originally intended for the mandolin"–further on in the program. Intimacy is also key to the Beethoven (harp and mandolin).
By contrast, David Bruce's Death is a Friend of Ours (mandolin, harp, guitar, theorbo and harpsichord), despite its title, overflows with joy. Think the Mexican Day of the Dead. Sollima's Prelude for solo mandolin is similarly extrovert. Indeed, this is a real showcase both for the mandolin and for Avital's talents. It's hard to believe you're listening to a single instrument.
Follow this link to the full review by William Yeoman in Gramaphone
***
Sollima: Prelude for Mandolin Solo, Avi Avital from Art of the Mandolin
***
Israeli mandolinist Avi Avital (b. 1978) made his debut album some years ago on the Naxos label and has since followed it up with several more albums for DG, including this one, called simply Art of the Mandolin, and featuring music by Vivaldi, Beethoven, Bruce, Sollima, Scarlatti, Ben-Haim and Henze. Although Avital's specialty may be music of the Baroque period, the selections on the present album span everything from the Baroque era to the present
As I said of Avital in an earlier review, he "is unquestionably a fine mandolin player, his tone sweet and fluid, his tempos well judged, neither too breakneck fast nor too maddeningly slack, and his natural affinity for the instrument always in evidence in his intonation and flexibility." Certainly, the same can be said about his playing this time around as well.
Anyway, the album begins with the Concerto for 2 Mandolins, Strings and Basso continuo in G major by Antonio Vivaldi (1678-1741). Here, Avital is accompanied by Alan Sariel, mandolin, and the Venice Baroque Orchestra. They take the outer Allegros with a graceful panache, not too fast but quick enough to give them a lively spirit. These sections also give the soloists a chance to show off their considerable skills, and the final movement is particularly robust. The central Andante is delicately handled, light as a feather, sweet as a flower in May. Quite lovely all the way around, actually.
Next, we hear the Adagio ma non troppo in E flat major for Mandolin and Harp by Ludwig van Beethoven (1770-1827). Avital is accompanied by Anneleen Lenaerts on harp, and together they provide a beautifully lyrical reading of Beethoven's music. It is a love song, really, and the pair do well by it.
After that is Death Is a Friend of Ours by British composer David Bruce (b. 1970), with Avital, mandolin; Sean Shibe, guitar; Anneleen Lenaerts, harp; Ophira Zakai, theorbo; and Yizhar Karshon, harpsichord. Here we get a surprising throwback for a modern work, combining the best of the nineteenth century with a distinctly contemporary sensibility. It's vibrant and rhythmic with a charming middle section.
Folllow this ink to the full review by John J. Puccio in Classical Candor
***
Beethoven: Adagio for Mandolin and Harpsichord in E Flat Major, WoO 43b (Transcr. for Mandolin and Harp), Avi Avital with Anneleen Lenaerts, Art of the Mandolin
***
Art of the Mandolin is Avi Avital's first recording program consisting exclusively of pieces originally written for the mandolin. His personal take on the best existing repertoire for the instrument, and a showcase presentation of the fullest spectrum of its expressive potential. From Vivaldi's Concerto for 'Two Mandolins in G Major' through Beethoven's seldom-performed 'Adagio in E-flat Major' to contemporary pieces commissioned over the last few years by Avi himself–works by composers like Antonio Vivaldi, Domenico Scarlatti, Ludwig van Beethoven, Paul Ben-Haim, David Bruce, Giovanni Sollima, Hans Werner Henze. This project represents a return to the heart of the instrument from a very long journey, which had Avi and his mandolin travel to the terrain of the violin, the harpsichord, the flute. –Review from jgwindows.com
***
Vivaldi: Concerto for 2 Mandolins in G Major, RV 532 – III. Allegro, Avi Avital with Alon Sariel and the Venice Baroque Orchestra, from Art of the Mandolin
***
I. Avi Avital on Art of the Mandolin
Would you mind just elaborating a little bit about what the mandolin is?
AA: Well, the mandolin, as we recognize it today, is an instrument, normally, we would say for double strings, so eight strings with the origins of Italy and more specifically Naples, Napoli, in the 18th century. This is the short answer. The mandolin has a fascinating history, and it's always developed, according to some, some kind of shifts in socio-economic movements or demographic changes and so on.
But it started as a salon instrument. When you think of this, its measurement, its acoustic qualities, it's not an instrument you would take outside to play in the piazza or in a big village because you wouldn't be heard.
It's more of a salon instrument, really, delicate, sweet. So it was adopted really by these noble people. It was the instrument of the the young maiden from a rich family would play, a little bit like the harp or the spinet, the little harpsichord, as a sign of good education.
Then in the 19th century, it became more of a popular instrument. Through the beginning of the 20th century, we find a lot of mandolin orchestras, or some of them were called mandolin clubs. And after work, you gather with friends from work or from other social circles and you play together music. And that was the way to enjoy music back in the beginning of the 20th century.
And the mandolin, for many reasons, was a great instrument, for it was inexpensive. The entry point is quite low, so, like, to be able to play something on a mandolin is pretty quick. That's the ukulele of today. I mean, you see ukulele in every household nowadays. And I think that was the mandolin back in the days.
What did you set out to achieve with this album? And how is it different from your other mandolin albums?
AA: So I don't have other mandolin albums and this is the big change and it's all connected.
You know, for me this album is really big, personally, because, you know, as you can assume, the way I approach the mandolin was not of a mandolin player. So I never saw myself as a mandolin player before I am a musician. And still, I see myself first as a musician and then as a mandolin player. I learned first how to play a melody before I had to learn how to play the mandolin, per se. So that's kind of conducted my artistic life.
All my albums were, until now, were pieces by Bach or by all the other composers that did not write for the mandolin or not necessarily for the mandolin, just because it's beautiful music and I happen to play the mandolin. And that's a technical fact.
So when you say you don't have other mandolin albums, you're not saying that you don't have other albums, but that all your other albums feature primarily arrangements for the mandolin.
AA: Mainly. Absolutely. Mainly the mandolin was not the focus of my playing.
(above Q&A excerpt from "Out of the Box: Art of the Mandolin," featuring Avi Avital interviewed by Chris Voss for WCDRB Classical Radio Boston 99.5, posted on 13 January 2021. Follow this link to the full interview.)
***
II. Avi Avital on Art of the Mandolin
(excerpt from "First Person: Avi Avital on 'Art of the Mandolin,' by Avi Avital, published at theartsdesk.com on 2 November 2020. Follow this link to the full essay.)
More than virtually any other instrument, the mandolin stands for different things depending on time and place. In the 18th century it was the preserve of the wealthy in salons across Europe; by the late 19th century and early 20th it had become popular among the middle classes, often heard in social clubs during after-work gatherings. During the same period it was also becoming the national instrument of the newly unified Italy–and that role continues up to today with its key role in Neapolitan folk traditions. During the early 20th century there were also mandolin orchestras in Jewish communities in Poland and even in the first Kibbutzim in Israel in the 1930s. In the USA the mandolin is synonymous with Bluegrass traditions, thanks in part to Italian and Irish immigrants, while in Brazil it's a vital member of the choro folk-music tradition.
However, the mandolin's ubiquity has also proved a curse, with many classical composers ignoring it completely because they simply didn't regard it as a concert instrument. That means the instances where it does occur–in Mahler's Seventh Symphony, Verdi's Otello or Prokofiev's Romeo and Juliet, to name but a few–are striking for the way its appearance brings not only a new color but adds an ingredient from a different sound-world. That becomes even more pronounced in works that put the mandolin in the center: as a solo or concerto instrument or as the dominant member within a chamber-music ensemble.
So it's safe to say that, while not many classical composers have written for the mandolin, when they have done it has been for a good reason. This was the impetus for creating this album. After years of performing and recording arrangements of masterpieces composed for other instruments (mainly for the violin, which has identical tuning) I decided to make an album devoted to the best works (in my opinion!) originally written for the mandolin. I have enjoyed imagining the composers sitting in their studios, thinking of the mandolin: what did it symbolize for them at that given time, and how they were using that to create their art? As an interpreter, I have tried to put myself in the composer's position and work out the inspiration behind writing for the mandolin. This process allows me to feel I'm constantly rediscovering my instrument.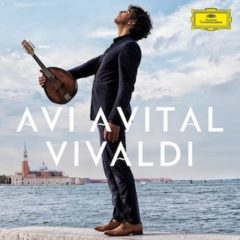 I started with Vivaldi's Double Mandolin Concerto in G major (which is similar in character to his only other mandolin concerto, in C major) where it's impossible to ignore the joyful, even humorous, characteristics the composer attributes to the instrument, as well as a delicacy and great expressivity. In the C major Concerto, which I recorded on my Vivaldi album, he instructs all the string players in the ensemble to play pizzicato (plucked) throughout, as if bowing to the mandolin with respect and a smile. In this G major Concerto for two mandolins Vivaldi uses an echoing effect in which the solo parts are made of short musical fragments which are played by the first mandolin and then repeated identically by the second. You can't help but smile, even when the music ventures into a minor key.
Beethoven had a rather personal reason to write music for the mandolin. The dedication at the head of Beethoven's Adagio for mandolin and fortepiano reads: 'pour la belle J par LvB'. The 'J' in question refers at the young countess, Josephine von Clary, who played the mandolin. I imagine this love story, as so often with Beethoven, left him with a broken heart and us with divine music.
The 20th-century pieces on this album, by the German Hans Werner Henze and the Israeli Paul Ben-Haim, both seek to create the ultimate "plucked-string" chamber-music formation, probably imagining the equivalent of a string quartet or a woodwind quintet but translated to plucked instruments. Their world of associations is, however, different–Henze's Carillon taps into a sometimes childlike playfulness created by mandolin, guitar and harp imitating all kinds of little music boxes. Paul Ben-Haim uses mandolin, guitar and harpsichord in his Sonata to imitate ancient instruments related to the local cultures. The guitar sounds sometimes like the Oud, the harpsichord like a Qanoon. The second movement has a religious pathos, and the phrases end with Landini cadences, conjuring up the unmistakable sound-world of medieval music.
***
Ben-Haim: Sonata a Tre for Mandolin, Guitar, Harpsichord-I. Allegro aperto, Avi Avital with Sean Shibe and Yizhar Karshon, from Art of the Mandolin
***
'It's not actually a bad thing per se that the mandolin is this charming, accessible 'amateur' instrument that everyone can play. But these same qualities that make it popular also at the same time distance it from the concert hall and the more 'serious' approach to music.' –Avi Avital
(Excerpt from "Avi Avital on Art of the Mandolin," interview by David Smith published at Presto Classical on 23 November 2020. Follow this link to the complete interview in Presto Classical.)
Although plenty of violinist-composers and pianist-composers have become well-known over the years, mandolinist-composers seem to have struggled to extend their reputation beyond the ranks of fellow mandolinists. Why do you think this is?
This is something I wondered about when I was choosing the pieces for this album. I knew I wanted it to be all pieces written for the mandolin–hitherto I've mostly performed arrangements. Within that, though, there is a distinction between the repertoire of mandolinist-composers and that of non-mandolinist-composers; and for me it was much more interesting to see how a composer who is not from the mandolin "world" sees this instrument. These composers would always have a reason for choosing the mandolin, whereas mandolinist-composers would write for it simply because they were mandolin players themselves.
It's not actually a bad thing per se that the mandolin is this charming, accessible "amateur" instrument that everyone can play. But these same qualities that make it popular also at the same time distance it from the concert hall and the more "serious" approach to music. This is the nature of the instrument, and it means that even experts like Raffaele Calace, who was active around the turn of the last century and was described as the "Paganini of the mandolin," are only really known by other mandolinists. It's a similar issue to the one that faced the classical guitar for some time–it was relatively confined to its own community, with guitar competitions and guitar concert series and guitar symposiums, and that happens with the mandolin as well. So despite the contributions made by people like Calace, and their importance in the mandolin canon, I decided not to include pieces of this kind.
David Bruce: 'Death Is a Friend of Ours' for Mandolin, Harp, Harpsichord, Theorbo, Guitar-I. Inside the Wave, Avi Avital with Anneleen Lenaerts, Yizhar Karshon, Ophira Zakai and Sean Shibe, from Art of the Mandolin
Several of the pieces featured on this album feature a variety of different plucked instruments–including substantial works by David Bruce, Paul Ben-Haim and Hans Werner Henze. What do you think draws composers to this combination of plucked sonorities?
I certainly know what David Bruce's thinking was, because I asked him! But for Paul Ben-Haim and Henze, who are from more or less the same period of time, I think it's an attempt to create or imagine a chamber music format for the plucked string family. You have the string quartet, or the wind quintet–so what would be the equivalent of that for plucked strings?
For Paul Ben-Haim, choosing the harpsichord, guitar and mandolin; from his perspective, he wanted to be the forefather of a new Israeli contemporary music for the twentieth century. He's as important for Israeli art music as Bartók is for Hungary and Dvorák for the Czech Republic. In his way, he tried to create a new art-musical language that was connected to the local culture. There are references to Middle Eastern instruments, even while using Western ones (for instance in many places in the Ben-Haim sonata, the harpsichord sounds like a qanun and the guitar sounds like an oud). There's also a Biblical connection; in the Jewish tradition, the first instruments introduced in the Bible and played by King David are plucked string instruments. David's harp, Yuval's kinnor, which is a plucked instrument–Ben-Haim is striking a very ancient string in this piece.
For Henze, it would have been totally different–when he was writing his piece for harp, guitar and mandolin, he was using delicate instruments that aren't very loud. And I think he developed the idea from there, with a sound that's sometimes small and music-box-like. The first movement strikes me as being made up of a series of episodes from different music-boxes–very mechanical and sometimes out of sync, sometimes they break and all the springs fly out, but sometimes also they come together in music that's almost childishly delicate. So Henze conceives of these three plucked instruments in a completely different way to Ben-Haim.