'Offering both sides of the singer-songwriter'
COVER US
Chrysann Moore

Independent
On Cover Us, singer-songwriter Chrysann Moore of south suburban Chicago offers samplings of both sides of the hyphened adjective. The nine album selections range from contemporary to P&W to traditional foot-stomping gospel and summarize her musical career over the past few years. "Jesus, I'm Depending On You," a 2020 single, is a lovingly-rendered call for divine assistance in times of special trouble, because "I can't make it without you." Starting out in a quiet storm mood, the song concludes with percussive explosions of evangelistic singing. The title track and current single is a delicate, melodic prayer for spiritual anointing with a touch of electronica bordering Moore's echoing vocals.
Moore puts on her shouting shoes for "Thank You Jesus," a quartet-style declaration of appreciation to Jesus. It is on this song, released as a single in 2018, and its instrumental reprise, "The Johnson-Aires Groove," that Moore demonstrates why the Key of Gospel Music Awards nominated her Traditional Artist of the Year. So does "We Trust You Jesus," a church solo sung solely to Moore's own accompaniment on warbling organ. Though songwriter credits go to Moore, the song sounds as if it has been in the gospel catalog since the 1940s. "Here is My Praise" is the only album track with a featured vocalist, Viola Burse, who participates in a fiery duet with Moore. The song's trad-contemporary arrangement owes a debt of gratitude to James Cleveland and Walter Hawkins.
'We Trust You Jesus,' vocal and organ performance by Chrysann Moore from her album Cover Us
'We Praise You,' a megachurch-sized P&W number from Chrysann Moore's new album, Cover Us
"O Lord, We Worship You" and the megachurch-sized "We Praise You," the latter written by Maurice Fears Sr., are the album's P&W contributions. The sassy arrangement and lyric lines on "I'll Wait" evoke contemporary singers like Kierra Sheard and Tasha Cobbs Leonard. But by the vamp, Moore lets her traditional roots show once more with bursts of passionately sung preaching.
Live portions of the album were recorded at the Redeem COGIC in Joliet, Illinois, where Moore was featured vocalist on a 2005 project by Pastor Eugene Fears Jr. and the Redeem Voices of Victory. Cover Us was produced by Maurice Fears Sr. with production on the title track by Rodney East. Chrysann Moore grew up in the Church of God in Christ and now serves as the Music Director of Redeem Enrichment Ministries in Joliet, IL. She's a talented singer and shows great promise as a songwriter, so let's hope to hear more from her in the future.
Picks: "Thank You Jesus," "We Trust You Jesus"
***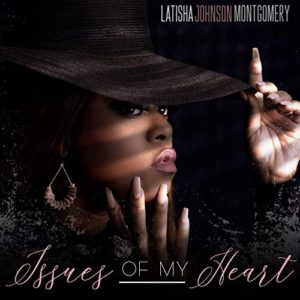 '…electronic swagger drawn from pop, R&B and hip-hop…'
ISSUES OF MY HEART (EP)
Latisha Johnson Montgomery

Independent
Gospel singer Latisha Johnson Montgomery's high notes evoke the crackly rawness of Jennifer Hudson. I wouldn't be surprised if Montgomery finds inspiration in Hudson's singing, as the latter's sometimes gruff delivery, along with electronic swagger drawn from pop, R&B and hip-hop, dominate Issues of My Heart. Following her single, "Take Me Back," recorded at the iconic Sound of Birmingham Studio—no stranger to gospel over the decades—Issues of My Heart is the Alabaman Montgomery's debut EP. "Message" is the declaration of a confident Christian—"Jesus Christ is the greatest that ever walked down here"—all to an assertive beat and equally-emphatic vocals. The moodier "I'll Wait for You," on the other hand, exposes how the singer's vulnerabilities require the Savior to brighten the future.
'Issues of My Heart,' Latisha Johnson Montgomery, title track of her new EP
A piano plinking notes like a train crossing signal opens the percussive and musically kaleidoscopic "Eternity." It is at once a musing on the glory of the Rapture and the warning, a longstanding gospel trope, to not be found wanting when the great day comes. The piano not only returns, more subdued this time, but sticks around to provide the musical foundation for the passionate ballad "Victory over the Enemy."
The pop-infused title track is the most radio-friendly of the bunch. It mines the Old Testament to show how God's ability to perform wonders yesterday still happens today. Montgomery sets the song to a thumping, insistent beat, complete with background doo-wops. The production gives the songs and vocals a three-dimensionality. Overall, it's a fine debut for Latisha Johnson Montgomery who, with continued perfection of her craft, particularly more diaphragmatic support on the high notes, has the potential to make waves.
Pick: "Issues of My Heart"
***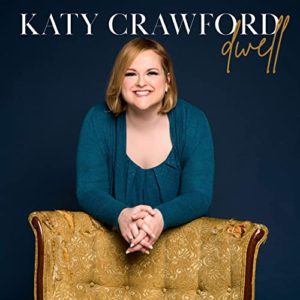 'A musical exploration of the ancient lyrical poems'
DWELL
Katy Crawford

Devotion Music (2020 release)
Dallas-based singer-songwriter Katy Crawford was inspired to read from Psalms every day and set some of the verses to music. Her EP Dwell is the first, but hopefully not the last, of her musical explorations of the ancient lyrical poems. Crawford gives the EP's six psalms a dash of folk, country and Celtic lilt. Their memorable melodies are supported by a delicate acoustic ambience, one that never overpowers Crawford's earnest vocals, which are reminiscent of Sandra McCracken and Lauren Daigle. Although the rhythmic and engaging title track, based on Psalm 23, is the radio-friendly single, it's the worship song "You Are Holy" that stands out as the stronger track. Its liquid arrangement, lovely melody, tight harmony, and singsong refrain are restful and sweet.
'Who Am I,' Katy Crawford, from her EP, Dwell
"Save Me" sets Psalm 3's plea in the face of one's enemies to a reassuring rhythm section, like the cavalry galloping to the rescue. Psalm 9 is the source of the relaxed "Whole Heart," and Psalm 32 informs "Hiding Place." The EP concludes with the Psalm 8-inspired "Who Am I." It's set to a languorous and twangy alt-country arrangement complete with flourishes of warbling organ at the end. Dwell was recorded at Sound Kitchen and at Red Street Records, and gets a crisp production from Nashville's Billy Smiley. With plenty of psalms awaiting arranging, Katy Crawford's concept is one I hope she continues to pursue.
Picks: "You are Holy," "Dwell"
***
'Contemporary clothes over a traditional heart…'
IN THE ROOM
Geneatha Wright

Godfather Records (2020 release)
Reverend Timothy Wright and First Lady Betty Wright may be gone, but their music and pastoral legacies live on through family members, their son John David and his wife, Geneatha, in particular. Geneatha (nee Doughtry), a singer before she joined the Wright family, has maintained a fairly consistent, if somewhat protracted, recording schedule, releasing Just As I Am in 2013, In His Presence in 2017, and re-issuing the song "Everything Will Be Alright" from her 2013 album in response to the pandemic. All of her music is on her husband's Godfather imprint. Her latest, In the Room, offers the energetic rhythm and praise songs and dramatic ballads that have come to define Wright's style. As a songwriter, her most notable credit on the album is the title track. Its simple melody and lyric are timeless, as if they lived in a hymnbook during a previous life. Opening with churchy warbling organ, the song builds in intensity as the fiery-voiced Pastor Ricky Richardson joins Wright in a splendid duet. This one has legs.
'In the Room' (live), Geneatha Wright, from In The Room
'The Declaration' (live), Geneatha Wright with featured vocalist Glenda Ancrum-Adams, from In The Room
On the title track and several other cuts, Wright recognizes the limitations of her sweet, vulnerable soprano and features a vocalist who can add the down-home sauce. For example, the raw vocal power of Janelka Williams contrasts with Wright's mellow delivery on the CCM/gospel ballad "All is Well." The song's message is that if Jesus performed miracles in the Bible days, he can do it for you today. Sabrina Shaw adds the shouting and the squalling on "The Promise," a ballad about the Lord's promise to us and ours to God's. A song of encouragement titled "The Declaration" features ever denser layers of vocals until Glenda Ancrum-Adams sets off the vocal fireworks. I was anticipating more traditional moments on the "Hymn Medley," but it is more of a contemporary hymn survey, even though it follows a very rigorous "Praise Break." In the Room may wear contemporary clothes in general, but within many of its tracks beats a traditional heart.
Pick: "In the Room" 
***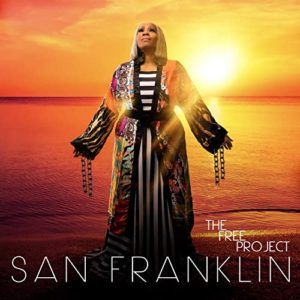 'Breaking free from analysis paralysis…'
THE FREE PROJECT (Deluxe Version)
San Franklin

Enon Music Group (2020 release)

From the spoken introduction, gospel singer San Franklin makes it clear that her debut solo CD, The Free Project, is about breaking free from self-bondage, from the chains of doubt, fear, and analysis paralysis we wrap around ourselves. After years of standing "twenty feet from stardom," Franklin enters the spotlight for the entire program, demonstrating the vocal versatility that has made her a favorite featured vocalist. Even her act of stepping forward to occupy center stage fits with the CD's freedom trope.
Songs that reinforce the theme include "Faith," an energetic affirmation about what is needed to break the shackles of self-bondage. "I Choose Free" is an R&B-style ballad that communicates the fear and anxiety of stepping forward. "Do you be brave and take a chance on something never felt before," Franklin asks, "or do you die once more and again?" She delivers the song with a passion forged by having gone through and survived to tell it. By the hypnotic "Decree," Franklin's commitment to breaking her chains has reached the point of no return. "I can't stay here no more," she declares.
'I Choose Free,' San Franklin, from The Free Project
The dramatic "I Believe" is about facing the unknown "by faith, not by sight" On the reprise, Franklin breaks from a conventional vocal delivery and tears into the song, ad-libbing like a veteran evangelist. This change of mood stirs up the live recording audience. "Set My Feet" (the award-winning Jason Clayborn is among the song's co-writers) has a traditional groove, made all the more so by the call-and response action between a squalling Franklin and the energetic background vocalists. To enhance the song's church bona fides, Franklin incorporates portions of the classic hymn, "On Christ the Solid Rock I Stand."
'Set My Feet' (co-written by Jason Clayborn), San Franklin, from The Free Project
Guest soloists include JoJo Martin, who sings with Franklin on "We Await;" and the COGIC force of nature Chrystal Rucker, who adds vocal gasoline to the fire that Franklin has already set on the churchy, walk-the-aisle "Blessing Me." This eleven-minute rouser, which transitions into an impromptu altar call, continues on the next track with nearly six minutes of classic "blessing" songs, such as "Savior, Do Not Pass Me By" and "Without God." Franklin and Lawrence Flowers get downright gospel-bluesy on the worshipful "Been Good," though the use of a Vocoder is a tad outdated. The capable musicians offer the hefty and profuse accompaniment that is de rigueur for contemporary gospel today, but their volume is no match for Franklin's own. San Franklin's The Free Project is a prayer service disguised as a live solo effort. It's exactly what I would have anticipated from this dynamic singer.
Pick: "Blessing Me"
***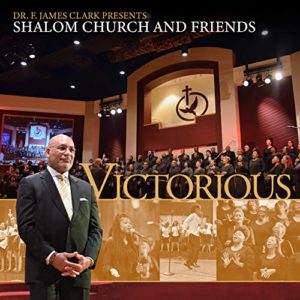 '…the only thing missing is more tracks…'
VICTORIOUS (LIVE) (EP)
Dr. F. James Clark Presents
 Shalom Church & Friends

City of Peace Music (2020 release)
The six-track Victorious (Live) is the latest release and the first of two new EPs by Dr. F. James Clark and Shalom Church (City of Peace) in Florissant, Missouri, a town situated north of St. Louis and near the conflux of the Missouri and Mississippi Rivers. The megachurch choir's five-star debut album, 2015's Simply Amazing, lived up to its title. Dello Thedford, that album's composer and conductor, is at the helm on Victorious. Thedford once again demonstrates his talent for blending classical and gospel choral techniques, perhaps most profoundly on "I Need Thee." If the lyrics remain fairly faithful to the hymn, the arrangement and most of the melody are Thedford's. The beautifully rendered a cappella opening segment concludes when American Idol finalist Curtis Finch Jr. enters to offer a remarkable lead vocal, backed by the full band.
Other EP highlights include Dr. Timothy Price III's hard-shouting lead on the aerobic rhythm and praise title track. The calming "I'll Trust" features another stimulating traditional lead, this time from Ohio Pastor Maurice Jackson. Dr. Clark's easy-as-Sunday-morning baritone on the prayerful single "Lord Do It Again" contrasts well with the choir's dense chording. Lyrically, Clark seeks deliverance by referencing instances of God's deliverance during the Bible days. The choir pins a scrumptious coda to "Your Name," which features fine lead work from chorister Crystal Gill.
'Victorious,' lead vocal Dr. Timothy Price III, Shalom Church and Friends, from the live EP, Victorious
'Your Faith,' featuring thee GenerationNext Choir, Shalom Church Choir and rapper C-Quig (Charles Quigless III), who was diagnosed as autistic at age two, from the live EP, Victorious
A nod to the church's youth ministry is "Your Faith" by the GenerationNext Choir, featuring a rap interlude by C-Quig. Despite being diagnosed with autism at age two, C-Quig is fulfilling his dream to be a professional rapper. Though Victorious was recorded live at the Florissant church, the singers' interaction with the live audience is discernible only every so often. I'm looking forward to the second EP because besides the interaction between singers and congregants, the only thing missing is more tracks.
Picks: "Lord Do It Again," "I Need Thee"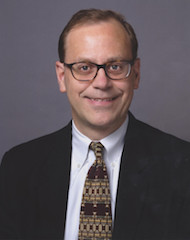 Bob Marovich launched the Journal of Gospel Music on the tenth anniversary of its predecessor website, The Black Gospel Blog, which he founded July 28, 2004, as the first blog to cover African American gospel music. He is a gospel music historian, author and radio host.  Since 2001, he has produced "Gospel Memories," a show featuring classic gospel, spiritual and jubilee music, as well as interviews with gospel legends. It airs Saturday mornings on Chicago's WLUW-FM and throughout the week on several Internet and low-power FM radio stations throughout the U.S., Canada, and Europe. Bob's work has been published in the Encyclopedia of American Gospel Music (Routledge 2005), Encyclopedia of African American Music (Greenwood Publishing 2010), and in the ARSC Journal of the Association of Recorded Sound Collections. He has presented and participated in panel discussions on gospel music at the Gospel Music Workshop of America, National and Independent Gospel Music Association Industry Summit, Blues and the Spirit Conference at Dominican University (River Forest, Illinois), the American Library Association and the Association of Recorded Sound Collections annual convention. He lives in Chicago with his wife, author Laurel Delaney, and their two cats.