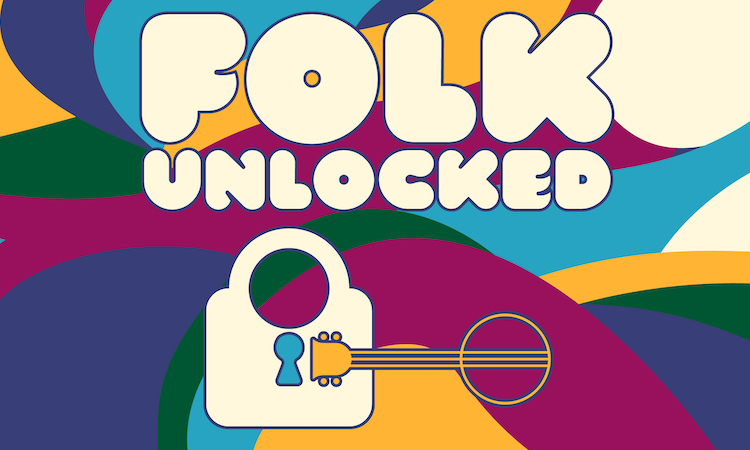 At the Folk Alliance International Unlocked Festival, the line separating performer and audience was not only virtually, but palpably, nonexistent…
By Billy Altman
If there's one positive thing that's resulted from the Coronavirus pandemic, it's been that many people have taken to making music in their own homes–an activity that, at least up until roughly a hundred years ago, before the advent of radio and the popularization of phonograph records, really was the only way most folks could experience music in their own homes. And it's that shared sense of intimacy, of really being with people as they're creating music, that made this year's Folk Alliance International Folk Unlocked Festival (February 22-26) such a unique event.
Due to all the travel and social gathering restrictions brought on by the pandemic, the Folk Alliance–a Kansas City-based nonprofit organization that connects musicians, promoters, club owners, DJs and record companies across the U.S. and globally in the ongoing mission to preserve, promote and present folk and roots music–made the decision to hold their annual mid-winter festival as a completely streaming, online affair. It seemed a rather daunting challenge this year, considering that the weeklong event was to feature some 1000 acts from all 50 states as well as over 30 countries. And yet, this year's festival, held over the course of five days during the last week of February and open to the public as a benefit for the Folk Alliance's Village Fund providing Covid relief for musicians and folk-related workers, proved to be one of the most rewarding music festivals I've ever "attended"–precisely because, with so many artists showcasing from their living rooms, kitchens and even bedrooms in both live and pre-taped sets, the line separating performer and audience was not only virtually, but palpably, nonexistent. For this listener, Folk Unlocked became not only a week of discovery of a lot of worthwhile music, but a valuable reminder of the power of music to connect people, wherever they may be.
To wit, then, here are a brace of artists, some new (at least to these ears) and some familiar, who made the biggest impressions at Folk Unlocked:
Since the terms "folk" and "roots" music have become fairly entwined over the years, it's refreshing to see performers as diverse as Delbert Anderson, Shelley Morningsong and Kalani Pe'a all featured in the same showcase, courtesy of Oregon-based AIP (Advancing Indigenous Performers). New Mexico jazz trumpeter Delbert Anderson seamlessly moves from bebop riffs to Navajo chants with tunes such as the evocative "Iron Horse Gallup" and, in a collaborative quartet with rapper Def-i, brings hip-hop into the pow wow tent as well. Anderson's genre-bending is contrasted neatly by another New Mexico artist, Cheyenne native guitarist/flutist Shelley Morningsong, who performs in traditional fringe-and-feather garb alongside her Zuni/Omaha husband, percussionist/dancer Fabian Fontenelle, whose painted face and condor-like armspreads lend an air of inscrutable mysticism to songs like "Out of the Ashes" and "Everything Is One Thing." From there we're whisked away to Hawaii, where the large-and-in-charge wonder that is Hilo's Kalani Pe'a brings more love than you can shake a grass skirt at. Fondly known as the "ambassador of aloha," Pe'a has already won Best Regional Roots Music Grammys for his first two albums (and had the outrageous purple sequined jacket he wore at the 2019 awards immediately enshrined at LA's Grammy Museum) and is a tirelessly upbeat promoter of Hawaiian culture. Amazingly, even a song about Molokai's onetime leprosy colony in Kalaupapa somehow comes through positively, as Pe'a conveys a sense of respect and sacred grace for its doomed residents. That is one lei-bearing optimist.
Speaking of upbeat, it's hard to not smile watching the Crying Uncle Bluegrass Band, fronted by teen dynamos the Quale brothers, Miles (fiddle) and Teo (mandolin). Asian-Americans bitten by the bluegrass bug as kids, the Alameda, CA, natives, both under 18, play in a (for these pastiche-filled times) refreshingly low-to-the ground style informed by well-chosen influencers such as David Grisman, John Hartford and Tony Rice. Catching the pint-sized Teo and big bro Miles gleefully picking away at a breakneck pace on the aptly titled "Pupville," one can only wonder what Mr. Monroe would have thought of all this. By the way, the "grizzled veteran" in the quartet is guitarist John Gooding. He's pushing 20.
'Roadrunner,' The Delbert Anderson Trio featuring Def-i. Anderson says the song, 'Roadrunner,' 'was composed representing the 'stride' of our New Mexico State Bird. The run on sentence in the beginning melodies give the effect of an unnoticed repeat. Def-i explains the story of running/touring on the road as a musician. The minor pentatonic melody pays tribute to Def'i and Anderson's cultural music. (Navajo)'
'Out of the Ashes,' Shelley Morningsong
'Hilo March,' Kalani Pe'a, featuring Amy Hanaialii and Willie K, from Kalani Pe'a's sophomore album, No 'Ane'i (2018 release)
'Little Addy' (written by Andy Statman) and 'No Doubt About it,' Crying Uncle Bluegrass Band, recorded for the International Bluegrass Music Association's 2020 Here, There & Everywhere series
Celtic music is always a welcome feature of any folk festival, and two of the more interesting groups I saw were Canada's Inn Echo and Ireland's VARO. Both acts come at their music from wide-angled stylistic approaches. Based in Prince Edward Island, Inn Echo is a mixed-gender, multiracial group featuring Drogheda, Ireland, native Gormlaith Maynes on concertina, Eastern Canadian (Ottowa, Ontario) Karson McKeown on fiddle, Western Canadian Tuli Porcher (Victoria, British Columbia) on cello and fiddle, and American Tom Gammons (Butte, Montana) on guitar. Together they weave quite an intricate quilt, with dashes of traditional folk, jazz and even pop adding depth and color to their work. Maynes is a marvel on the concertina, and on songs like "In The Nick of Time," she, fiddler McKeown and cellist Porcher convey a wonderful sense of shared discovery as they move from midtempo ballad to fast reel, tweaking tradition without ever losing sight of its core.
VARO, meanwhile, is a duo comprised of French fiddler/banjoist/keyboardist Lucie Azconaga and Italian fiddler/bouzouki player Consuelo Nerea Breschi, who met in Dublin several years ago and pooled their talents to create Baroque-leaning Celtic music that has a hauntingly innocent quality to it. On a series of marches and reels, VARO does something I've never before witnessed: If you've ever seen anyone play the drone-like harmonium, you know that the instrument requires squeezing air into it with one hand while playing the keyboard with the other. In the middle of one song, though, while sitting in chairs and facing each other, Breschi suddenly lifts her crossed leg and takes over the pushing with her boot, freeing Azconaga to use both hands on the harmonium's keyboard. Tres chic, si?
'Streets of Forbes,' VARO, from the Dublin-based duo's self-titled debut album
They don't call it folk-rock anymore, but Traverse City, MI's The Accidentals have enough of each side of the hyphen in play to qualify. Neatly abetted by drummer/backing vocalist Michael Dause, multi-instrumentalists Sav Buist and Katie Larson flit freely from cellos, fiddles and mandolins to electric guitars and basses, all in service to breezy, left-of-center songs about midwestern life, from the frozen pipes of winter ("We make diamonds out of broken glass/bits and pieces might as well be gold") to the insect-filled days of summer ("It's mosquito season again/Would you rather stay inside or be eaten alive?"). A little Neko Case, a little Brandi Carlile, maybe even a bit of Indigo Girls, but, significantly, there's not a trace of self-consciousness here. Just a lot of let's-just-have-at-it. Naturally, they do a showcase from a driveway. After all, it's Michigan.
It's hard to say what's more stunning about Joy Oladokun–the clear quality of her songwriting, or the disarmingly unadorned manner in which she presents them, and herself. While backstories seem to be everyone's way of approaching up-and-coming artists these days, it's best to get her bio (queer, black, Arizona-by-way-of-Nashville first-generation daughter of Nigerian immigrants ) out of the way as quickly as possible and just appreciate her songs as they come to you. Oladokun writes with a perspective rarely seen these days, displaying empathy for the human condition through understanding rather than judgment: "I don't know it all, but I know how it feels to fall," she sings on "If You've Got a Problem," a soulful tune that displays the clear influence of acknowledged touchstone Tracy Chapman. And then there's the wise-beyond-her-years observations of the riveting "I See America": "Don't you see the world is changing now? The blood of the fallen cries out from the ground…I feel your pain/I share your blood/I see America."
'If You Got a Problem' (official music video), Joy Oladokun: displaying empathy for the human condition through understanding rather than judgment
'If I Wanted Your Opinion,' Michaela Anne (official video)
The figure of the lone guitar-toting singer-songwriter has been pretty much the face of folk music ever since the term first came into use back before the second half of the last century, and while it proved impossible to catch all the (literally) hundreds of solo acts at this festival, there are, as always, many artists who leave marked impressions. And with nowhere to hide when it's just a performer and their guitar, one can discover songs and artists anew. A good example is Saskatoon's Joshua Hyslop, sitting in his home with a simple string of decorative lights hung on the wall behind him. Known for such gentle, introspective songs such as 2016's "The Flood" (44 million plays on Spotify; not bad, eh?) Hyslop delivers his breathy "Ash and Stone" with a mesmerizing precision that highlights his deft guitar work far more effectively than the more complex recorded version. Similarly, Brooklynite turned Nashville songstress Michaela Anne, presenting her showcase from her self-described "home office" (remember to write off that workspace, self-employed musicians) reminds this listener that her 2019 tune "If I Wanted Your Opinion" is still out there, just waiting to be recognized for the good-ole-girl feminist anthem it is. All together now, ladies: "What makes you think we can't buy our own drink/Or that every queen is waiting on a king? I'm not a poster on a wall/I'm not a porcelain doll…and if I wanted your opinion, you'd know."
'He Knows,' May Erlewine, a new song written 02-27-2020
As he's already recorded some two dozen albums and written some 1,500 songs in his career, Iowa's bluesy folkster Chad Elliott has been around long enough to have spun scores of songs sporting the words "cold" and "moon," so it figures it was only a matter of time before he'd pen a tune called "Cold, Cold Moon." And, carrying the spirit of Jesse Winchester, what a song it is: "When the wind mourns the loss of a song/Its whisper wanders round the many empty rooms/leaving faint traces of echoes from the past/or you and me and the cold, cold moon." And Michigan's ever pixie-ish May Erlewine, with well over a dozen albums in her fanciful resume, catches you completely off-guard with the touchingly clear-eyed love song, "He Knows": "You can tell by the lines around her eyes/How she smiles and how she cries…You can tell by her laugh her heart's been broken/And you can tell by the way he loves her that he knows."
'Quarantine Blues,' Steve Poltz—'the most instantly classic song of the entire Folk Unlocked festival…'
Finally, if you've never experienced Steve Poltz, then watching him dizzyingly bopping around a stage, where sometimes it looks as if his guitar is playing him, your first thought might be that if Sean Penn's surfer dude from Fast Times at Ridgemont High had grown up to be a folksinger, this is probably what he would look like. Of course, this is the same guy who back in the early '90s led folk-punksters the Rugburns, best known for goofball gems such as "Pile on the Hangover" and "Me and Eddie Vedder." Then again, he's also the same guy who 25 years ago was the co-author and video co-star of then-girlfriend Jewel's 1996 hit, "You Were Meant for Me," so clearly his very un-still waters can run deep. In any event, leave it to Poltz to come up with perhaps the most instantly classic song of the entire Folk Unlocked festival with "Quarantine Blues," which hilariously catalogues many of the survival activities undertaken by housebound humans over the last year. "I read all of Macbeth/I learned to cook meth…I watched every single movie/and I learned to make tabbouleh…I thought I should buy a gun/Instead I got a man bun…," etc. So we'll exit with Poltz's way cool couplet de resistance for these unruly times: "I'm gettin' kinda grouchy/ I'm in love with Dr. Fauci." 
(Information on donating to FAI's covid relief fund can be found at:
http://folk.org/resources/the-village-fund)