'Keeping the spirit of the old church alive for a new generation…'
BREAKTHROUGH
The Frierson Brothers

J.E.F. Records (release date: November 23, 2020)
There are so many links to gospel music history on the Frierson Brothers' Breakthrough that it would be hard for the album to not feel a little like a church revival. First, the album, produced by Derrick Lee and east coast gospel stalwart James Perry, was recorded live at Newark's Fellowship Missionary Baptist Church under Pastor Elton T. Byrd. With his wife Louberta "Lady" Byrd, Pastor Byrd has ministered for years over records and radio. Second, Rev. Milton Biggham offered the use of his Mount Vernon Baptist Church for the group's rehearsals. Third, Bishop Sam Williams of New York does the introduction. Finally, the album contains songs by Biggham, Alvin Darling, and Donnie Harper. There are likely more links to gospel's roots, but we'll hold it there.
What the twin Friersons–-Revs. Frederick and Franklin—offer on Breakthrough is traditionally-rooted gospel music with a contemporary bounce. Their meaty two-part harmonies evoke the O'Neal Twins and the Boyer Brothers—they even sing the Boyers' breakout hit, "Step By Step." The album is filled with classic and traditionally rooted material. For example, "Lifetime" is Lee's arrangement of the Thompson Community Singers' "I'll Trade a Lifetime." The song gets an able assist from a chorus of background singers, including the phenomenal San Franklin. The title track and single, written by Darling, also has that churchy feel.
'Lifetime,' The Frierson Brothers, from Breakthrough
'Step By Step,' The Frierson Brothers, from Breakthrough
Hearkening back to an older style of gospel is not surprising, as the brothers grew up singing with their father, Joe Frierson Sr., in the Queen City Gospel Singers of Kingstree, South Carolina. As children, they recorded as the Frierson Singers for Delene and M&M Records, and sang with other groups and choirs. JGM reviewed their 2007 CD Over There, also produced by Lee. In other words, they've been at this a long time. There are a few selections aimed at a younger audience. These include a quasi-hip hop version of Harper's "He's Coming Back," complete with a rap interlude by K-Proetic. "He'll Do You Right" is a contemporary quartet piece with smooth harmonies. Though the lyrics of both songs fall within traditional gospel's boundaries of encouragement and thanksgiving, the best tracks on the album are the churchier ones. Whether at the live recording the "Praise Break Out-Tro" occurred sequentially after "Step By Step" or whether it was repositioned to follow this track, it makes sense that the holy dancing follows the most traditional of all songs on the album. During this praise break, the singers perform a musical role reversal: the background vocalists take the lead, singing "we're gonna win" repetitively, and the brothers exhort in support. Sadly, the group has lost two of its members, Joe Frierson Jr. and Jerome Sykes. Nevertheless, the Frierson Brothers continue pressing on, keeping the spirit of the old church alive for a new generation.
Picks: "Lifetime," "Step By Step"
***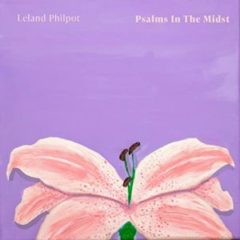 'Testimony set to music…'
PSALMS IN THE MIDST
Leland Philpot
BabelScattered Productions (released: October 5, 2020)
Chicago avant-garde gospel hip-hop artist Leland Philpot draws on hip-hop, jazz, gospel and techno wizardry for his EP Psalms in the Midst. Billed as Philpot's testimony set to music, the EP opens with the title track, a mini-sermon that serves as a general introduction. An aggressive rapper and serviceable singer, Philpot rhymes rapid fire, near to breathlessly, on "The Gift," as the beats beep and burble behind him like arcade games. Minimalist beats and gushes of quick rhyming also propel "Break the Chains" and "There IS Hope." The verses slow down on "He Never Left Me," featuring Endurer. "I lost my connection to you like my Wi-Fi," Philpot rues, praising Jesus for being more constant than parents and friends. His references to battling mental illness are juxtaposed against a cheerful musical backdrop. Another restrained piece, "Marvelous Things." is part praise and part experiential lesson on escaping fear and anxiety by remembering the power of Jesus.
'Psalms in the Midst,' Leland Philpott, title track from his new EP
Philpot steps out of the spotlight on "See God Move." Tim Young and Destine Young handle the singing while Philpot exhorts on the sonic edges like a pastor encouraging a youth choir. The message, set to a punching bass and Kirk Franklin-inspired perky piano triplets, and based in part n Romans 8:28, addresses God's spot-on intervention in our daily lives.
Pick: "See God Move"
***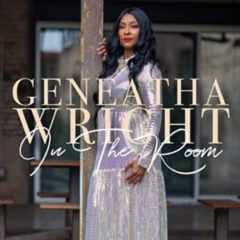 '…a traditional heart beats within…'
IN THE ROOM
Geneatha Wright
Godfather Records (release date: October 22, 2020)
Reverend Timothy Wright and First Lady Betty Wright may be gone, but their music and pastoral legacies live on through family members, their son John David and his wife, Geneatha, in particular. Geneatha (nee Doughtry), a singer before she joined the Wright family, has maintained a fairly consistent, if somewhat protracted , recording schedule, releasing Just As I Am in 2013, In His Presence in 2017, and re-issuing the song "Everything Will Be Alright" from her 2013 album in response to the pandemic. All of her music is on her husband's Godfather imprint.
Her latest, In the Room, offers the energetic rhythm and praise songs and dramatic ballads that have come to define Wright's style. As a songwriter, her most notable credit on the album is the title track. Its simple melody and lyric are timeless, as if they lived in a hymnbook during a previous life. Opening with churchy warbling organ, the song builds in intensity as the fiery-voiced Pastor Ricky Richardson joins Wright in a splendid duet. This one has legs.
'In the Room,' Geneatha Wright, title track from her new album
On the title track and several other cuts, Wright recognizes the limitations of her sweet, vulnerable soprano and features a vocalist who can add the down-home sauce. For example, the raw vocal power of Janelka Williams contrasts with Wright's mellow delivery on the CCM/gospel ballad "All is Well." The song's message is that if Jesus performed miracles in the Bible days, he can do it for you today. Sabrina Shaw adds the shouting and the squalling on "The Promise," a ballad about the Lord's promise to us and ours to God's. A song of encouragement titled "The Declaration" features ever denser layers of vocals until Glenda Ancrum-Adams sets off the vocal fireworks.
I was anticipating more traditional moments on the "Hymn Medley," but it is more of a contemporary hymn survey, even though it follows a very rigorous "Praise Break." In the Room may wear contemporary clothes in general, but within many of its tracks beats a traditional heart.
Pick: "In the Room"
***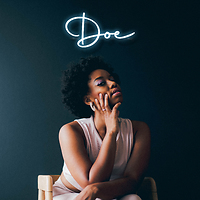 'small but heartening victories over life's disappointments'
DOE (EP)
DOE
Life Room/RCA Inspiration
(released: October 30, 2020)
Gospel music enthusiasts first heard DOE (Dominique Jones) as lead singer and composer of "He Wants It All," the debut single by twice GRAMMY-nominated forever JONES, her family's gospel music ensemble. Since then, the winsome singer has gone solo, earning a third GRAMMY nomination for her collaboration with Jonathan McReynolds on the single, "Cycles." Unsurprisingly, as their musical styles are similar, DOE's first solo EP is on McReynolds' newly formed Life Room label, in partnership with RCA Inspiration. Like McReynolds, DOE is part of a generation of young sacred musicians who are writing and singing thoughtful, honest songs that expose the vulnerabilities and fragility of the heart in a post-modern society, as well as the small but heartening victories over life's disappointments. Neither fully within nor fully outside the church writ large, this "life music," to use McReynolds' term, speaks to the challenges of the modern-day believer, regardless of faith. It is sacred in the same way life is sacred. In many respects, what DOE is doing reflects the singer-songwriter movement that blossomed in the early part of the 1970s through the work of Joni Mitchell, John Denver, James Taylor and Carly Simon, among others.
DOE's breezy and buoyant debut single, "Brighter," is a love song to the Most High from an all-in devotee. The listener will hear sassy shades of India.Arie in this song as well as in "Good Now" and "I Try," the latter an expression of exasperation by a worship artist battered by the waves of a fickle public. "People only want the narrative that sells well," DOE sings. The lyrics remind me of Kierra Sheard's transparent "Don't Judge Me" and (showing my age here), the band Chicago's 1973 "Critic's Choice."
'Take Me Back,' DOE, from the EP, DOE
Featuring McReynolds as second voice, "Hey You" is a conversation between two lovers/friends who try to determine why their breakup destroyed their friendship. It's the kind of repartee that Shirley and Lee made a career out of in the 1950s and Paul and Paula in the 1960s. Unlike their predecessors, whose on again/off again relationship contained many lighthearted moments, Doe and McReynolds' ruminations are more solemn and, as such, more relatable. The DOE-McReynolds partnership should consider dedicating an entire album of duets on life music. If "Brighter" is the EP's single, "Take Me Back" is its most emotional and effective track. It also offers DOE's most passionate singing. The piece exposes how immeasurable responsibilities of church leadership can get in the way of the spirituality that drew the individual to the church in the first place (as a former music minister, I can relate). At the same time, the sentiment can be applied to anyone feeling adrift from the initial spark of commitment.
On her EP, DOE wears her heart on her sleeve and lifts that sleeve up to expose it unapologetically to the world. I suspect that in return, the world will lift its own sleeve in solidarity and encouragement.
Pick: "Take Me Back"
***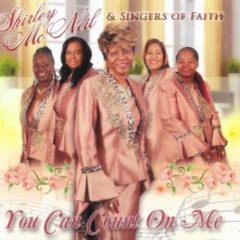 'Help is one prayer away…'
YOU CAN COUNT ON ME
Shirley McNeil & Singers of Faith
Independent (Released: 2020)
Originally issued in 2018, I'm All You See by the female quartet Shirley McNeil & Singers of Faith has received a makeover and is angling for national attention under a new title, You Can Count on Me. Buoyed by Ray Braswell Jr's crisp production, the album features contemporary gospel quartet singing just like one hears in the Carolinas, from whence the group hails. Songs with conventional church messages benefit from standard modern instrumentation, mid-range harmonies, and call-and-response work between the quartet and lead singer Shirley McNeil. To make best use of her limited vocal range, McNeil maintains a straightforward and conversational, almost detached, delivery. She does not attempt to reach notes outside her range. Her best lead work is on "Take Your Burdens," sung to the tune of Sam Cooke's (with Lou Rawls singing backup) 1962 hit, "Bring It on Home to Me." The former title track, "I'm All You See," is about the transformative power of salvation. "There's been a change in me," Shirley sings. Among the manifestations of her new life: "I don't use the bad words that I used to use." She could teach people on social media a thing or two.
'Take Your Burdens,' built on Sam Cooke's 'Bring It On Home to Me,' Shirley McNeil & Singers of Faith, from You Can Count on Me
"If You Got Jesus" has a languorous country beat. Shirley encourages listeners to not let anything bother them, whether it's cancer or hard-headed kids. "Me and Jesus" likens one's relationship with the Lord to an earthly love affair: "We got our own thing going….he never gets tired of me." The album's hand clapper is "Let Me Lean on You," a gospel quartet standard recorded by such artists as the Brooklyn All Stars featuring Thomas Spann, the Bells of Zion and more recently by the Soul Messengerz. The lyrics are standard pulpit-honed messages as plainspoken as Shirley McNeil's delivery. They are also peppered with familiar gospel quartet lyric couplets. The quartet's thematic vision for the album can be captured in the title of the final selection, "Help is One Prayer Away."
Pick: "Take Your Burdens"
***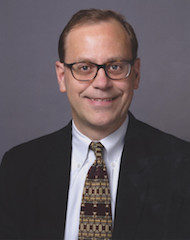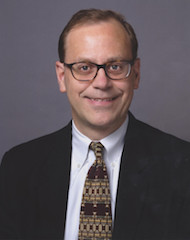 Bob Marovich launched the Journal of Gospel Music on the tenth anniversary of its predecessor website, The Black Gospel Blog, which he founded July 28, 2004, as the first blog to cover African American gospel music. He is a gospel music historian, author and radio host.  Since 2001, he has produced "Gospel Memories," a show featuring classic gospel, spiritual and jubilee music, as well as interviews with gospel legends. It airs Saturday mornings on Chicago's WLUW-FM and throughout the week on several Internet and low-power FM radio stations throughout the U.S., Canada, and Europe. Bob's work has been published in the Encyclopedia of American Gospel Music (Routledge 2005), Encyclopedia of African American Music (Greenwood Publishing 2010), and in the ARSC Journal of the Association of Recorded Sound Collections. He has presented and participated in panel discussions on gospel music at the Gospel Music Workshop of America, National and Independent Gospel Music Association Industry Summit, Blues and the Spirit Conference at Dominican University (River Forest, Illinois), the American Library Association and the Association of Recorded Sound Collections annual convention. He lives in Chicago with his wife, author Laurel Delaney, and their two cats.