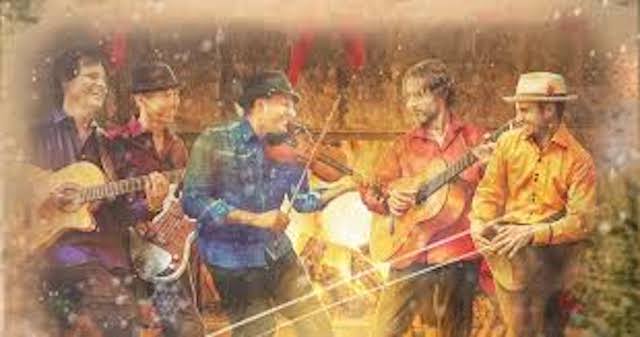 By David McGee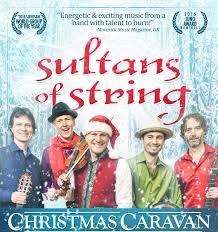 CHRISTMAS CARAVAN
Sultans of String
CEN
Here is the best—and what promises to be the most enduring—Christmas album of the 2017 Yuletide season. Even as Canada's Sultans of String and their guests put a new spin on traditional favorites, they never get so far out as to render those tunes unrecognizable. That is, the spirit of the season gets a makeover, but is still the spirit we've known for bringing good tidings of great joy. Three-time JUNO nominees in their native Canada, the Sultans of String quintet makes a musical case for inclusiveness and diversity on their first holiday outing, and what impressive support they enlisted. Many of the names here have earned fans beyond the world music audience and all have done exemplary work in their time. We're talking about the likes of the Chieftains' great Paddy Moloney; Ruben Blades; Nikki Yanofsky; Sweet Honey in the Rock; Cameroon's stellar Richard Bona; sitar virtuoso Anwar Kurshid; JUNO award winning country singer (now based in Nashville) Crystal Shawanda, whose string-enhanced, impassioned reading of "Jesous Ahatonhia (Huron Carol)" is a thing of beauty; a recording collective of Turkish Roma violinists from Istanbul adding exotic majesty to "Greensleeves" in a riveting album opener; the October Project's Mary Fahl, in a swirl of percussion and strings, soaring soulfully on "Jesu, Joy of Man's Desire," a big, orchestrated production that lacks the intimacy of Leo Kottke's instrumental version and Stevie Wonder's spiritualized reading on his Someday at Christmas long player from 1967 but adds appealing tension and urgency without sacrificing reverence.
'Celebrate the Holydays,' Sweet Honey in the Rock with Sultans of String, from Christmas Caravan
Sweet Honey in the Rock get things rocking with the jubilant "Celebrate the Holydays," a pulsating workout hailing the vital message "pure rebirth and healing/peace and love and giving/share the joy of living!" with exuberant handclaps and a lively guitarist and fiddler fueling the fast-paced proceedings. At the other end of the spectrum, bathed in strings and subtle interjections from guitar and fiddle, Nikki Yanofsky embraces a classic pop-style treatment of Mel Torme-Robert Wells's beloved "A Christmas Song" and turns in a beautiful reading both warm and sensual. The Sultans get their star turn on the crazy-quilt titled "A Django Christmas," which is not variations on the great Reinhardt's 1937 recording "Christmas Swing" (which itself grew out of an earlier Django recording, "Swinging with Django" and was more a showcase for the violin pyrotechnics of Michel Warlop) but rather an orchestral-backed medley of Yuletide favorites with a flavor of Le Hot Club, especially in the sprightly violin work of the Sultans' Chris McKhool, with no small contribution, of course, by fleet-fingered guitarist Kevin Laliberté. Latin music legends Ruben Blades and Luba Mason turn John Lennon's "Happy Xmas (War Is Over)" into more of a traditional carol, with Blades adding a verse in Spanish, in a tour de force notable on its own as a deeply felt message, ever relevant in our chaotic age.
'Jesous Ahatonhia (Huron Carol), Crystal Shawanda with Sultans of String, from Christmas Caravan
Arguably the album's most irresistible moment is provided by Quebec's Benoit Bourque (of the Canadian folk band Bottine Souriante) on the high-spirited, Cajun-flavored romp through the blending of "Les Agnes Dans Nos Campagnes/Cootes Paradise Reel" (the former better known as "Angels We Have Heard on High," although the literal translation of the title here is "Angels In Our Countryside"). Strangely, Leonard Cohen's "Hallelujah" is here too, as the penultimate track, in a wonderful treatment by Canada's Rebecca Campbell with sensitive support by the Sultans needlessly bolstered by gratuitous orchestral flourishes.
A Christmas keeper, this, and by its very being a strong rebuke to those inveighing against the inclusiveness this album champions. Christmas Caravan is your must-buy this Christmas season. Bravo Sultans of String!
***
Chris McKhool on 'Christmas Caravan'
JOE CAROSELLI of Jazz Monthly interviewed the Sultans' Chris McKhool, who co-produced Christmas Caravan and also served as the project's executive producer. Herewith excerpts from Mr. Caroselli's interview, the full text of which is available here and is must reading.
Sultans of String has been together almost a decade and a half, and this is your first Christmas project. Was creating a Christmas album something that you perhaps always thought about doing… even years ago?
CM: The idea came about only two years ago. We had just finished a concert with the Edmonton Symphony Orchestra and gone out for drinks afterwards with their conductor Lucas Waldin and he said; "You know you should really think about doing a Christmas concert!"  It was a new idea for us but by the end of eating our soup and before the entrée hit the table, we had the entire holiday show plotted out on a cocktail napkin. That was the fun part! Then it took a whole two years to complete.
'Les Anges Dans Nos Campagnes/Cootes Paradise Reel,' Benoit Bourque and Sultans of String, from Christmas Caravan
We realized as we were getting into the project that it was a perfect vehicle for us to do new things with our music that we had always dreamed of doing, like making a vocal album with our wish list of special guests. This gave us an opportunity to reach out to some of our favorite singers on the planet like Richard Bona, Crystal Shawanda, Sweet Honey in the Rock, Rebecca Campbell, Nikki Yanofsky, Ruben Blades, Benoit Bourque, Alex Cuba–and to create and arrange music in a really different way. Our amazing U.S. manager Dave Wilkes was instrumental in us putting this album together because he reached out to many of these artists, inviting them to come on board. He has worked with hundreds of artists over the years and signed a lot of them to various labels and record deals, and is on a first name basis with many of the management agencies and levels that carry the special guests. and he has that special charm and persistence that makes it impossible to say no to him.
There have been many "holiday" albums produced over the years. Christmas Caravan is definitely not the typical Christmas album, because this record truly has "multi-national" appeal. What did you set out to achieve during the early planning of this record?
CM: One of the things we love to do with Sultans of String is play rhythms and grooves that come to North America from all around the globe, everything from rumba flamenca from southern Spain, Gypsy-jazz from eastern Europe, Arabic rhythms (my background), Cuban rhythms (our percussionist Chendy's background), Panama, Africa, East Coast Celtic music—we thought it would be really fun to bring that energy and drive of all those rhythms to the Christmas songs that people love to sing, as well as some of the musical mash-ups that we create from scratch. So while it's a Christmas album, we've really tried to tie in diverse voices from many parts of the world. It's the kind of music that can only be made in collaboration with different cultures and languages, and that's what makes it I think a more compelling holiday project. The idea of the Christmas Caravan linking people together to make a beautiful sound together. And that's what really is a big part of what it means to be Canadian. The more diverse a population is, its cultures, languages and traditions, the more chances you have of coming up with a great idea.
Working with these musical guests was a really great opportunity for us because it gave us an opportunity as musicians to deepen our understanding of world music traditions. For instance, arranging "Sing for Kwanzaa" with Richard Bona was a real treat, learning more about how he puts together African rhythms to structure a song.
'Niel Gow's Lament/Rakes of Mallow/Rouge River Valley,' Paddy Moloney with Sultans of String, from Christmas Caravan
The music of Turkey is often known for using rather unorthodox time signatures–that is, "unorthodox" by western standards. Your "Turkish Greensleeves" explores this on the album. Please tell us what went into the production of that particular track.
CM: I love that "Turkish Greensleeves" song because it utilizes a Saidi rhythm from the Middle East. One of the things we like to do in our live show is invite the audience the clap out the rhythm. It's actually very close to a western rhythm that many folks will recognize in "We Will Rock You"–ha-ha!–but it has a little bit of a skip in it, with its Arabic rhythm, so it sounds really familiar but then it has this new element that can be tricky to do. It's a lot of fun having our audiences trying to clap along with us there. And it's a good teachable moment that there are differences between cultures but there's a lot that's shared.
What's really interesting is that we actually did this song with the Turkish players in Istanbul over Facebook! We did the bed tracks here in Toronto and then sent them the MP3 through their Facebook account, then they recorded their parts and shipped it back through FB! This new era of modern technology allows for a lot more flexibility than the old days of the two-inch tape deck. This August we're hoping to create some more music together, but actually travel to Istanbul to meet the Turkish players face to face this time.
John Lennon's "Happy Christmas (War is Over)" is also featured on this album. The arrangement is superb. Were the arrangements more or less a collaborative thing on Christmas Caravan?
CM: Some songs were arranged by me and our guitarist Kevin Laliberté, and sometimes the songs were arranged by the whole band which we would then bring to the special guests where they would workshop them from there. Other songs were arranged from the ground up with the guest performers like "Celebrate The Holydays" with Sweet Honey in the Rock, which we created in real time with the tape rolling. "Sing for Kwanzaa" with Richard Bona was another one of those songs which were arranged from ground zero which we simply would not have been able to create on our own. That's one of the thrills of working with a guest, being able to learn other world rhythms that speak to their heart.
'Jingle Bells/Auyuittuq Sunrise,' in English and French, courtesy Chris McKhool, Rebecca Campbell and Sultans of String, from Christmas Caravan
Your recording of "Jingle Bells" is about as jolly as you can get!  It was so much fun to listen to, and of course it had that international "Sultan" flavor. Tell us about the "Jingle Bells" medley.
CM: We really wanted to record "Jingle Bells" because it's one of the two songs on the album that has French content. We sing an English verse then a French verse and a verse we wrote ourselves. That was one of the songs that we tried in 10 different ways; we tried it as a rumba, swing-jazz, we tried it as reggae tune, we really tried everything under the sun. Then it was hearing a version by Bing Crosby and the Andrews Sisters that provided the inspirational launching point for this. It was actually a little bit of an accident that our song "Auyiuttuq Sunrise" that we usually play as a rhumba, really worked well in this 1920s swing style. We're always looking for ways of making other songs our own and introduce our music to new audiences, so we thought this would be a fun mash-up and they do seem to fit together well. The same thing kind of happened with a traditional song called "The Little Swallow" and our own called "Al Vuelo." We realized that "The Little Swallow" worked really well as a bulerias, a form of music from the streets of southern Spain, and that we could a mash-up and switch back and forth between the songs to create something new and exciting for us. That song by the way is the earlier instrumental version of a song that people will recognize as "Carol of the Bells." "Carol of the Bells," which was adapted with lyrics. "The Little Swallow" is also known as the Ukranian New Year's carol "Shchedryk," which speaks beautifully to the season.
Read more of Joe Caroselli's interview with Chris McKhool at Jazz Monthly.