By David McGee
THE GATHERING
Amber Weekes
Amber Inn Productions
FIRST SNOW
Robert Prester & Adriana Samargia
Commonwealth Ave. Productions
'ROUND THE CHRISTMAS TREE: VINTAGE YULETIDE FAVORITES
Paragon Ragtime Orchestra
Rialto Records (released 2001)
Here are three nifty items coming our way as Christmas approaches, each one reflecting a bit of a different approach to the Yuletide canon as well as offering something new and something blue(s) amidst the borrowings from yore. In The Gathering and First Snow, artists Amber Weekes and the duo of Robert Prester and Adriana Samargia, respectively, make a stand for intimacy: their arrangements are, by and large, on the spare side; vocalists Weekes and Samargia tend toward the soft and warm in their deliveries; and pianist Prester often drops hints of Guaraldi in his accompaniment and solos. The outlier, if you will, in this trifecta of releases is the venerable Paragon Ragtime Orchestra's often overlooked seasonal gem, 'Round the Christmas Tree: Vintage Yuletide Favorites, issues in 2001 but ever so timely.
'The Christmas Waltz,' Amber Weekes, from The Gathering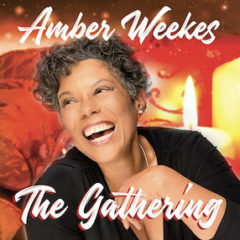 A Los Angeles native, daughter of singers with roots in Harlem, Ms. Weekes makes her first Christmas album a warm, even sensuous affair, as her breathy vocals are underpinned by a barely concealed come-hither flirtiness. Which is not to suggest anything untoward or disrespectful going on here; to the contrary, the artist's high regard for her repertoire is, in the end, utterly charming. She begins with a cool reading of "Christmas Waltz," a Sinatra seasonal standard penned by Jule Styne and Sammy Cahn, with understated support from Tony Campodonico on piano, an occasional bluesy trumpet embellishment by Andrew Carney (a standout every time he surfaces) and a wash of strings subtly rising behind her now and then. After summoning Styne-Cahn's indelible images of the season in full flower and endearing sentiments ("may your New Year's dreams come true"), Ms. Weekes, with Carney amping up the blues around her, whispers, "Why don't you bring me something from…Tiffany's/Fill my stocking…" and exiting with a none-too-subtle, "What would you like for Christmas?" Along the way she engages in a delightful sprint through "I Saw Mommy Kissing Santa Claus," with sax man Rickey Woodard leading the charge in an arrangement that recalls the spirit of Streisand's "Minute Waltz"; a tender "I'll Be Home for Christmas," original verse and all, with soft strings humming and Paul Jackson fashioning an engaging guitar solo around variations on the melody; a daring, captivating "Silent Night," which begins as the reverential carol it is before subtly segueing into a torch arrangement that in turn evolves into a gently swinging jazz tune; the thoroughly engaging title tune by producer-conductor-string arranger Mark Cargill, a cheery, jingly-jangly affair featuring Ms. Weekes and a children's chorus celebrating the joys of the season. Add in "Let It Snow," Rogers and Hart's "My Romance," a blues-drenched take on Frank Loesser's "What Are You Doing New Year's Eve" (complete with another narrative passage suggesting some, ahem, options for the night) and you can truly add The Gathering to the joys of the season, capturing both the spirit of the occasion and the moment when Amber Weekes asserts herself as an artist here to stay.
'In the Bleak Midwinter,' Robert Prester & Adriana Samargia, from First Snow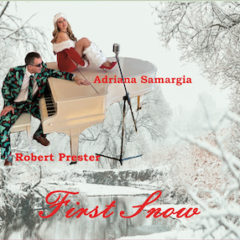 Pianist-composer Robert Prester is equally at home in jazz, pop and classical music (his Rapsodye classical album includes his own "Piano Sonata in F Minor"), has performed with the Honolulu Symphony, composed and produced the soundtrack for the CityKids Foundation's Broadway show and still fronts his own jazz trio. His collaboration with Adriana Samargia dates from 2012, and indeed they are fellow travelers. Her art encompasses everything from jazz to classical to gospel, and for the past 19 year she's directed the vocal sextet, The Parson Brown Singers. Given the breadth of the duo's interests, is it any wonder First Snow touches down in all those categories? Two instrumentals allow Prester memorable spotlight moments: "First Snow" effectively evokes what its title celebrates, gentle flurries here, cascading rushes of flakes there and the soothing quiet at the end; and a "It Came Upon a Midnight Clear" that is a master class in theme-and-variation, with jazzy excursions to both ends of the keyboard containing just enough hints of the familiar melody to remind a listener from whence the tune comes—anyone familiar with NPR's "Piano Puzzler" episodes will recognize this as a candidate for an installment soon. Similarly, "Joy to the World" is out there, with a Latin flair and jazzy, Annie Ross-style vocal readings by Ms. Samargia and male backgrounds by Josef and Jacob Samargia; as is "In The Bleak Midwinter," deconstructed as a blues ballad with a searching vocal by Ms. Samargia backed by Prester's spare embellishments and the steady rumble of Dave Edwards's acoustic bass and the steady pulse of Joel Rosenblatt's drums. But about halfway through something happens—multiple voices blend, the melody rises like sunshine, and suddenly, in a bracing mutation, we're almost in Hi-Lo's pop territory. "Away in a Manger" proves another occasion for transmutation: Ms. Samargia sings the first verse in a childlike voice, sweet and sincere, before dipping into her lower register as Prester's piano goes straight to church, and before you know it the Parson Brown Singers have joined in and the whole thing is verging on a full-scale revival workout. And how about "Blue Christmas"? First, we hear a touching new verse Adriana wrote for this project, as you're about to recover from that pleasant surprise, she is joined by her Parson Brown Singers comrades (functioning as her Jordanaires here) and this most familiar of contemporary Christmas songs turns into a round. Which is a long way of saying, if you like some adventure and feeling in your seasonal fare, the aptly titled First now is right up your alley. Isn't the first snow always the best snowd?
'Reindeer Rag,' written by Joseph F. Lamb (1915), from Rally 'Round the Christmas Tree, Paragon Ragtime Orchestra
Leave it to Rick Benjamin leading his venerable, New York City-based Paragon Ragtime Orchestra to come up with something wholly unique in the annals of seasonal music: ragtime or ragtime-influenced versions of holiday music from the 19th and early 20th centuries, both obscure and familiar, as heard on 'Round the Christmas Tree: Vintage Yuletide Favorites. For decades now, Benjamin has engaged the Paragon players in his quest to unearth and honor American music pioneers of the 19th and early 20th centuries, especially black composers, some of whom were completely forgotten when he began his pursuit in 1985 after stumbling upon what he says were "thousands" of turn-of-the-century musical scores by prolific composer-bandleader-trombone virtuoso-recording star Arthur Pryor. In 1988 the PRO brought ragtime to Lincoln Center when it appeared at the then-Alice Tully Hall, and it was off to the international arena and accolades as respectful as enthusiastic for the archeological work Benjamin was doing. In 2002 the PRO issued the first of a three-volume collection of black composers' work, all bearing the title Black Manhattan, with Volume 1 also bearing the subtitle Theater and Dance Music of James Reese Europe, Will Marion Cook, and Members of the Legendary Clef Club. In one fell swoop Benjamin had rescued Reese Europe from undeserved obscurity: the Clef Club was Europe's gathering of black musicians and composers and from it Europe (as a bandleader, composer, arranger and agent/promoter) wielded enormous power in the music scene of turn-of-the-century Harlem; in WWI, he served as a lieutenant in the 369th Infantry Regiment (aka the "Harlem Hellfighters") and gained acclaim for his energetic direction of the regimental band (a brief snippet of film showing him doing just that is included in a brutal documentary series about WWI, Apocalypse: World War I).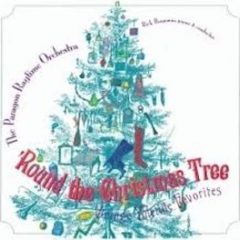 By 2001 it could fairly be said of Benjamin that he had almost single-handedly rescued the reputations of some gifted composers and bandleaders, both Black and White, representing ragtime, early jazz, pop and even classical disciplines, from the fabled dustbin of history. For years he had resisted agents' urgings to do a ragtime-style Christmas show, feeling that the season had become so commercialized that "I cringed at the thought of 'piling on' with a project of our own," as he writes in his always-eloquent liner notes, in this case for the 'Round the Christmas Tree: Vintage Yuletide Favorites release. But it was an October stroll through a Wal-Mart that changed his mind: "…while Bing Crosby crooned White Christmas over the Muzak system, it dawned on me that the challenge of entertaining audiences with quality holiday music was one that mu;st have also faced my orchestra-leader counterparts in the early 1900s. Surely there was historical precedence for a program of Christmas music played by our kind of an orchestra."
His research enlightened him as to the place holiday music had in earlier times. He notes: "Americans of the late 1800s and early 1900s made merry at Christmas much less passively than we do today; they danced to holiday music at fancy balls, sang, whistled and hummed it along with vaudeville and music hall entertainers, and attended special theatrical performances (operetta and pantomime) and concerts commemorating the season. They also made holiday music in the home, on wintry evenings gathering around the parlor piano or organ for a good sing by firelight. In putting together this program, I've tried to gather samples from each of these realms." 
'Mrs. Hooligan's Christmas Cake,' a music hall song written by C. Frank Horn and dating from 1883; vocal by Jody Dall'Armi, Paragon Ragtime Orchestra, from Rally 'Round the Christmas Tree
And so he does. The album opens with a joyful set-to between woodwinds, brass and percussion on the delightful "Nutracker Rag: A Sweet Travesty on Tchaikovsky," Benjamin's own arrangement; in a similar vein, heavy on woodwinds and brass, Joseph F. Lamb's "Reindeer Rag" is a jolly, lighthearted two-step exercise from 1915 by the composer regarded in his day as one of the "Big Three" composers of classical ragtime, he being the only White musician in the triumvirate otherwise comprised of Scott Joplin and James Scott. On the vocal side, soprano Jody Dall'Armi does a fabulous job evoking—nay, reawakening–the styles of the times in question. Her operatic approach, common in the timeframe here, may not appeal to all modern ears but it will in fact get under your skin by dint of the singer's complete emotional commitment to her songs. From songwriter Charles T. Ellis, in 1897, she delivers a heart-rending "Mr. Santa Claus, Don't Forget Me," a parlor song in which a disadvantaged young girl pleads for presents for her brother and sister, the setting made all the more poignant with the vocal backed only by Benjamin's austere piano accompaniment. On the other hand, another vocal number, "Mrs. Hooligan's Christmas Cake," a music hall song written by C. Frank Horn and dating from 1883, finds Ms. Dall'Ami adopting an exaggerated Irish dialect (she's billed in the liner booklet not as vocalist but as "comedienne" and proceeds to demonstrate quite a skill in that department) in delivering an exaggerated, and colorful, tale of a cake adorned with mouth watering treats but so hard as to be impenetrable by all manner of weapons ("the crust it was nailed on with glue!").
'Nutcracker Rag: A Sweet Travesty on Tchaikovsky,' arranged by Rick Benjamin, Paragon Ragtime Orchestra, from Rally 'Round the Christmas Tree
Not that every source here is in the long-lost category. One of the most evocative in a collection that is nothing if not evocative is selections from Victor Herbert's Babes in Toyland, the great theater composer's hit 1903 Broadway show. Here the full colors of the PRO emerge beautifully in the playful, richly textured arrangements of nine Herbert tunes in which some subtle embrace of syncopation is evident amidst the spirited marches and ballad-like passages. From his 1887 operetta The Bride-Elect, John Philip Sousa (who wrote much more than the marches for which he his best known) joins the festivities with "Snow Baby," a tender, most touching love song to a little one. Again backed by Benjamin's austere, moody piano, Ms. Dell'Ami, barely concealing the fear underpinning her soothing assurances, gives Sousa's poetic outpourings–"…slumber my darling child/the breath of the winter is near/as long as the north wind is icy and wild/you have nothing, my babe, to fear…"—the most gentle caressing, so tender the depth of her feeling is nearly palpable.
At the close of his liner essay, Benjamin advises readers-listeners to roast some chestnuts, pull up their favorite easy chair, relax and let the PRO "carry you off to reflect upon those quieter, simpler days of Christmases long past." Could such sentiments, penned in 2001, possibly be more relevant to our own time?