AIN'T DONE YET
Savoy Brown
Quarto Valley Records
"Nice to see you today. Do you have any questions about the menu?"
"I'm looking for some bare-knuckles, bone crushing, merciless electric British blues-rock, aged well."
"May I suggest the new Savoy Brown, Ain't Done Yet—a most appropriate title, if I say so myself—and one of the group's finest offerings."
"But so many have come and gone through the years. Is this Savoy Brown in name only?"
"Hardly, sir. Kim Simmonds—you doubtless have heard of him—remains the frontman and guiding light, as has been the case since 1966. Here you'll find new songs well-considered lyrically, and he upends the blues-rock archetype by employing unusual tones and instruments such as the steel dobro, adding a bit of spice to the sonics. And let me say, bassist Pat DeSalvo and drummer Garnett Grimm—you may find some humor in the surname—aboard since 2009—comprise a profoundly empathetic rhythm section."
'Jaguar Car,' Savoy Brown, from Ain't Done Yet
'Rocking in Louisiana,' Savoy Brown, from Ain't Done Yet
"So much to choose from though. Any recommendations?"
"If you want life lived by your rules, try the sinister tinge of 'Devil's Highway." Quite a Dylan growl from Mr. Simmonds there. Equally punishing but hard hitting in the time-honored style, 'All Gone Wrong' is a popular choice. Classic hard driving SB boogie and a message of resilience—so right for the times, if I may say so myself–inform the title track, much as Mr. Simmonds's explosive, howling guitar in 'Jaguar Car' communicates a brute strength you may find inspiring. Or for a change of pace, consider the country blues overtones of 'Rocking in Louisiana,' a most pleasing deployment of the aforementioned steel dobro in altering the texture and tone of the proceedings."
"Excellent! One question: What's for dessert?" –-David McGee
***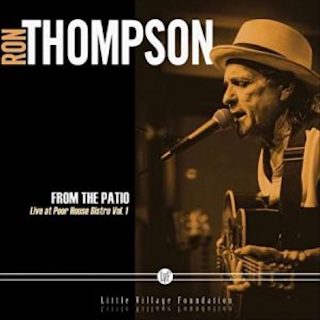 FROM THE PATIO: LIVE AT POUR HOUSE BISTRO, VOL. 1
Ron Thompson
Little Village Foundation
You can't fake the magnitude of conviction and commitment—and intensity—Ron Thompson brings to this extraordinary live set captured at San Jose, CA's Poor House Bistro, where he was a mainstay for 14 years. Produced by Kid Anderson, From the Patio finds Thompson roaring and wailing passionately through 11 cuts, three of which are originals that stand toe-to-toe with the outstanding covers he essentially makes into personal statements—tunes by the likes of Willie Dixon, Lowell Fulson-Lloyd Glenn, Don Covay-Bobby Womack, Eddie Jones (better known as Guitar Slim), Little Walter. Thompson, on guitar and harp, is backed by Anderson on guitar on two cuts, bassists Dave Chavez and Gary Rosen, drummer Scotty Griffin, organist Jim Pugh, piano man Sid Morris and, with a searing, moaning harp solo on Little Walter's swaggering blues "One More Chance With You," Gary Smith, making the most and then some of his lone appearance here in augmenting a pleading Thompson vocal that swings just so while maintaining an even emotional keel. This performance is drawn from two sets at the Poor House, on June 4 and August 6, 2014.
Ron Thompson performs 'Little Drummer Boy' at the Poor House Bistro on December 23, 2009
Thompson kicks off the set with Dixon's swaggering "Meet Me In the Bottom," a stomping, unforgiving groove propelling the story of a man apparently fleeing for his life after messing around with another man's woman, and both his urgent vocal and stinging guitar underscore the peril of the moment. Which would seem to make the positioning of Lightnin' Hopkins's "Bring Me My Shotgun" ("bring me my shotgun/the one with the long shiny barrel…") as the second cut all the more understandable as a dark grievance (and threat) against the woman in question, foreboding made manifest by the harrowing slide work under Thompson's grim vocal. As the set unfolds, measures of healing and penance surface in Guitar Slim's stomping "I Done Got Over It" and Fulson-Glenn's slow grinder, "Sinner's Prayer," wherein Thompson delivers suitably sanguine and deeply pleading vocals, respectively, with the latter tune also featuring one of his most probing guitar solos, a tasty marvel of shifting textures and tones.
The closing number from Ron Thompson's now-legendary performance at Famous Dave's Blues Festival at Peavey Plaza in Minneapolis, 2007. Video posted on YouTube by riverflowsea.
Of his own tunes, Thompson offers a jaunty workout on "Mardis Gras Boogie," the title saying it all about its point of origin, as Thompson's freewheeling vocal evokes the Crescent City spirit as his lyrics touch on life on the ground. Despite its strutting arrangement, "The River is Rising" is a mean woman blues decrying a gal who "shattered my heart," even as Thompson's high-spirited guitar solo would seem to bely his heartbreak. "When You Walk That Walk" kicks off furiously with wickedly heated slide work redolent of some Elmore James six-string forays before settling into a driving boogie celebrating love and happiness with a lively vocal and a soaring, upper strings workout ("a little Bukka White!" Thompson shouts in the middle of it) accentuating the positive.
By any reasonable standard, From the Patio: Live at The Poor House Bistro Vol. 1 is one of this year's finest blues albums and fares well against the best from other genres as well. That this is Vol. 1 suggests more to come, but there will be no more new recordings from Mr. Thompson, sadly. On February 15, 2020, the 66-year-old artist passed away from complications of diabetes. In his liner notes to this album, Jay Meduri, owner of the Poor House Bistro, writes, "his classic shows are preserved on these 'PHB Patio Sessions,'" and adds, poignantly: "Wednesdays have been declared Ron Thompson Day at the Poor House Bistro. Only his music is allowed to be played on the jukebox."
So let it be written. So let it be done. –-David McGee
***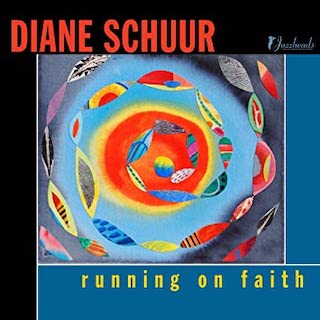 RUNNING ON FAITH
Diane Schuur
Jazzheads
Returning from a six-year sabbatical, Diane Schurr, with Ernie Watts on sax and as co-producer, confidently assays songs by legends on the order of Percy Mayfield (two tunes!), Doc Pomus, Paul Simon, Carole King, Lennon-McCartney, Paul Thorn and Clyde Otis, to name a few, and makes everything memorable. In fine voice (warmer and less reedy in her mature years, less Dinah Washington and more latter-day Peggy Lee in her timbre and delivery) and working in a medium-cool ambiance fashioned by the Watts-led quintet, Schurr leans into her strengths—not explosive vocal displays but rather quiet storms of casual, swinging phrasing and precise enunciation, the better to emphasize the lyrics' messages.
Doc Pomus's 'There Is Always One More Time,' a B.B. King classic performed by Diane Schuur on Running on Faith
Clyde Otis's 'This Bitter Earth,' performed by Diane Schuur on Running on Faith
A smoky version of Pomus's "There Is Always One More Time" elicits a lovely vocal, its emotional restraint rendering it all the more deeply felt. This selection resonates by honoring both B.B. King, with whom Schurr recorded a top-charting jazz album, 1994's Heart to Heart, and a great songwriter whose art was central to two of B.B.'s outstanding '80s albums, There Is Always One More Time and There Must Be a Better World Somewhere. Schurr's ruminative piano enhances a piercing consideration of aging out of romance in Clyde Otis's classic "This Bitter Earth," whereas her soulful, spare soloing on "Let It Be" and on a solo piano take of "Swing Low Sweet Chariot" provide spiritual uplift amidst the blues' harsh reality. –-David McGee