Let's take a look today at a new picture book about politician Shirley Chisholm, who made history in 1968 by becoming the first black woman elected to the United States Congress. This biography—Shirley Chisholm Is a Verb! (Dial, July 2020), illustrated by Rachelle Baker—comes from author Veronica Chambers, who writes in a closing "personal note" that, as a child growing up in Brooklyn, she remembers seeing posters ("SHIRLEY CHISHOLM FOR CONGRESS") in her neighborhood. She writes that "because of Shirley Chisholm, I thought, 'I could be a congresswoman.' After all, I passed a picture of a woman who looked a lot like me, who had that job."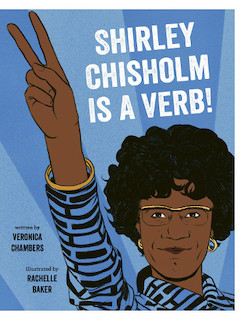 Chambers kicks things off with Shirley at the podium, pictured above, and then takes readers back to Chisholm's childhood in a family of immigrants who moved often. When Shirley was young, they moved from New York City to Barbados (where her mother was from). At the age of nine, Shirley and her family moved back to New York. Chambers documents Shirley's love of reading and dedication as a student and how, post-college and post-master's degree, she taught and helped implement Head Start. "She believed," Chambers writes, "that 'Service to others is the rent you pay for your room on earth.'" We then read about Chisholm's decision to enter politics — her seat on the New York State Assembly; her work in Congress ("There wasn't a single person who looked like her"); her work to implement the WIC program for Women, Infants, and Children in need of food, as well as the national school lunch program; her work on the Education and Labor Committee; and her effort to help create the Congressional Black Caucus: "She wanted Congress to look like the America that had elected her."
Chambers also writes about Chisholm's decision to run for president. "She was," Chambers writes, "the first Black person, and the first woman, to make a serious bid for the presidency." Later, Chambers adds:
With each delegate that voted for her, she put a crack in the ceiling that separated women and men of color from the highest seat in the nation: the presidency.
In one of the book's closing spreads, Chambers connects Chisholm to the women for whom she paved the way — Geraldine Ferraro; Hillary Rodham Clinton; and the record-breaking number of women elected to Congress in 2018.
Chambers writes in a chummy tone accessible to young readers: "She also helped create the national school lunch program, but she didn't decide the menus. (So if you don't like your lunch, please don't blame her!)" And since she emphasizes throughout the book that Shirley was "always a doer," many of the verbs on these spreads are in a large font of a different color (a teal shade).
This is illustrator Rachelle Baker's picture-book debut, and she brings a cool palette of copper, teal, cobalt, and olive shades to these illustrations that depict Shirley working determinedly to serve others. Here's what she has to say about working on the book:
When illustrating Shirley Chisholm Is a Verb!, I was really drawn to how Veronica talked a lot about her being a person of action. She was such an animated and active person, always fighting for herself and for the people, and I wanted to make sure that every page showed that. Whether it was through color or movement, I wanted Shirley to look as though she was going to pop out of the page and do her thing!
I like being really loose with my colors and compositions when I'm having fun. I usually gather my reference materials and kind of put things together as I go. With this book, I did a ton of image research (my iPad is still feeling it), watched videos of interviews and speeches, and read articles and stories before starting my sketches. It definitely taught me a lot about staying organized.
Here are some more spreads from this biography. …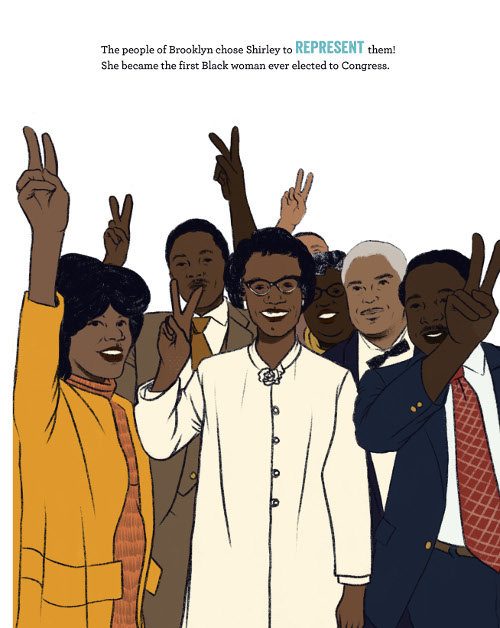 SHIRLEY CHISHOLM IS A VERB. Text copyright © 2020 by Veronica Chambers. Illustrations copyright © 2020 by Rachelle Baker and reproduced by permission of the publisher, Dial Books for Young Readers, New York.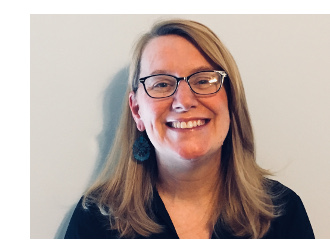 Julie Davidson (Jules) conducts interviews and features of authors and illustrators at her acclaimed blog, Seven Impossible Things Before Breakfast, a children's literature blog primarily focused on illustration and picture books. The above blog was posted at 7-Imp on September 6, 2020 and is reprinted here with permission.