By Duncan Strauss
As a person and as a singer-songwriter, Kathleen Edwards can sustain about 23 narratives.
OK, maybe 23 is an exaggeration, but not by much. I'll slap down synopses of a few Edwards storylines, and I think you'll see what I mean.
In 2003, she released her debut album, Failer, to numerous raves and favorable comparisons to Lucinda Williams and Neko Case.
More albums followed, along with the inevitably grueling tours. Perhaps not coincidentally, the impact on her personal life started to show: She divorced her husband/guitarist, Colin Cripps, started dating Justin Vernon (aka Bon Iver), then they broke up.
Dovetailing with that storyline, Edwards was starting to feel worn down and struggling day-to-day, in ways that went beyond the music-biz grind and the fall-out of breakups. Turned out it was clinical depression. Overcome with–well, all of it, really–a conversation with a friend led to the joking suggestion that she quit music, return home and open a coffee house called Quitters.
Which is exactly what she did. For this Canadian, that meant relocating to Stittsville, a community outside of Ottawa, where she settled into life and the day-to-day running of Quitters. Wasn't writing music, wasn't playing music. Didn't miss it.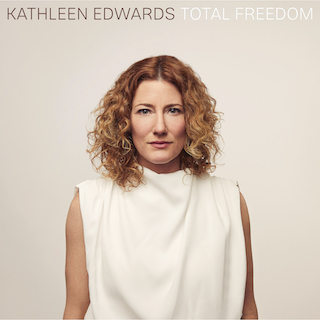 A few years into living this Quitters life, Edwards got word that Maren Morris was a big fan and wondered if she'd like to co-write a song. She agreed, and that collaboration set in motion a return to music making, yielding the acclaimed Total Freedom, Edwards's first album in eight years.
See? We're well on our way to 23 narratives, all fairly fascinating, and we haven't even reached any animal stories yet.
But animals figure prominently into the Kathleen Edwards saga–the absence of critters in her life during the relentless make-album-go-on-tour pattern, and the presence of them when she jumped off that treadmill and stepped up to the espresso machine.
"Yeah, I took some pretty well-needed time off from touring life, and from being in a music bubble of tour and recording," she said in a September Talking Animals interview. "I just was really missing a big part of home life that I had put on hold, I guess, for so many years. And in the end, one of the first things I did once I got myself settled at home was to find a dog."
That dog was Redd, who, sadly, is no longer with us–Edwards fashioned a poignant elegy for Redd, "Who Rescued Who," a highlight of the new album (we'll explore that song more deeply in a moment)–but surely involves yet another narrative, or two. "Well, Redd was my golden retriever," she said. "I got him through a 'foster fail' with an organization called Golden Rescue, which is an Ontario-based golden retriever organization. Initially, I just was interested in fostering for them, and Redd ended up being the dog that I picked up, as the song says, on the other side of the river, which is in Ottawa, in the Quebec province. I took him home, and he was just going to stay with me for a couple of weeks, and I think you know how this story ends.
"I named him Redd because he was a big, dark red golden retriever. He just made everything amazing. He was just the sweetest dog that ever was. He was probably about eight or nine when I got him.
'Who Rescued Who," Kathleen Edwards, performs the track from Total Freedom on CBS This Morning Saturday Sessions, August 15, 2020. The song is inspired by the artist's late dog, Redd.
"And then, over the years, during owning my coffee shop, I ended up buying a used red trailer and selling ice cream out of it behind Quitters during the warm months. So one day, this young woman on my staff, Amanda, came up to me and said, 'Can we call the ice cream Redd's Ice Cream?,' since it's a red trailer and Redd was always around the coffee shop. "And so Redd now lives on in infamy as an ice cream trailer as well, which is great because he made everyone smile, and ice cream makes everyone smile."
Redd also lives on in "Who Rescued Who," which, clocking in at less than two and a half minutes, nonetheless has a lot to say and in saying it, reaches a rare standard of excellence for animal songs, a sub-genre often marred by wide-eyed earnestness and treacly tributes. "Who Rescued Who" fundamentally functions as a homage to Redd, but because Edwards is a supremely gifted songwriter, the tune projects additional texture and heft. As soon as the second line, she introduces a booze element ("Dogs and alcohol, they go so good together"), which she returns to toward the end of the song ("I picked up this habit I'm just trying to lose/Called courage in a glass").
But in suggesting the speaker of this song might have a drinking problem, Edwards says I'm barking up the wrong tree. "I don't think it's really about having a drinking problem," she said,  "but it's sort of about remembering the day that you say goodbye, and having a pretty large whiskey at the end of the day to kind of soften the nerves a little bit."
Those who've spent much time in the realm of animal shelters, or have otherwise adopted a number of animals, can be excused for thinking the song title may be a smiling nod at the cliché some folks invoke about their new furry family member. For example: "I thought I had rescued Rover, but it turns out Rover rescued me."
'Hard on Everyone,' Kathleen Edwards, from her new album Total Freedom, performed live on CBS This Morning's Saturday Sessions, August 15, 2020.
In remembering Redd, Edwards never steps within miles of cliché territory, but she does note they were equally fortunate to find each other. "He won the human lottery," she said, "and I won the dog lottery."
Hearing these powerful feelings of love and loss, it might be surprising to learn "Who Rescued Who" was a hastily penned, eleventh-hour addition to Total Freedom.
"This song came about because I had finished recording the album, and I needed one more song," she recalled. "My producer, Jim [Bryson] said 'You know, we just need one of those feel-good, two and a half minute songs. Just go home and whatever comes, just go for it.' So I sat down and played my guitar, and I really struggled. I didn't want to write a song about Redd because I knew that I didn't want to write a sad song–I wanted to write a happy song. So I opened my phone voice memos, sat down with a guitar, and two and a half minutes later, I actually had a song. Once in a blue moon, a song just throws itself out of your mouth. Luckily, I had the audio recording of it, then I just fixed it a little bit, and went to the studio."
And, there's arguably another animal song that graces Total Freedom in "Birds On A Feeder," which primarily plays as a celebration of solitude (and where the phrase "total freedom" comes from), doing so partly by sketching scenes of birds attracted to the backyard feeder, and snoozing dogs, to evoke that sense of bliss.
Kathleen Edwards in the official album trailer for Total Freedom
'Options Open,' from Total Freedom, performed by Kathleen Edwards on CBS This Morning's Saturday Sessions, August 15, 2020.
"When I finally moved back home and got a house, I ended up doing all these things that I had fantasized about doing for years and years, which was to have a garden," Edwards said. "I guess maybe in my upbringing, we always had bird feeders, so I really enjoyed the process of putting up feeders and seeing who would show up.
"I've become a bird person. I absolutely love the different ones that come to the feeders and spotting everything from northern flickers to American goldfinch to pileated woodpeckers. I really enjoy seeing birds. I really enjoy listening to their calls. I'm sure a lot of birders can appreciate this. I mean, I'm not a birder, but I find it incredibly peaceful to just watch birds, watch them interact, listen to their sounds. Maybe it's almost like an exercise in mindfulness or something. Birds are incredibly soothing."
So she adores dogs and appears to be en route to becoming a birder (how about the way she expertly rattled off the types of birds she's seeing in her backyard?), and we haven't even touched on her passion for Siamese cats.
That's yet another Kathleen Edwards narrative for another time. Maybe there really are 23.
Click this link to hear the Kathleen Edwards interview on Talking Animals.

Combining his passions for animals, radio, journalism, music and comedy, Duncan Strauss launched Talking Animals at KUCI in California in 2003. Since late 2005 the show has aired on Tampa's WMNF. Producer-host Strauss lives in Jupiter Farms, FL, with his family, including four cats, two horses and one dog. He spends each day talking to those animals, and maintains they talk right back to him, a claim as yet unverified by credible sources.