By David McGee
BE STILL MY SOUL
Jason Bergman and Jared Pierce
MSR Classics
AMERICAN NOCTURNES: FINAL DAYS OF JULY
Music composed by John Finbury
Green Flash Music
TWILIGHT
Mike Kaupa, Ric Vice, Tom George
MSR Jazz
On a recent sunny morning in Manhattan, Jeff Spurgeon, the beloved morning host on New York City's classical station WQXR, offered a postscript after playing a recording of Gabriel Fauré's Canticle de Jean Racine, Op. 11, describing the composition as "a piece of music that picks you up and settles you back down, more comfortably." Of late three discs have crossed this desk that admirably fit Mr. Spurgeon's description of the Fauré piece. Sharing a meditative quality, each one of these new releases takes a different stylistic route to meet up in mood with the others. John Finbury's American Nocturnes: Final Days of July is the only one of the three devoted entirely to original music, composed by pianist Finbury for a small ensemble. Twilight features Mike Kaupa on flugelhorn and trumpet leading a trio of bass and piano in a tribute to women jazz composers (including two vintage Carole King tunes in what may be the first album designation of Ms. King as a jazz composer). In spirit and in some cases in feel, both of these albums radiate a sense of the spiritual in their interpretive performances. Trumpeter Jason Bergman's Be Still My Soul: Songs of Hope and Inspiration is comprised of contemplative, even prayerful, duo and trio offerings of spirituals ranging from the traditional to the classical (Wagner and Sibelius) to the contemporary, many of which are identified in the liner notes as "beloved hymns of The Church of Jesus Christ of Latter-day Saints" but have become folk and Protestant standards as well. Be that as it may, the majesty and soul of Bergman's trumpet makes denomination irrelevant when his music can burrow so deeply into an open heart.
'Fantasma.' With Tim Ray (piano), Eugene Friesen (cello), Roberto Cassan (accordion) and Peter Eldridge (vocalise), from American Nocturnes: Final Days of July, music composed by John Finbury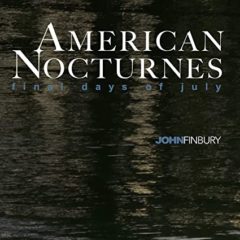 The 11 evocative pieces comprising John Finbury's American Nocturnes: Final Days of July waft dreamlike over a listener's consciousness, inviting but moody, yet soothing in toto. Finbury himself makes only one appearance on the album, in an impressionistic, ethereal solo piano turn on the second of two versions of "Waltz for Patty" featured on the album, his coming at the end of the journey, with a relatively upbeat ensemble version of the song preceding it by four cuts. Piano is otherwise the province of Tim Ray, an NEA grant recipient, faculty member at the Berklee College of Music and musical director for Tony Bennett. Ray's elegant touch on the keyboard reveals influences ranging from Dvorak to Debussy to Bill Evans, for starters, and conceptually with composers deeply invested in the beauty of their land and of nature, including Smetana, Aaron Copland, even Randy Newman, and masters of mood such as Henry Mancini and Elmer Bernstein—in fact, "Fantasma," a richly textured swirl instruments hinting at all sorts of melancholic yearnings, might well have been the great lost track from Bernstein's To Kill a Mockingbird score, being a seductive wonder of shifting atmospheres fashioned by Finbury's piano and Eugene Friesen's cello (Friesen has worked with Dave Brubeck and the Paul Winter Consort, among many others, and has appeared on four Grammy winning recordings) along with Roni Eytan on harmonica (distinguished as the first harmonica player from the Herbie Hancock Institute of Jazz Performance), Claudio Ragazzi on guitar (a Grammy and Emmy winner who has accompanied Yo-Yo Ma, Gary Burton and Paquito D'Rivera, to name a few notables on his resume), Roberto Cassan on accordion (sadly, Cassan, a noted accordionist, composer and teacher, died suddenly after finishing his sessions) and Peter Eldridge on the most fleeting of vocalise parts. The opening track, "Lay Me Down," opens with a quiet piano rondo with harmonica and accordion subtly settling into the mix before receding to make way for a most plaintive and lovely cello solo courtesy Mr. Friesen, with the spirit of Debussy hovering over it all. Give Mr. Finbury credit for being generous in spreading the wealth he has at hand: Friesen has ample room to solo and always delivers the most tender commentary, making his instrument as distinctive a voice as Yo-Yo Ma does his and lending this project untold bounty in its touching expressiveness; "Storybook Ending" is another Friesen showcase but is also a moment for guitarist Ragazzi to enhance the title sentiment, which may well refer to the soul's exhale at day's end; on accordion, Vitor Gonçalves (a double Grammy nominee who joined the project following Cassan's death) sets a thoughtful mood on "My Hometown" ahead of loving, even sentimental (in a good way) reflections shared by Finbury, Friesen and Ragazzi in lovely discourse. Though the title sentiment is "Final Days of July," the grace and subdued temperament of the work as a whole make it the ideal Autumn album as well, inspiring reflection and a refocusing of priorities in the wake of the pandemic Summer of 2020. Beautiful, in all aspects.
'Waltz for Patty,' solo piano by John Finbury, from American Nocturnes: Final Days of July, music composed by John Finbury
'Twilight World,' written by Marian McPartland (music) and Johnny Mercer (lyrics), performed by Mike Kaupa (flugelhorn), Ric Vice (bass) and Tom George (piano), featured on the album Twilight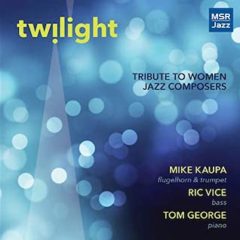 The best description of Twilight, a project featuring a trio of jazz veterans, would be the title of one of the songs they chose for this project spotlighting women jazz composers, namely "Fine and Mellow," Billie Holiday's 1939 jazz standard. Two of the musicians, Mike Kaupa (trumpet and flugelhorn) and Tom George (piano) are not only well-credentialed jazz veterans but also deeply invested in academia: in addition to performing, Kaupa is on the faculties of the Harley School, Finger Lakes Community College and Eastman Community School; George, with a long career performing solo, in combos and with bands here and abroad, was, from 2003 to 2019 (and now emeritus), chancellor and professor of chemistry and physics at the University of Missouri-St. Louis, and as an active researcher in laser/medical/nanophysics has authored seven books, edited 18 books and nearly 800 papers. Based in the St. Louis region, bassist Ric Vice has played with an extensive roster of jazz and cabaret artists over the years, and back in 2010 toured with original Supremes member Mary Wilson. To listeners who find musicians steeped in academia lacking something in unfettered expressiveness or distinctive personality in conception and execution, be advised such concerns do not apply here. Listen to the easygoing rapport between Kaupa's warm flugelhorn and George's languid piano on the album opening take on Marian McPartland's "Twilight World" (lyrics by Johnny Mercer) with its understated hints of the original's bossa nova beat. McPartland, in addition to being an admired pianist and composer (Duke Ellington was a big fan), and in her later years host of a popular NPR radio show, Marian McPartland's Piano Jazz, wrote extensively about women in jazz, beginning in the late '50s and continuing on into the '80s; in 1959, in an article for the British publication Just Jazz, she asked, "Can't we women make our own contribution to jazz by playing like women, but still capturing the essence of jazz—good beat—good ideas—honesty and true feeling?" In many ways, she's not only the touchstone for Twilight, but poses the question answered by the empathetic work of the male trio interpreting the works of female writers here. I'm not sure what she meant by "playing like women" but Kaupa, Vice and George certainly do offer a good beat, good ideas, honesty and true feeling in their inspired renditions of 14 songs written or co-written by female songwriters.
'Go Away Little Girl,' written by Carole King and Gerry Goffin, a #1 single for Steve Lawrence in 1962, performed by Mike Kaupa (trumpet), Ric Vice (bass) and Tom George (piano), from the album Twilight
'It's Too Late,' written by Carole King for her 1971 album, Tapestry, performed by Mike Kaupa (trumpet), Ric Vice (bass) and Tom George (piano), from the album Twilight
'Fine and Mellow,' written and recorded by Billie Holiday (1939), performed by Mike Kaupa (trumpet), Ric Vice (bass) and Tom George (piano), from the album Twilight
The swinging mode on Doris Fisher and Allan Roberts' "Put the Blame on Mame" is sensuously realized by Kaupe's muted trumpet and George's frisky piano support, with Vice getting in a cool bass solo along the way. Quite prolific, Fisher and Roberts wrote hits for the Mills Brothers, Spike Jones, Bing Crosby and the Andrews Sisters, Billie Holiday and Ella Fitzgerald and the Ink Spots, in addition to writing for films, including the Rita Hayworth star making vehicle, Gilda (from whence "Put the Blame on Mame" originates) and Orson Welles's Lady from Shanghai (also starring Hayworth in dyed blonde hair). Those used to hearing "A Sunday Kind of Love," the 1946 standard written by Barbara Belle, Anita Leonard, Louis Prima and Stan Rhodes, as a smoky ballad by Etta James or a sensuous come-on as advanced by Willie Winfield of the Harptones, to name two outstanding interpretations, should dig the strutting approach the trio takes here, light and lively, with Kaupe, on trumpet, working some scintillating improvisation on the melody without undermining the song's romantic yearning. Then there are several songs facing betrayal head on and bluntly. On Billie Holiday's 1939 evergreen lament, "Fine and. Mellow," concerning a woman's mistreatment by her man, the trio keeps it appropriately subdued and bluesy, with Kaupe taking off about midway through on an upper register trumpet solo that is almost shocking in the intensity of pain it articulates wordlessly. Ms. Holiday figures in another Twilight selection, her signature tune from 1946, "Good Morning Heartache," written by Irene Higginbotham, Dan Fisher and Ervin Drake. George and Vice set the stage with a somber intro before Kaupa enters and taps into the tune's enveloping sadness with a deliberate low-key approach, creating a gloomy ambiance broken briefly near the end when he again rises to the upper register with a staccato burst that sounds like a voice cracking with emotion. Arguably the most surprising selections here are two Carole King songs, back to back, comprising a near-seven-minute homage to one of the great 20th century songwriters. The homage, if you will, begins with "Go Away Little Girl," introduced by Bobby Vee in 1962 but better known for the #1 single recorded by Steve Lawrence and produced by Al Kasha in 1963, which preceded #12 covers by the Happenings (1966) and another #1 version in 1971, by Donny Osmond. The definitive Lawrence version is a terrific take on what Phil Everly once termed "teen misery" with a steady, driving beat keyed by piano as Lawrence patiently sells the pleadings of a man otherwise spoken for but tempted by the advances of another young lady. Kaupe, Vice and George, perhaps aware of King's co-writer (and husband) Gerry Goffin once having to answer arch-conservatives' charges that he was promoting child molestation in the song, refocus it as a slow blues ballad more suitable for a smoky bar in the wee small hours and, at that, for a more mature and serially wounded sensibility. On the other hand, maybe the trio simply wanted to make a simple song cycle out of "Go Away Little Girl" and the King song immediately following it, "It's Too Late," from Ms. King's classic Tapestry album (1971). The two are so aligned in mood and temperament as to negate the few seconds lapse between the end of one and the beginning of the other. You could say "It's Too Late" is a smidgen brighter, but the trumpet and piano are nonetheless deep in a moody dialogue, with George taking a lengthy solo midway through in which he works some intriguing variations on the melody with Vice's bass providing subtle underpinning before Kaupe returns with a reflective closing stanza. To close out the proceedings the trio delves into the spiritual with a version of Phoebe Knapp's "Blessed Assurance" that begins with Kaupe playing it straight on the familiar melody until the group segues into a sprightly tempo and offers theme and variation solo forays by trumpet and piano before signing off softly and tenderly, you might say, to close an inspired, most timely salute to female songwriters, all of whose melodies linger on even if some of their names, unfortunately, were never of the household variety.
If ever there were a time when a recording subtitled Songs of Hope and Inspiration was needed, what better time than the present? Be Still My Soul presents 14 inspirational and spirituals drawn from the ages and recent sources alike, all sensitively, reverently rendered by trumpeter Jason Bergman and pianist Jared Pierce with some friends pitching in and enhancing the emotional impact on four tunes.
'Amazing Grace,' Jason Bergman (trumpet) and Jared Pierce (piano), from Be Still My Soul
'What Sweeter Music,' composed by John Rutter, performed by Jason Bergman (trumpet), Jared Pierce (piano) and Brian Bowman (euphonium), from Be Still My Soul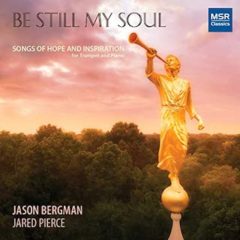 That this is not a rote recital is evident from the first familiar, solemn notes Bergman plays in opening the album with "Amazing Grace." Working from an arrangement by Kevin McKee, the warmth and plaintiveness Bergman summons from his trumpet approaches heroic proportions, and underneath and in between his passages, Pierce's spare piano parts, clear and resonant, thoughtfully complement the mood Bergman is establishing. For those who think they know "Amazing Grace" too well to ever be surprised by it, think again. Bergman's trumpet is the sound of grace achieved; Pierce's minimalist, probing phrases are the sound of grace sought. The tension these two approaches create reaches critical mass around the halfway mark of the 5:36 performance in a section of new music composed especially for this arrangement in which the instruments reach heavenward. Bergman soars, high and triumphant, weaving an angular, keening melody, as Pierce heads right into the church with a series of assertive rolling figures, setting the stage for Bergman to take the original melody home with an exultant flourish morphing into a warm, comforting coda. This "Amazing Grace" will stay with you a long time by dint of it tapping so deeply into the well of redemption its lyrics celebrate and this instrumental version evokes.
'A Simple Song,' composed by Leonard Bernstein for his Mass (1971), performed by Jason Bergman (trumpet) and Jared Pierce (piano), from Be Still My Soul
'Savior, Redeemer of My Soul,' Jason Bergman (trumpet), Jared Pierce (piano) and Alexander Woods (violin), from Be Still My Soul
Similar such surprises crop up throughout Be Still My Soul, all in service to the inspirational mood, never detracting from the album's greater purpose. John Rutter's engaging "What Sweeter Music" finds Bergman and Pierce joined in the beautiful melody by Brian Bowman's euphonium, shadowing and blending with Bergman's trumpet to elevate the proceedings onto a higher plane of expressiveness. The title track, composed by Jean Sibelius, is a grand and solemn moment of reflection and worship aided atmospherically and immeasurably by the low hum of Michelle Kesler's cello underpinning the trumpet and piano. From Leonard Bernstein's Mass Bergman and Pierce offer the work's most popular tune, "A Simple Song," with both instruments trading jazzy rhythmic flourishes but staying close to the melody in an arrangement with more than a few hints of pop in it. Richard Wagner's "Der Engel," from the composer's Wesendonck Lieder, is an uplifting moment in which Bergman's heraldic trumpet lines, with Pierce again supporting him with spare, sensitive passages, sound true to the aim of Wagner's story of an angel coming to comfort souls seeking peace and consolation. In a moment of true amazing grace comes the incomparable beauty and passion informing a soul stirring performance of Rob Gardner's "Savior, Redeemer of My Soul," with violinist Alexander Woods joining Bergman and Pierce at a peak of virtuosity and pure feeling comparable to the sublime beauty of "Amazing Grace."
'I Am a Child of God,' a children's song arranged by Lane Johnson, children's song performed by Jason Bergman (trumpet) and Jared Pierce (piano), from Be Still My Soul
Bergman and Pierce also assay several songs the liner notes indicate as being "beloved hymns of The Church of Latter-Day Saints," including a trio of sweet children's songs: a new Christopher Madsen arrangement of "Our Savior's Love"; a serene, affecting arrangement (by Lane Johnson) of "I Am a Child of God" that rises to robust trumpet passages answered by Pierce's muscular, churchy piano; and the sing-song-like "I'm Trying To Be Like Jesus," its bright melody skipping along at a midtempo groove with Bergman adding striking texture by way of a piercing muted trumpet solo as Pierce's piano support sustains a sunny ambience throughout.
So, weary souls, may the music considered here indeed pick you up and settle you back down, more comfortably. And in the still of the night, may these blessings be yours.