By David McGee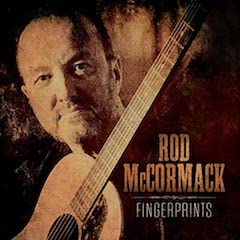 FINGERPRINTS
Rod McCormack
Sonic Timber
Strangely, the pandemic has yet to produce much in the way of memorable music in response to the crisis. But now and again someone pops up with an album's worth of songs conceived and recorded well ahead of COVID-19 that enters our daily conversation but which, by its perspective, seems informed by current events and consequently considers means of survival, paths forward or takes a hard left into matters of the heart seen in musical high relief. A recent Deep Roots Album of the Week by guitarist-songwriter Bill Curreri, The Hard Road Home, uses classic rock structures to envision a new day dawning, a truth he posits as resting on the twin pillars of an open heart and a fearless, life affirming spirit. Beloved veteran singer-songwriter John McCutcheon was waylaid by coronavirus constraints while planning a new album featuring some household names in the roots music world backing him. So off to quarantine he went, and while holed up alone he began writing, and writing, and writing, about his experiences in solitude as the pandemic swirled around him. The result, newly released, is Cabin Fever—Songs From the Quarantine, and it too is a gem (about which more will be shared in a forthcoming review by your faithful friend and narrator).
'Shimmers,' Rod McCormack, from Fingerprints
But the deepest, most moving entry in this abridged field to date comes by way of an Australian native who heretofore, for years, has made himself a first-call collaborator in this country and in his own by lending his songwriting his instrumental virtuosity in the studio and on the stage and his studio expertise as a producer to the efforts of a host of artists familiar on both shores, among these being kd lang, Kasey Chambers, Johnny Cash, Glen Campbell, Paul Kelly and, tellingly, James Taylor. In his homeland, he's served as musical director for Australian tours by the likes of Trisha Yearwood, Pam Tillis, Jo Dee Messina and others. Now, finally, we hear Rod McCormack's own voice, singing his own songs, advancing his world view on his debut solo album, Fingerprints, a display of songcraft, musicianship, vocalizing and soulfulness of the highest order. Yet Fingerprints is not about or even inspired by the pandemic, but as a work of art it captures the mood of a changing world as surely and brilliantly as did his buddy James Taylor's timeless, classic sophomore album, Sweet Baby James, in ushering in the more contemplative singer-songwriter era following the turbulent '60s. It's a strictly personal viewpoint on my part, but I hear Fingerprints echoing the soothing, healing mood of Sweet Baby James and being equally as right for this moment as the latter was for its moment.
'It Takes Years,' Rod McCormack, from Fingerprints
'Wherever You Go,' Rod McCormack with Claire Lynch, from Fingerprints
What's in store here is evident in abundance on the first song, "Shimmers," a frisky bluegrass ode to "the shine that new love brings." During the course if its near-four-minute length, the elegant lyrics and impassioned vocals from McCormack and his gifted wife Gina Jeffreys (a major artist in Australia) are framed by spirited, energized solos from fiddler Aubrey Hayne, mandolinist Andy Leftwich, either Rob Ickes or Justin Moses, masters both, on dobro, McCormack on guitar, all serving the ultimate message: When you're fallin', everything's alive/you hear it in every whisper on the wind/like a callin' it just can't be denied/it's moonlight in the spring/the shine that new love brings/no matter where you been it brings you back to life again… Almost everywhere you land on Fingerprints, McCormack is accentuating the positive, even when the backstories are marked by despair and broken hearts. The notion of staying the course through thick and thin is simply and eloquently examined in a lilting, folk-flavored love letter, "It Takes Years," with fiddle and guitar soloing tenderly complementing the hard-won wisdom McCormack offers in his warm vocal, to wit: We've taken some wrong turns/but through it we both learned/exactly what matters the most/one thing we know, through laughter and tears/it takes years to be this in love… In the solemn ambiance of the gently fingerpicked "Wherever You Go," McCormack conjures a mystery as to whether he's speaking of the end of a relationship or the end of a life, but the point of it is that the good we do persists long after we're gone, by whatever means we depart, and so too does love persist, beyond time, beyond the grave. To whomever he is addressing, McCormack's approach, enhanced by Claire Lynch's nuanced harmonizing, is gracious, giving and deeply sincere, most profoundly in his sweetly proffered adieu: You said life is fadin' fast/and you take every breath on borrowed time/I rewind the years with tear-stained eyes/looking for the strength to face the future/I promise that every step/you'll never be walking alone/you've given so much to every one of us/you can rest when you go, wherever you go…
'It Was Love,' Rod McCormack with Claire Lynch, from Fingerprints
'Ballad of Willie Johnson,' Rod McCormack, from Fingerprints
Which is not to suggest Fingerprints engages only with ruminative ballads. Spirits soar on the easygoing shuffle of "It Was Love," this with Ms. Lynch in a co-starring lead vocal role as paramours explain their ineluctable attraction to each other, no matter their missteps along the way—feisty mandolin and dobro solos evoke the fever underlying the singers' matter-of-fact chronicle of unfolding passion. On the storytelling front, "Ballad of Willie Johnson," a spare fiddle-and-guitar treatise, recounts the title character's unencumbered wanderlust ("I can't find a way to ever stay/I'm not one to turn back time/and I ain't found a love that I can't leave/or second thoughts on what I leave behind"), which comes a cropper when he learns a fling in Houston has produced a son. Thrown for a loop, he heads out of town while waging an internal war over whether to remain or to flee, only to find himself pulled over and subsequently arrested by Houston cops; in an instant, the man who proudly has described himself as "the leavin' kind" is, ironically, going nowhere; the plot twist is in the coda, when we learn that, in spite of it all, he's no more changed than was, say, Alex at the end of A Clockwork Orange. Following "Wherever You Go," we arrive at "Sweetwater," the closing track, a sizzling bluegrass instrumental workout that breaks from the gate at full speed and never lets up as each instrumentalist cuts out on a breathtaking solo run during the tune's first half, converging in the middle for lively trade-offs around the horn before McCormack brings it all back home with a jubilant, fleet-fingered guitar solo worthy of Norman Blake's finest acoustic sorties, in the process fashioning a buoyant, upbeat conclusion to the emotional journey Fingerprints explores.
'Sweetwater,' Rod McCormack and his all-star backing band offer a buoyant, upbeat conclusion to the emotional journey that is Fingerprints
In the roiling seas of our intemperate times, music such as Rod McCormack's, in all its beauty, wit, ideas, contemplation, ardor, clarity and soul, provides the needed ballast of persistence and faith as we navigate ever more troubled waters. As we beat on, boats against the current, haunted by waters, Fingerprints, at once our rod and our staff, comforts us. Selah.