By David McGee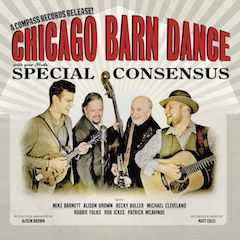 CHICAGO BARN DANCE
Special Consensus
Compass Records
It may have seemed a most unlikely place for country and bluegrass music to take root and spread to other parts of the country, but Chicago, indelibly associated with blues and folk music, was, from1924 to 1968, home to the mother and father of all country radio showcases, the National Barn Dance, which predated the Grand Ole Opry by a year and established a template the latter perfected. Here in the pandemic year of 2020, revered bluegrassers Special Consensus, now in their 45th year and still led by founding member Greg Cahill, one of our time's foremost banjo masters, has produced a rousing tribute to the City of Big Shoulders' musical legacy in, yes, Chicago Barn Dance. Ably supported by bandmates Rick Faris (guitar), Nate Burie (mandolin) and Dan Eubanks (bass), Cahill leaves no stone unturned in ranging far and wide in this tidy 11-song homage and offers some real surprises along the way to boot.
'Chicago Barn Dance,' Special Consensus, title track from the group's 45th anniversary album
In a truly exciting moment equal to any on the record, the band takes off on a dazzling display of virtuosity in an instrumental version of Frank Sinatra's definitive original version of "My Kind of Town," a swinging love letter to the Windy City the Chairman first performed in the 1964 film Robin and the 7 Hoods and recorded (for the first of several versions in his catalogue) for his Sinatra '65: The Singer Today album. With music by Jimmy Van Heusen (a Sinatra favorite—he recorded more Van Heusen tunes than he did any other songwriter's) and lyrics by Sammy Cahn, the Chairman knocked it out of the park and became, between the movie and the song, almost as identified with Chicago as he was with New York ("My Kind of Town" was in fact his second spirited celebration of Chicago's allure, the first being 1957's "Chicago (That Toddlin' Town)"). The Special C gentlemen don't attempt to brook vocal comparisons with Sinatra, but rather let their instruments sing for them—and do they ever. The tune begins deceptively, with a sweet, languorous fiddle intro, before it bursts out of the gate at a breakneck pace, with each player crafting a lightning fast solo before handing the baton to his partner; the track features a nice bit of back-and-forth chatter between Faris on guitar and Burie on mandolin emerging along the way, as well as fiery dueling banjos courtesy Cahill and Compass Records founder (and album producer) Alison Brown laong with another twin set-to between ace fiddlers Mike Barnett and Pat McAvinue. Woe to those who would attempt to compete with this for instrumental performance of the year.
'My Kind of Town,' the Sinatra classic retrofitted for bluegrass, Special Consensus, from Chicago Barn Dance
'East Chicago Blues," lead vocalist Robbie Fulks's tale of Bill Monroe's time working oil refineries in East Chicago in the mid-'40s while developing the music that would be called bluegrass, as featured on Special Consensus's Chicago Barn Dance
But you're almost halfway through the record before "My Kind of Town" arrives on the scene. The whole affair begins on a high note with the sizzling title track penned jointly by Becky Buller, Missy Raines and Ms. Brown paying its respects to the Chicago Barn Dance's history and being spurred ever forward courtesy a breathtaking flight of twin fiddle virtuosity when Ms. Buller is joined by none other than Michael Cleveland, who seems to elevate his playing to a higher level every time he materializes on his or others' recordings. Robbie Fulks writes and takes a heartfelt, emotion-laden lead vocal on "East Chicago Blues," a tune based on Bill Monroe's formative years in and around East Chicago, when by day he toiled—to put it mildly—at places such as the Sinclair Oil Refinery, and by night he began perfecting a style of music that he would later lay claim to creating—bluegrass, as it came to be known in the wake of pivotal recordings Monroe made in a Chicago studio in 1946 and 1947 with a legendary band that included Lester Flatt and Earl Scruggs in its membership. Fulks's narrative emphasizes the struggles and despair Monroe endured ("swapped a record for the oil on my shoes/now my eyes burn from the sting/but a fiddle haunts my dreams") but, always, its protagonist's eyes are on the prize he knew awaited him somewhere, some day. Another aspect of Chicago's musical legacy is grandly represented by a beautiful, gently driving bluegrass treatment of Steve Goodman's "City of New Orleans," featuring an evocative, song-length banjo solo by Cahill and three deeply felt lead vocals—by Rick Faris, Nate Burie and Dan Eubanks—and silky harmonizing giving it an ineluctable nostalgic sheen. Whereas Robert Johnson's original "Sweet Home Chicago" is slinky, sensuous and hinting at something nefarious afoot, Special Consensus takes it at a galloping, joyous gait, with a multitude of instrumental flourishes to goose it along, as Faris's keening lead vocal underscores the singer's near-palpable urgency to get back to where he once belonged.
'City of New Orleans,' Special Consensus, from Chicago Barn Dance
This is not to diminish the value of the original songs and lesser-known covers rounding out the tunestack. Faris turns in another bravura performance, imbuing "Lake Shore Drive" (a song associated with '70s Chicago-based pop band Aliotta Haynes Jeremiah) with warm anticipation of a homeward bound journey and the solace to be found at its end. Dan Eubanks takes an engaging lead on his self-penned "I Am the City," a driving bluegrass ode, fueled by Cahill's energized banjo, celebrating Chicago's inclusivity and diversity, musical and otherwise ("if you find yourself on my street/looking for a face you know/you can always hear a song of home/playing on my radio"). Complementing this mix are a stirring a cappella gospel number celebrating salvation, "Won't That Be a Happy Time," as well as a cool, rousing bluegrass treatment of John Fogerty's "Looking Through My Back Door" (it makes the cut presumably for mentioning "Illinois" in its opening lyric), complete with Rob Ickes wailing away on dobro as Faris, Burie and Cahill give him a run for his money with their own lively solo retorts. Then, O my brothers, you will arrive at a consensus that something special is indeed going on here. And you will be right.