'…exploring spiritual love…'
NO RISK NO REWARD
Isaac Carree
Shanachie Entertainment Group
Isaac Carree has bestowed upon his first solo album in seven years a very accurate title. And in so doing, he has scored his best solo recording to date. No Risk No Reward finds Carree, former member of the genre-bending Men of Standard, pushing the boundaries of what constitutes a gospel album.
In fact, the CD is two albums in one. The first part comprises an extended quiet storm expression of love to Carree's earthly love, wife Dietra. As with Kim Burrell's 2011 The Love Album and Fred Hammond's 2012 Love, God, and Romance, Carree's love songs—the majority written by one of the album's producers Elvis Williams (aka Blac Elvis)—are infused with cozy Christian spirituality.
In "Love Affair," Carree defines the ultimate love triangle as "you, God and me." He admits dodging a relationship bullet in "Amen," which features Mr. TalkBox. "It was supposed to be like heaven," he sings, "but I put you through hell." On the countrified ballad, "Woman First," Carree fronts Tim McGraw's band to acknowledge the many ways his wife makes life wonderful. The current single, "HER," is a dedication to Deitra specifically and women generally. Loving her, Carree sings to God, is "thanking you."
'Ordinary Just Won't Do,' the Commission hit covered by Isaac Carree on No Risk No Reward
'Woman First,' Isaac Carree backed by Tim McGraw's band, from No Risk No Reward
'What Kind of Man,' Isaac Carree, from No Risk No Reward
Carree explores spiritual love even further by covering Commissioned's 1989 hit, "Ordinary Just Won't Do." A dream BGV team of Eric Dawkins, Gene Moore, Zacardi Cortez, and Jason Nelson imbue the song with its Commissioned-style harmony. The gospel-bluesy "What Kind of Man" is a tribute to another woman in Carree's life—his mother, Pastor Nancy Carree Wilson. The always-consistent Lisa Knowles and the Brown Singers offer up the gutsy lead vocals.
From there, the album switches gears. The melodic "I Don't Wanna Go," Deon Kipping's song about a reluctant disciple who has a change of heart, has radio hit written all over it, as does "I Need You," which features production and songwriting work from Gerald and Tammi Haddon.
Carree begins "Worthy," featuring Todd Galberth, as a worship hymn but transitions to insistent vocalizing and finally, a full-on shout. It carries the theme of worthiness, referenced in "Good Lord" and "I Don't Wanna Go," in its lyric hook: "They thought I was worthless, but you thought I was worth it." "Legend" declares with brute honesty that the higher you go, the more people try to knock you down to size.
The album may change in mood, lyric and focus, but Carree's vocals are strong throughout. By the conclusion, any doubts about No Risk No Reward's initial love focus disappear in grateful appreciation for a stack of quality songs. The album rewards Isaac Carree, Deitra Carree and listeners.
Picks: "I Don't Wanna Go," "Legend," "I Need You"
***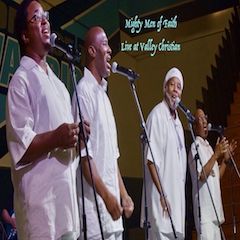 '…like the Dells singing gospel…'
LIVE AT VALLEY CHRISTIAN
Mighty Men of Faith
N2L RecordS
Live at Valley Christian by the Mighty Men of Faith was recorded in front of 2,400 enthusiastic young students at the Valley Christian School in San Jose, California. Typically, there's no more critical crowd of listeners than a group of young people, but the Mighty Men of Faith appear to have won them over.
The smooth modern quartet brought their friendly and relaxed delivery to the school—-they sound like the Dells singing gospel. The California-based quartet's music is driven by a rhythm section led by Prince Damon on keyboard. Cierra Davis is on drums, Neil Castro handles lead guitar and Vernon Hall is on bass.
'Clean Up,' Mighty Men of Faith, from Live at Valley Christian
'A Friend of God,' Mighty Men of Faith, from Live at Valley Christian
Most of the songs are originals, though one, the finest on the album, is a cover of "Clean Up," the Canton Spirituals' resolution to undergo a process of self-improvement. It is rendered to the students as a cautionary tale.
"Magnify His Holy Name" is a quartet song with a P&W heart. The singsong "Believe in His Promises" has a rapping vamp that originated, in part, with the CMCs: "Ain't no party like a Holy Ghost party/'Cause a Holy Ghost party don't stop." It's an ideal vehicle to deliver a message of encouragement to youth.
"Now I'm New" features superb falsetto singing. Hip-hop elements figure into the melodic harmonies of "Power of We," and Isaiah Houston's prayerful composition, "A Friend of God," gets a warm and gently buoyant treatment. By the concluding track, "This Joy," it's evident that the quartet enjoyed appearing before the youth as much as the youth enjoyed having them as guests.
Pick: "Clean Up"
***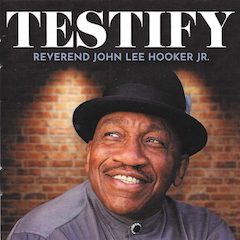 '…focusing on salvation…'
TESTIFY
Reverend John Lee Hooker Jr.
Steppin' Stone Records
"From the blues to the good news," declares the Reverend John Lee Hooker Jr.'s website, though listening to his new album, Testify, blues has not left the building entirely. It's just backing up lyrics of encouragement and warning instead of "Extramarital Affair" and "Pay the Rent."
Son of the legendary bluesman John Lee "Boogie Man" Hooker, Reverend John Lee Jr. received Grammy nominations for his blues albums. But a life of imprisonment, addiction, and having been being shot and stabbed forced him to make a right turn. Today, he is saved, sanctified and sober. He's eager to share his story in music, too, lest others go down the wayward path he had tread. That is the message of Testify.
Hooker gets right to his cautionary tale in the opener, "Listen to the Spirit," which features Charlie Musselwhite on harmonica. The song swings with a swamp blues beat as Hooker confesses his sins and chronicles his ultimate deliverance. "Preach It Like It Is" is a twelve-bar blues that ruminates on our out-of-control society and on those who practice Christianity only when convenient. Like many other cuts on the album, it's propelled by a muscular brass section, a relentless rhythm section, and a choir of background voices.
'Listen to the Spirit,' Rev. John Lee Hooker Jr. with Charlie Musselwhite on harmonica, from Testify
'My God is Holy,' Rev. John Lee Hooker Jr., from Testify
On the retro title track, a further amplification on how alcohol, heroin and cocaine almost took him out, Hooker evokes the technique of B. B. King in pulling deep wells of emotion from the electric guitar. Some of the chord changes come straight from classic 1940s R&B.
In addition to autobiography, the songs, which reference Biblical passages, focus on salvation as the way to gain entrance to the hereafter. The one song on the album with the least hardcore blues backdrop is the single, "My God is Holy." Its mainstream sound is likely why it was selected for radio play.
Lyrically, some rhymes feel forced and some beats struggle under the weight of lifting too many syllables. Nevertheless, Testify is expertly produced by Hooker and Larry Batiste. It's an amalgam of gospel and blues, two genres from the same source that never were very far from each other, musically. The Reverend John Lee Hooker Jr. proves that.
Picks: "Listen to the Spirit," "My God is Holy"
***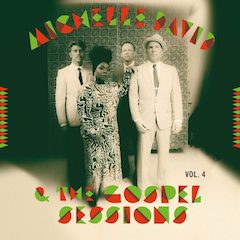 'A cancer survivor emerges victorious…'
VOL. 4
Michelle David & the Gospel Sessions
MDGS Records
If you didn't know better, you'd think that the fourth volume of songs by Michelle David & the Gospel Sessions is a long-lost vinyl album from the 1970s, but it's as recent as today's breakfast.
The disc reunites David, born and educated in New York and living in Holland since 1994, with Holland multi-instrumentalists Onno Smit, Toon Oomen and Paul Willemsen. The album follows and responds to a series of highs and lows for the aggregation. Highs: Volume 3 earned awards, critical acclaim and the chance to appear before the King and Queen of the Netherlands. Lows: In the midst of it all, songstress David was diagnosed with breast cancer.
Her recent recovery gives the album a victorious feeling (to wit, one of the tracks is titled "Victory!"). And from the sounds of David's sultry soprano, any energy that the cancer and the subsequent treatment took from her has returned in full. Her sassy and soulful delivery, which makes each song pop, combined with a top-notch and relentlessly driven rhythm section, are what the ensemble terms Rhythm & Gospel.
'Second Chance,' Michelle David & The Gospel Sessions, from Vol. 4
'Love,' Michelle David & The Gospel Sessions, from Vol. 4
With its litany of affirmations, the album's debut single "You Are" moves to an incessant Afro beat. "Don't Give Up" is a declaration of no surrender. "Oh My My," another ode to steadfastness in the face of trouble, shuffles along with a rock steady beat. Moods and modes change from one cut to another but within an overall retro vibe and all smartly arranged.
"Yes I Am," the second single, is about helping one another. "Am I my brother's keeper?" David asks, and the group responds, "Yes, I Am." It's set to a creamy combination of chords and brass, like a Chicago-meets-Memphis soul fellowship. It's as if the spirit of producer Carl Davis was twisting the control knobs. "Love," a song of gratitude to the Most High, has a Diana Ross-meets-Amy Winehouse feel.
Over an intense rhythm line, a memorable bass riff and incisive blasts from the brass section, the band handles the vocals for the chorus of "Myshel" as David chants Psalms 100 and 121.
Despite the diagnosis and the difficulties of treatment, Michelle David concludes by singing on "Second Chance" that "if I had the chance to do it over again, I wouldn't change a single thing."
Much tighter as an album than Volume 2 but with the same multi-genre vibe, Volume 4 will appeal to fans of gospel as well as retro soul and R&B. Yes, we are our brother's keeper, and this album is a keeper, too.
Picks: "Love," "Yes I Am"
***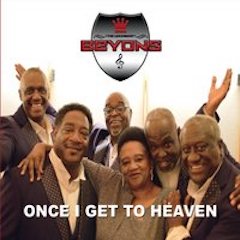 '..an EWF vibe infuses the album…'
ONCE I GET TO HEAVEN
The Legendary Beyons
Independent Release
On Once I Get to Heaven, the Legendary Beyons of Portland, Oregon, delivers 11 selections with the velvetiness of a '70s soul vocal group but with a shouting lead vocal, courtesy of Thurtis Channel, of a traditional gospel quartet.
The quartet counts such soft soul vocal groups as the Delfonics, Whispers and Esquires as inspirations, and it shows in its delivery and arrangements. For example, with mellow harmonies punctuated by sultry sax, the title track envisions the entrance to Heaven as a tranquil experience, where only love and unity will be found. The enthusiastic "Your Love is so Wonderful" opens with vocal scatting evocative of Earth, Wind and Fire. An EWF vibe infuses the album. An extended but uncredited saxophone solo fronts "Guide Me," a humble prayer for earthly and spiritual direction.
'Once I Get to Heaven,' The Legendary Beyons, from Once I Get to Heaven
'Your Love is Blessing Me,' The Legendary Beyons, from Once I Get to Heaven
The album's scattering of inspirational songs includes "Family Love," an ode to the power of the family unit to support and empower each of its members. On "Song for My Daughter," the singers encourage the "daughter" of the title to let God show her the way out of despair and into an understanding of life's possibilities. Then, taking their own advice, "Your Love is Blessing Me" answers the universal question, "Why me?" with reassurance that God's love heals and restores.
Group members in addition to Channel are Ira Hammon, James Tims, Jeddy Beasley, Sherman Davis and Donnie McPherson. The gentlemen formed the Beyons as the Delmars while they were in high school. Taking a page from the '70s soul scene, each member includes his zodiac sign on the group's webpage. It's a group that one could easily hear singing "Break Up to Make Up" as "Once I Get to Heaven."
Pick: "Once I Get to Heaven"
***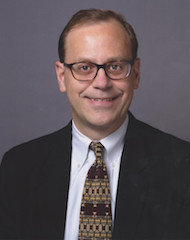 The mission of the Journal of Gospel Music is to educate and enlighten the public about gospel music as an American art form. Its vision is to be the premier online resource for gospel music news, reviews, and scholarship.
Bob Marovich launched JGM on the tenth anniversary of its predecessor website, The Black Gospel Blog, which he founded July 28, 2004, as the first blog to cover African American gospel music. He is a gospel music historian, author and radio host. Since 2001, he has produced "Gospel Memories," a show featuring classic gospel, spiritual and jubilee music, as well as interviews with gospel legends. It airs Saturday mornings on Chicago's WLUW-FM and throughout the week on several Internet and low-power FM radio stations throughout the U.S., Canada, and Europe.
Bob has written about and reviewed classic and contemporary gospel music since the mid-1990s, when he was the gospel editor for www.bluesweb.com. He founded The Black Gospel Blog in July 2004. The Black Gospel Blog was nominated for a Rhythm of Gospel Award in 2013 and became the Journal of Gospel Music in July 2014. Bob has been interviewed about gospel for television, radio and newspapers, and was featured on a BBC Radio 2 documentary on the life of Sister Rosetta Tharpe.
Bob's work has been published in the Encyclopedia of American Gospel Music (Routledge 2005), Encyclopedia of African American Music (Greenwood Publishing 2010), and in the ARSC Journal of the Association of Recorded Sound Collections. He has presented and participated in panel discussions on gospel music at the Gospel Music Workshop of America, National and Independent Gospel Music Association Industry Summit, Blues and the Spirit Conference at Dominican University (River Forest, Illinois), the American Library Association, and the Association of Recorded Sound Collections annual convention.
Formerly second vice president of the Chicago Area Gospel Announcers Guild (Gospel Music Workshop of America), Bob is on the board of the Chicago Gospel Music Heritage Museum, the Rhythm of Gospel Awards, Blackburn College, and Tree House Humane Society. He is a member of the Stellar Awards Gospel Music Academy, the National Independent Gospel Music Association, the Recording Academy, the Center for Black Music Research and the Association of Recorded Sound Collections.
Bob's collection of historic gospel recordings exceeds 5,000 vinyl discs that contain more than 19,000 individual tracks, and thousands of gospel CDs. His collection of gospel music memorabilia includes sheet music, song folios, photographs, signatures, anniversary programs, tickets, posters and other promotional material.
Bob holds a bachelor's degree in American Studies from the University of Notre Dame and an MBA from the Lake Forest Graduate School of Management. His first book, Shout Troubles Over: The Birth of Gospel Music in Chicago, was published in March 2015 by the University of Illinois Press as part of its Music in American Life Series.
Bob lives in Chicago with his wife, author Laurel Delaney, and their two cats.