By David McGee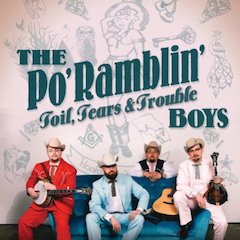 TOIL, TEARS & TROUBLE
Po' Ramblin' Boys
Rounder
Staunch traditionalists with a honky-tonk bent, the Po' Ramblin' Boys have come a long way over the course of what is now a three-album career. On their Rounder debut, Toil, Tears & Trouble, the quintet (only four members are pictured on the CD sleeve, but hotshot fiddler Laura Orshaw, young but well-traveled, is now part of the troupe and a dynamic presence on this, her album debut with the group) signals its intent to be a factor in bluegrass's traditional wing. Even so, the matter of identity is interesting in this case, given all the male players' Smokey Mountains origins (Orshaw hails from Pennsylvania), which seem to be belied by their choice of attire. Often on stage, and on the album packaging, they favor (not exclusively—they do dress down in overalls or other casual wear from time to time, as photos attest) not conservative Sunday-go-to-meeting wear, or blue jeans and plaid shirts, but western-cut suits, western bow ties and pristine white cowboy hats like you might expect from, oh, a band with honky-tonk or western swing inclinations—in another era you could drop them in as Ernest Tubb's Texas Troubadours and they'd look right at home. And so they would be, based on the freewheeling propulsion and energy they exhibit on some of the uptempo cuts here, and in their uncanny ability to concoct a hybrid style out of bluegrass and honky-tonk at times—witness the weeping fiddle lines and loping rhythm of the band's take on a George Jones classic, "Cold Hard Truth," wherein plaintive vocals and tight harmonies are otherwise pure mountain style.
'Cold Hard Truth,' a cover of the George Jones classic, from the Po' Ramblin' Boys' Toil, Trouble and Tears
'Old New Borrowed and Blue,' written by guitarist/vocalist Josh Rinkel, from the Po' Ramblin' Boys' Toil, Tears & Trouble
As for subject matter, their songs blend the honky-tonkers' feel for social injustice and bluegrass's affection for home and country. All but one of the dozen tunes are provided by stellar outside writers on the order of Jamie O'Hara (who has two songs on the album), Barry and Holly Tashian, Slaid Cleaves and others; the lone original is a straight-ahead bluegrass item supplied by vocalist/guitarist Joshua Rinkel in his bouncy tearjerker—yes!—"Old New Borrowed and Blue," one of the standout tracks. In this plaintive but driving missive, the singer is watching in disbelief as his former paramour exchanges vows with someone he thought would be him ("She left me old for something new/my heart she borrowed and now I'm blue/she's all dressed up in that gown of white/I had to see it with my own eyes," he cries in a trembling voice) powered by the anguished thrust of C.J. Lewandowski's mandolin solos and Jerome Brown's relentless, foreboding song-length banjo solo ahead of Orshaw putting the finishing touch on the singer's heartbreak with a heated cry comprised of sputtering riffs and long, lean, aching bowed lines.
'Bidding America Goodbye,' written by Jamie O'Hara, from the Po' Ramblin' Boys' Toil, Trouble & Tears
On the other hand, the band plays its role perfectly in depicting a cold-hearted banker taking possession of a struggling farmer's property in Jamie O'Hara's chilling "Bidding America Goodbye," wherein the lead vocalist (either Lewandowski or Brown) embodies the banker to a T with a deadpan vocal cold-bloodedly declaring his dastardly intention as Orshaw's searing fiddle work cuts through to the base emotions of someone being told their world is collapsing all around them with no safety net to be found anywhere.
The title track from the Po' Ramblin' Boys' Toil, Trouble and Tears
On the hardcore bluegrass side, the band hits it out of the park on poignant ballads (resist if you will the heart tugging harmonies they fashion in bringing home Roy Acuff's "Searching for a Soldier's Grave" in dramatic fashion) and barnburners alike, especially the searing title track with its breathtaking displays of fleet-fingered mandolin, fiddle and guitar mastery supporting an urgent lead vocal. In all aspects, Toil, Tears & Trouble is an impressive leap forward, reason enough to affirm the truth of all the glowing press reports preceding this album's release and to justify an assessment of the Po' Ramblin' Boys' best days yet to come if they keep the faith with the sensibility so compellingly on display here.