TESTIMONY
Gloria Gaynor
Gaither Music Group (release date: June 7, 2019)
The release of Gloria Gaynor's gospel album Testimony may have taken some by surprise, but if you know something about her life story, it makes sense.
In fact, Gaynor's signature song, "I Will Survive," followed an almost career-ending accident that added injury to insult, given her acute financial challenges. And in many ways, the life-affirming message of "I Will Survive" helped men and women with the AIDS virus discover hope and celebrate life as they struggled with the disease at a time when it was a near-certain death sentence.
While not every pop star's gospel release succeeds, Testimony does. This is because the power pop and disco chanteuse reaches back to her Newark, New Jersey, roots to flavor the songs (she attended the city's Abyssinian Baptist Church with her grandmother). In other words, this is not disco music rearranged for a Baptist two-step but solid songs—-a couple traditional, others new—-that carry messages of encouragement, hope, faith and belief that satisfy the heartsick soul.
"Amazing Grace" opens the album and is among its top selections. Set in the "rocking chair" time signature of 12/8, it features chirping organ, trumpeting brass and a full-bodied gospel choir. Gaynor gives the classic hymn greater emphasis by framing it with a testimonial that she sings in a gospel-blues style.
'Amazing Grace,' Gloria Gaynor, from Testimony
'Man of Peace,' written by Bob Dylan, Gloria Gaynor with Mike Farris, from Testimony
Testimony includes several featured writers and vocalists. For example, a duet between Gaynor and Yolanda Adams, "Talkin' Bout Jesus," sounds like a sung conversation between girlfriends about the power of a man—-not just any man, but Jesus—-to fix one's life. Jason Crabb, Mike Farris and MercyMe's Bart Millard deliver tight harmonies on Gaynor's mid-tempo take on "Take My Hand, Precious Lord."
Farris and Gaynor give Bob Dylan's 1983 "Man of Peace" an appropriately incisive reading. It's a lucid composition perfect for today's political atmosphere. It evokes author Sinclair Lewis's warning that authoritarianism will not come robed in black but cloaked in the red, white and blue, and spouting pithy patriotic platitudes.
'Day One,' Gloria Gaynor, from Testimony
In terms of Gaynor's personal testimony, "Day One" is as honest and autobiographical as "Only You Can Do" and "Back on Top." On the latter, Gaynor depicts her struggle with the devil, her redemption by God, and how salvation has put her back in the driver's seat. But as cathartic as it must have been for Gaynor to sing her troubles over, her songs are directed outward, as life lessons for listeners.
The musicians support each song with a spicy brew of gospel, blues, Memphis soul and R&B. At 70, Gaynor's voice possesses an authority and soulful wisdom that comes from being a survivor.
Nominated for two GRAMMY Awards (Best Roots Gospel Album and Gospel Song Performance ["Talkin' 'Bout Jesus"]), Testimony is the kind of album Mavis Staples might have recorded had Gloria Gaynor not beaten her to it.
Picks: "Amazing Grace," "Talkin' 'Bout Jesus," "Man of Peace"
***
'God puts it all back together…'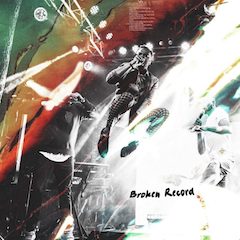 BROKEN RECORD
Travis Greene
RCA Inspiration
Broken Record is Travis Greene's fourth full-length album and continues the youthful sacred fusion of his previous work.
Against convention, the album opens with a slow, introspective song called "The Breaker." It is only after this thoughtful piece has faded that the album moves into a lively gear with the countrified worship song, "Great Jehovah." Greene later reprises this galloping tempo on a song of gratitude called "No One Else."
Also bucking convention, Greene doesn't use a church or auditorium to record the initial tracks but a Christian musical gear distribution center in Charlotte, North Carolina, called Audio Ethics. The live audience consists of the praise and media teams from Forward City Church in Columbia, South Carolina, the church founded and co-pastored by Greene and his wife, Dr. Jackie Greene.
'TheBreaker,' Travis Greene, official video from Broken Record
'Great Jehovah,' Travis Greene, official video from his new album, Broken Record
Most gospel enthusiasts first met Greene in 2015 after the release of The Hill (RCA Inspiration). That album helped the worship leader sweep the Stellar Awards, winning seven of nine categories, including Male Vocalist of The Year and CD of the Year. What I noted when reviewing The Hill four years ago also describes Broken Record: Greene's sound "demonstrates how thin the stylistic line is between gospel, inspirational and CCM in the twenty-first century." Greene's sacred music mix likely finds its strongest support among Millennial worshipers who have grown up with this distinct blend.
Starting in late August last year, RCA Inspiration released four singles from Broken Record at measured but swift intervals. Besides "The Breaker," "Great Jehovah," and "Won't Let Go," one of the singles is "Good and Loved." It features Steffany Gretzinger, the former worship leader and songwriter for Bethel Music. The two work well together; Greene's sound has much in common with the Bethel Music style, which favors emotional, rock-fueled atmospheric songs designed for corporate worship.
'Good and Loved,' Travis Greene, official video from the new album, Broken Record
'Perform,' Travis Greene, from Broken Record
'Broken Vessels,' Travis Greene, from Broken Record
A trio of singers assists Greene on "Respond," an ode to discipleship delivered in a relaxed, acoustic manner. The trio of D'Nar Young, Taylor Poole, and Trinity Anderson sweetly harmonizes not as a band of background vocalists but as equal partners on the lead mike.
"Perform" is the album track that sounds the most autobiographical. To a sweep of dramatic strings, Greene articulates how he must be perfect before an audience but not before God: for the crowd, "every note must be just right [but] I don't have to perform for you." To an acoustic guitar and backed by mostly unison group singing, "Broken Vessels" sums up the album's theme of our brokenness or imperfection, with God as the potter who puts it all back together again.
Broken Record feels like a live worship service, even it if did take place in an audio/video warehouse and not a church. The multi-award-winning singer doesn't break new sonic territory with this album, but he also hasn't cheated his fans, giving them plenty to enjoy and for radio to absorb.
Pick: "Great Jehovah"
***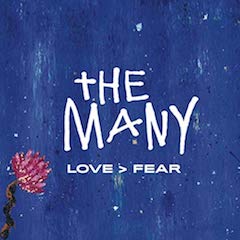 '…a distinctive brand of relaxed Christian pop…'
LOVE>FEAR
The Many
Plural Guild (release date: November 15, 2019)
www.themanyarehere.com
The Many is a multicultural vocal group based in Chicago and comprised of the talents of Darren Calhoun, Hannah Rand, and Leslie Michele. On their latest release, Love > Fear, they offer their distinctive brand of relaxed Christian pop, complete with warbling organ, tinkling electric piano, a solid rhythm section, and sugary sweet harmonies.
As on the group's 2017 album, All Belong Here, love is the focus of this collection. In "Extravagant Love," for example, love is abundant and changes everything. On the title track, love has the power to conquer fear. On the other hand, all God asks from us is to be loved, The Many sing on "All You Ask," however imperfect our prayer and praise may be. Sounding for all the world like a long-lost song from the Broadway musical Godspell, "Come As You Are" extends love to the downcast in spirit.
A song suitable for Christmas, "Waiting" anticipates the Christ child as the one who will break the chains of hurt and suffering. Another song in the Christmas spirit, "Take Comfort," confirms the message of the title track while also reassuring that "the God of love and mercy is on the way."
'Love>/Fear,' The Many, from Love>Fear
If the first half of the album is a more general assessment of love, the second half is more explicitly sociopolitical. Taking its cue from Amos 5:24, a passage quoted famously by the Rev. Dr. Martin Luther King Jr., "Let Justice Rain" declares that "enough is enough, not one more." The singers invoke a flood of mercy to flow through our hearts and into places where there has been tragedy, such as school shootings and other forms of gun violence. A spoken word litany of the names of those killed by gun violence could easily have accompanied this track.
The elegiac "Remember When" evokes such twenty-first century ills as immigrant children torn from their parents, shots fired, cities burning. "Tear Down the Walls" reintroduces the theme of love and understanding from the first half by using a politically charged and relevant metaphor, a wall, as a call for unity. After all, the walls we need to tear down, The Many sings, are those we have erected ourselves. "Beyond Belief" is a concluding note of gratitude for God's goodness throughout troubled times.
Love > Fear is full of authentic hopes and wishes sung by an earnest group that doffs all form and fashion to express their (and our) desires for a better world.
Picks: "Let Justice Rain," "Remember When"
***
'…don't worry–God will bring you through…'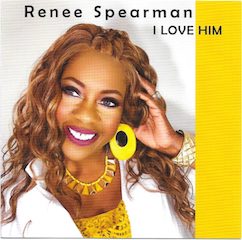 I LOVE HIM
Renee Spearman
JDI Records (released: September 27, 2019)
The Stellar-nominated songstress Renee Spearman, formerly one-half of the contemporary gospel duo Renee Spearman and Prez, has been working on her own for quite some time. Her first new solo album in seven years, I Love Him, has a battery of producers, a choir directed by Tony Jones, strings and brass. All but one of the album's nine selections come from Spearman's pen. That one, the relaxed "Having You There," is by David Curry Jr. of the Mississippi Mass Choir.
While the current single, featuring Pastor Hezekiah Walker and Dr. Holly Carter, is the effervescent but ultimately undistinguished title track, for my money, "Tap Tap," or "Tap Into It," depending on the source you reference, is the album's high point. Spearman's coquettish vocal is an ideal foil for Dorinda Clark Cole's full-throttle shouting. Expressly written for Cole, the song, ahem, taps into her Pentecostal roots.
'Tap Into It,' Renee Spearman, from I Love Him
'Good Morning! You Made It,' Renee Spearman, from I Love Him
Referencing Psalm 30 ("Joy cometh in the morning"), Spearman's 2017 single "Good Morning! (You Made It)" is a ballad of hope and encouragement for those living in life's darkness. "Angels" is a "there but for the Grace of God" moment, as Spearman sings about an auto accident from which she was spared. "Love," at once a cry for support and a declaration of discipleship, features fine but uncredited acoustic piano work and tight choral support.
"You are God" is the kind of song worship teams use to warm up the congregation. So is "Great God," though here, the verses move beyond vertical praise to highlight life's difficulties around which God helps his people navigate.
Somewhat cut from the same traditional cloth as "Tap Into It" is the bonus track, "Breakthrough." A hand clapper that features call-and-response work between Spearman and the choir, its theme is consistent with several other album tracks—-don't worry, God will bring you through.
While Renee Spearman's pop-inflected soprano is best suited for ballad-like gospel songs ("Good Morning" is an example), she does well enough on the churchy roof raisers–-the kind of songs that have put JDI Records on the map-–that I hope she does more of them in the future.
Picks: "Tap Into It," "Good Morning! (You Made It)"
***
'…a chance to hear what all the rumble was about…'
LADY
Reba Rambo
Provident Label Group/Sony Music
(re-release date: December 13, 2019)
Provident Label Group/Sony Music has just made a beloved recording by Christian singer Reba Rambo available once again, digitally remastered.
By 1977, when she released her fifth solo recording, Lady, on Greentree Records, Reba Rambo, the daughter of gospel singers Buck and Dottie Rambo and a member of the Singing Rambos, had been in and out of recording studios for the better part of a decade. Despite initial hesitancy by Reba's record company to put her solo album out, Lady earned a Dove Award and a Grammy nod. It established the twenty-something Reba as one of CCM's most prominent female singer-songwriters.
One can see why. On the opener, "The Land of Oohs and Ahs," Reba cleverly employs metaphors from The Wizard of Oz to reflect on God's gifts and the ultimate gift of Heaven; appropriately, she breaks into "Over the Rainbow" by the end. It became a radio hit.
'Just As I Am,' Reba Rambo, from Lady
'Ain't Givin' Up," Reba Rambo, from Lady
Also lyrically creative, the title track is a portrait of Mary as she reflects on the birth and development of her son Jesus, then watches him die on the cross and rise on the third day. Its intimate language, Reba's almost-whispered vocalizing, and an arrangement suitable for the Broadway stage, draws the listener in, as if privy to a secret.
Given the time in which it was created, much of the album is evocative of Jesus Movement folk-rock. In particular, "Sweet Jesus Peace" and "Velvet Sunshine Mornin'" are effusive ballads of wide-eyed happiness with solid soft-rock backing. The soulful "Ain't Givin' Up" sounds influenced by Andrae Crouch, with whom Reba toured for a spell in the early 1970s.
Still, many songs have aged extremely well. They include the marvelous "Just as I Am," which demonstrates Reba's vocal versatility more than any other song on the album. Minimal accompaniment led by Bill Pursell's prominent acoustic piano enables her to weave a vocal tapestry like a seasoned jazz songstress. "Shepherd's Song" is a whispery empty-stage ballad that could be performed today using the exact same arrangement. "He Gives Me Joy" features vocal and keyboard motives drawn from Baroque music.
"Lift Him Up" is like unto a hymn, featuring Dave Huntsinger's muscular piano work and southern quartet harmonies from a team of male background vocalists. It is the perfect conclusion to the album, which offers a new generation of gospel music enthusiasts a chance to hear what all the rumble was about more than forty years ago.
Picks: "The Land of Oohs and Ahs," "Just As I Am," "Shepherd's Song"
***
'…proving his own mettle in the spotlight…'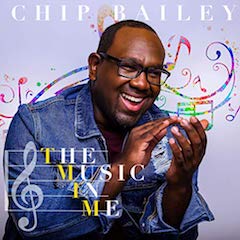 THE MUSIC IN ME
Chip Bailey
ABBII Music (release date: April 20, 2019)
Up to this point, Anthony "Chip" Bailey" has been a singer, musician, songwriter and composer for other gospel artists. In his debut recording, The Music in Me, Bailey proves his own mettle in the spotlight, singing his own songs.
Backed by a team of effective vocalists, a chugging rhythm section, and blasts of brass, Bailey delivers full-bodied Rhythm & Praise selections to the live recording audience that gathered at the Resurrection Center in Wilmington, Delaware.
Early tracks "I'm Excited" and "Rejoice" pair funky rhythm patterns to Bailey's frictionless tenor. To a breezy calypso beat, "Lose the Weight" is a clever turn on words. The weight he encourages us to shed is not the physical pounds but the pressures and troubles we place on ourselves. Here and elsewhere throughout the album, Bailey scats freely to fill some of the spaces between stanzas.
Opening with dense and complex harmonies evocative of a Take 6 arrangement for a small group, "Righteous" takes its inspiration from Psalms 37:23-25 ("I've never seen the righteous forsaken"). By the conclusion, it is rocking in the traditional 12/8 tempo, while vocally incendiary Latoya Bateman Elmore duets with Bailey as the BGVs and musicians raise the temperature incrementally. She could have been used more on this project. The slower and more melodic "All Your Needs" is also culled from the Bible, specifically from Philippians 4:19.
'Saved,' Chip Bailey, from The Music in Me
'Righteous,' Chip Bailey, with guest vocalist Latoya Bateman Elmore, from The Music in Me
After several high-intensity R&P workouts, "Yes I'll Trust You" begins as a vocal/piano cool-down ballad, but by the end, after a couple of key changes that challenge the singers' high registers, it is as robust and muscular as the rest of the selections.
"All We Need is You" sounds like a deliberate attempt to appeal to a younger crowd, but it's clear that Bailey's musical sweet spot is not in Urban AC-influenced sacred music but in the more textured song structure that is highlighted on the album.
"Same God" is the single, but to my ears, "Saved" is the album's most musically interesting piece. Accompanied by acoustic guitar and finger popping, Bailey sings in a high tenor melisma evocative of Jonathan McReynolds. Contrasting with the song's overall relaxed vibe is a tension created by a nagging ostinato melody with cascading voices and high harmonies by the BGVs.
The Music in Me is a respectable solo debut for Bailey, who is minister of music at Word Alive Worship Center, a church his parents, Anthony Sr. and Glenda Bailey, founded in 2007.
Picks: "Saved," "Lose the Weight"
***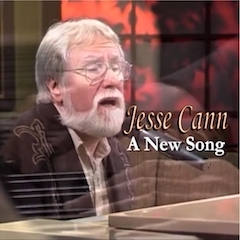 'Sincere spirituality shines from start to finish…'
A NEW SONG
Jesse Cann
Jordan Line Music
At the Rhythm of Gospel Awards this past summer, a distinguished-looking bearded gentleman named Jesse Cann sat down at a keyboard. In the midst of a musical program featuring thunderous choirs, ecstatic groups, and spirited singers, he offered up an unassuming but nevertheless earnest solo. The audience loved it.
Later, Cann, a cancer survivor, took home the Special Event/Instrumental Artist of the Year Award.
Cann's latest album, A New Song, does include an instrumental track and highlights his talent on keys, flugelhorn, and trumpet, but it is a vocal album of original compositions. He sings with a humble conviction and, when he is not peppering the lyric lines with blue notes, evokes country crooners Jim Reeves and a 1970s-era Ray Price.
While story songs like "Bound for the Promised Land" and "Jesus is My Song" have an easygoing country ballad sensibility, the encouraging "God Will Be There" contains a touch of northern soul, thanks to Emily Rudolph's backing vocals, Willis Greenstreet's tenor sax, and Cann's trumpet. "Hold Tight to the Master's Hand" is a gospel blues packed with Biblical references that illustrate the power of Jesus to make a way out of no way. The title track, "Unending Rhapsody," and "Land of Enchantment" sway with a relaxed Latin rhythm. The melody on the latter, a celebration of the beauty of the American Southwest, also has Latin elements in its DNA.
'Rose of Sharon: A Christmas Prayer,' Jesse Cann, from A New Song
'Land of Enchantment,' Jesse Cann, from A New Song
"Song of Praise" is a lovely hymn that I can hear many artists and choirs bringing into their repertory. Same goes for Cann's Christmas song, "Rose of Sharon." Both are the album's best examples of the singer's songwriting skills. Special kudos to Wes Chappell, whose harmonica endows several selections with a winsome melancholy.
The album would have been even stronger had Cann tossed a couple of classic hymns or gospels in the mix, and used the fine Promise choir from First Baptist Church of Roanoke, Virginia, more often. Nonetheless, the sincere spirituality of Jesse Cann shines from start to finish.
Picks: "Song of Praise," "Rose of Sharon"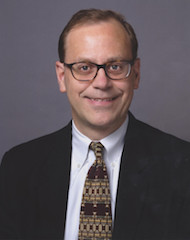 The mission of the Journal of Gospel Music is to educate and enlighten the public about gospel music as an American art form. Its vision is to be the premier online resource for gospel music news, reviews, and scholarship.
Bob Marovich launched JGM on the tenth anniversary of its predecessor website, The Black Gospel Blog, which he founded July 28, 2004, as the first blog to cover African American gospel music. He is a gospel music historian, author and radio host. Since 2001, he has produced "Gospel Memories," a show featuring classic gospel, spiritual and jubilee music, as well as interviews with gospel legends. It airs Saturday mornings on Chicago's WLUW-FM and throughout the week on several Internet and low-power FM radio stations throughout the U.S., Canada, and Europe.
Bob has written about and reviewed classic and contemporary gospel music since the mid-1990s, when he was the gospel editor for www.bluesweb.com. He founded The Black Gospel Blog in July 2004. The Black Gospel Blog was nominated for a Rhythm of Gospel Award in 2013 and became the Journal of Gospel Music in July 2014. Bob has been interviewed about gospel for television, radio and newspapers, and was featured on a BBC Radio 2 documentary on the life of Sister Rosetta Tharpe.
Bob's work has been published in the Encyclopedia of American Gospel Music (Routledge 2005), Encyclopedia of African American Music (Greenwood Publishing 2010), and in the ARSC Journal of the Association of Recorded Sound Collections. He has presented and participated in panel discussions on gospel music at the Gospel Music Workshop of America, National and Independent Gospel Music Association Industry Summit, Blues and the Spirit Conference at Dominican University (River Forest, Illinois), the American Library Association, and the Association of Recorded Sound Collections annual convention.
Formerly second vice president of the Chicago Area Gospel Announcers Guild (Gospel Music Workshop of America), Bob is on the board of the Chicago Gospel Music Heritage Museum, the Rhythm of Gospel Awards, Blackburn College, and Tree House Humane Society. He is a member of the Stellar Awards Gospel Music Academy, the National Independent Gospel Music Association, the Recording Academy, the Center for Black Music Research and the Association of Recorded Sound Collections.
Bob's collection of historic gospel recordings exceeds 5,000 vinyl discs that contain more than 19,000 individual tracks, and thousands of gospel CDs. His collection of gospel music memorabilia includes sheet music, song folios, photographs, signatures, anniversary programs, tickets, posters and other promotional material.
Bob holds a bachelor's degree in American Studies from the University of Notre Dame and an MBA from the Lake Forest Graduate School of Management. His first book, Shout Troubles Over: The Birth of Gospel Music in Chicago, was published in March 2015 by the University of Illinois Press as part of its Music in American Life Series.
Bob lives in Chicago with his wife, author Laurel Delaney, and