By David McGee
THAT TIME OF YEAR
Kristin Korb
Storyville Records
CHRISTMAS MORNING
Silent Winters
Fallen Tree Records
A couple of nice, tradition-oriented Yuletide albums are in the offing from artists beyond these shores but fully invested in the holiday spirit. Actually, Kristin Korb—that rarity of rarities, a jazz double-bassist/lead vocalist—is an expat American now residing in Denmark with her husband, Morton Stove, co-founder of the respected microphone manufacturer, DPA Microphones. The folk duo Silent Winters, on the other hand, hail from just beyond our U.S. borders, in Ottowa, Canada. Both albums feature a pleasing mix of holiday classics of yore and more recent contributions to the seasonal catalogue.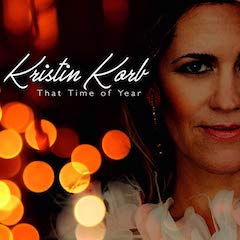 Ms. Korb's eighth album, That Time of Year, features her smooth, mellow vocals over backing supplied by her own bass, Magnus Hjorth on piano, Snorre Kirk on drums and Mathias Heise providing some very tasty and soulful harmonica throughout, especially in taking a star turn on an uptempo instrumental reimagining of "Angels We Have Heard on High," on which he carries the soloing load with grace and scintillating flights of improvisation. Similarly, the band takes a medley of "Up On The Housetop/Here Comes Santa Claus" at a sprightly pace, with Horth's Guaraldi-like piano styligs and Heise's sputtering harp providing second voices to Korb's jazzy, Ella-inspired phrasing on a lively take that also gives drummer Kirk an opening for a flurry of pungent punctuations. Korb also delivers impressively in thoughtful moments such as "Christmas Will Really Be Christmas," a bluesy, gently swinging hope for happier times ahead when "hearts are filled with joy instead of worry" (given the current climate in our nation's capital, this tune and its sentiments might well be titled "Christmas Will Really Be Christmas [When Things Return to Normal]"); on "I've Got My Love to Keep Me Warm," she speeds up the tempo slightly, adds some scatting phrases and remakes the song from dreamy to bubbly with anticipation. In a lovely sign-off, she caresses "Count Your Blessings Instead of Sheep" as if it is indeed a prayer, Hjorth steps up with spare, impressionistic piano fills, and the album winds down peacefully, with a gentle exhale of voice and piano. It's a nice journey, all in all, with detours and main roads alike offering splendid views of holiday scenery in a musical manner of speaking.
'Angels We Have Heard on High,' Kristin Korb, from That Time of Year
'Count Your Blessings Instead of Sheep,' Kristin Korb, from That Time of Year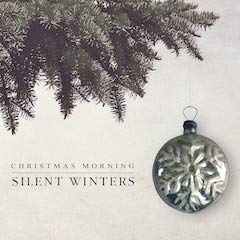 For those whose preference in holiday fare leans toward the interior, introspective and tender, Ottowa's Silent Winters—being the duo of Olenka Bastian and Jonathan Chandler—has a model entry, titled Christmas. Morning, in that very mode. For the most part their soothing, intertwined voices are backed largely by Chandler's gentle guitar with understated, nuanced support provided on occasion by Peter Von Althen on drums and percussion and Carissa Klopoushak on violin. Whereas the overall ambiance here is folk-flavored, when all the instruments are in place the feel has a decided country feel, as when "I'll Be Home for Christmas" takes on the personality of a country ballad and when the break in the last half of "Have Yourself a Merry Little Christmas" gives the track a classic pop lift that should bring smiles to listeners' faces. The lone Silent Winters original among the 10 tracks, "Christmas Morning," delivered poignantly over fingerpicked acoustic guitar and quietly shuffling percussion, poetically suggests a healing moment—healing, seemingly, from romantic misadventures—obtains upon arrival home. Like many a Christmas tune, it beguiles with its beauty even as its narrative limns heartache and regret.
'Christmas Morning,' Silent Winters, title track from the duo's new album, written by the duo
'Oh Holy Night,' Silent Winters, from Christmas Morning
One suspects Christmas Morning might draw criticism for its arrangements sounding so similar to each other from cut to cut. It seems likely, however, this is strategic: the duo wants us to hear the album as something like a song cycle devoted to exploring the seasonal songs' undertow, much as they do in the title track mentioned above. In this milieu, surprises emerge: "I Heard the Bells on Christmas Day" comes off as a bit of an art song in its spare telling and abrupt ending; "Jolly Old St. Nicholas" starts as a piano ballad before the violin joins in and transforms it into a spiritual number; the Simon & Garfunkel echoes arising in "White Christmas" are positively striking; "Oh Holy Night," with fingerpicked guitar and keening violin underpinning the restrained vocals, resonates with Appalachian moodiness. What to make of the 39-second snippet of "Happy Holiday" signing off the festivities? Herein the singers sound as if they were recorded through a megaphone and are backed by unembroidered hard chords played with gusto on piano. Much like Kristin Korb's That Time of Year, Christmas Morning is a journey into the heart—our hearts, the season's heart—albeit by a completely different route. Hey, happy holiday!