By David McGee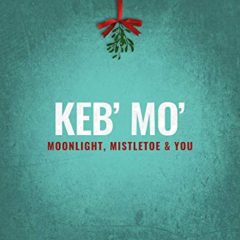 MOONLIGHT, MISTLETOE & YOU
Keb' Mo'
Concord Records
On the top new Christmas album of the 2019 season, Keb' Mo' delivers a blues-drenched gem in Moonlight, Mistletoe & You. Which is not to say Keb' is getting lowdown and morose but rather using the blues as a platform for explaining why the spirits of the past, present and future strive within him and fully flower at Yuletide. He does so with small combo backing; lush, romantic strings and orchestra settings; and, on a couple of memorable occasions, a tight, spare trio setup. Bringing it all home vocally, he energizes the tunes with performances by turns warm and genial, moody yet uplifting—see, Keb' always finds the silver lining in dire situations, as we learn most emphatically in his grinding take on St. Louis blues master Charley Jordan's 1931 gem, "Santa Claus, Santa Claus," an aching plea for the jolly old elf to "bring my baby back to me." Keb' leaves it to guitarist Akil Thompson to lay on the hurt in an electric solo seemingly howling with pain and heartache in its stinging tone, but the star of the show simply lets a ray of sunshine into his lyric reading, so you just know he's going to get his Christmas wish. (Charley Jordan, who recorded prolifically on his own between 1930 and 1936 and sat in as a guitarist with numerous other artists during those years, also has to his credit one of the most humorous of Christmas blues tunes in "Christmas Christmas Blues." Sung from the viewpoint of a gent, possibly homeless, who is anticipating his first square meal "this whole year round," he implores his host to "pass me that chicken, the turkey, the duck and the goose/well you all birds gonna be one-legged when turn you a-loose." Maybe Keb' can make a run at that one next year.)
'Please Come Home for Christmas,' Keb' Mo', from Moonlight, Mistletoe & You
'Christmas is Annoying,' Keb' Mo', from Moonlight, Mistletoe & You
Although Keb' offers delights in cover tunes such as the album opening "Please Come Home for Christmas," Charles Brown's 1960 classic, a grinding plea with nice work on organ by David Rodgers and Akil Thompson again on guitar underpinning Keb's sensuous vocal, and a throbbing, driving attack on Koko Taylor's truly merry "Merry, Merry Christmas," complete with sizzling guitar and swaggering vocal, five Keb' originals pretty much steal the show. He serves up the first one immediately following "Please Come Home for Christmas" in the form of the seductive title ballad. Crooning tenderly with a slight blues edge (and a vocal assist from Gerald Albright), Keb' paints his beloved an irresistible picture of seasonal glad tidings in hopeful scenarios such as "I've been hoping and I've been wishing/that I'm your Rudolph and you're my Vixen/I will hold you, kiss you and never let you go/will you be my angel in the snow?" Such uber-romantic sentiments deserve the beautiful orchestral setting in which they're couched, with the subtle wash of strings arranged by Lendell Black upping the lovey-dovey quotient in spades. In the swaying, upbeat, horn-fueled southern soul groove of "Better Everyday," the artist, advising that he gets up every morning "with good things on my mind," offers a bracing bit of life coaching appropriate to all the seasons, to wit: "You got to find a way to rise above/find more peace, make more love/you've got to believe it's getting better, better every day." In the album's most fanciful tune, "Christmas is Annoying," with a simple arrangement you might have expected from a children's tune and played with nuanced simplicity by Keb' on guitar, Scott Mulvahill on upright bass and Neil Tufano on drums, Keb' bemoans the passing of time from a childhood when "everything was magical" to an adulthood when "all my credit cards are maxed/I'm running here, running there, there's no time to relax," leading to a new year's eve when no one can remember the words to "Auld Lang Syne." Upshot: "Christmas is really annoying," but in the singsong context of this performance, you have to believe Keb' doth complain too much, and he knows it. Hence the wink, wink nature of his vocal.
'When the Children Sing,' Keb' Mo' with Nashville's NIA House Montessori Choir, from Moonlight, Mistletoe & You
In a similarly reflective mode, but now longing for the warmth and joy of youthful Yules, Keb''s guitar and vocal lead the way on "When the Children Sing," an affectionate paean to the stirring sound of children's voices rising in song— "When the children sing, they put a smile on your face/the spread the Christmas spirit all over the place/there is peace on earth and amazing grace/when the children sing…" Aiding immeasurably in this endeavor to recapture the bliss of Christmas past, the combined voices of Nashville's NIA House Montessori Choir raise the very sound Keb' has described as obtaining "when the children sing." It's a beautiful moment. As is the flirty duet with none other than Melissa Manchester on Irving Berlin's "I've Got My Love to Keep Me Warm," featuring another evocative Lendell Black string arrangement; tasty piano and guitar punctuations from David Rodgers and Mike Pachelli, respectively; and a gentle push from an understated horn section framing the simpatico, medium-flame give-and-take between Keb' and Melissa.
'I've Got My Love to Keep Me Warm,' Keb' Mo' & Melissa Manchester, from Moonlight, Mistletoe & You
Finally, in closing with a gently swinging, horn-rich seasonal love ballad, "One More Year With You," co-written with the estimable Beth Neilsen Chapman, Keb' says adieu to the year and all its festivities but is quick to add: "Sign me up for one more year with you," and all the love that goes with it. Let it be said Keb' Mo' knows how to keep Christmas well, if any man alive possesses the knowledge.