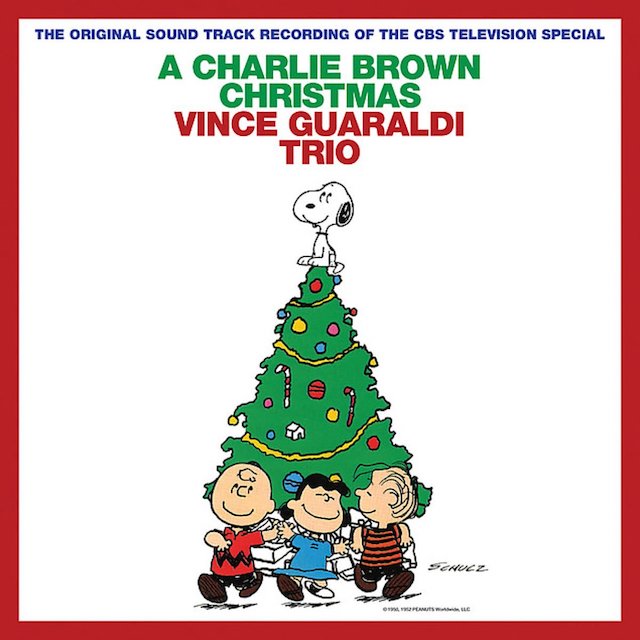 Vince Guaraldi's Score for A Charlie Brown Christmas Endures As a Masterpiece Within a Masterpiece
By David McGee
In 2000 the HarperResource imprint of HarperCollins published the be-all and end-all book on the beloved holiday special, A Charlie Brown Christmas: The Making of a Tradition. Reissued in soft cover in 2005, this inside look at every stage of the project's development was penned by executive producer Lee Mendelson (with a chapter by original Peanuts animator Bill Melendez) and is profusely illustrated with original animation art (some 150 of the scenes appearing in book form for the first time). The content includes the original script, portions of Vince Guaraldi's musical score, handwritten behind-the-scenes production notes, interviews with some of the original child actors who voiced the Peanuts characters parts in this and other Peanuts specials, reproductions of the production schedules, and even more for the cognoscenti. Most would agree that A Charlie Brown Christmas minus Guaraldi's sublime score would be like getting a lump of coal in your Christmas stocking, so integral is the music to the story's mood, pace and character development. If Frank Sinatra is the voice of Christmas in America, then Vince Guaraldi's music for A Charlie Brown Christmas has become the sound of Yuletide on these shores since making its debut on Thursday, December 9, 1965 on CBS-TV. The show itself was, of course, an instant holiday classic, which was a sweet triumph for Lee Mendelson after ge had failed to sell any of the three major networks a documentary about Peanuts creator Charles M. Schulz (A Boy Named Charlie Brown, which featured the first animated Peanuts segments), featuring music by Vince Guaraldi, then coming off a big Top 40 pop hit and Grammy award with the instrumental "Cast Your Fate To the Wind" (a B side of a single that was flipped by DJs and found a huge audience). It was an advertising executive, who, impressed by the Schulz documentary, suggesting doing a Christmas special with the Peanuts gang. With Coca-Cola on board as sponsor, CBS bit, but after seeing the finished version, two network execs dismissed both the show ("a little flat…a little slow," was the appraisal) and any notion of their ordering any more Peanuts specials. "Maybe it's better suited to the comic page," said one of these sages. Some 60 Peanuts half-hour shows and more than 40 prime time specials later…
The following chapter on Guaraldi's work on A Charlie Brown Christmas provides the inside look at the genesis and evolution of the soundtrack music (which reprised the "Linus and Lucy" theme from A Boy Named Charlie Brown) and a personal portrait of Vince Guaraldi, notably from his son, David. At the time he was hired for the project, Guaraldi was in the midst of a recording career with Fantasy Records that had made him the label's best selling artist until Creedence Clearwater Revival came along. In the style of Bill Evans and Ramsey Lewis, he advanced a school of jazz piano in which melody was paramount, even in the midst of his exciting improvisational flights, as a way of keeping the mind engaged and the heart stirred. His lyricism and graceful, swinging style—honed during his years with the Woody Herman and Cal Tjader groups—were well suited to exotica, and so throughout his too-brief career he associated himself with and championed daring artists from other cultures, such as the Afro-Cuban giant Mongo Santamaria and the legendary Brazilian guitarist Bola Sete. The intersect of his interests in American, Latin and African music produced one of his most stirring albums, Jazz Impressions of 'Black Orpheus,' released in 1965. For the first Charlie Brown sessions, Guaraldi, who usually worked with a trio or quartet, enlisted bassist Fred Marshall and drummer Jerry Granelli (bassist Monty Budwig and drummer Colin Bailey, who were with Guaraldi on "Cast Your Fate to the Wind," accompanied him on two numbers, "Greensleeves" and the instrumental version of "Christmas Time Is Here").
Speaking to writer Larry Kelp for the liner notes for the 1998 CD release, Charlie Brown's Holiday Hits, bassist Marshall noted how Guaraldi's style on the Charlie Brown music was to develop specific themes and then re-state them throughout the other songs. Presented with a script with cues (as is shown in the Mendelson book), Guaraldi would compose and then record the music. "We just played and they later edited the film to fit the music," Marshall said. "We'd go into the studio with certain themes, and some had to be a specific length. Like 'Linus and Lucy' clearly had radio potential so we kept it to three minutes, about the maximum you could put onto a single and get a station to play. Other things, like 'Blue Charlie Brown,' was just an open-ended blues. Vince never wrote out our parts. He'd do a little sketch, and because we'd played together long enough to where we knew what each other would do, we'd just do it."
Terming Guaraldi "a riddle wrapped in an enigma—most people, including other jazz musicians, didn't know what a great musician he was, they knew him for his hits," Marshall singled him out as a piano player instantly identifiable by a signature sound. "It wasn't just his style, but on the same piano that everyone else played he could get a different sound in the way he attacked the notes. It was like he had five thumbs on each hand, because all his fingers were the same length, and he used his palms as well to get a guitar-like effect.
"When Vince took solos, he didn't just play the chord changes like so many people I've worked with. His solos were always melodies. You could make so many tunes just from his solos."
As recounted in A Charlie Brown Christmas: The Making of a Tradition, here's the rest of the story, beginning with Lee Mendelson hearing "Cast Your Fate To the Wind" for the first time and realizing he had found the sound he wanted for his Charles M. Schulz documentary.
 A Christmas Miracle: The Making of A Charlie Brown Christmas: a documentary featuring interviews with Bill Melendez and Lee Mendelson, director/animator and producer, respectively, of the 1965 Emmy Award winning Yuletide special and Jeannie Schulz, wife of Peanuts creator Charles M. Schulz, among others.                 
  ****
Excerpt from A Charlie Brown Christmas: The Making of a Tradition (HarperResource, 2000; reissued, 2005)
THE MUSIC OF VINCE GUARALDI has been a vital part of the Peanuts television specials since the first broadcast of A Charlie Brown Christmas in 1965. Two years before, the San Francisco-based jazz pianist had won a Grammy for "Cast Your Fate To the Wind," an instrumental recorded with his trio. The record, featuring Guaraldi with drummer Colin Bailey and bassist Monty Budwig, went gold and was the first hit for Fantasy Records.
When Lee Mendelson was working on his documentary about Schulz in 1963 and heard "Cast Your Fate To the Wind" in his car, he was mesmerized: "It was a sound like I'd never heard before," he said. "It was jazz, but it was melodic and open and came like a breeze off the bay." He immediately commissioned Guaraldi to write music for the documentary, and although the show didn't get sold to a network, Fantasy Records released Guaraldi's soundtrack, Jazz Impressions of 'A Boy Named Charlie Brown. When Mendelson set out to produce A Charlie Brown Christmas in 1965, Guaraldi was brought in to rework some of the themes from the documentary and create a new soundtrack for the television special. A Charlie Brown Christmas went platinum (sold one million copies) in 1997 and remains one of the top-selling holiday albums every year.
Vince Guaraldi called himself a "reformed boogie-woogie piano player," and made his start playing in a variety of trios and bands in the San Francisco Bay Area. He went on the road for a couple of years in the 1950s with Woody Herman's big band, but did most of his playing in colleges and the beatnik clubs of San Francisco. Nicknamed "Dr. Funk" by his jazz friends, Guaraldi was an exotic figure on the local scene with his trademark moustache and ever-changing hairstyles.
"Vince was perfect for all of us," recalled (animation artist) Bill Melendez. "He was easy to work with, like Schulz. When I finished the storyboards for A Charlie Brown Christmas and showed him my bar sheets, the pages that show the music and dialogue cues for each scene, he'd say, 'Just tell me how many yards you want.' By yards he meant seconds of music."
"Vince had won the Grammy and toured all over the country," said Lee Mendelson, "but once he started Charlie Brown, it practically became his whole life. He stayed mostly in San Francisco. He worked on the shows and became really absorbed with it, doing the first 15 shows for us. He was very contemporary and very improvisational, which gave A Charlie Brown Christmas and the other shows a hip sound. Vince was a high-energy guy with great sense of humor and our meetings were very stimulating. I used to have to pat him on the head sometimes and just say, 'Relax.' He was always writing and never had a problem with deadlines. If I called him up one day and asked for a piece, he'd bring something over the next day."
From Vince Guaraldi's score for A Charlie Brown Christmas, 'Linus and Lucy'
                                    ***
"When A Charlie Brown Christmas was shown for the first time on television," said Vince Guaraldi's son David, "it was a big event in my household and with my friends because it was the first Peanuts special. My dad was very excited. I was ten years old. My grandmother and great-grandmother came over to watch the show with us. A Charlie Brown Christmas was a hit right off the bat, and they did many more holiday specials after that. The music he wrote for the shows relates to each scene and the Peanuts kids' feelings. He captured that perfectly because he loved kids; he did a lot of things for kids in his life. There was a lot of talk at school after the show and teachers and kids would come up to me to tell me how much they liked it. I'd get embarrassed over all the attention because I was so young, but I was very proud of my dad.
"He had a nine-foot grand piano in the living room and usually did his writing while my sister and I were at school. Sometimes I'd come home and he'd still be playing until dinnertime. When I was a teenager I'd help him carry his equipment to his jobs and stay up late waiting for him to finish. I'd fall asleep. I'd fall asleep in the van until his gig was over and then help him break down his equipment and pack up. It was hard work, but it was fun.
"My dad was engulfed in the Peanuts music for many years," David Guaraldi continued. "That was his whole life. I don't understand how he found time to record his other albums and play locally at so many clubs. When he was working on a Peanuts show, he would drive hours down to L.A. to work with Bil Melendez and record at a studio at least twice a week. He was a perfectionist about everything he did, and he was very serious about his Peanuts music.
"The Peanuts music is very positive, just like all my dad's work. His personality was upbeat. When he performed he was really heavy into playing and he hummed out loud, pounding on the keyboard with his short fingers. Even his ballads and slower music or his heavy jazz music is positive. There's no downer about any of it. He was loved by a lot of jazz musicians he played with and by jazz pianists who played his music. After the Grammy and many years of Peanuts shows, he became famous, but I don't think he realized it. The word famous never came up in our lives. 'Linus and Lucy' is a big standard in this country, and it's a special thing to create something that lasts like that. Hearing my dad's music on the radio and the television shows always felt good. It's always going to feel good. I'm going to eighty years old and still get goose bumps when I hear that music.
"My son is now ten years old and he watches the Peanuts cartoons on Nickelodeon every day," said David. "He knows who Papa Vince was and recognizes his music."
                                           ***
'Skating,' one of the timeless tunes Vince Guaraldi composed for A Charlie Brown Christmas
 On February 6, 1976, just a few hours after finishing the soundtrack to his 15th Peanuts special, Vince Guaraldi died of a heart attack. Only 47 years old, he left behind a unique legacy in American jazz.
Jazz musicians who have created scores for the Peanuts animated shows since Vince Guaraldi's death include Dave Brubeck, George Winston, Wynton Marsalis and David Benoit. Pianist George Winston, who has described Guaraldi as a major influence on his music, recorded an album tribute to his mentor in 1996 titled Linus and Lucy: The Music of Vince Guaraldi. Another jazz pianist who credits Guaraldi as an important influence is David Benoit, who composed several Peanuts  scores between 1988 and 2000. In May 2000 he released a tribute album, Here's To You, Charlie Brown: 50 Great Years!, which debuted at #2 on the Billboard jazz chart. This album contains two pieces from Guaraldi's A Charlie Brown Christmas soundtrack: Benoit's own version of "Linus and Lucy" (which opens with a few seconds of Guaraldi's original recording of the song) and a unique arrangement of "Christmas Time Is Here" with the vocal group Take 6.
Benoit wrote his first Peanuts score for The Great Inventors, one episode from the eight-part series, This is America, Charlie Brown. It was his first collaboration with Charles Schulz, Lee Mendelson, and Bill Melendez, which would be followed by five more specials. By 1999 he and Schulz had become close friends, and Benoit finished recording his latest project, It's the Pied Piper, Charlie Brown, just one day after Schulz's death on February 12, 2000.
Like many jazz artists, Benoit first heard Guaraldi's music on A Charlie Brown Christmas. "Guaraldi's playing was a pretty big influence on my own," said Benoit, "and most of the influence came from watching the first animated television special when I was growing up. One of the reasons I got into playing jazz piano at all was because I liked the music from A Charlie Brown Christmas so much. That was the first time that jazz piano trio had been used in animation, which helped make it a really groundbreaking show. I agree with a lot of people who believe that a big part of the success of A Charlie Brown Christmas was Vince's music. In my mind it made the whole show hip. It was just so different than all the cartoon sounds that had come before it. It always stuck with me, the way Guaraldi played jazz piano. It was childlike and whimsical, always a bright feeling. He played from the heart and was a real communicator; he knew how to sit down at the piano and make people feel good.
"Guaraldi was one of the handful of pianists," reflected Benoit, "like Dave Brubeck and Andre Previn, who made jazz piano popular, who crossed that bridge. I think Vince may still be underrated as far as his place in jazz history, but he was a great jazz pianist."
                                           ***
Linus tells the Christmas story, and Charlie Brown, and his tree, are redeemed in A Charlie Brown Christmas
Vince Guaraldi's legacy as a jazz innovator inspired the careers of contemporary jazz pianist and lives on in the "sound" of Peanuats. Those who knew Vince have not forgotten him, especially the creators of the Peanuts specials.
"He was a real good guy, and we miss him," said Bill Melendez.
"The day of his funeral," recalled Lee Mendelson, "they played the Charlie Brown music over the sound system in the church. It was not an easy day; he was so young. It was one of the saddest days of my life. He was up to my house the night before and said he had not been feeling well, and didn't know what it was. It was totally unexpected.
"Vince Guaraldi's music is bright," said Mendelson. "I call it childlike. In the same way Bill kept the animation simple, Vince kept the music simple. This was jazz that appealed to both kids and adults, that captured the spirit of the characters. The music helped make the shows, and the shows helped make the music."
A Charlie Brown Christmas: The Making of a Tradition
By Lee Mendelson with Reflections by Bill Melendez
Edited by Antonia Felix
Available at www.amazon.com